The Article
JACK SCOTT: A STRUGGLE WITH STARDOM
20th December 2019
He should have been a big star, says Paul Rigby, but Jack Scott's music career perfectly followed the ups and downs of the pop music business of the time. Jack Scott himself looks back at those heady times
[NOTE: I was sad to hear of Jack Scott's recent passing. I re-present this piece as a tribute to the man]
Jack Scott is not the first name that rolls off the tongue when the subjects of rock'n'roll and rockabilly are mentioned. In fact, despite his pioneering efforts, Scott is largely forgotten as a figure in music. Why? After all, he had a great voice. He was right up there with Elvis Presley and Roy Orbison. He also had a superb backing group known as The Chantones which were as accomplished as Elvis' Jordanaires. Scott wrote his own songs, Elvis didn't and Scott was a talented guitarist (ok, Elvis was a decent rhythm guitarist, according to Johnny Cash). Was Scott's problem, as Goldmine Magazine's Phill Marder explained, that he never courted scandal or died before his time? Jack Scott, "…never created headlines by dying in plane or car crashes, by marrying an underage relative or transporting underage females across state lines, by quitting to become a minister or committing suicide or anything else guaranteed to garner attention, even before today's 24-hour news blitz."
Windsor, Ontario was Scott's birthplace. Scott could have taken it as a sign that he would always be the outsider but the pull of the radio masked such thoughts. His mind was full of country sounds, "We'd listen to the Opry," he said to Colin Escott for the Bear Family box set Classic Scott: The Way I Walk, "Red Foley and Ernest Tubb. We were able to pick up the Louisiana Hayride, the wheeling West Virginia Jamboree and so on. In Michigan, we didn't have anything like that. There was a point after we moved to Detroit when I was meeting new friends and it lapsed but then – after about six months – I was right back into country music."
Maybe this prompted Jack Scott's wish to learn to play the guitar. It was his father who would buy him his first instrument and teach Scott the basic chords to get him underway. After which, he targeted the country songs of the day as his inspiration. This lead to the formation of his first band, The Southern Drifters, a hillbilly outfit. Talking about those very early days, Scott revealed something about the inner rock'n'roller that he would become, "I'd hear that sound, a tone," he said, "and I'd sing a song just like Hank Williams. We used to get so carried away. I had a boy who used to play the steel guitar just like Hank Williams' steel guitar player and we duplicated the fiddle sound and muffled rhythm track. We weren't even using a drum. We would sing those Hank Williams songs in the living room at my mom and dad's house. We'd perspire and freak right out. It was Hank Williams to a 'T'. And I'd do a Carl Smith song like Carl Smith and a Webb Pierce song like Webb Pierce and so on. Sometimes people would say, 'You do a really good impression of so and so…' and I wasn't trying to imitate. I just heard the tone and I tried to duplicate it."
Originally named Jack Scafone, the moniker change occurred after a high school revue with his sister, Linda, when a DJ for the WEXL radio station, Jack Eirie, invited Scafone to come onto the radio to play the Lefty Frizzell/Webb Pierce song That's Me Without You. Eirie then recommended a name change to something rather more anglicised. Scafone became Scott and then country became rockabilly after Scott heard Elvis on the radio, "I never heard the term 'rockabilly'. I was doing nothing but country songs until I heard Presley's first records. I had a little show at a dance hall and I'd do a song like Walkin' The Floor Over You and then do an Elvis song like Money Honey. Today, it seems that you play either rock or country but back then we were doing Rock Around the Clock, Be Bop A Lula and so on at square dances. It all blended. The audience loved one as much as the other. I never heard the term rockabilly until I went to Europe."
It was after a local gig at the Dance Ranch that Scott and his band decided to enter a local studio and make their first record, at three or four in the morning, a single called Baby She's Gone with You Can Bet Your Bottom dollar on the flip. It was local record store owner, Carl Thom, who would hear and pass Scott's details to the local ABC-Paramount distributor. Eventually, head office would publish that single plus, when it did decent business, another until the second bombed and Scott was out of the door faster than he went in.
That was 1957. In 1958, Scott had written Greaseball after a jailed buddy of his – sounds like the sort of guy you wouldn't want to bring home to meet your mother – but that name was changed to Leroy because the original was deemed offensive to Hispanic Americans (and, presumably, mothers of the world). To partner Leroy, My True Love was penned for Scott's girlfriend of the time. Brill Records, owned by a local DJ, released the pair as a single. Eventually, another label, Carlton, heard the single and purchased the masters plus Scott's contract for $4,800.
This was the time when Jack Scott's music changed and a certain focus arrived in his songwriting, "There was a change of mood," he said. "I wrote My True Love while we were working the Dance Ranch. Carl Perkins, Gene Vincent and all the others were coming up and coming into my head. My voice was changing a little bit. The feel was different. We had a different guitar player that gave us a different feel. We'd added the vocal group too (The Chantones) and polished the sound."
The proof was in the figures as One True Love hit No 3 on the Hot 100 with the flp side, Leroy scoring at No 25. The single sold over a million copies. Not bad.
"I'd wake up in the morning and mom would have the radio on in the kitchen and she'd say, 'Jack, your song is on again.' It was a thrill every day – like having your first brand new car – you can't wait to get out of bed to shine it. I was in semi-shock for six months."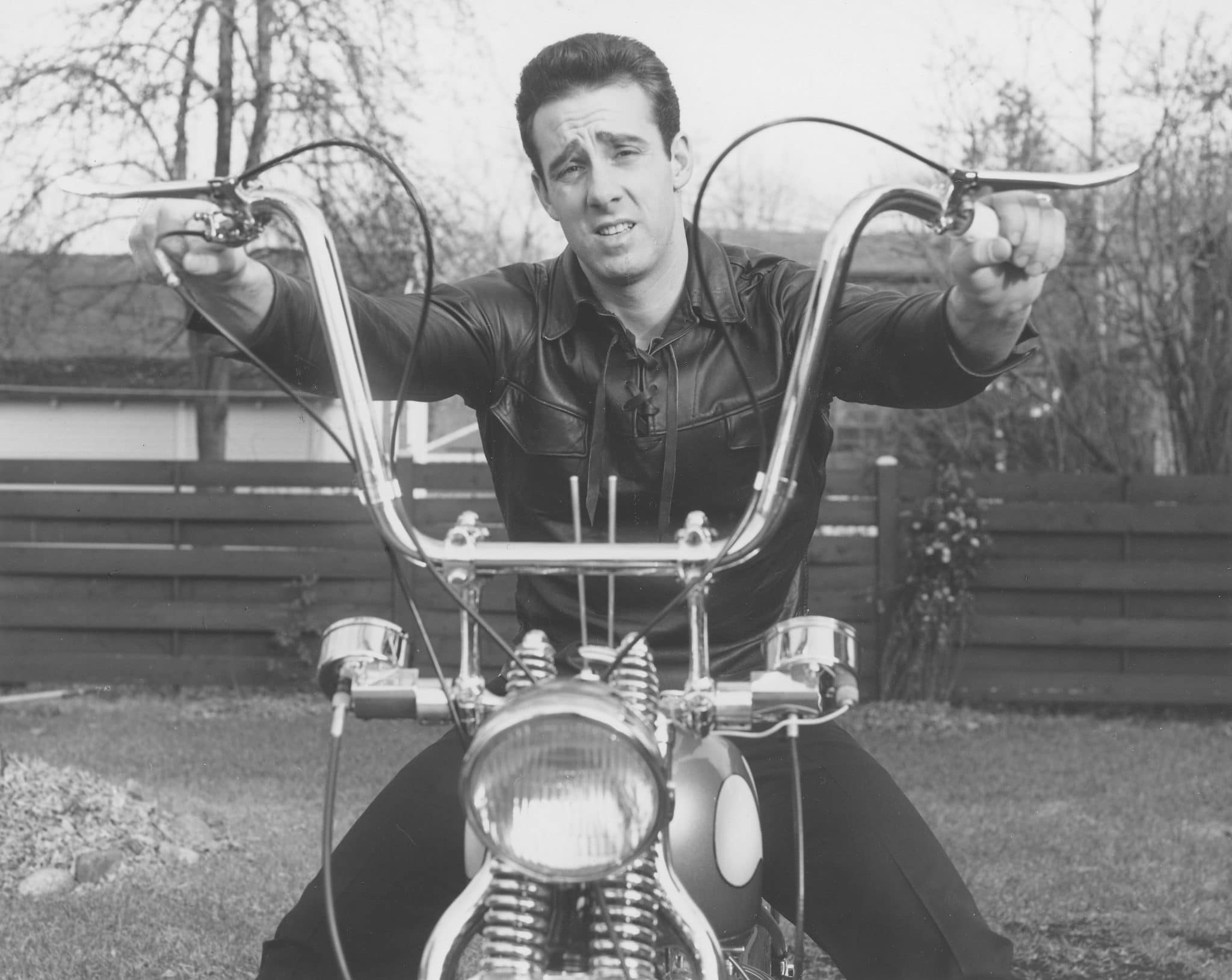 Scott spent 18 months at Carlton, combining successful further singles (Goodbye Baby) with less than successful tracks (Geraldine), though his iconic, The Way I Walk, was only a minor hit, reaching No 35 in 1959.
Jack Scott began to suffer, as many other performers did at the time, from the Payola scandal and subsequent hearings. For many years payments had been made by record companies to radio stations as bribes to secure the broadcast of their singles. Notable figures such as Alan Freed and Dick Clark, in the USA, suffered due to their involvement in the practice. Bizarrely, rock'n'roll, as a genre, was held up as a scapegoat.
After managing to avoid the army draft due to an ulcer, Scott was shifted from Carlton to the US arm of the UK label, Top Rank, where he was conned by an in-house Carlton attorney in giving up all of his future royalties from his Carlton singles. Such was the music business in those early days.
Still smarting over the financial shenanigans, Scott struck lucky with a self-penned song for his new label, What In the World's Come Over You became a No 5 hit on the Hot 100. A blues-inflected pop song, it entered the 60s as Scott's most perfectly crafted song yet. Later covers of the song, from Sonny James and Tom Jones, would later attest to that fact.
Scott's recent financial frustrations with Carlton would resurface as the label licensed his older ABC material and combined it with his past Carlton work and hinted at his latest Top Rank hit by calling the new album, What Am I Living For, as Scott lost further revenue on the release. Maybe Scott's frustration inspired new creativity because the single, Burning Bridges, was the result, a haunting performance with excellent guitar backing, it proved to be Scott's last big hit, reaching No 3 in the charts and revived later by the likes of Glenn Campbell, George Jones and Bill Nash.
The song reflected a change in production techniques, promoted by A&R man, Sonny Lester, who took Scott to New York, "Sonny basically let me do my own thing," said Scott. " He let me use strings. I hadn't been happy with some of the nonsense stuff at Carlton and I wanted a cooler sound."
It was a productive time at Top Rank. In fact, in less than 18 months, Scott released three albums: What In The World Has Come Over You, a tribute to Hank Williams called I Remember Hank Williams (slowing the pace but featuring Williams' rarities) and a gospel album, The Spirit Moves Me. Scott struggled to make much headway with further singles releases during 1960 as the Top Rank label folded. He was in Australia, at the time, when a telegram summoned him back to New York, "There was a whole floor that used to be full of desks and secretaries that was covered with plastic (Top Rank sales director) Len Levy and Sony Lester were there. I said, 'Are we going to England or what?' They said, 'There's no more Top Rank. We're all going to Capitol.' I didn't have any say in it at all."
The transfer of Scott from Top Rank to Capitol occurred in March of 1961. Scott's career nose-dived and the pressure increased, "It wasn't me any more. When I was with Carlton and Top Rank, they let me do what I wanted to do. They built the records around me, even on Burning Bridges when we had the string section. On Capitol, the producer would get the wild track going and say, 'This is the trend of music that's happening today' and try to get me to do it. It might have been happening but it wasn't good for me. It took several years for me to realise that. There were songs that I had no business doing. The producer would say, 'Jack, this is a great song, let's do it.' They sort of twisted my arm. Joe Carlton said, 'Jack, write your own songs and do them the way you want. If you do it any other way, it won't be you.' We used Stan Appelbaum at Capitol. He was a top arranger at the time but The Chantones weren't there and (long time lead guitarist) Al Allen wasn't there. I was just the voice. A Little Feeling was the first song and they rushed it through before I could bring my guys in. I started losing it at Capitol."
Ultimately, Capitol dropped Scott in December 1962, after a most frustrating period which included bending his style to a country audience.
Scott almost joined Motown in 1963, "…but I felt uncomfortable with the sound," said Scott. Goodness only knows what would have happened to Scott's career if he had joined Berry Gordy at this early stage in the Motown story. Instead, Scott joined RCA after an invitation by Chet Atkins but Atkins found it difficult to know how to market Scott. In addition, added Scott, "I loved country music but I wasn't a country artist."
It was the British Invasion that finally hit Scott the hardest. By 1965, "After the psychedelic trend came in," he said, "I just lost interest. Elvis was rock'n'roll to me."
Jack Scott wandered aimlessly for a few years, including time at ABC-Paramount, GRT and then, finally, in 1973, at Dot where he had a couple of minor country hits. Time spent in Europe, in the late 70s didn't provide the career lift he sought.
The Scott story hasn't finished, though. Ex-radio programme director, Warren Cosford still sees Scott as Scott performs and occasionally records in his home city of Detroit, "Now that I'm living in Windsor, I often see Jack. Usually, he'll just show up in the lobby of our radio stations, unannounced. Sometimes, when he's there, a few of today's wanna-be rock stars and their record label people are hangin' out. I never introduce Jack to them. While I'm sure he'd be gracious, he's much too private a person. Besides…been there, done that."
A private, sensitive man who belies his tough guy, motorbike-toting image, Jack Scott is known for his perfect pop ballads and his rock'n'roll outings. Whatever genre you want to place Scott, what is undeniable is that Jack Scott was a first class vocalist. Remove the histrionics from many of his contemporaries and you would be hard put to find a better one.
SCOTT…BOXED!
For those looking for the ultimate in Jack Scott music coverage, look no further than Germany's Bear Family (www.bear-family.com) which offers the 5CD box set, Classic Scott, featuring all of his American studio recordings from 1957 to 1977, beginning with the demo of Greaseball that became Leroy, and taking in the Carlton and Top Rank sides, many of them unavailable since the 50s and 60s. There are also the Capitol and Groove sides, like Grizzily Bear, Flakey John and more. Finally, the set squeezes in the ABC, Jubilee, GRT, Dot and Gusto sides from 1966 to 1977. It also incudes a large format, informative book.
If you are looking for something more concise and downbeat then check out The Ballads of Jack Scott, a 25-track, single-CD collection that also includes an informative, CD-sized this time, booklet. Tracks include What in The Word's Come Over You and My True Love.
Finally, Jack Rocks is a 26-track, single CD collection of more upbeat tracks. Also including an informative booklet, it features Leroy, The Way I Walk and Goodbye Baby.