The Article
EVO3 Sequel features optimised conductor strand geometry and active shielding
22nd May 2015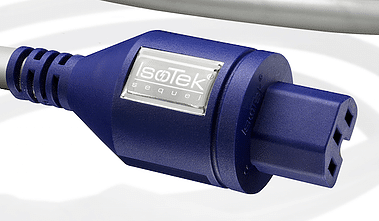 The new EVO3 Sequel differs from the entry level EVO3 Premier power cable by featuring optimised conductor strand geometry and active shielding. The Sequel comes in a standard length of 2m, compared to the Premier's 1.5m.
Like the Premier, it uses silver-plated oxygen-free copper conductors twisted together to aid EMI/RFI rejection but in the Sequel, the conductor geometry features optimised thickness of the individual strands. The Sequel also incorporates 'active' shielding under its PVC outer sheath, similar to that used in IsoTek's more costly cables.
The EVO3 Sequel is IsoTek's second-tier power cable, slotting in between the entry level EVO3 Premier and the mid-level EVO3 Elite. Price is £199.95 for a 2m terminated cable.
Click on www.isoteksystems.com or call 0118 981 4238 for more information.