The Article
Harmonia Box Set: the band's complete output plus rarities
22nd March 2016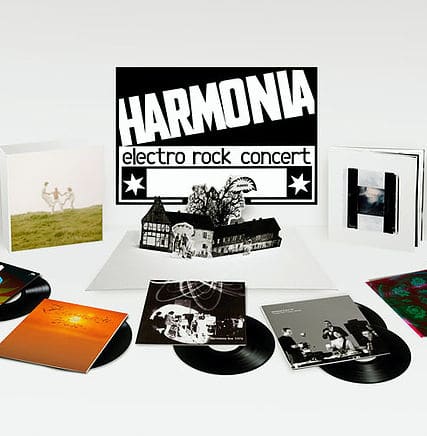 Harmonia existed from 1973 to 1976. A Krautrock supergroup, it brought together Dieter Moebius and Hans-Joachim Roedelius of Cluster and Michael Rother of NEU!. Though Harmonia was not very well known during their lifetime in their native Germany, their music soon captured the attention of Brian Eno, David Bowie, and other high profile admirers overseas. Eno was so captivated by Harmonia — he once famously called them the "world's most important rock group" —that he briefly joined the band, recording music with them in 1976.
"I liked Harmonia because they represented to me all that I had been enjoying about German music in general: a spareness, a rigour, a sense of experiment," said Eno. "They were a long way from the world of 'entertainment.' I didn't want entertaining at the time. They came — at least spiritually — from the world of German experimental music: Stockhausen, Darmstadt, etc."
What we have here is the band's complete output plus rarities. That's five pieces of vinyl, a 36-page booklet, a poster, a piece of pop-up sleeve art and a download code.
Albums featured include: Musik Von Harmonia (1974), Deluxe (1975), (Harmonia & Eno '76) Tracks and Traces (Reissue), Harmonia Live 1974 and Documents 1975
As for that last item, Documents 1975? This was a live tape given to, composer,  Asmus Tietchens. "It stood, virtually forgotten for nearly 30 years, next to hundreds of other analog audio storage media labeled with the number 263 in an archive that had been moved elsewhere long ago. It wasn't until Michael Rother informed me quite some time ago that a re-release of the two Harmonia LPs with live bonus material was in the works that I was reminded of the treasure I had been holding on to for decades. Naturally, I wanted to make the recordings available for the new release. I quickly found the tape, but what condition would it be in after 40 years? Would it disintegrate in my hands? Or had it gotten sticky due to oxidation? You always have to expect the worst when it comes to old tapes. To cut to the chase: while it was being cautiously digitizing, it became clear that the tape and the recordings were as crisp as they had been on day one. Precise measurements showed no loss in frequency. It was a huge relief and amazing luck. I was all the happier to relinquish the historical material I had."
Expect a release on 21 October 2015