The Article
Gong's Radio Gnome Invisible Trilogy
22nd April 2016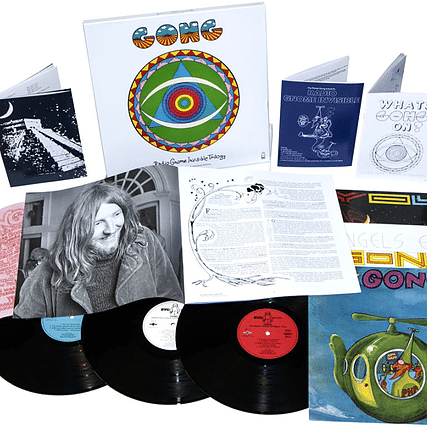 For the first time ever, Gong's quintessential trilogy comprised of the albums Flying Teapot, Angels Egg and You are newly remastered from the original tapes and gathered together in a box set and EarBook editions, released worldwide by BYG / Charly Records.
Each 180gm heavyweight audiophile vinyl LP has been mastered from the original tapes and cut pure-analogue to lacquers by Matt Colton at Alchemy Studios
The 3LP Box Set features exclusive content including four rare and out-of-print promotional booklets full of Gong-founder Daevid Allen's illustrations, his complete trilogy narrative, lyrics and philosophy reproduced as facsimile editions together with a packed full-colour booklet that includes Daevid's original LP artwork, full band line-ups, credits, rare photos plus new, in-depth sleeve notes.
Radio Gnome Invisible Trilogy will be released in November 2015.