The Article
Elara power speakers from Triangle
7th June 2022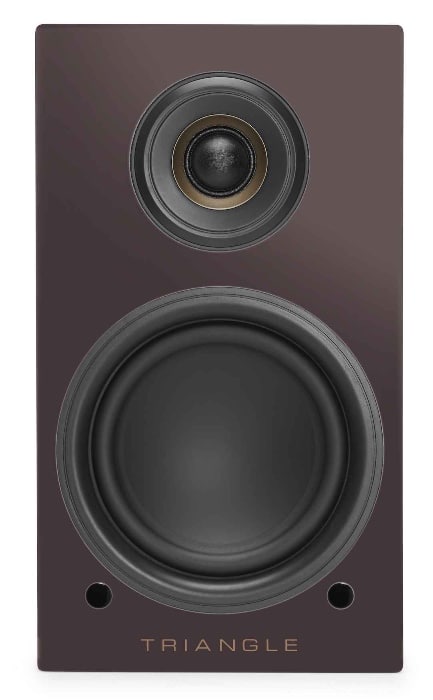 Fully featured, including a built-in phono amplifier, Paul Rigby takes a look at these French powered speakers
Back in 2019, I reviewed a pair of powered speakers from Kanto called the YU4s. They are still available for around £300 (retail), although you can buy them at a discounted price if you shop around.  
As powered speakers, they are not perfect (as you will see in my review) but they're good enough for me to recommend to anyone looking for low-cost powered units. They are also one of the few powered pairs to offer a built-in phono amplifier. This one fact adds to their popularity. This means that you can hook a turntable directly to the rear of the YU4 speakers, giving you a very small footprint analogue system.
Which is all well and good but a growing amount of Kanto users would like an upgrade solution. I might have a solution for those itchy Kanto owners. This stand-mounted design comes from the French outfit, Triangle and the speakers are called the Elaras.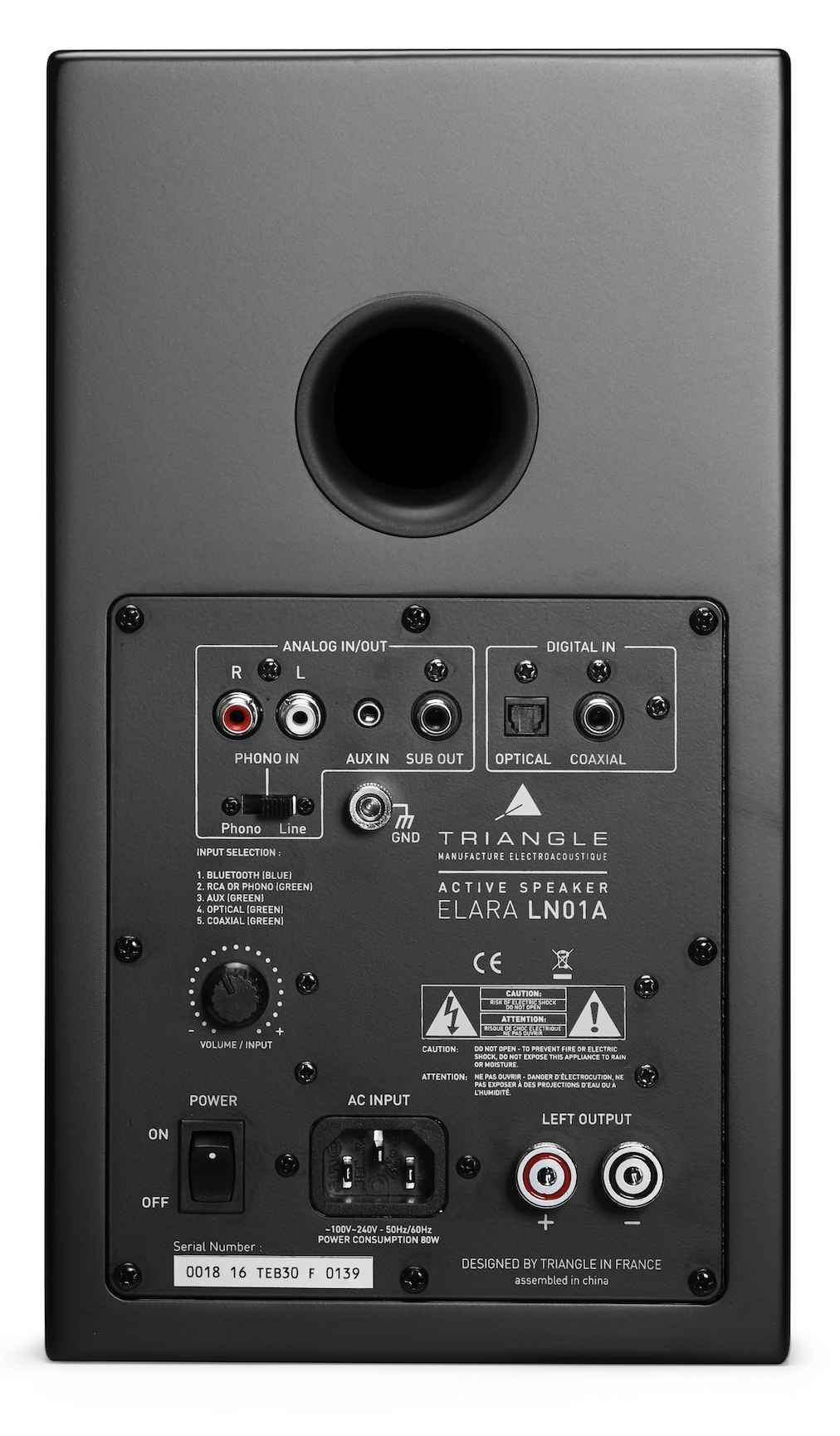 The cabinets are slightly larger than the YU4s at 165 x 235 x 291mm (6 x 9 x 11in, approx) and they weigh slightly more at 9.5kg (20lb) but these specs are not too far away from the Kanto core specifications to be unacceptable. 
LOTSA SOCKETS
Offering a decent sensitivity rating of 89db, the Elara speaker include a 50W Class D amplifier, a remote control and, on the rear, a range of useful sockets including a pair of RCA ports for Line or Phono Amplifier, optical, and auxiliary. They support Bluetooth 4.0 and aptX and include a subwoofer output if required. They also include an auto standby feature which means that, with no signal sensed, the speakers will switch themselves off after 30 minutes.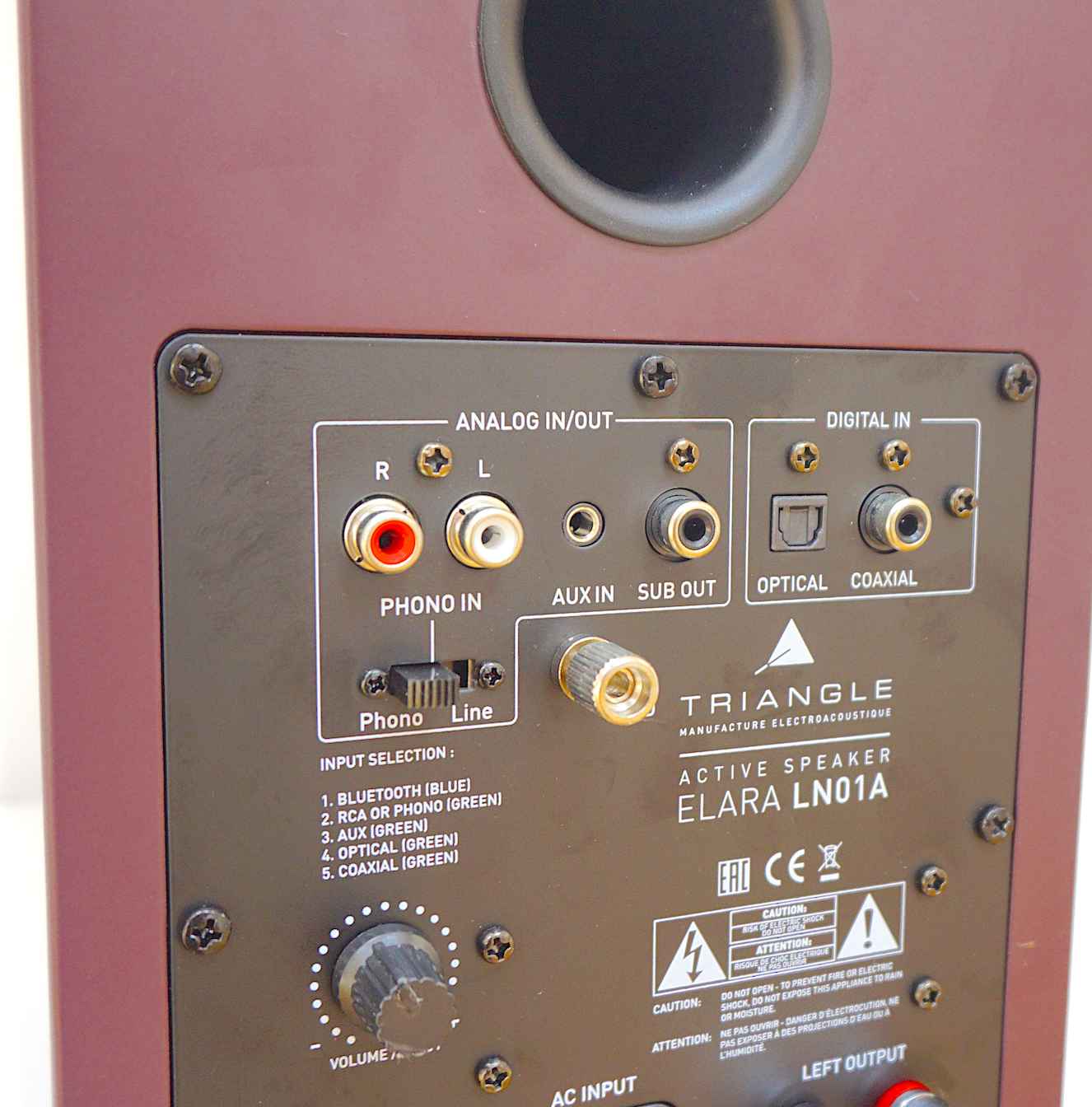 Like the Kantos, these speakers follow the classic master and slave pairing with the master including an IEC power socket and all of the sockets plus a rocker power switch and gain knob. You are supplied with a basic connecting cable to the slave speaker to provide a stereo signal.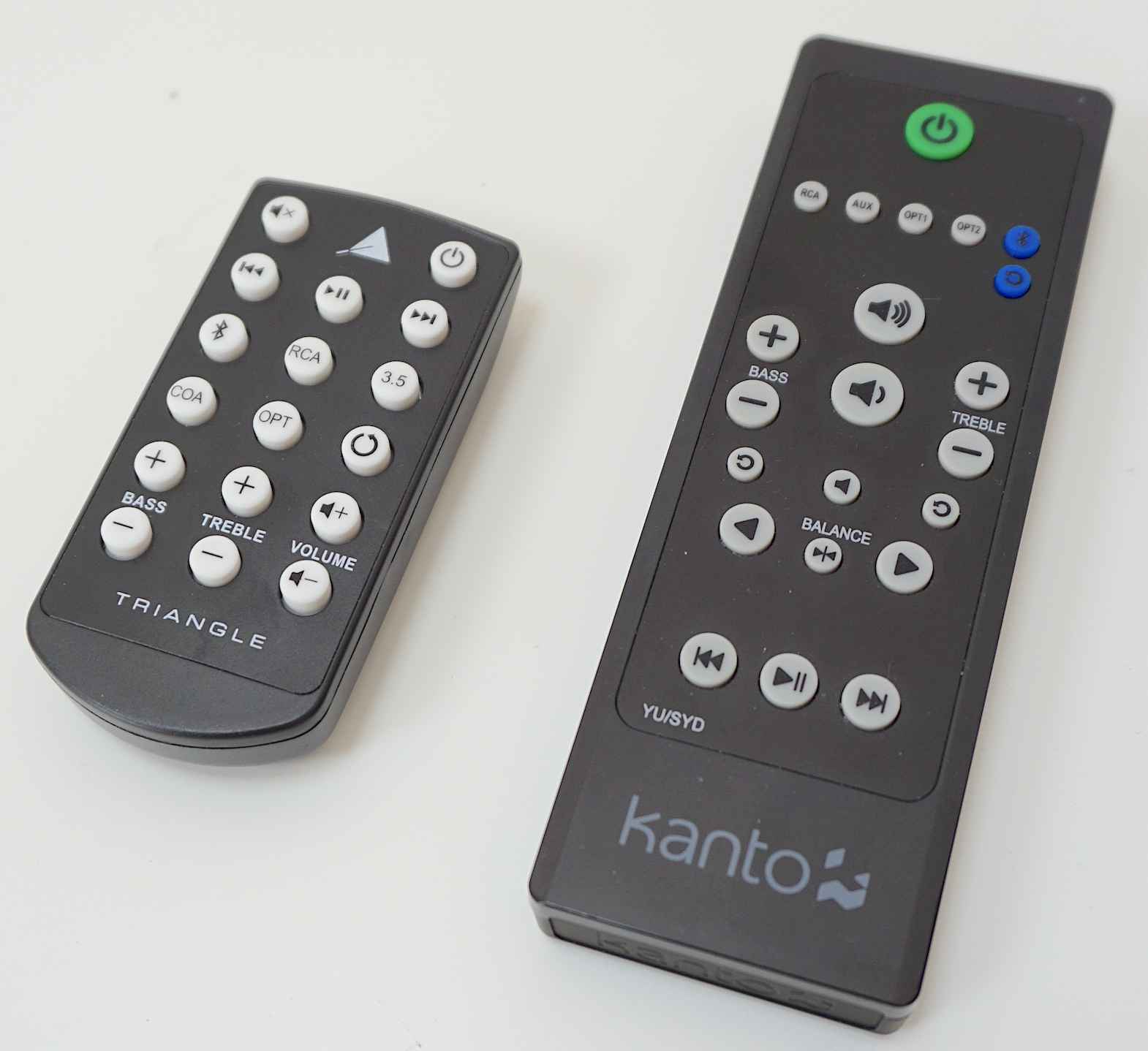 Compared to the rather nicely built and finished speakers, the included remote control is nasty, small, nasty and weedy and nasty. Especially when compared to the music cheaper Kanto effort. This plastic monstrosity does the job, nevertheless, and includes all of the source options, volume, power switch plus two tone controls: bass and treble. 
SOUND QUALITY
To begin, I plugged my modded Astel&Kern AK120 digital audio player into the rear of the speakers, via the optical port using a QED cable and played Satisfy My Soul from Bob Marley at 24bit/96kHz featuring the Marley vocal lead and female backing plus percussion, secondary percussion, bass, piano, brass, the trad 'mm-chakka' signature reggae rhythm guitar and organ. There was plenty going on across the rather busy soundstage here so sorting that lot out would be a task and a half for the Elara speakers.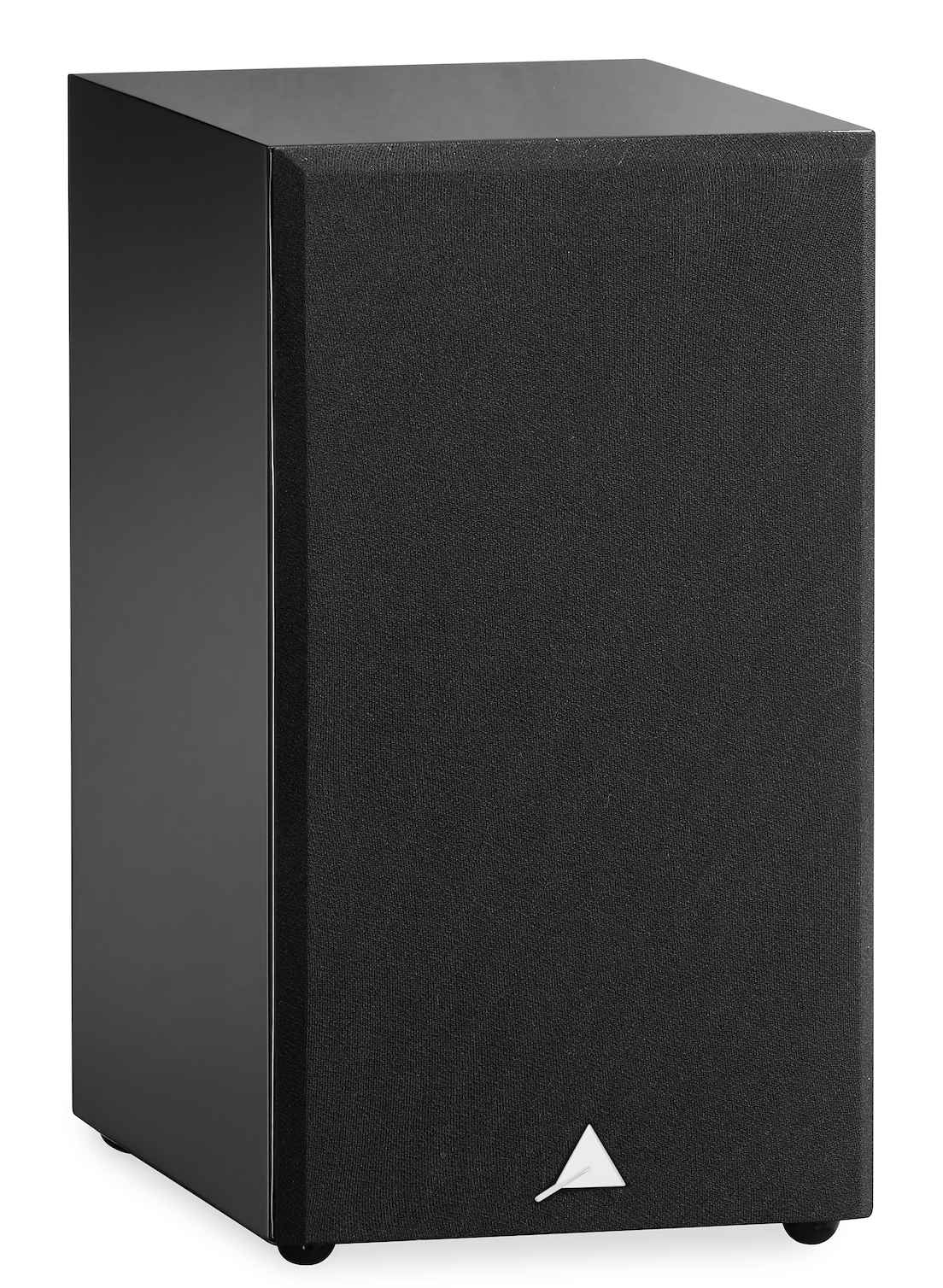 But sort it out, it did. And it did so with some aplomb. Where to start? Well, as the source was a reggae track, let's look at bass first. Bob Marley's production loved to inject a meaty bass track to provide a confident under-pinning and this track was no different. In fact, the bass was strong in its impact, giving the song real forward motion and drive. 
Bass was fairly complex too. This was not a one dimensional beat. There was some character here. Bass guitar added to that overall power section.
What impressed me more was how the bass did not mask the refined upper midrange sounds from the brass and piano. Room for both of these instruments remained. Enough for both instruments to add to the rich soundstage.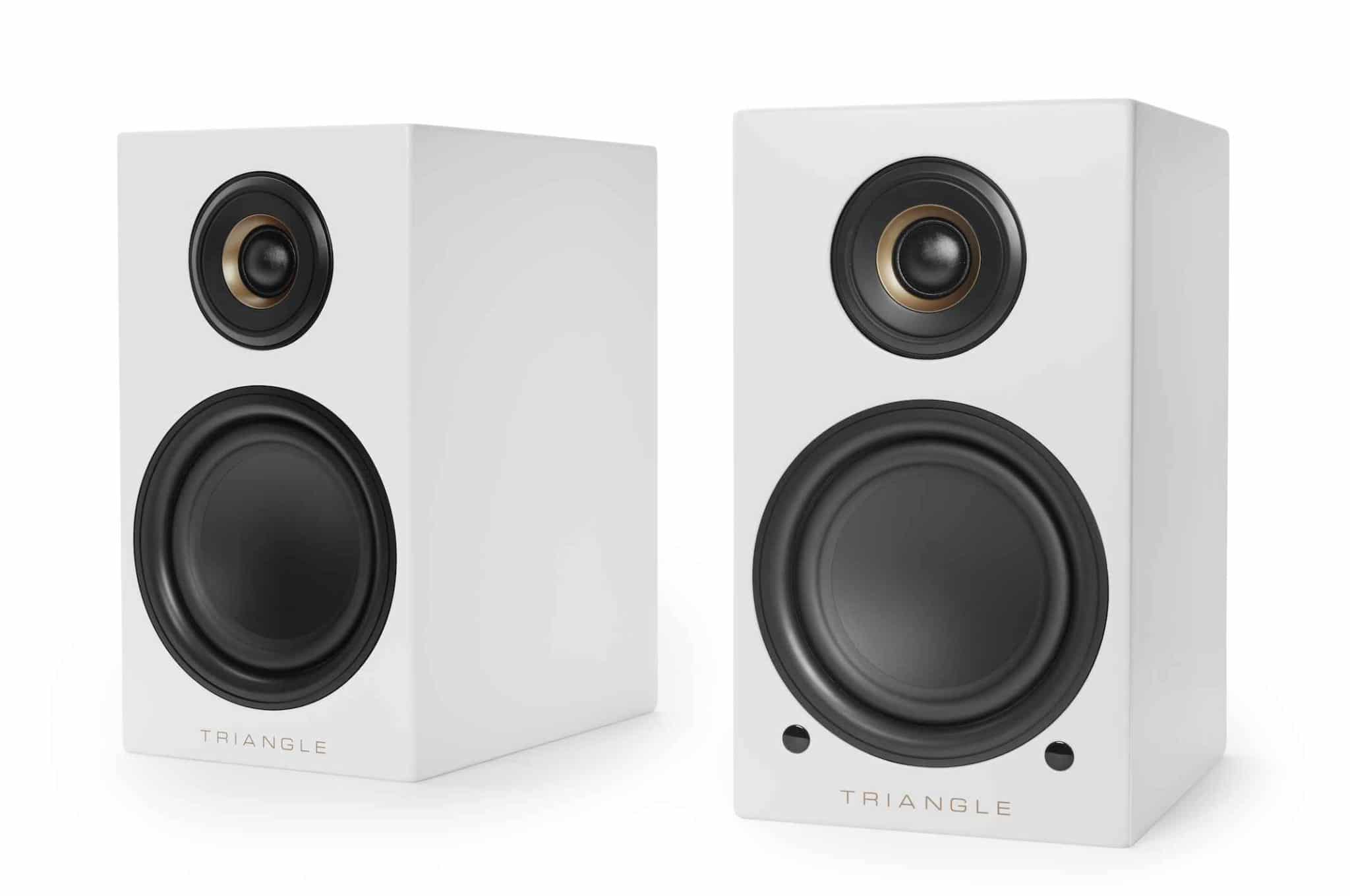 Percussion was illuminating. Drums were focused and full of detail but it was the secondary percussion which got me. Moving from the YU4 speakers to the Elara designs, I found a tambourine! One moment there was nothing and then, firing up the Elaras, an entire new instrument popped onto the soundstage proving that midrange insight and clarity were high up on the Elara's highlights.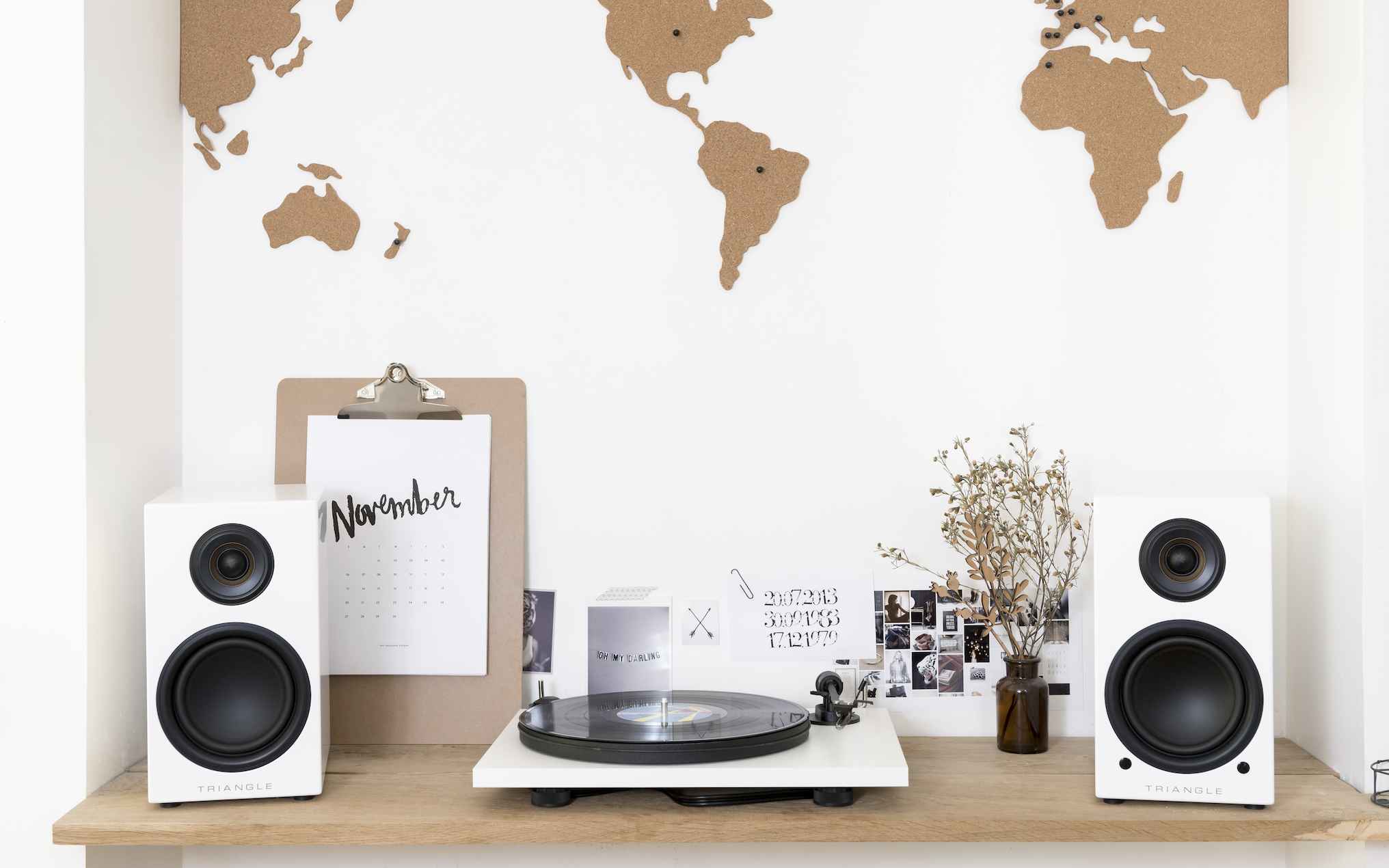 I then tried pushing a Bluetooth track via my phone to the Elara speakers. Specifically, a lossy-flavoured Love Me or Leave Me via Nina Simone. Even though this was a lossy track, I was impressed by the relatively mature playback from the Elaras. The Simone vocal was pushed back a tad around the stereo image giving a pleasing 3D effect. Something I don't expect from any Bluetooth playback, never mind a lossy file. Cymbal taps were admirably fragile, the soundstage was comfortably – if not excessively – wide and the piano had enough focus and precision to maintain detail within the pacy rhythm. And all of this occurred without the oft brittle upper mid and treble output. I was pleasantly surprised. 
SYSTEM REVIEW
One of the principle parts of this review is the Elara's built-in phono amplifier. After all, that was one of the points raised by my readers/viewers as a point of interest. To test this feature, I took the liberty of casting my Triangle net wider than the speaker cabinets and broached the walls of a fortunate coincidence.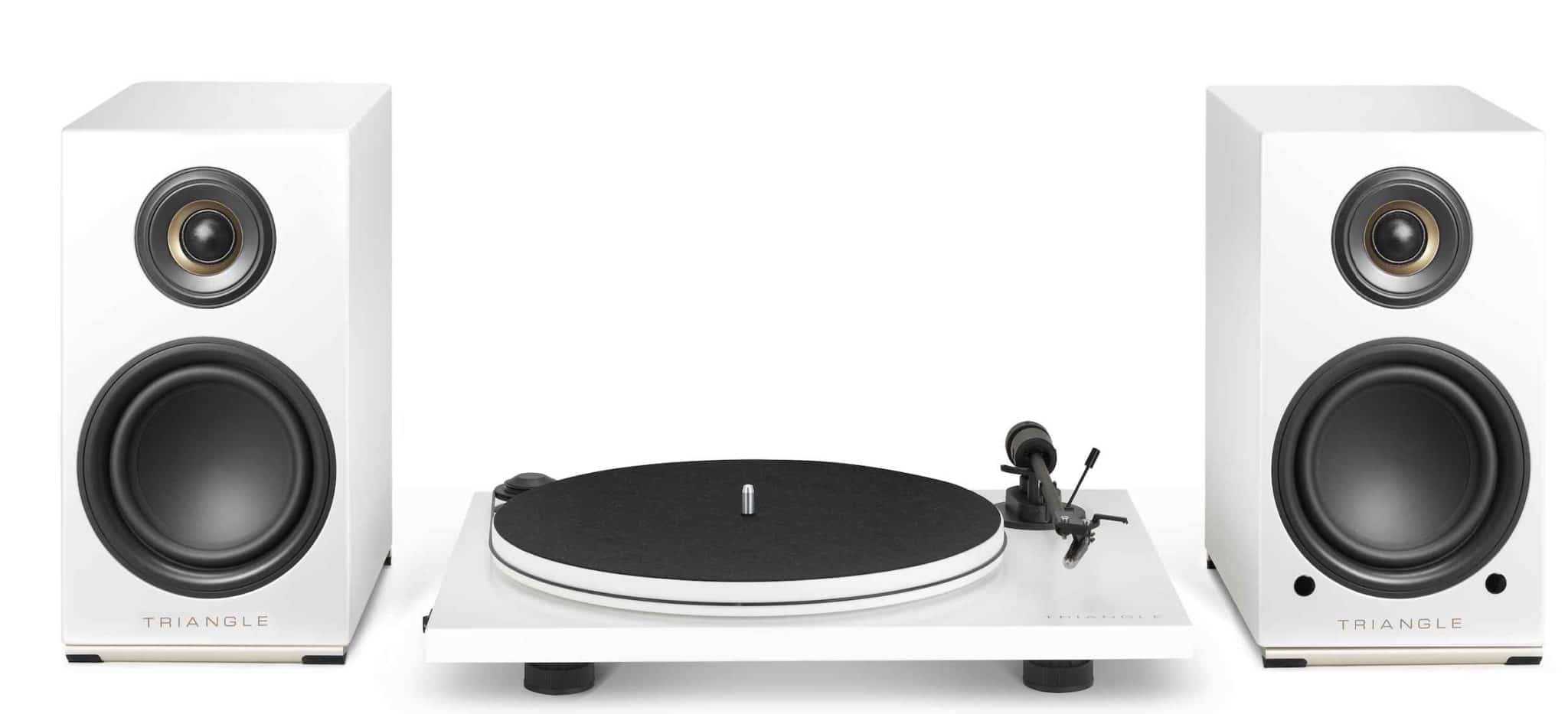 You may not be aware but Triangle is also offering the Elara speakers as part of  a matched, 3-part system. Colour co-ordinated, no less. Colour options include various shades of wood wrap or solid colours. 
To act as a foundation for these rainbow delights, Triangle has worked with Pro-Ject to bring in a newly badged Primary-E to act as a suitably matched analogue source.
The Primary-E remains stock in terms of techie details and accessories. For the so-called and imaginatively monikered Triangle Turntable, all you get is an extra Triangle badge and your new choice of colour: aubergine on my review sample.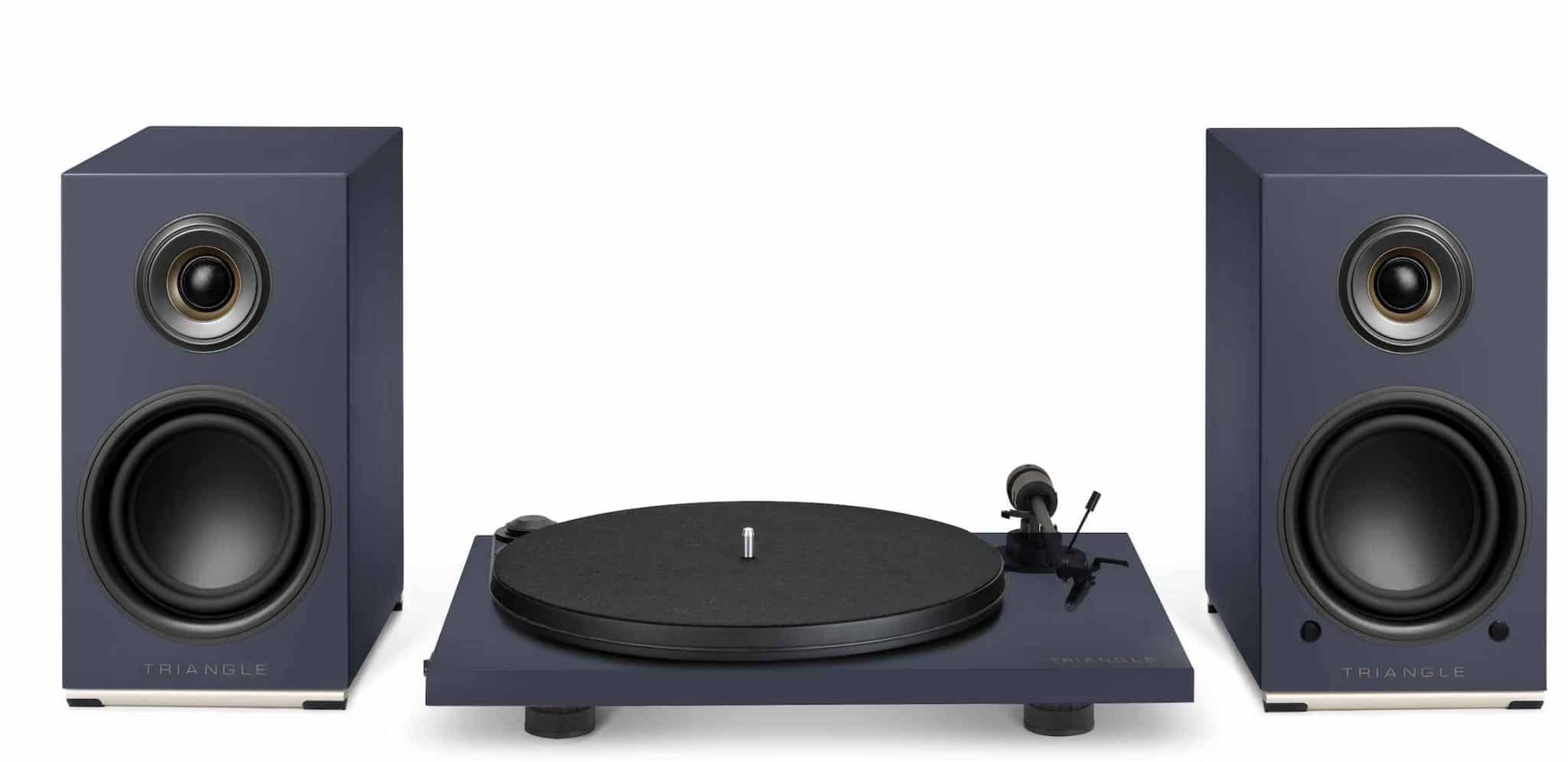 You do pay through the nose for this tonal privilege, I must say. On its own, the so-called Triangle Turntable is priced at £369. The standard Primary-E from Pro-Ject is priced around £180. So you're paying around £190 for the aesthetic additions here. Not great value, I'm sure you'll agree. Saying that, if you purchase the turntable with the Elara speakers as a bundled, all-in-one system then you do get a discount of £49 (for the solid colour) or £39 (for the wood wrap). So you're actually paying an extra £140 or so, in that case. 
Whether you buy the Triangle Turntable in this configuration depends how badly you want a matching turntable. If this HiFi setup is aimed at a lifestyle addition to your living room then maybe so. In such a case, the matching colours may very well be a god send and one that sits well into the family environment. Who knows, the colour matching options might the difference between having a HiFi in the living room or not. Such are the whims of family politics. General HiFi users might pass and stick with the speakers only. The option remains, though.
For this sound test, I used the Triangle Turntable as a source, plugging it into the rear of the speakers and those supplied phono sockets of both the YU4 and Elaras.
Now let's remind ourselves that putting a phono amplifier into a speaker cabinet is a bad idea for sonic excellence. It's a great idea to reduce the overall footprint of your final system and it's also a great idea to reduce the overall price so you're getting more hardware for your budget and you don't have to think about cabling or connecting everything up but, as I say in sonic terms? Not a great idea. A phono amplifier is a sensitive soul. Sticking the thing into a speaker cabinet opens it up to excessive vibration and migrating high-frequency noise. Nevertheless, this feature remains attractive to many and, as I've said, I can see why. 
Even so, any built-in phono amplifier has a battle on its hands.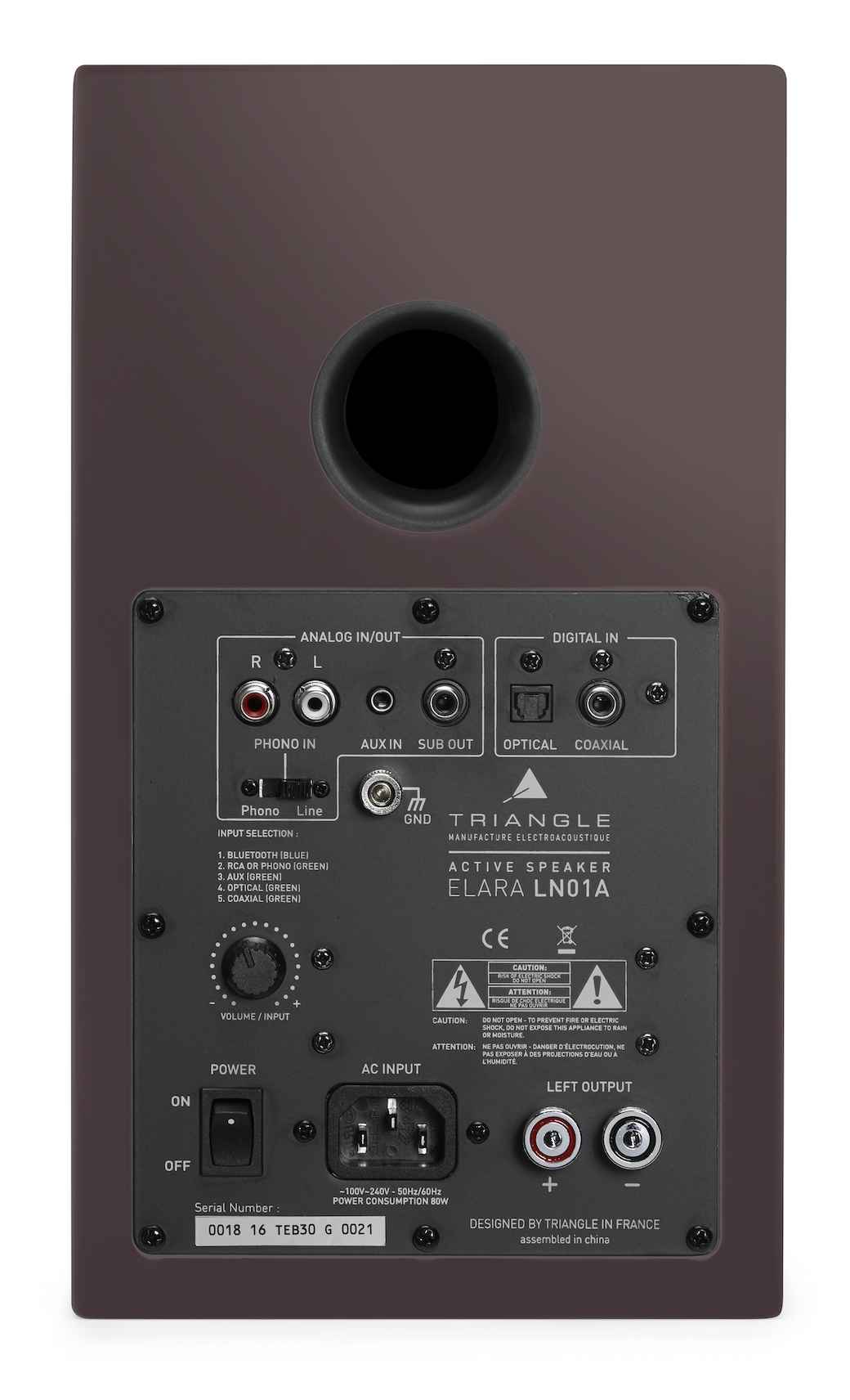 With the YU4 pairing, I found the built-in phono output to be acceptable. No more than that. The sonic performance was…fine. It made a half decent noise. One that would be fine for many casual HiFi users and one that would be usable in a small space such as a small bedroom, office or similar.
The Elaras initially sounded poor. Mainly because the speakers were so much better than the YU4s. That is, the Elaras were better equipped to pick out the sonic issues of running a phono amplifier stuffed inside a pair of powered speakers. 
So, in an odd way, the poor sound was a good thing, at least in larger terms. Even so, the default mode provided excess bass that the built-in phono amplifier struggled to control and upper mids and treble were rolled off, dulling top-end detail.
So. What to do?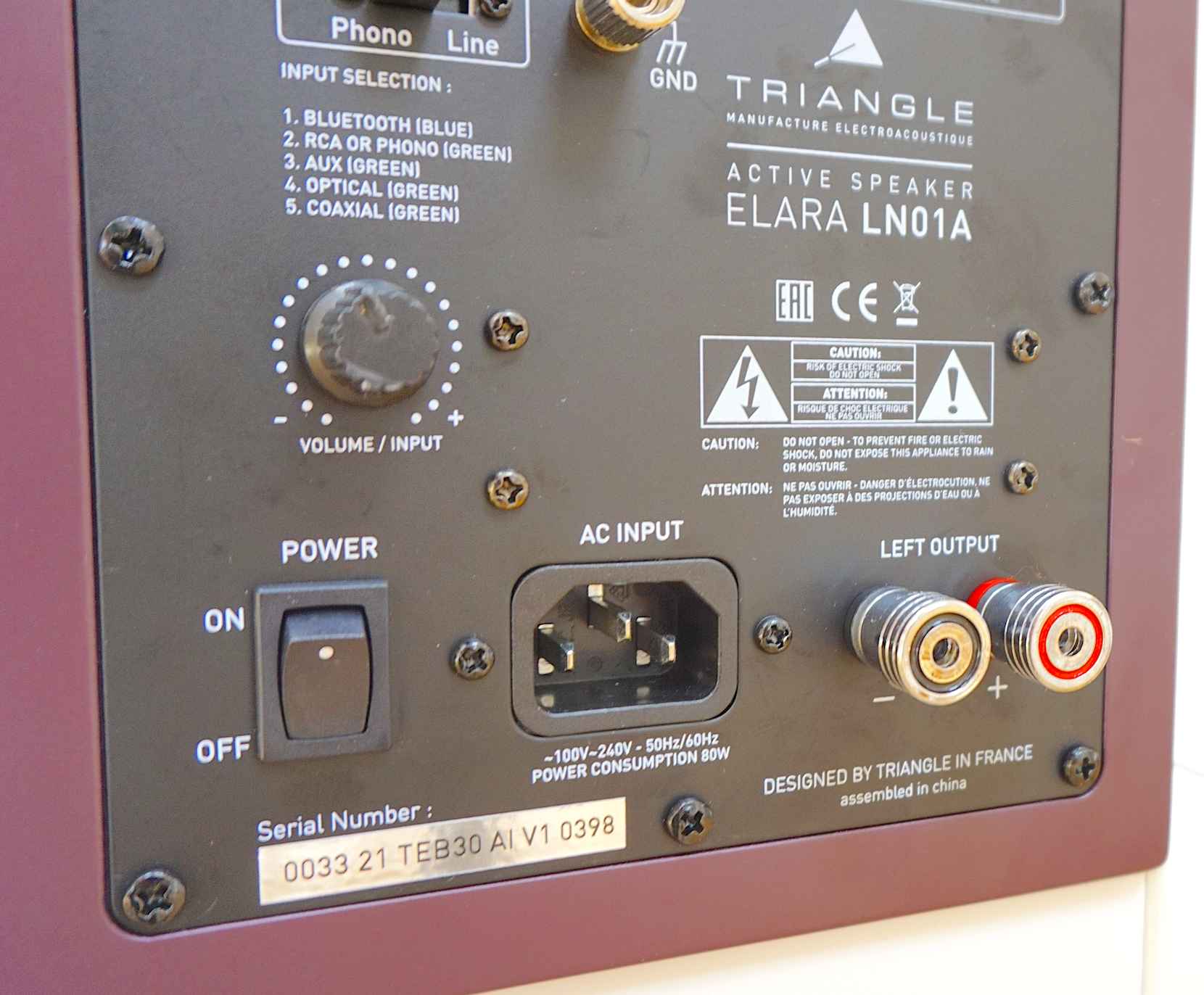 As much as I dislike tone controls, I reached for them here. They proved to be a blessing. I upped the treble boost and decreased the bass and, would you believe it, although the sound remained unremarkable, the tonal balance was so much better. The accentuated upper frequencies allowed the ear to pick out fine detail much easier while the now subdued bass no longer swamped the soundstage.
So, if you go for the Elaras and use the built-in phono amplifier, experiment with the tone controls! It's worth the effort. 
Even better, buy an external phono amplifier (such as Pro-Ject's low-cost Phono Box) and give your ears a treat.
CONCLUSION
My task was to find a pair of powered speakers that were worthy of moving to as part of a HiFi upgrade without breaking the bank and while retaining a built-in phono amplifier. The Triangle Elara speakers fulfil that brief and fulfil it surprisingly well. I was pleasantly surprised at the inherent quality of the speakers, especially as powered units. The amount of bass punch combined with upper frequency detail and clarity delights the ear, making any subsequent low-footprint HiFi system a joy to listen to. Should YU4 and other low-cost powered speaker owners (i.e. including brands like Edifier and the like) take the leap to upgrade to the Triangle Elaras? You bet!
---
TRIANGLE ELARA POWERED SPEAKERS
Price: £439 (wood finish) or £479 (slid colour finish)
Website: www.scvdistribution.co.uk
BUY HERE:
EUROPE – https://amzn.to/38ypD8F
USA – https://amzn.to/3MxxkdR
GOOD: feature count, general sound quality, build quality, system matching option, 
BAD: built-in phono amplifier, remote, over-priced matching Turntable
RATING: 8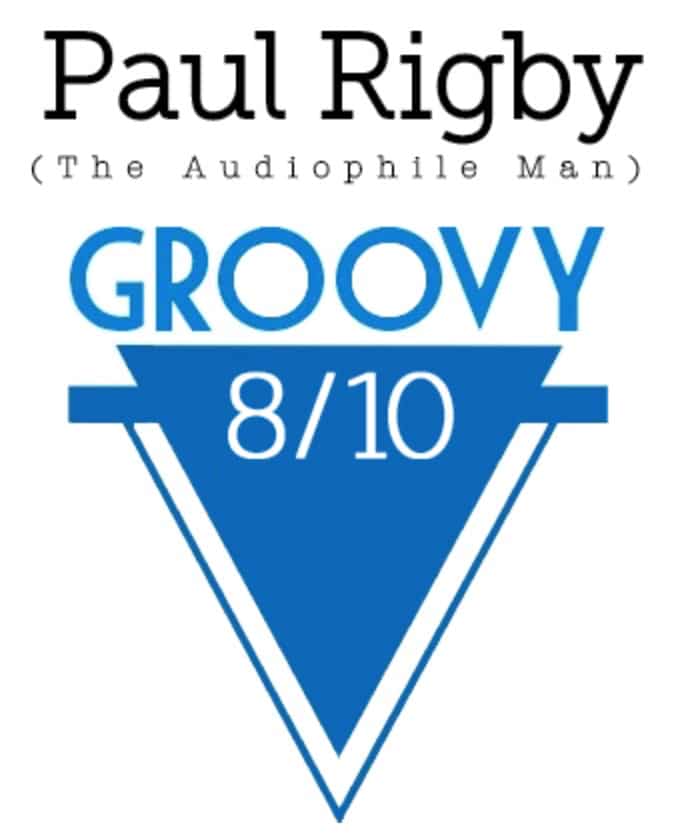 ---
[Don't forget to check out my new Patreon Page at www.patreon.com/audiophileman, for exclusive postings, giveaways and more!]
REFERENCE
iPhone/iPad
Tellurium Q cabling
Blue Horizon Professional Rack System
Harmonic Resolution Systems Noise Reduction Components
Air Audio AC-2K Balanced Transformer