The Article
The Eagles: Signing the Register, One More Time
21st December 2017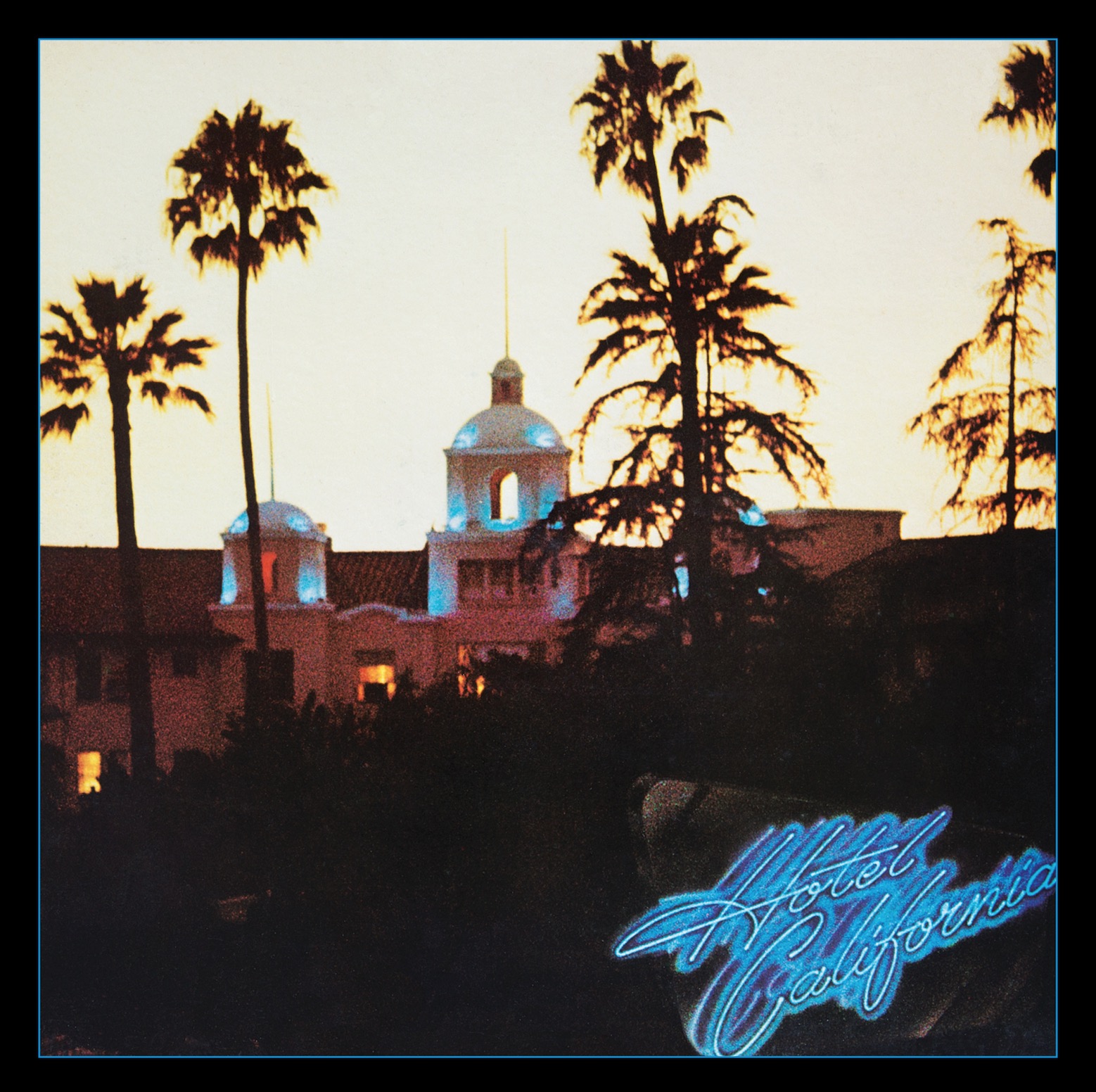 Title: Hotel California
Label: Asylum
There are plenty of hated famous bands and artists out there, although the emotion can sometimes be drawn for unexpected reasons. For example, other people's success – and lots of it – can sit uneasily in the heads of certain members of the public. You've also got to factor in creative exposure. Constant replays of certain songs can build a resentment from some. It's happened to The Beatles, U2, Oasis and other successful acts.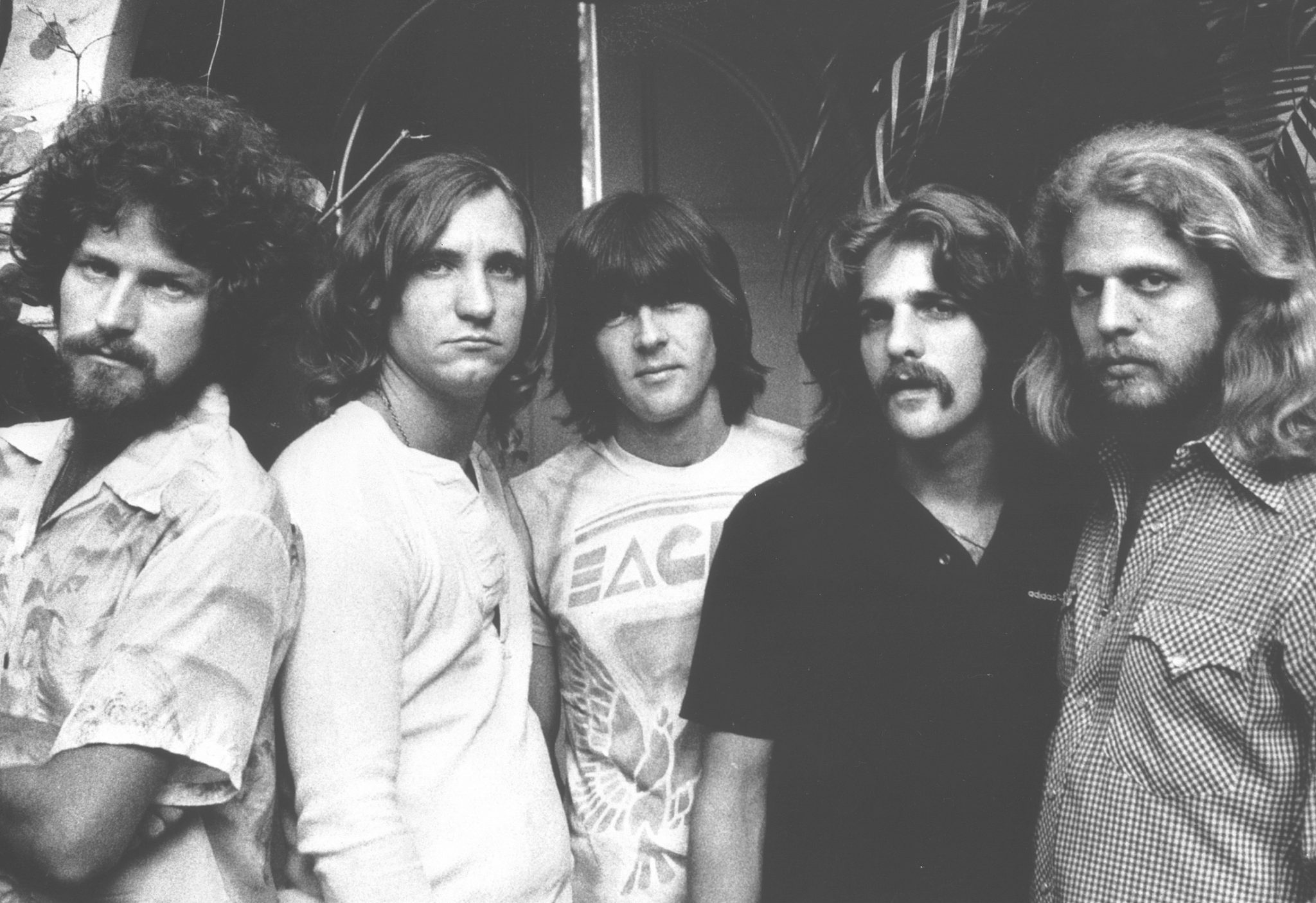 Actually, maybe that's the compliment. When a band gets to the stage that it's music has seeped so far into the public consciousness that certain general music fans just can't take yet another replay of those famous songs…maybe that's when you've really made it.
The Eagles have been in this position a lot. Nit-picking criticism has also been aimed at them. Saying that they are too glossy, not rough enough around the edges. Generally failing to met the expectations of certain critical voices.
"Critics lose their leverage all of a sudden when something gets mass acceptance," said band member Glenn Frey in 1992. "They're no longer arbiters of taste." Maybe the sheer size of the success and the negative connotations got to the band, though, because The Eagles began to fall apart after this LP hit the shelves.
Which is a shame because this Eagles outing is a nailed on classic LP, taking the band away from the country flavours of yore and more towards the rock genre as the band's sound grew in size and power with Don Henley taking a more active part in proceedings both in terms of writing as well as singing.
The LP itself touched on the darker side of life at that time including success and excess as well as flat out despair regarding American life in general.
Oh and that famous dual guitar solo on the title track? Don Henley talked to Rolling Stone about that one and revealed, "Don (Felder) and Joe (Walsh) sat down and worked on those solos for days. Then [producer] Bill Szymczyk and I did some editing on those solos. Then they relearned the parts after we edited them together. They'll be pissed at me for saying this [laughs] but that wasn't them just sitting down and spontaneously playing it in one take. That was weeks of work to get there."
But what was the song about? Glenn Frey had this to say to NBC, "All of our songs were cinematic, but we wanted to open up with [a montage]," he said. "It was just one shot to the next – a picture of a guy on the highway, a picture of the hotel, the guy walks in, the door opens, strange people. We take this guy and make him like a character in The Magus, where every time he walks through a door, there's a new version of reality. We decided to create something strange, just to see if we could do it. And then a lot was read into it – a lot more than probably exists. I think we achieved perfect ambiguity."
Fans of this album might be interested to know that there is a luxury boxed edition of the album now out as a digital collection on CD and Blu-ray. Hotel California: 40th Anniversary Deluxe Edition contains two CDs plus one Blu-ray Audio disc that includes remastered sound and 10 previously unreleased live recordings, as well as hi-res stereo and 5.1 mixes. Presented in an 11" x 11" hardbound book, the set also features rare and unseen photos from the era, a replica tour book and an 11" x 22" poster. Both a 2CD Expanded Edition and single CD will also be available, along with digital download and streaming versions.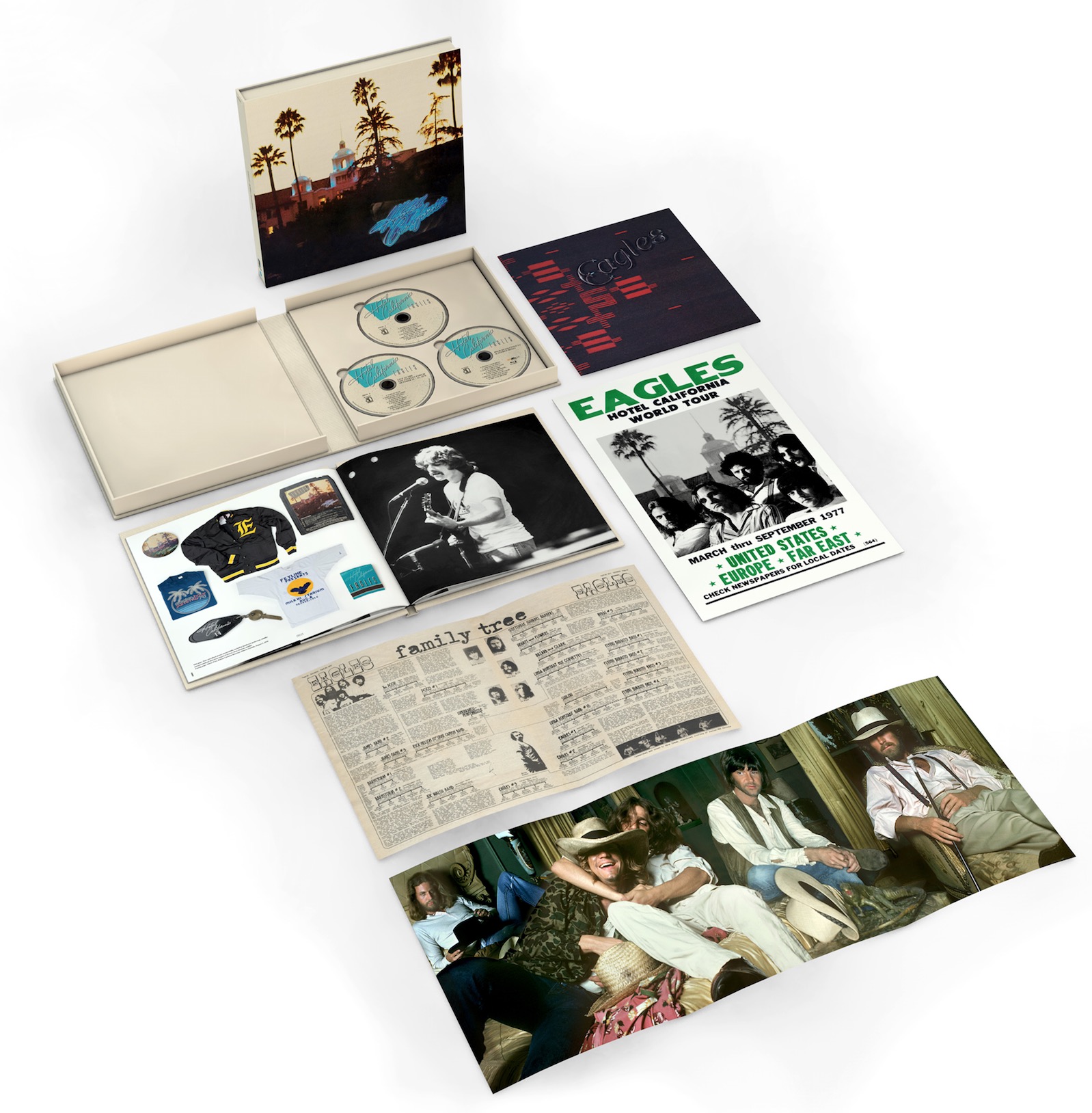 The 10 live tracks (which Henley has been reported to like a lot because of their "gritty" nature) were recorded during the band's three-night stand at the Los Angeles Forum in October 1976. The concert recordings – which were recorded about a month before the album came out – feature one of the first ever live performances of Hotel California and New Kid In Town along with other Eagles classics including Already Gone, Take It To the Limit and Witchy Woman.
The Blu-ray audio disc that accompanies Hotel California: 40th Anniversary Deluxe Edition features the 5.1 Surround Sound mix originally released on DVD-A in 2001 along with a hi-resolution, 24bit/192kHz stereo mix.
The CD mastering from this set is excellent. Detailed and showing admirable insight for a silver disc with a tremendous degree of instrumental separation plus air and space in and around the soundstage. Hence, subtle sounds such as previously shy secondary percussion is easily picked out by the ear. More to the point, the CD is recorded relatively low. All non-specialist CDs are compressed to some degree but this is one of the better examples that I've heard. In fact, it's one of the most coherent CD masters I've heard, certainly this year.