The Article
Densen's DenDAC50 DAC uses an analogue Class A preamp stage
22nd March 2015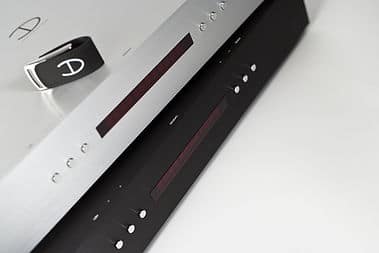 Densen's new DAC uses an analogue Class A preamp stage, similar to the preamp stage found in the Densen B-275 pre-amp and based on Densen's 6W Class A amplifier stage. It contains a relay-driven attenuator, controlled by a microprocessor and offering a resolution of 200 steps.
Densen offers a USB, two sets of digital coax, SPDIF and two Toslink optical inputs plus an internal port that will allow you to mount a small PCB with a digital input. This is principally a future-proofing option to off-set upcoming, yet currently unknown, standards. This area will also allow the implementation of the forthcoming Densen Wi-Fi board that will receive digital signals by Wi-Fi.
The DenDAC 50 also contains three analogue preamp inputs. This allows analogue sources as tuners, TVs and tape decks to be connected. The tape output can also be used as line output to a headphone amp if so desired. The DenDAC 50 has two headphone outputs.
Pre-out outputs from the DAC allow connections to power-amps and other pre-amps. There is a fixed output, intended for preamps and a variable output allowing for connection to power-amps.
The box contains two custom-made toroid transformers, each with no less than four power outputs with a total of eight transformer outlets. They feed five rectifier bridges and 50.000 uF of storage capacity.
Further, eighteen individual regulators feed the circuits.
The DenDAC50 uses custom-made capacitors, Vishay metalfilm resistors, gold-plated RCAs with direct connection to the printed circuit board and high quality film capacitors. Price is €4,500
Mail to [email protected] or click on www.densen.com for more information