The Article
Delia Derbyshire's The Delian Mode/Blue Veils
22nd March 2016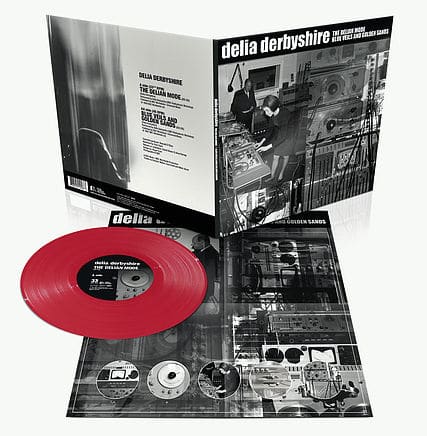 Originally pressed in August 2014 on black vinyl, The Delian Mode/Blue Veils 7" is being re-issued on red vinyl.
Delia Derbyshire's work at the BBC's Radiophonic Workshop in the 60's was recognised initially for her realisation of the now iconic Doctor Who Theme which was written for the show by Ron Grainer. More recently though, she has been celebrated for her own compositions and experiments at what was then the cutting edge of electronic music. Here on 7″ vinyl are two of her pieces.
On the A side is The Delian Mode, which was used as incidental music during The Sky At Night in 1969.
On the B-side is music written for a TV documentary in 1967, Blue Veils and Golden Sands, in which she used her own voice and a handy green BBC lampshade: "I analysed the sound into all of its partials and frequencies, and took the 12 strongest, and reconstructed the sound on the workshop's famous 12 oscillators to give a whooshing sound. So the camels rode off into the sunset with my voice in their hooves and a green lampshade on their backs," said Derbyshire.
Limited to 500 copies – release date is 31 July 2015.