The Article
David Bowie's Five Years: Spanning 13 LPs it will span the Bowie career from 1969 to 1973
2nd April 2016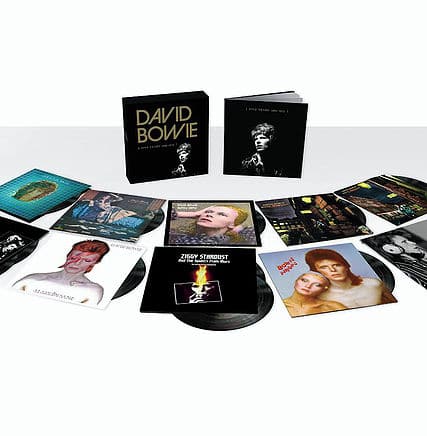 Bowie fans take note that. Parlophone is aiming to release a new vinyl box set called Five Years. Spanning 13 LPs it will span the Bowie career from 1969 to 1973 including: David Bowie, Space Oddity (new 2015 master), The Man Who Sold The World (new 2015 master), Hunky Dory (new 2015 master), The Rise And Fall Of Ziggy Stardust And The Spiders From Mars, Aladdin Sane and PinUps (new 2015 master).
There are no bonus tracks although Re:Call 1 is included, an exclusive two disc compilation of non-album singles, single versions and B-sides plus a previously unreleased single edit of All The Madmen, and the original single version of Holy Holy, which was only ever released on the original 1971 Mercury single.
Another box set exclusive will be the inclusion of Ken Scott's 2003 stereo remix of The Rise And Fall Of Ziggy Stardust And The Spiders From Mars – previously only available on DVD with the LP/DVD format of the 40th anniversary edition of the album. This is in addition to the standard version, which uses the 2012 40th Anniversary remaster. The 2003 remix version comes with an alternate cover which features an outtake from the original Heddon Street photo session.
You also get two live albums: Live Santa Monica '72 and Ziggy Stardust: The Motion Picture Soundtrack.
This vinyl set has exactly the same content as accompanying CD edition and is pressed on 180g vinyl.
A 84-page book  is also included which feature rare photos and technical notes about each album from producers Tony Visconti and Ken Scott.
Five Years 1969-1973 is the first 'in a series' of Bowie boxes from Parlophone and will be released on 25 September 2015. Price is £189.