The Article
Bob Marley's The Complete Island Recordings
22nd March 2016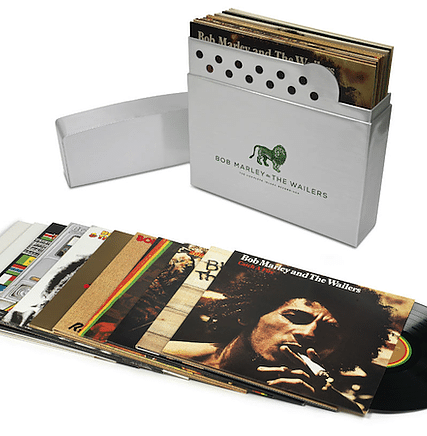 September is slated as the release date for The Complete Island Recordings, a 12LP vinyl box set that collects a decade's worth of work by Bob Marley and the Wailers.
This collection contains the nine studio albums (Catch A Fire to Confrontation) recorded for Island and two live releases (including the 2LP Babylon By Bus) all pressed on 180g vinyl. The records come packaged in a 'Zippo' lighter style rigid card box with lift-top lid and wrapped in silver paper that simulates the brushed metal finish of a hinged lighter.
In fact, there are TWO versions of this box; the standard one described above (£170) and a Collector's Edition which looks similar but is actually a metal box, numbered and lined with velvet (£425). This version also comes with a 70th anniversary slip mat and two photos.
We are promised artwork that faithfully replicates the original pressings. This means you'll get the poster with 1975's Live!, the original gold metallic jacket with embossed lettering from 1977's Exodus and the die-cut cover for Babylon By Bus.
Both boxes come with Back to Black MP3 codes and in terms of mastering, the label has stated that "all vinyl will be cut from new 24bit/96k sources", so that's obviously a digital source.