The Article
Bob Dylan WTTW Studios, Chicago, September 10th 1975
22nd May 2016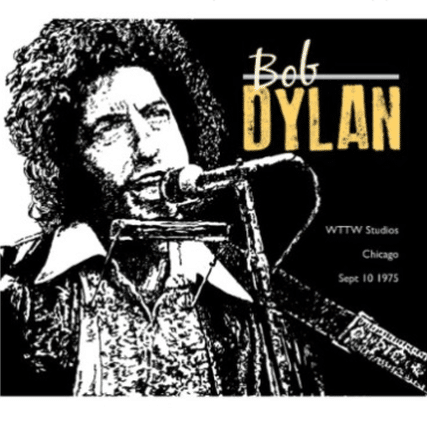 Well, this is an odd one and no mistake. Possibly a release that could be described as 'grey'?
What you've got here are three live performances of Hurricane, Oh Sister and Simple Twist of Fate, featuring Scarlet Rivera on violin, Rob Stoner on Bass and Howie Wyeth on drums.
Broadcast on WBAI-FM New York, this limited edition spans 500 copies and is pressed upon 10″ white vinyl.
I think that these tracks have appeared before on a German bootleg, issued in 1985 called Dark as a Dungeon also on the bootleg Bloodtakes plus, possibly, another boot release called Past Over and Rolling Thunder. The latter two releases are digital, though and CD-based so this vinyl issue might be of interest to collectors.
Price will be £13 and it will be released on 4 March 2016.