The Article
5020 SPEAKERS FROM Q ACOUSTICS
9th October 2023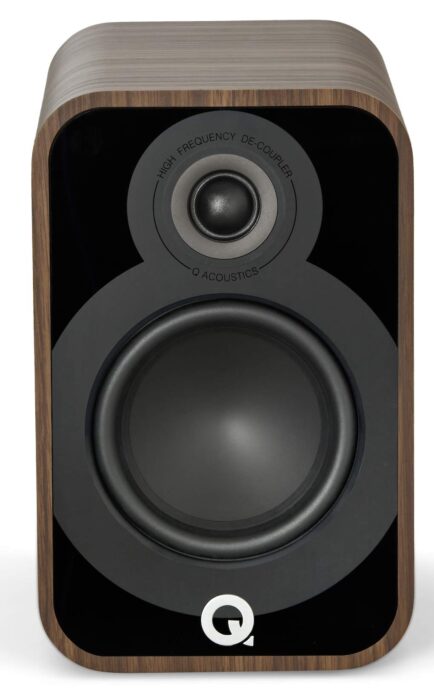 Priced a little over £500, these 5020 stand mounted speakers have a Concept look to them. Paul Rigby wonders how they sound and how they compare
Arriving with magnetic grilles, which I promptly removed for the review, the 5020 stand-mounted speakers span 284 x 180 x 293mm (11.2 x 7.1 x 11.5in) and weigh in at 7kg (15 pounds approx.) per speaker. These are technically 6 Ohm speakers but I wouldn't worry too much about that. You may find yourself pushing up the gain by a couple of clicks to reach the value you're used to, especially with a sensitivity at just under 88db but that's about it.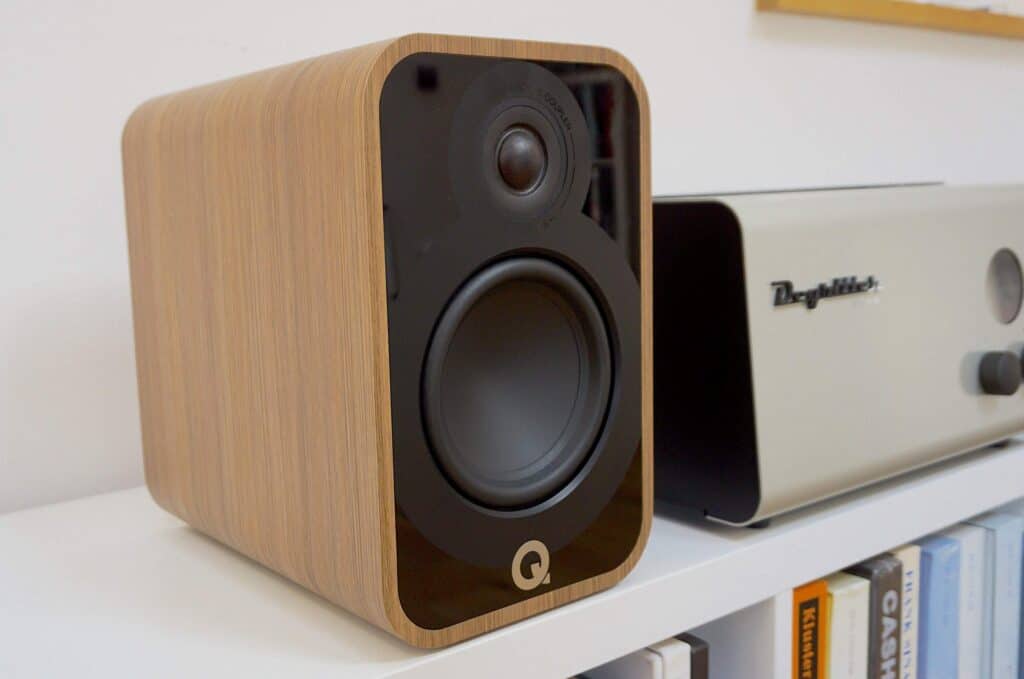 In terms of pairing this speaker with your HiFi? It's pretty regulation stuff in that you'll need an amplifier of 25W and up to move these things although I would recommend 30W and up to give it a bit of elbow room.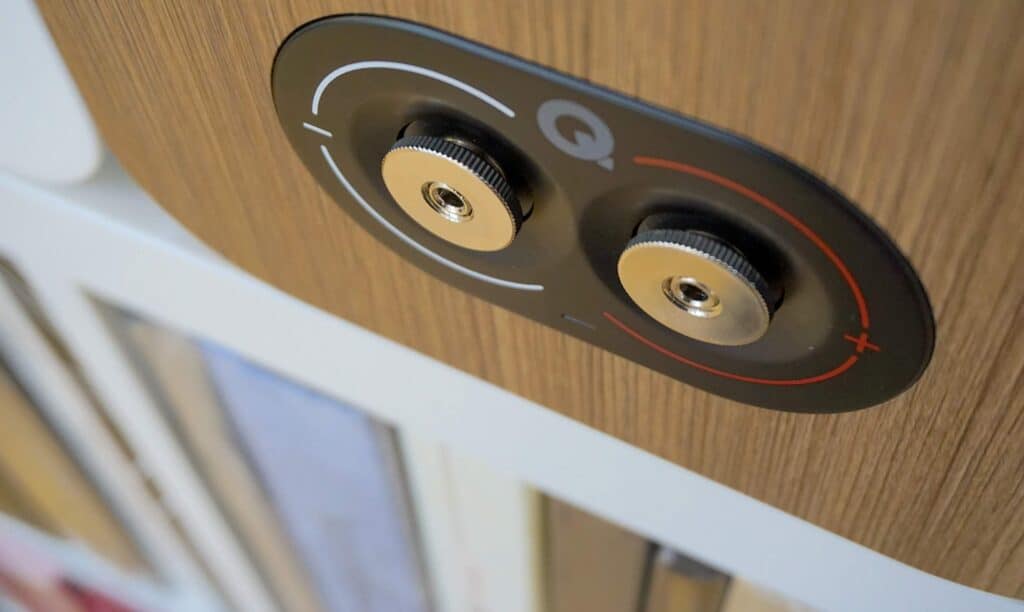 Arriving in four finishes: Satin Black, Satin White, Santos Rosewood and Holme Oak, the cabinet itself doesn't have the fancy Gelcore system that you can find in the Concept 30 speakers, for example. It's in areas like this were costs are saved to lower the price. Even so, the excellent P2P peer-to-peer bracing inside the cabinet does help rigidity. Oh and there's a rear bass port to enhance that frequency.
GIVE ME A CONCEPT
The only cabinet feature I disliked were the cable binding posts, a set of screw-on flat discs that are great for banana plugs but a pain in the neck if you use spades. You can use spades but with difficulty. I'm not a fan. I much prefer the posts used with the Concept 30s, for example. But again. Cost.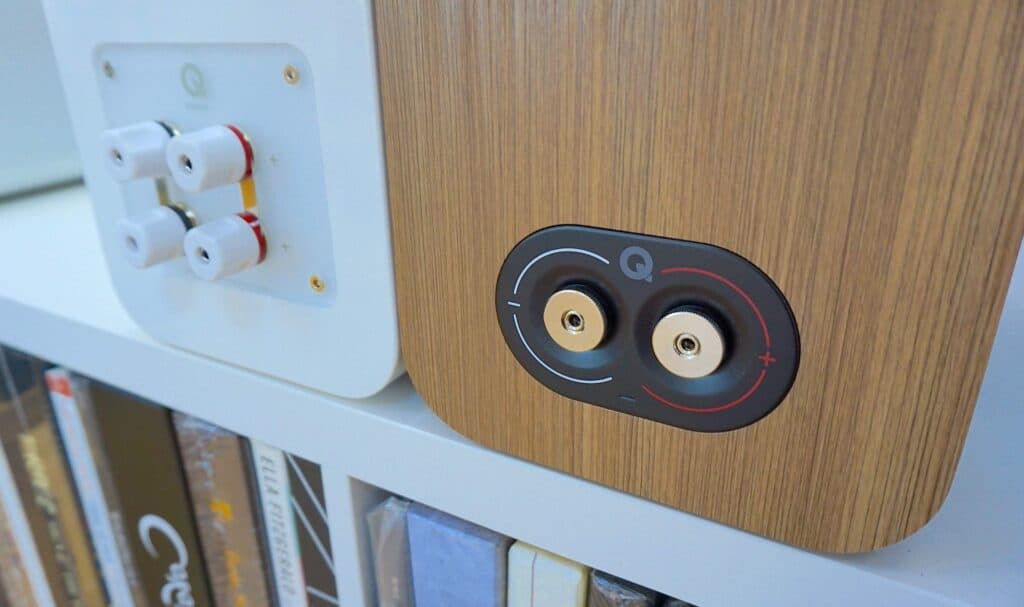 If you're of a certain age, you might remember the notion of walking into a barbers and asking for "A Tony Curtis". In haircut terms, that is. This one is a bit like a 3030i walking into a barbers and saying, "Give me a Concept". There's the aesthetic tweaking here. 
In drive terms? Up top, you'll find a 25mm silk-dome tweeter that sits within its own chamber, isolated from the hubbub around it. I'm all for isolation in speaker design and would to see this area developed further.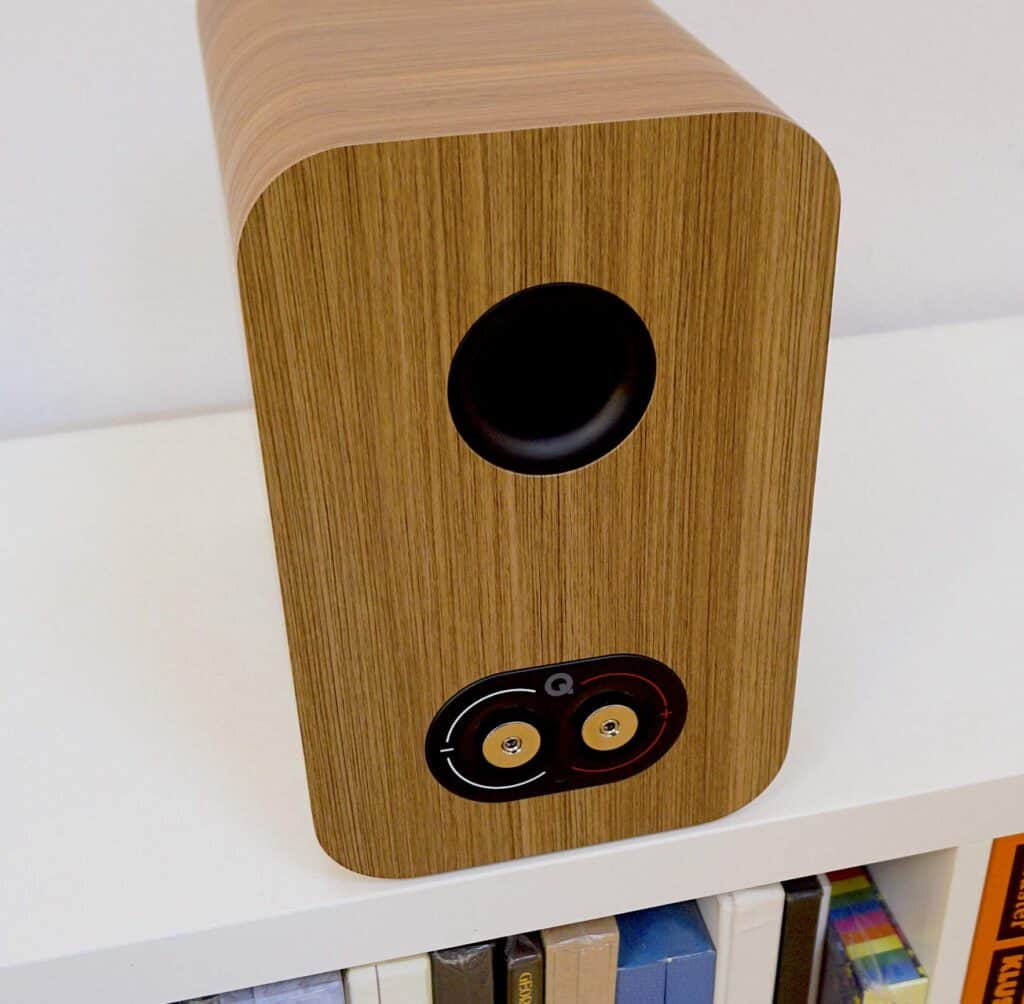 The 125mm mid/bass unit beneath uses a Continuous Curved Cone which basically means that there is no dust cap.
SOUND QUALITY
I began the sound tests with the original pressing of the self-titled Sutherland Bros' Band album, released in 1977 via CBS and the track Hallelujah.
These sound tests, you could say, are not particularly fair or, at least, I've giving the 5020s a hard ride. 
Why? Well, Im comparing them to a pair of speakers with folded motion tweeters, a unit type I fully expect to be superior to the unit found in the 5020.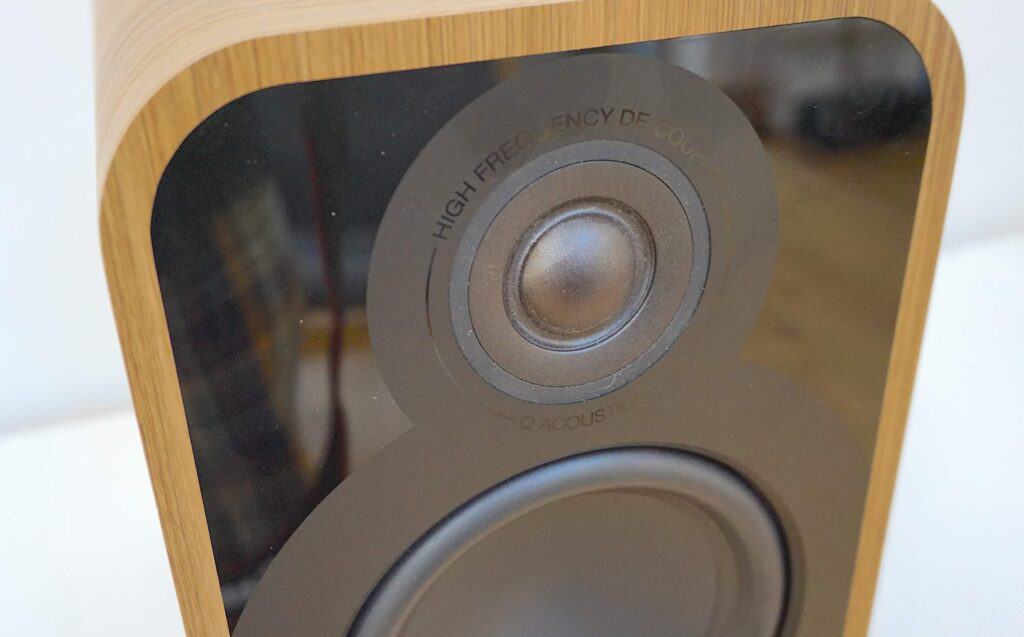 I'm also going to compare the 5020s to a pair of Q Acoustic Concept 30 speakers which are more expensive than the 5020s and thus, should also be superior. 
So, starting from a trailing position then, let's see what the 5020s can do in such tough competition shall we?
VS MARTIN LOGAN 15i
I wanted to compare the 5020s with the 15i speakers because of that self-same folded motion tweeter, stuck in the 15i which is a highlight of that top notch overall design.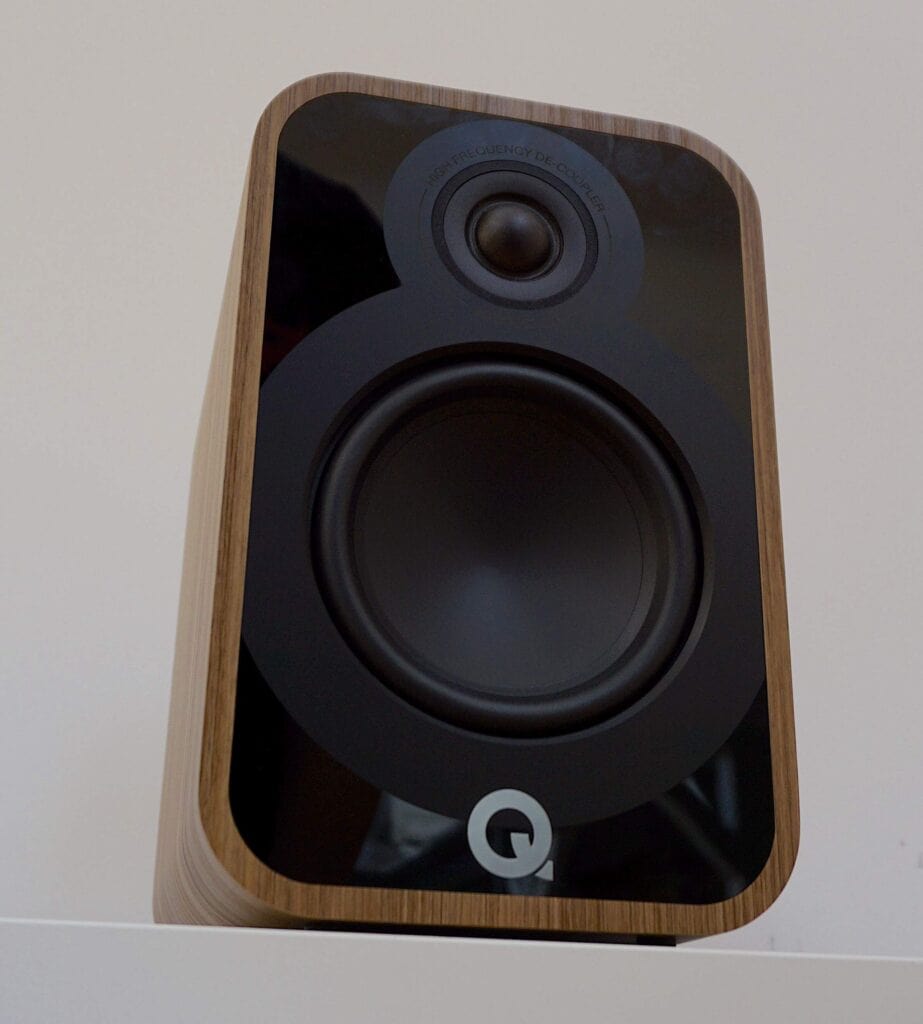 The folded motion offers supreme clarity around the top end. In comparison, domed tweeters, while often very creditable indeed – do sound slightly coloured. On their own, the sound great. Compared to the folded motion of the 15i? They sound coloured. 
So that was the first test. No matter how good the tweeter on the 5020 sounds it is, let's not forget, a domed tweeter. It ain't no folded motion or ribbon or similar. 
Hence, I'm not looking for the 5020 tweeter to beat the unit in the 15i, just to come close. That's enough for now.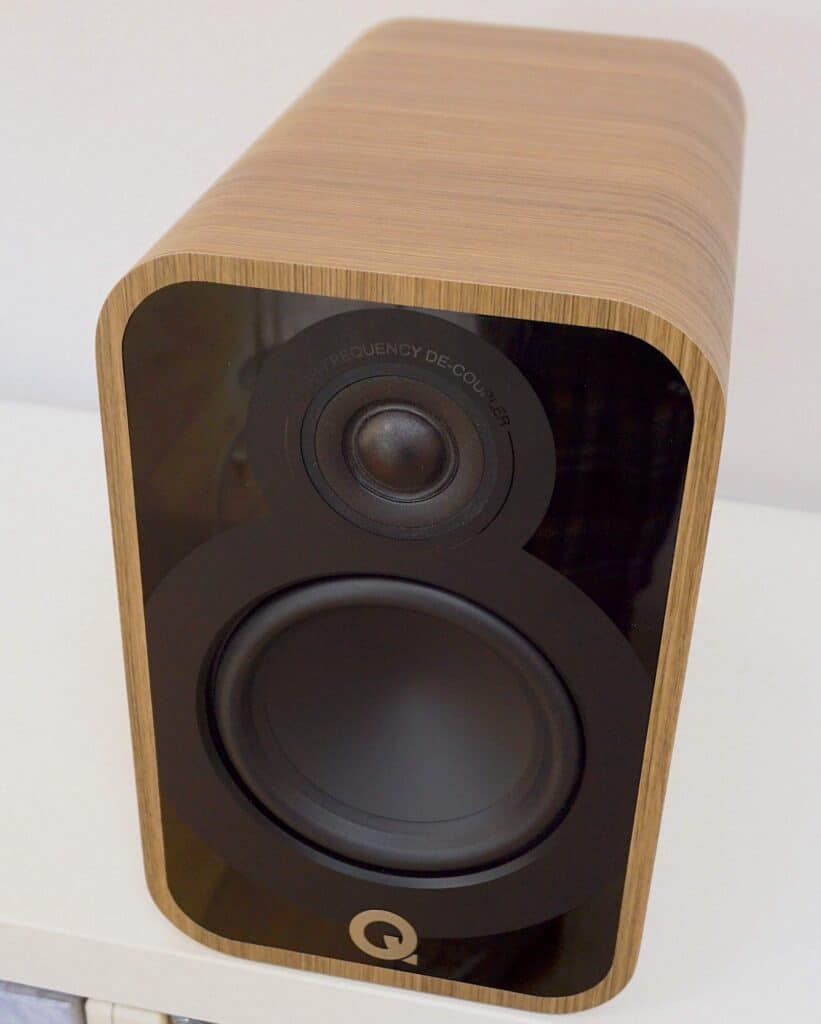 And the result? Was fascinating. The 15i speakers are excellent speakers but the wonderful treble output they produce can almost sound analytical compared to the 5020s. The folded motion tweeters from the 15i offer a more realistic playback. They also give you extra information in terms of the force offered during acoustic guitar strums. The treble from the 5020s is slightly warmer in its presentation. 
GIMME SOUL
Even so, all of the information remains. Nothing, in detail terms, is lost. The only thing you do lose in comparison to the folded-motion tweeters is extended clarity and some extra analytical nuance. What the 5020s provide instead is soul. Feeling. Emotion. I can imagine, given the right song, that I could nod my head in nerdy appreciation of the accuracy of the treble detail from the 15is. As for the 5020s? Given the right song, the 5020s could make you cry.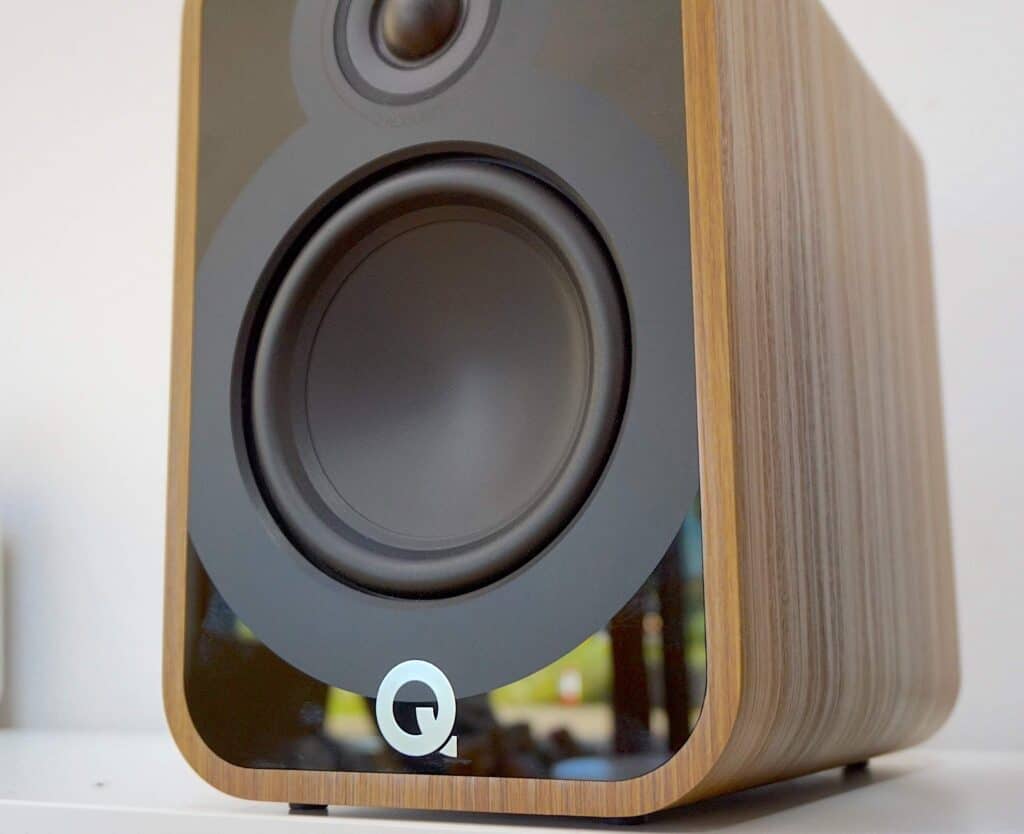 They plug you into the soul of the music. And for me, that's what music is all about. It's not really about midrange this or bass that. It's about emotion and soul, feeling on the verge of tears because somehow, deep inside your heart, this sound, this music, connects with something personal, something private, something you might not talk about to anyone else. A conversation you only have with your HiFi. 
I've yet to see technical measurements that talk about that, incidentally. To me, that's the point of HiFi. That's the point of music. 
But  if you do want detail? To answer the question? Treble on the 5020s is good enough. It's ain't better than the 15i folded motion tweeter but still, it fits supremely with the open, balanced and detailed midrange and a wholly superior bass output.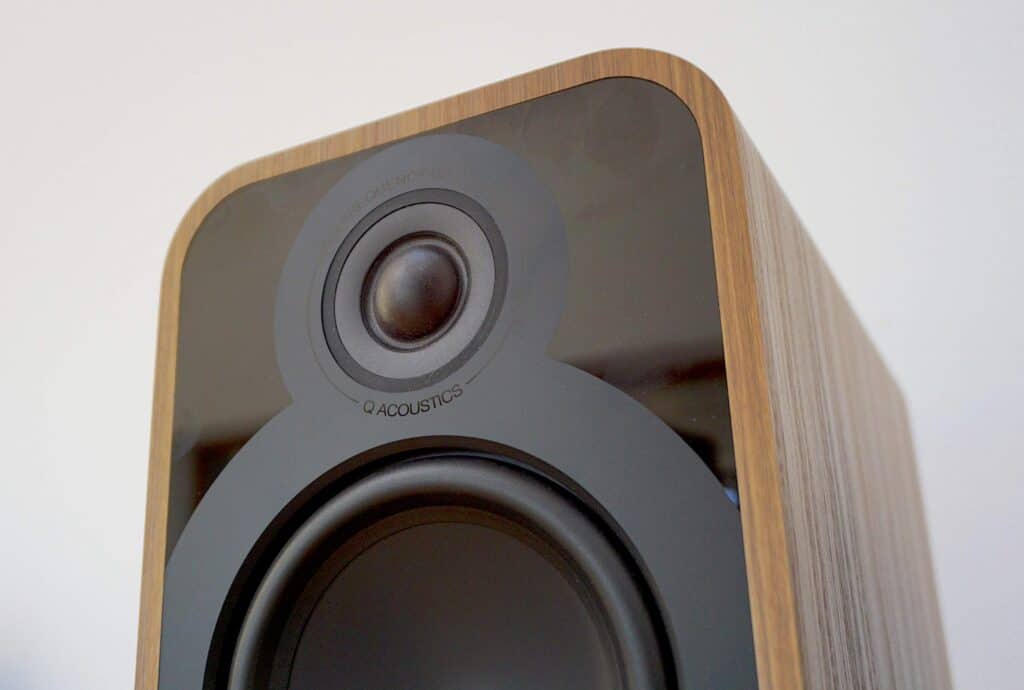 There is also more than enough midrange maturity here, mids that sound confident, neutral but can also access upper midrange fragility and bass power. 
I was immediately impressed with the 5020s. 
VS Q ACOUSTIC CONCEPT 30
But what of the more expensive Concept 30 speakers? The 30s are priced around £100 more. Not a great deal. But enough. And from the same company.
Question. Are the Concept 30s worth the extra money. Answer. Yes. But it depends who you are and what you want. 
To explain the first part? The Concept 30s provide more control, greater accuracy, additional focus and frequency discipline. These improvements are not mind-blowingly obvious. The Concept 30 improvements are 'by degrees'. There are, however, there when you do an A-B comparison. And doing such a comparison, the differences are obvious. But to repeat, those enhancements are about being a touch better here, a few degrees better there. 
Acoustic guitar strums were richer and fuller on the Concept 30s, vocals on the 5020s can lose a touch of control on the edge of the midrange frequency. This doesn't make the 5020s bad. Not at all. But you can see and hear were the money has been spent on the Concept 30s.  
CONCLUSION
I want you to imagine that you've just been mugged in the street by a pair of speakers. It happens. It's part of our crumbling society when HiFi components rampage our streets and people no longer feel safe from sudden knife attacks from 9-inch tonearms. I blame the parents.
Anyway, these speakers lifted your wallet, see. So now you're in the police station, facing a two-way mirror. And through the mirror is a police line up. Because the cops have picked up the usual suspects, in true Casablanca fashion. 
And in front of you are three pairs of speakers, all dressed differently. 
Firstly, on the far left, there's the Martin Logan 15i speakers, dressed up like a scientist. This guy is a mathematician. He prays to the god of accuracy. Correctness. Precision. Doesn't look like a guy you'd like to share a beer with perhaps but he is the sole of logic, nevertheless. 
Next up is the Concept 30s. This guy is dressed up like a teacher. A lecturer. His demeanour is trim. His wife makes sure he leaves the house in the morning fully groomed and tidy. He dresses correctly. His hair cut is respectable. Not a hair out of place. Not exactly a party animal but this guy in more concerned with truth and knowledge.
At the end of the line is a pair of 5020s. This guy looks a little insolent. Stare into his eyes. He looks intelligent. He's no fool. He could surprise you in conversation. He knows what he's up to. But this guy, in his AC/DC leather jacket, chewing gum, doesn't look at the mirror, he seemingly stares through it. He knows you're there. He knows you're watching. And you know what? He doesn't care. 
"That's the one, officer. Book him Danno." The policeman doesn't smile. He's heard every line under the sun. 
LOOSENING UP
And that's the 5020s. They give you more soul, more life, more personality than the 15i speakers and can, given that right song, have you bawling in tears. The Concept 30s offer greater control, enhanced detail and more insight into the heart of the music but you could also say that they have trouble connecting to the humanity in music. The passion of the thing.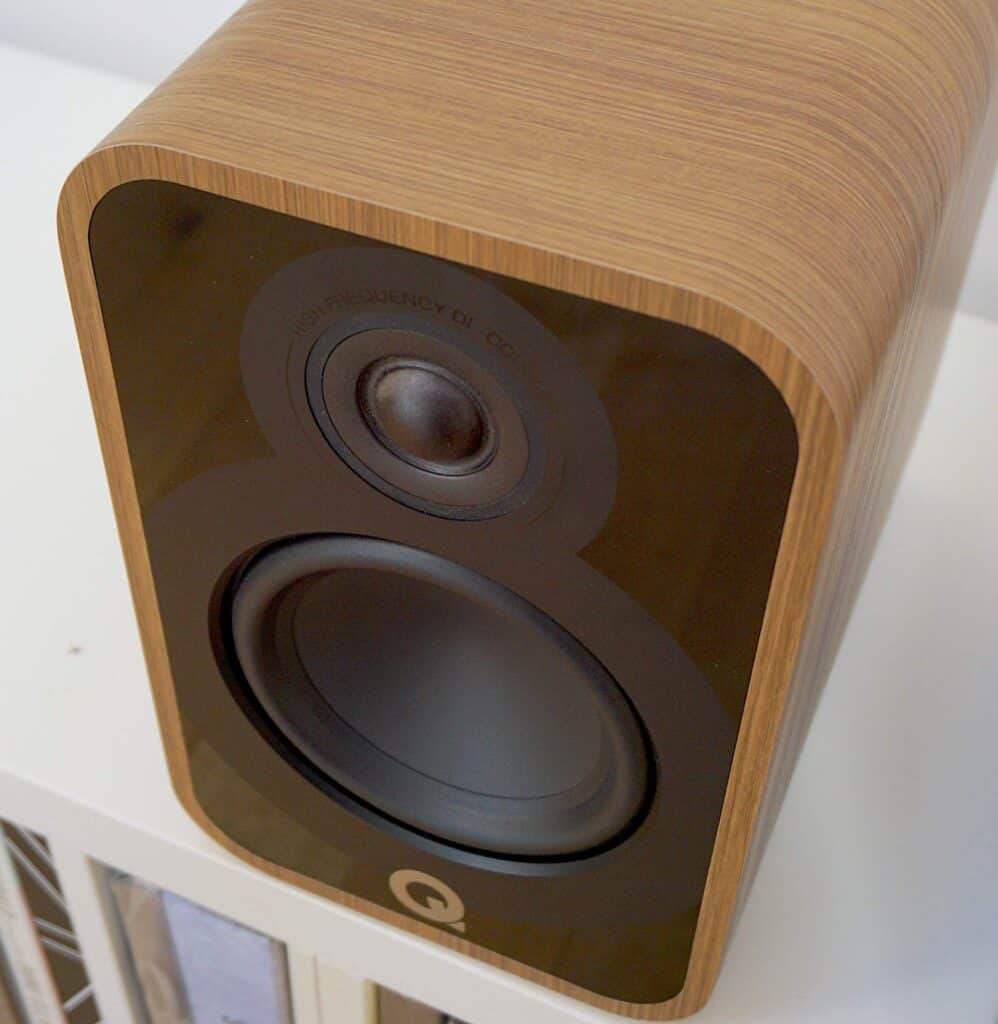 The 5020s though? They give you a little bit of everything. They provide information and detail by the ton but they know how to relax, to loosen up, to party. The know how to make you feel. They know where the heart of the music lives, in your head. 
If you're looking for that in your music then the 5020s will give it to you because they know who you are. They know where you live. And one quiet night, when you are walking down a dark, lonely road and you hear slow foot steps behind you? Take a quick look over your shoulder, because that… That is when you'll see a pair of speakers standing in the shadows.
Wearing an AC/DC leather jacket. 
---
Q ACOUSTICS 5020 SPEAKERS
Price: £599  
BUY HERE:
USA – https://amzn.to/473d8dR
EUROPE – https://amzn.to/473d8dR
Website: www.qacoustics.co.uk
---
GOOD: sound integration, balanced output, midrange detail, firm bass
BAD: nothing
RATING: 9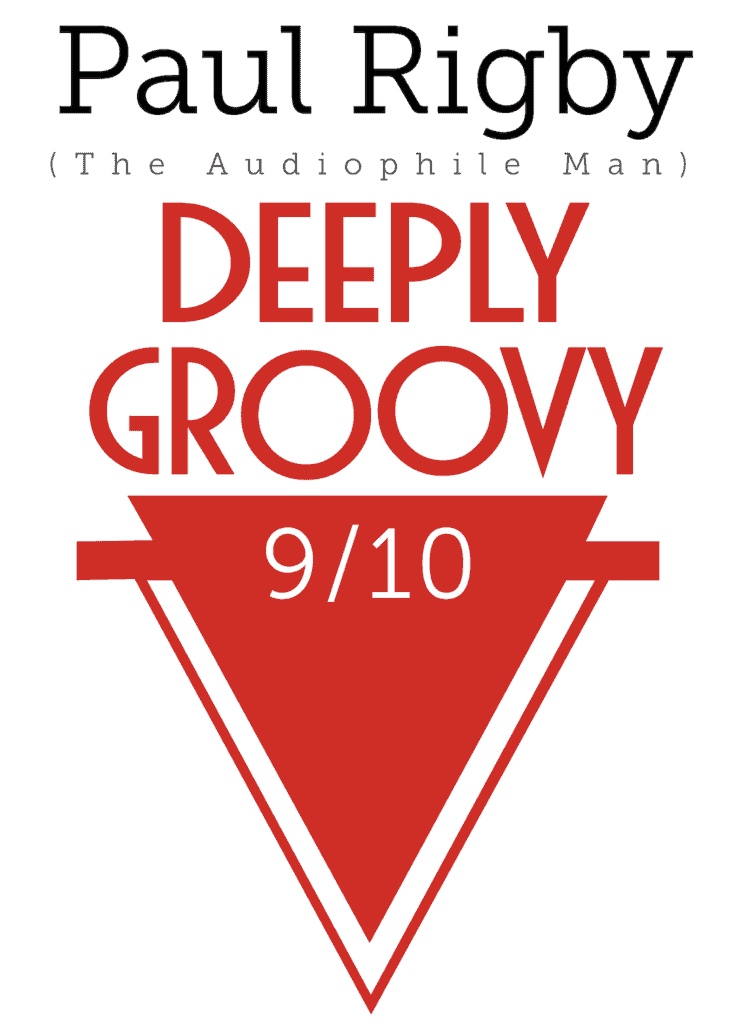 ---
Want to stay up-to-date with The Audiophile Man's published stories? Fill in the 'Want to Stay Updated?' box at the bottom of the screen and you will receive a notification when I post a new srroy. Alternatively, on the Home Page, there is a larger 'Want to Stay Update?' box which you can also fill in.