The Article
XTZ Earphone 12
3rd March 2015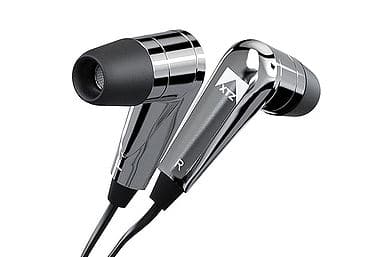 Swedish-based outfit, XTZ, has released a set of earphones using 8.6mm dynamic drivers along with neodymium magnets.
Offering a chrome finish, the XTZ's ear pieces have a disconcertingly cheap and nasty, plastic air about them but the XTZs do have a few extra nice touches such as the flat ribbon cable to reduce tangling and twisting and magnets that are fitted to the rear of each ear piece. Hence, when each earpiece is near to the other, they snap together which helps storage and, again, reduces tangling but will their inclusion adversely affect sound quality?
Sound tests began by plugging the Earphones 12s into an iPhone 5 and playing a 320kbit/s MP3 and then a WAV of Paul McCartney's 'Glory Of Love'. The XTZs sounded bass light when compared to the reference Sennheisers, but the balance, in terms of detail and tonal reality, was excellent. Midrange offered more air while treble was delicate and fragile. 
I then installed XTZ's free iTunes-linked music player app that also modifies sound output via DSP technology supplied by Dirac Research. With DSP turned On, McCartney's vocals were more detailed and prominent, the soundstage had a better 3D structure while bass was more characterful, firm and reactive. An additional app 'Boost' button acted as a subtle Loudness control.
Playing Signe Bakke's avant-piano piece, Crystalline at 24bit/192kHz via my Epiphany Acoustics EHP-O12 headphone amp, connected to a SSD-powered Apple MacBook, the XTZ's showed that there is life after DSP after all. The Swedish design exhibited a stark clarity that kept pace with Bakke's fleet of fingers performance. The edges of each note was laid bare while decay was continual and informative.
The Earphone 12s may not be pretty but, in terms of sound quality, the XTZ Earphone 12s excel, providing superb value for money.
---
Price: €70
Contact: www.xtz.se
RATING: 6