The Article
XEO 20 & 30 Active Wireless Speakers from Dynaudio
14th February 2018
The new Xeo 20 and Xeo 30 speakers replace the Xeo 4 and 6 with updated tunings plus direct inputs for analogue and digital sources, upgraded DSP (digital signal processing) capabilities, full 24bit/96kHz hi-res support and built-in high-quality aptX Bluetooth
The range's new firmware comes with new tunings, derived from Dynaudio's LYD 5 professional studio monitors. The upgrade includes, "…improved compressor and limiter algorithms and an updated crossover design with a larger overlap between drivers to give improved bass and improved off-axis performance," said the company.
The DSP engine has also been given more processing power (as well as being optimised) to enhance its speaker-position compensation for corner, wall and freespace placements, "We've tried to retain a more 'analogue' style of filter design when it comes to the crossover. We've also made sure to minimise the amount of EQ the system uses to get a good performance," said the company.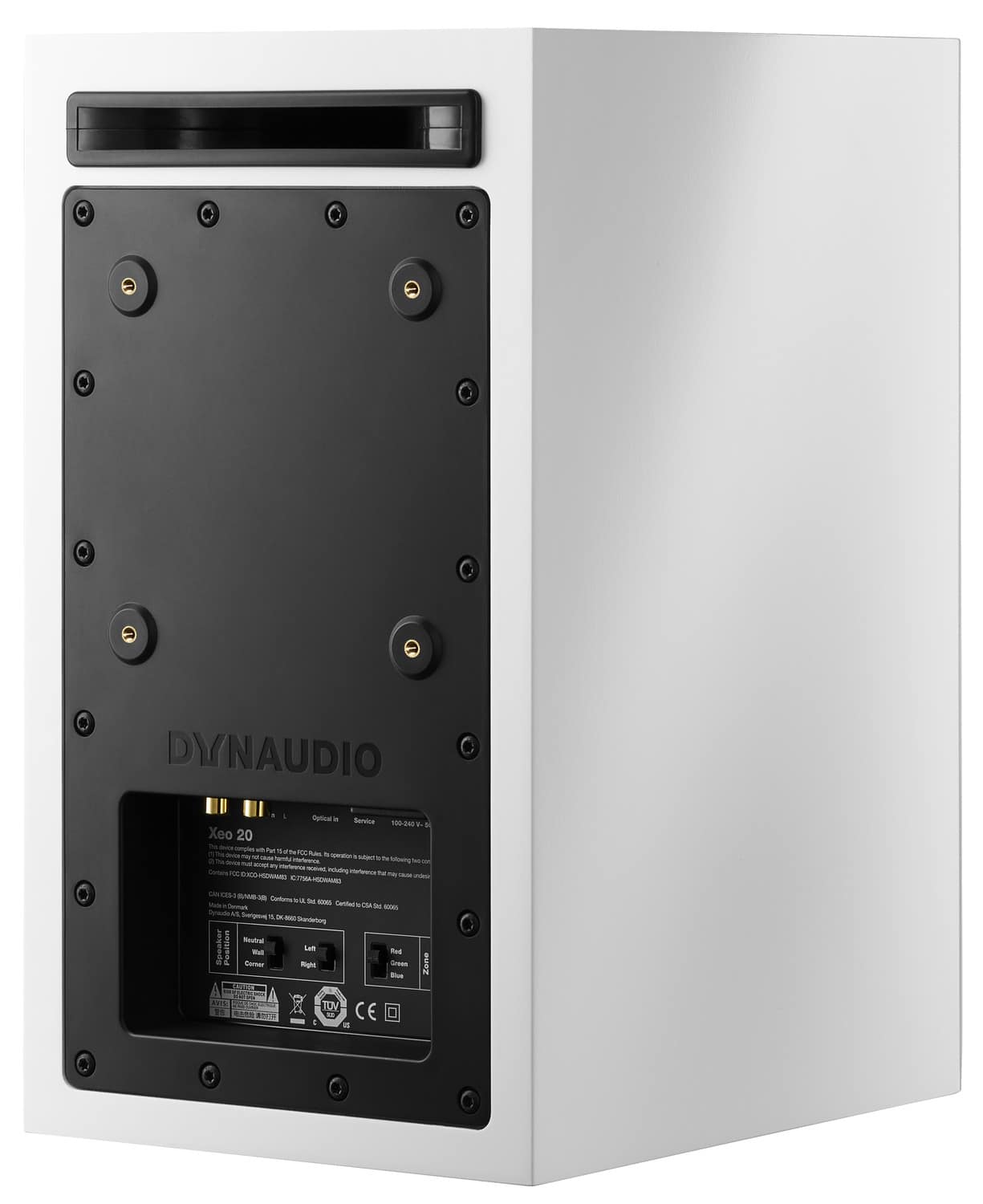 The whole Xeo range now gets direct Toslink (digital optical), analogue RCA and analogue stereo minijack inputs on each master speaker. The signal is transmitted to the slave speaker at 24bit/96kHz. All Xeo speakers now support full 24bit/96kHz audio via the optical digital input and also wirelessly from the optional Dynaudio Connect transmitter box.
There's also Bluetooth on board for aptX wireless streaming without the need for an external Connect box (although using one gives you more input options).
A new design rounds the cabinets' corners, moving the IR/LED module from the top to below the woofers, finishing the metal driver parts in black and changing the included grilles to black. Both models are available in Black Satin and White Satin finishes.
The Xeo 20 and Xeo 30 both have a new IR remote control that works both with their direct inputs and the optional Dynaudio Connect box. The remote's transmitting range has been improved, too.

Prices? The Xeo 20 is £1,999 per pair. It' a compact stand-mounted design with a 28mm Esotec soft-dome tweeter and 14cm Esotec MSP woofer plus tuned 65W digital amplifier. The Xeo 30 is £3,199 per pair. A floor-standing model that uses a 28mm Esotec soft-dome tweeter and twin 14cm Esotec MSP woofers in a 2.5-way crossover design.
To learn more, click www.dynaudio.com