The Article
YAMAHA'S WXC-50 & WXA-50: AMPLIFIERS…From Any Angle
27th November 2016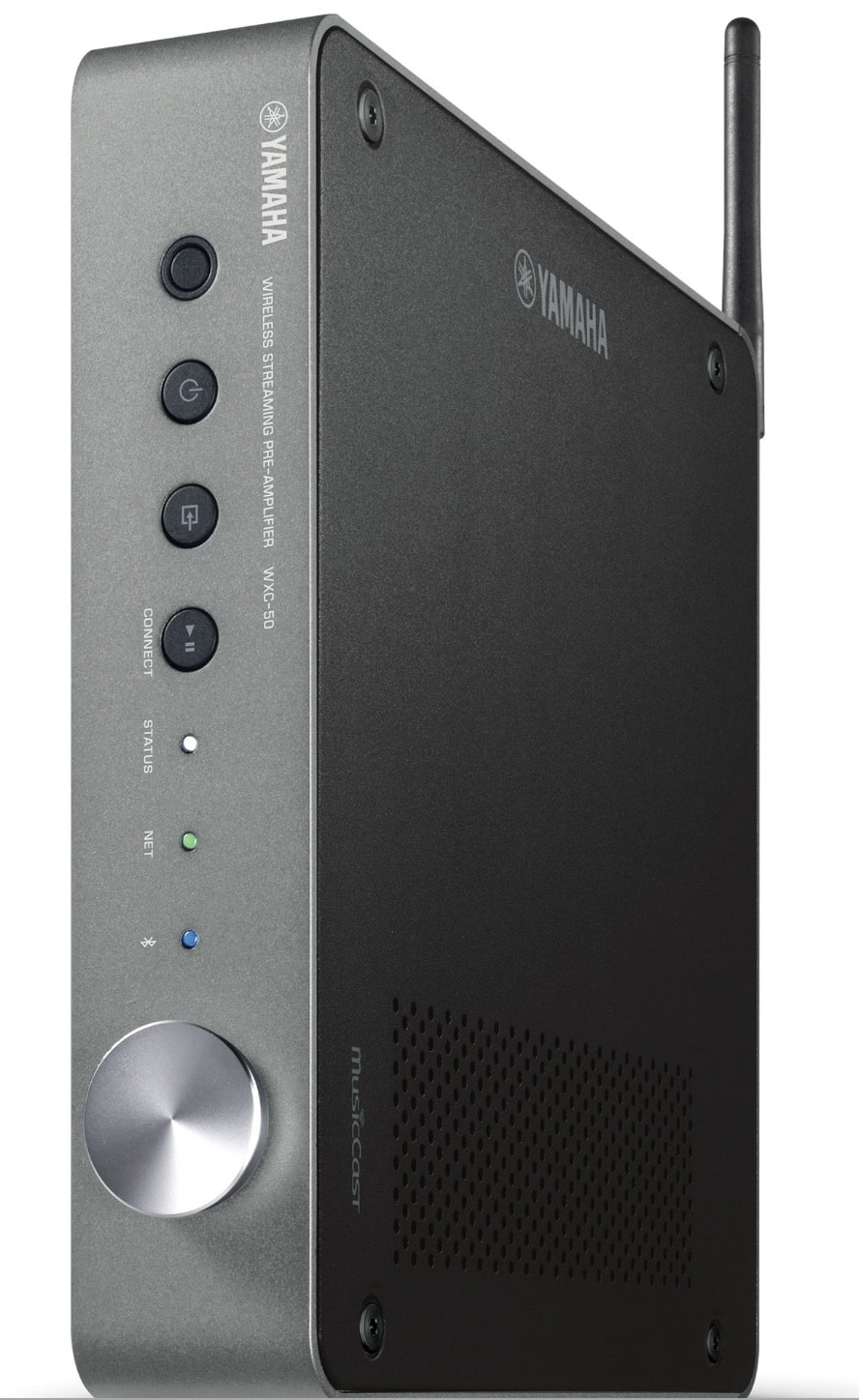 A pair of rinky, dinky amplifiers from Yamaha offer just enough facilities for a small footprint chassis, including MusicCast. Paul Rigby reviews the WXC-50 pre-amplifier and the WXA-50 integrated amplifier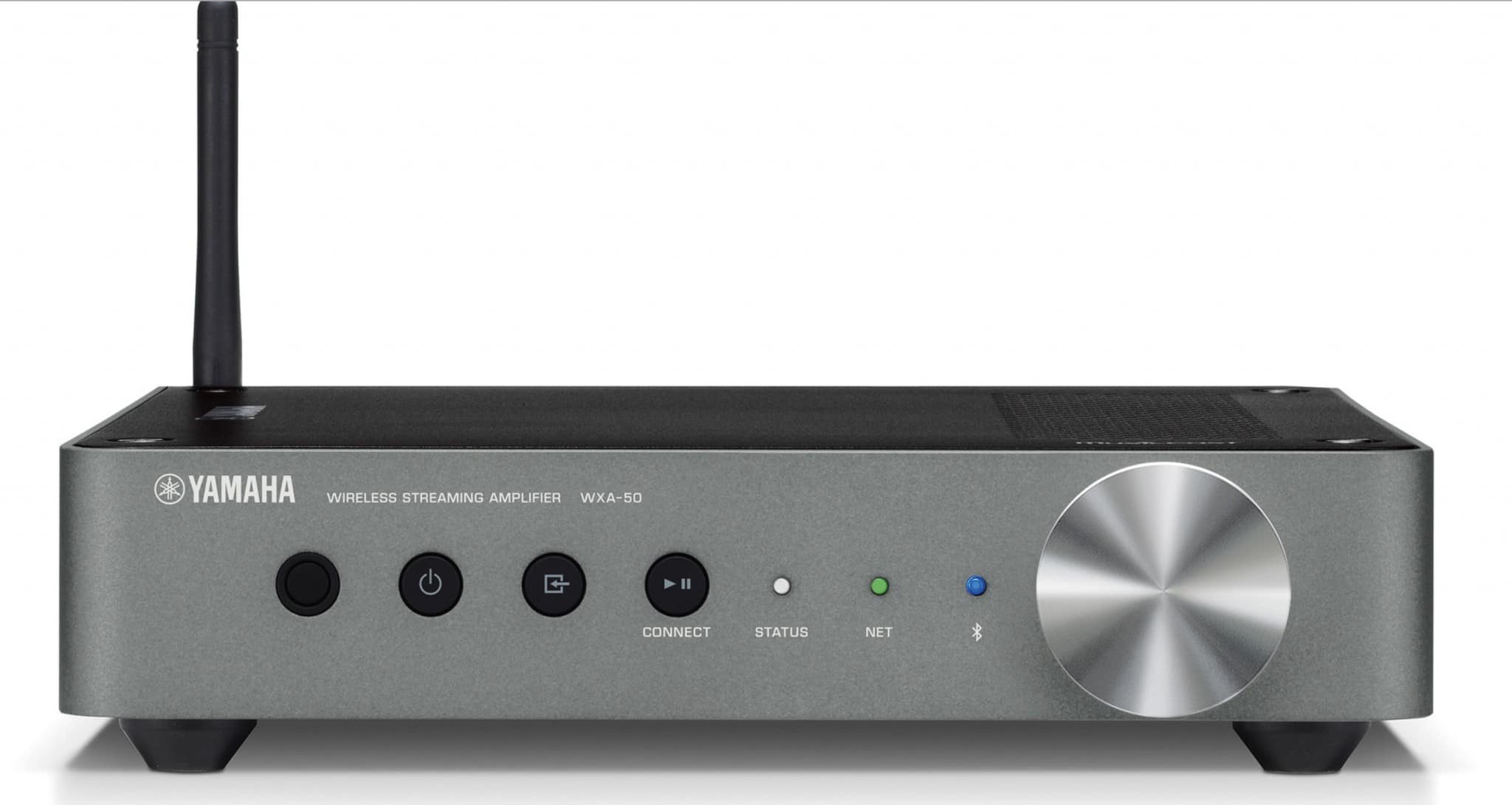 Both of these amplifiers arrive in an almost identical chassis, giving the pair a distinct 'family' resemblance that will allow both to easily fit into a living room environment. Both arrive with MusicCast Wi-Fi streaming as standard and come with a 48bit digital volume control. Both can also be mounted vertically to further minimise the overall footprint. They also support AirPlay and, where available, Spotify, Napster, Sirius XM, Juke and Pandora as well as DSD 5.6MHz and FLAC/WAV/ AIFF 24bit/192kHz. Finally, they both span 215 x 51.5 x 245.9mm.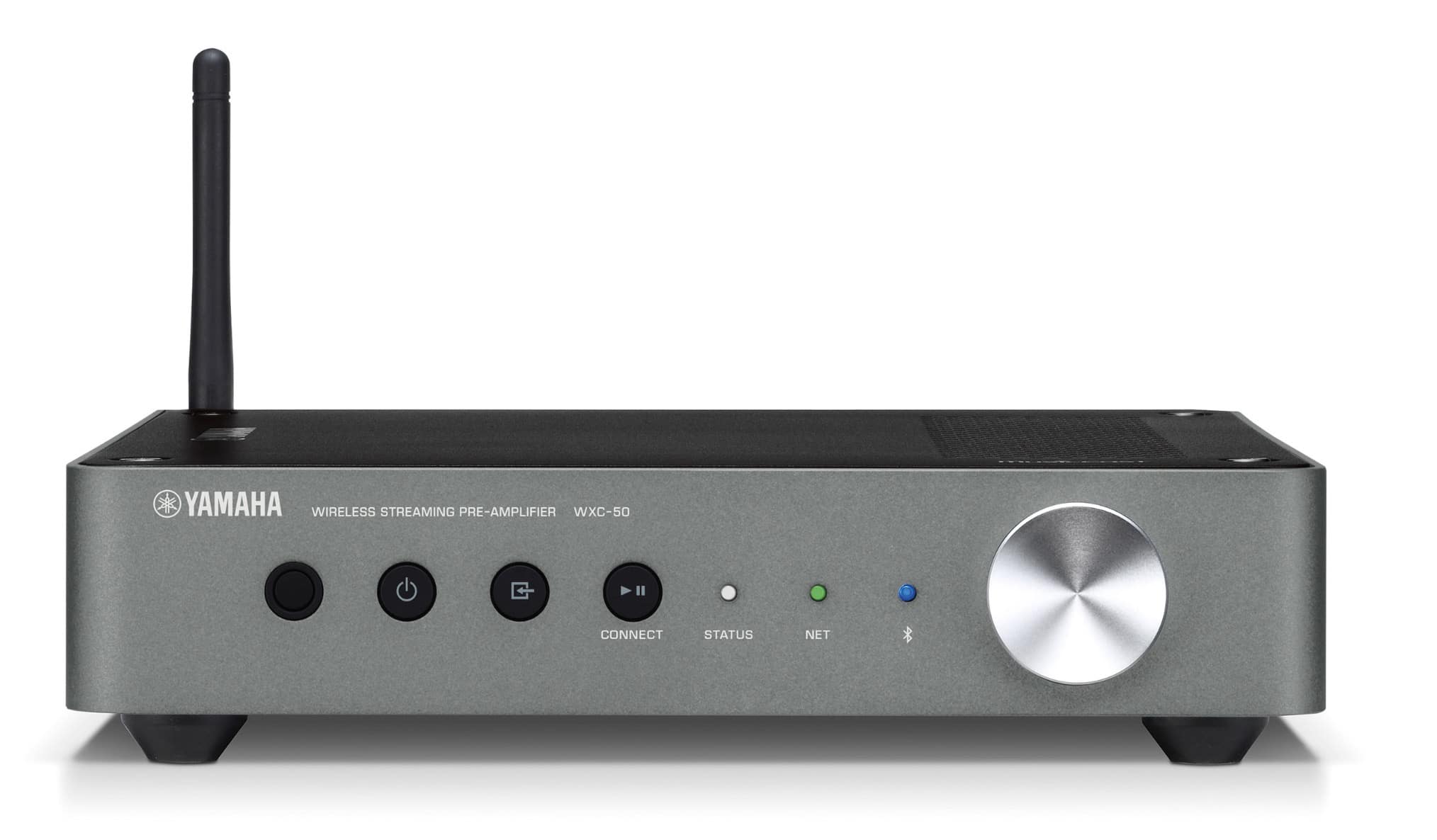 The first of the two amp boxes, the WXC-50 pre-amplifier. You can also turn off the Pre-amp mode and use the device as a simple network audio player. This box weighs 1.44kg. The 70W WXA-50 weighs in at 1.94kg. Check out the accompanying images to see a rundown of controls, sockets et al. The aerial is the home of the screw-in, multi-position, Wi-Fi aerial.
IN USE
To play the USB stick of digital files, I decided to download and install the associated and in-house developed MusicCast app on my iPhone 6S. USB file control was a lot friendlier via the app than punching buttons on a chassis and hoping for the best. Download and software installation was easy but the final set-up was overly difficult. It took me around 20 minutes when it really should have taken me, what, three?

MusicCast is not a Bluetooth system but utilises a Wi-Fi connection. To install it, you press the Connect button on the front of either chassis for five seconds until the adjacent connection light flashes. Then you open the app itself and follow the onscreen prompts which involves bouncing between it and the phone's Wi-Fi Settings screen. In that Settings screen, you wait for the MusicCast option to appear as one of the choices within the available local Wi-Fi connections list. Well it did, eventually. Nothing was seen until my third try but I finally connected without a problem once it made an appearance.

Back to the app but my trial was not yet over. The app failed to complete the install sequence another three times but I got there at the fourth attempt. Why these issues occurred can only be conjecture. Was it down to my phone? Was it Yamaha's fault? Was it something to do with my Wi-Fi signal? Was it something else? I can only say that no other, non-Yamaha, device had issues in my listening room or anywhere else in the building at this time.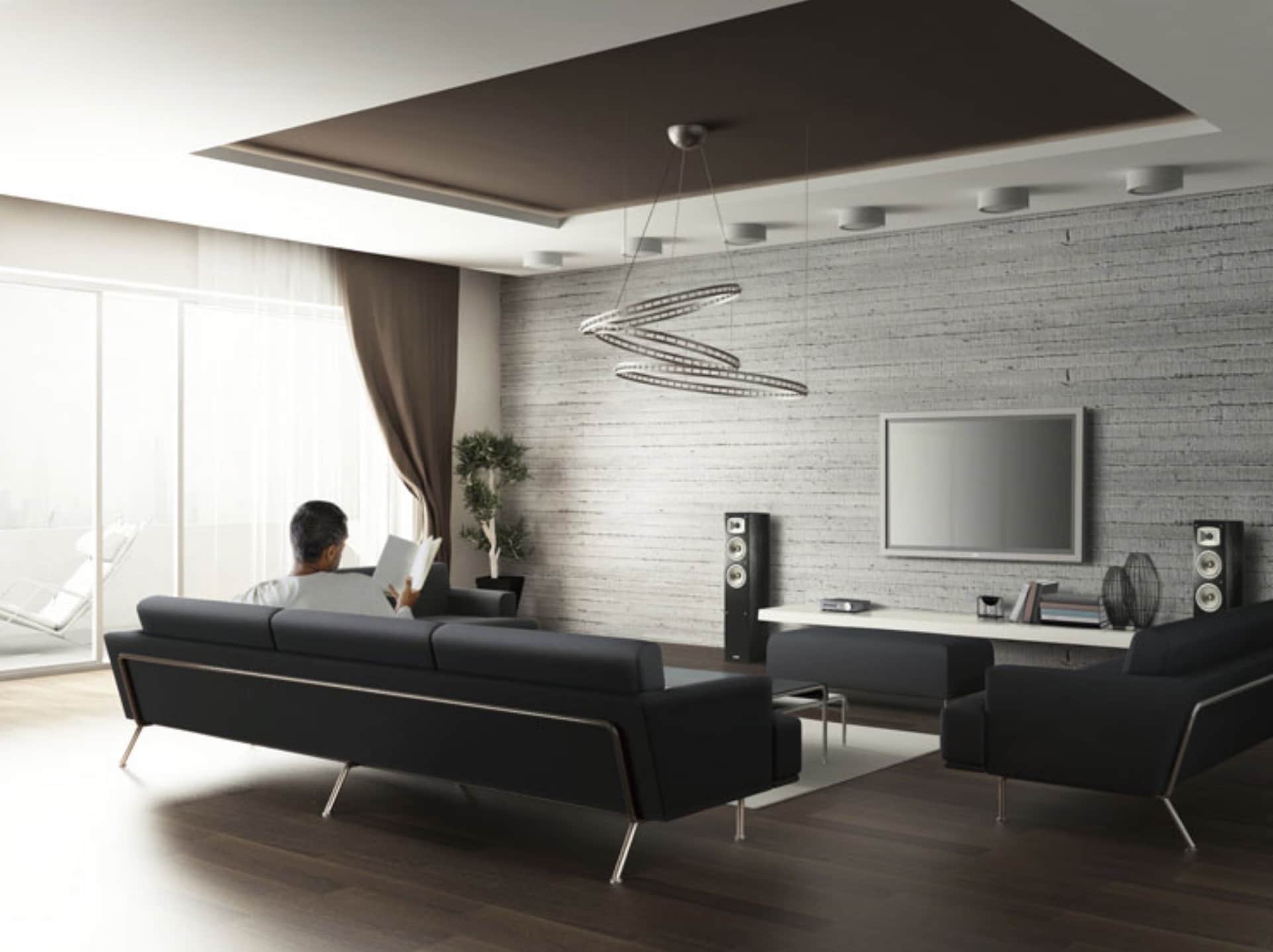 Nevertheless, once connected and installed, the app worked flawlessly. It showed the song title, sleeve art (not for WAV rips though), CD-type music controls plus EQ controls. My only gripe is that I would have like to have seen a report on the quality of the file type being played. For example, when playing the jazz piece, St. Thomas from Sonny Rollins, this is a 24bit/96kHz file but this information was never revealed by the app. I wish I could have seen that information on the app screen. I don't mind the lifestyle facade that Yamaha is trying to promote here. I can even live with the irritatingly Apple-like paternalistic 'we've-decided-that-you-don't-need-the-information-so-we-won't-give-it-to-you', non-techie approach to the app but it would have been nice to have found the said figures buried somewhere, for those who really want it.
SOUND QUALITY
I began the sound tests playing a the CD version of Earth, Wind & Fire's Let's Groove. This group was a busy outfit on stage and within their arrangements. There is plenty going on here and it takes quite an amplifier to sort everything out. Even behind the conglomeration of the principle voices and instruments, there are plenty of subtle and tiny effects that pop up here and there.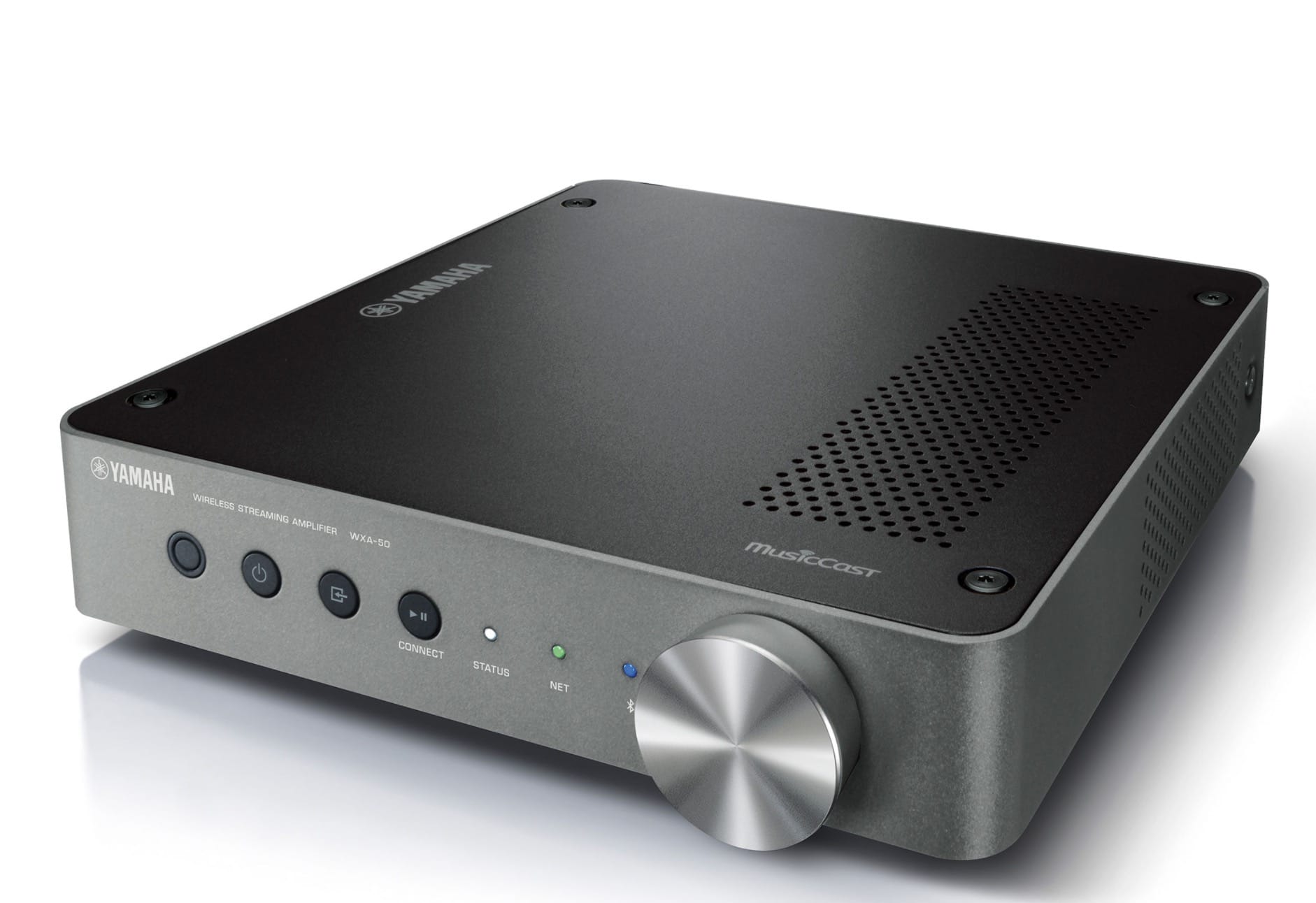 Have you ever seen those word association tests that psychologists use to diagnose the mental state of a patient? You say 'good', I say bad. You say 'black', I say 'white', you say 'The Himalayas', I say 'Marilyn Monroe'. You know the sort of thing. Well, if you said, 'bass', I would say 'Yamaha'. Such is the company's reputation and concentrated effort to effect a low frequency-based personality. If any knows how to 'do' bass, Yamaha's yer man.
Through the WXA-50, I was most impressed by that signature Yamaha bass. Impressed, not because there was a lot if it – there was – but because of how the bass power was integrated within the soundstage. The amount of focus placed upon the bass gave it a sharp, short, 'bam!' of an arrival. The punch was in then out in a jiffy, giving the bass a tremendous transient speed and response that provided drive to the entire track. The tightness of the bass was allied to its careful positioning in the soundstage. There was no hint of blooming or any threat of it infecting the midrange. This meant that secondary percussion, such as wooden block strikes, on the track My Love from the same group, where not only recognisable but also integrated their own reverb tails. Any bass smearing at all would have veiled such delicacies.
Midrange was incisive, for the price, digging out all of those little sound effects that I mentioned above, allowing the ear to seek them out without too much trouble. Yes, there was a slight spotlight shining on the upper mids during vocal crescendos but mainly at high volumes. It wasn't a big problem, though. For the most part, I enjoyed the tremendous clarity that the midrange afforded and, for the price, the detail that it presented.
Turning to Sonny Rollins and his track, St. Thomas running via the USB port from a USB stick at 24bit/96kHz and controlled via the MusicCast app, I was impressed by the midrange insight that, for the price, provided space and air for the complex percussive sequences on this track. Drums were punchy but also characterful, tracking the complexity of the different drums well while cymbals strikes were relatively fragile, despite that slight spotlight giving the treble a tad of stridency at high volumes. Again, though, I saw this effect mostly at higher volumes and considering the price tag it was not a great problem.
Finally, I turned to Bluetooth and Marvin Gaye's Mercy Mercy Me played as a MP3. Yamaha has implemented MP3 streaming well and the processing produced a pleasant and, considering the poor quality of the inherent file type, relatively sweet presentation that never grated or hurt the ears. Vocals were comparatively well rounded, avoiding the thin and edgy sound from other, less well realised, hardware.
Next up was the preamp, the WXC-50. For this test, I turned to 'old technology' and a pair of Class A power mono blocks. The small in stature but wholly meaty Valvet Classe-A Mono-amps A1r, to be precise. I've always enjoyed their open-ended and focused output and they have been used when shelf space has been lacking. As such, they pair up very well with the similarly low footprint WXC-50. Hooking up is easy with the A1r mono blocks sliding into the Pre Out sockets at the rear of the Yamaha chassis.
The reason for connecting the A1r blocks was to show that the Yamaha can connect to older hardware or hardware lacking in modern connective facilities. The thought of using the A1rs with a USB source and as part of a streaming set-up was an intriguing one.
I began with a slightly more traditional source, CD and back to Earth, Wind & Fire. The combination of the dynamic and high energy track, Let's Groove, the bass rich Yamaha and the punchy A1r produced the sort of low end that can punch through brick walls and keep on going further than Godzilla in a bad mood. That, of course, is another benefit of the Yamaha preamp, you can tailor its musical personality, depending on what you connect to it. Yes, that slightly strident edge to the app mids was evident at higher volumes and during crescendos but, once more, at normal volumes it was no great concern.
Generally speaking, mids were insightful, detailed and with a slightly clinical edge that enabled the WXC-50 to dig deep into the mix to extract even the most subtle and shy of effects that often resided within the complex arrangement of this song. Solid state fans will adore the sound from the Yamaha, which could easily become a dictator of a small, wayward country, such is the measure of strength, power and no compromise approach it has to sound.
Turning to the USB port and Sonny Rollin's higher resolution source via St. Thomas, the Yamaha successfully fed a relatively open and spacious signal, for the price, to the monoblocks. The result combined an energetic yet detailed output that was full of texture and character, especially from the Rollins saxophone while the percussion produced a musical and dynamic presentation, brimming with energy and motive power. Piano was a little strident at times but that was of no real surprise at this price point. The piano has to be the most difficult of instruments to control for any budget component and the Yamaha made a good fist of the chaotic and disorderly frequencies from it.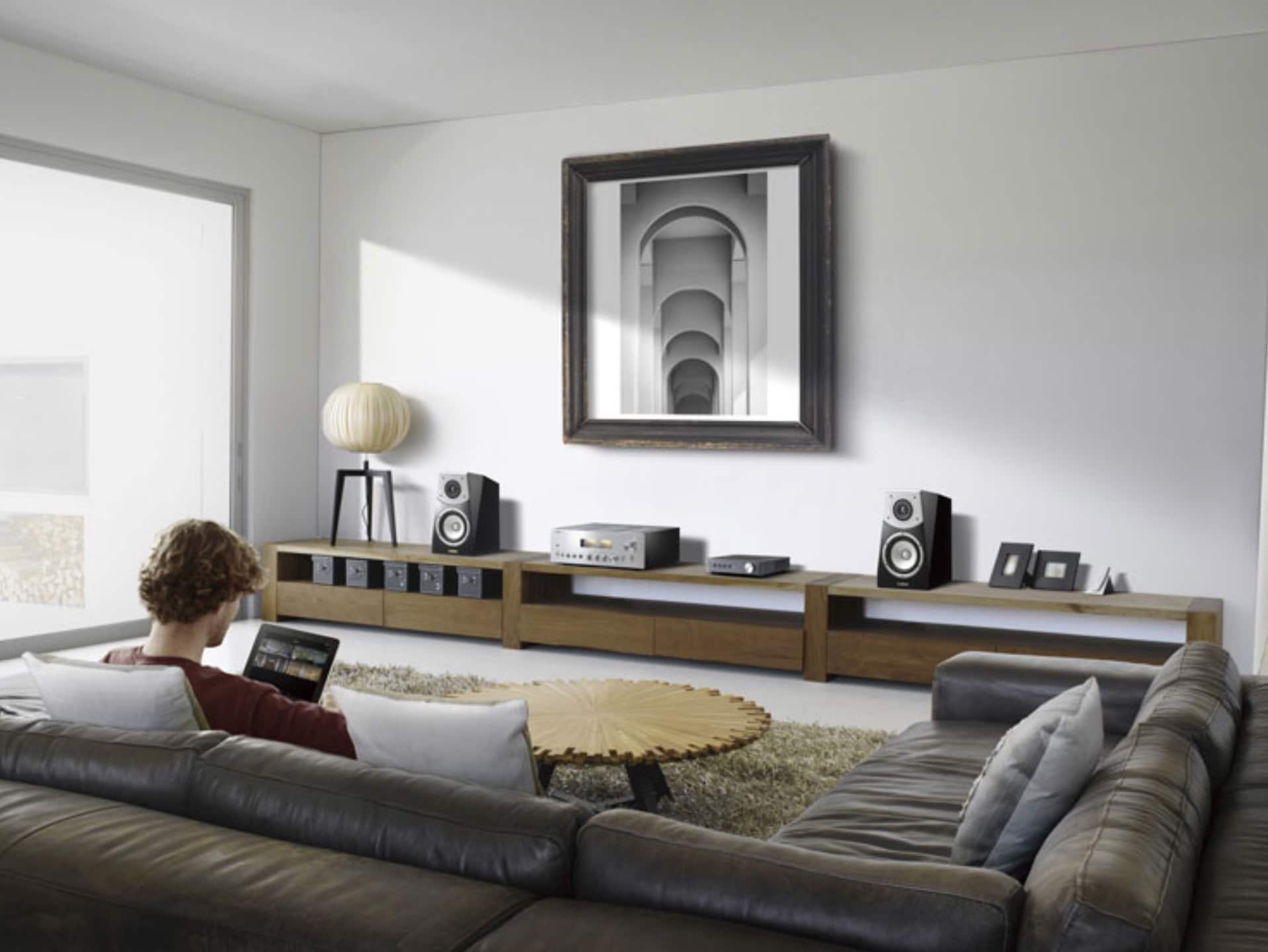 Finally, taking advantage of MusicCast and streaming Marvin Gaye's Mercy Mercy Me from iPhone 6S I was once again impressed as to how the Yamaha delivered the low quality MP3 to the ear. That is, in a relatively mature, dignified and listenable manner. Tonal balance was pretty good for a MP3 while Gaye's delivery was smooth and easy on the ear.
CONCLUSION
Both units offer an attractively small footprint that bodes well, obviously, if you are bereft of desk and shelf space. The little integrated amp offers just enough connections to satisfy most music fans. This little amp also offers a big sound: powerful and detailed for the low price it demands. Excellent value.
The preamp, meanwhile provides a goodly selection of features that is ideal to upgrade older technology or extend the facilities of a hi-fi system lacking in certain areas.
---
YAMAHA WXA-50 MUSICCAST WIRELESS STREAMING AMPLIFIER
Price: £430
Web: uk.yamaha.com/en
Tel: 01908 366700
---
GOOD: value for money, small footprint, focused bass, detailed mids
BAD: slight midrange stridency at high volumes, temperamental MusicCast app
RATING: 7
---
YAMAHA WXC-50 MusicCast Wireless Streaming Preamplifier
Price: £300
Web: uk.yamaha.com/en
Tel: 01908 366700
---
GOOD: value for money, feature selection, small footprint, incisive mids, punch bass, 
BAD: midrange stridency at high volumes, MusicCast app connection
RATING: 7
To watch of video of both units in action, click HERE.
---
REFERENCE SYSTEM
Apple iPhone 6S
Astell & Kern AK120 digital player
Leema Elements CD Player
Rega Brio-R amplifier
Spender S3/5R2 speakers
Acoustic Research Radiance One Speakers
Black Rhodium/Chord Shawline  cables