The Article
Wilson Benesch A.C.T. P1 with coloured carbon fibre
5th May 2016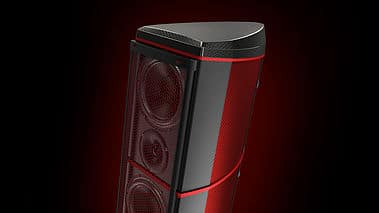 Wilson Benesch has declared that it has produced the world's first loudspeaker constructed using coloured carbon fibre composites.
In partnership with Hypetex (noted Formula 1 Engineers) the new A.C.T. P1 Monocoque will be available in 'Enzo' red, with a number of other motor sport-inspired colours in the pipeline, reflecting the F1 racing origin of the Hypetex material. Wilson Benesch pioneered the use of carbon fibre composites in audio engineering in 1990 and, at least in speaker terms, until now, the aesthetic language of carbon fibre was constrained to black.
The Wilson Benesch A.C.T. P1 Monocoque will first be seen in the A.C.T. One Evolution P1, with the promise of additions to the British manufacturers reference line Geometry Series in future that benefit from Hypetex's composite material.
The A.C.T. One Evolution P1 will be officially launched at The High End show at the MOC convention centre in Munich, Germany, on 5-8 May 2016. Price for the speaker pair is £21,500.
To learn more, click www.wilson-benesch.com