The Article
Record Stabilisers: There's A Hole In My Single, Dear Liza…
3rd June 2015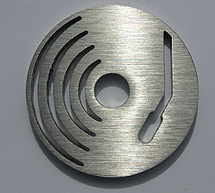 We are used to seeing rather plain 7″ single adapters, not any more. Paul Rigby tackles a host of designs from Record Stabilizers
Looking for a 7" adaptor but want something other than the plain offerings currently available? Record Stabilizers has released a series of attractive adaptor designs which allow you to express yourself a tad and lend a sense of the attractive to the whole dinked 7" issue. You can choose from a wide range of cool, attractive and rather funky designs as well as order something bespoke (prices on application) if you have rather more singular ideas of your own.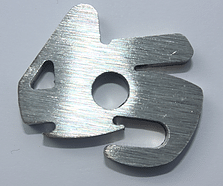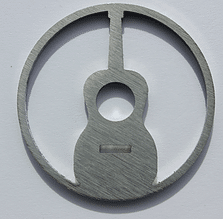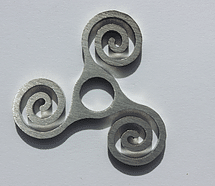 ---
The only issue, in design terms, that I have with some of the adaptors is the finishing. A few (not all) have rather severe corners which, in the wrong hands with enough friction, could prove rather sharp to the skin. I would have preferred that these edges by removed by a touch of judicious filing just to remove the burr.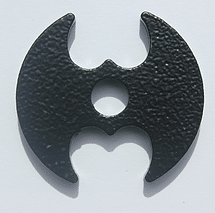 SOUND QUALITY
To test the adaptors, I placed a 'dinked' 7" single (Kraftwerk's Autobahn on Vertigo, actually) on a Rega RP3 turntable and played the disc, using five supplied adaptors of various designs, on the supplied Rega felt mat. Each adaptor was tested for accuracy. Did it fit into the centre hole or was it going to slip, producing speed variations? Was each adaptor truly centred or would they allow the disc to move across the turntable platter producing distortions? Fortunately, each was centred and a perfect fit was provided by all. The final test was to remove the felt mat and place the disc on the bare, slippery glass platter. Fortunately, there was enough grip on the centre spindle to the adaptor and from the adaptor to the 7" single to maintain play at a constant speed.
CONCLUSION
Simple, good looking, low cost and each design does the job. What more do you need?
---
7″ SINGLE ADAPTERS
Price: £4.99 [each]
Website: www.recordstabilizers.com
Email: [email protected]
---
GOOD: they work, imaginative designs, low price
BAD: issues with the 'finish'
RATING: 6
REVIEW UPDATE: After reading the above, Lee Parker, owner of Record Stabilizers, has sent through this note: "After reviewing your review we have taken the negatives and aim to turn them into positives, we have decided to do away with the sharp points on the spider adaptor and put it inside a ring similar to the guitar adaptor. Your review has allowed us to look at certain aspects from a different angle. Thank you so much."
Which is much appreciated and a great response! It also increases the Rating to 7, methinks.