The Article
The Who's Tommy
23rd February 2015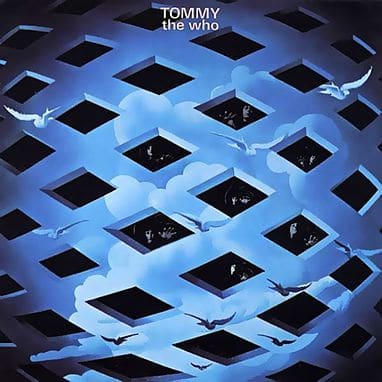 Label: Track
Year: 1969
The first Rock Opera. That is the tag attached to Tommy, The Who's magnum opus.
Although I Can See For Miles did pretty well in the charts in 1967 – a track Who vocal/guitarist and songwriter, Pete Townshend believed was the best single The Who had ever made – Townshend considered the public response to the same a major disappointment. He thought the single would be a groundbreaking entree into the pop sphere. While it performed well in basic terms, the song never achieved the success that Townshend expected of it.
Thus energised, he felt that the next release was going to have to be special, both for the success of the band and because of the immense amount of debt the band found themselves in, the guitar smashing antics never helped the bank balance.
"We kind of recognised his talent," stated lead singer, Roger Daltrey, about Townshend, "as young as we were and as stupid as we were, we recognised that he was incredibly talented at writing his brilliant songs – and we left him alone to do it."
Looking around him, Townshend saw success being generated by The Beatles, Cream, Hendrix and the like and he thought, "What do I do with this bunch of reprobates? Keith Moon who thinks everything is a joke, John Entwistle who just wants to rub his nose and turn up his amp and Roger who was still pretty much a wide boy."
Townshend himself admits to being no intellectual at the time but he knew he had to come up with something so he decided to have a last effort. Tommy was, therefore, a last ditch attempt to save The Who.
Townshend had been dabbling in concept song writing for fun and to learn about song-writing. In fact, the first experiment was concluded on the album, A Quick One,  A Quick One While He's Away was Townshend's mini-opera and was about an engine driver who abuses a child in his care, although the theme is not an obvious one. But the link to Tommy was clear.
Tommy was created during 1968, a year of great cultural excitement and a ferment of ideas. Townshend felt primed for Tommy especially as manager, Kit Lambert's father was the music director of the Royal Ballet Orchestra and was able to teach Townshend about operatic form, cantatas and the like. As for the band, well they were always up for anything.
The original theme was about a boy who is thrown into a sort of autistic deaf, dumb and blindness and becomes a big spiritual leader in his community. However, friend of Townshend, rock journalist and pinball enthusiast, Nick Cohn, felt that the "God stuff" was passé.
"In the previous months he and I had been out playing pinball all the time. I decided to tease him a bit and said, instead of Tommy being a pseudo-rock star thing what about if he was a pinball champion? And Nick said, 'Now that would be interesting'."
The album itself is efficient, crisp and well mixed. This is illustrated well by the album's hit single, Pinball Wizard, with the acoustic guitar – showing Townshend's wonderfully loose, almost flamenco strumming style – mixed low so when Entwistle's dramatic Wagnerian bass chord hits it leaps out of the record which was structured to compensate for the large amounts of compression used in radio at the time.
The boundaries were certainly pushed when the album was released but it hit the headlines before that. When Pinball Wizard was released in March 1969. Without context, people believed that Townshend was, "…writing a nasty song about deaf, dumb and blind kids. That attracted a lot of negative comment, which fell away when the album was released." Even so, Tony Blackburn banned it. Which helped sales.
Recommended listening copies include the 2004 issue, 2-disk Hybrid SACD set featuring a 25 track CD remastered in 5.1 Surround Sound plus a 17-track bonus disk featuring previously unreleased outtakes and alternate versions with five additional stereo only recordings. Most CD versions are pretty poor. However, the single CD release on MCA is a decent master. On vinyl, there have been a couple of recently released box sets and special editions featuring the album, which are recommended in terms of sound quality but relatively costly. In terms on individual pressings? I have seen recently pressed UMC versions on sale from the likes of Amazon. I assume that these come from the same box set pressings and, if they do, they're recommended. If they are not, then I cannot vouch for their quality as I've yet to test them. Going back into the mists of time, there was a 180gm release via Simply Vinyl, but this is not the best of masters. In fact, if you are looking towards the source, the original release on Decca USA is the best vinyl recording of its type. Finding an original in good condition is difficult, though. Next down the ladder is the original German version, then the UK and then the Japanese release. For the future? As audiophile outfit, Music on Vinyl has released the 1971 album, Who's Next, of late then I would also keep on eye on this company for a possible future Tommy release.