The Article
Test Dept's Total State Machine: a sumptuous book of text & photographs & memorabilia & photo-art &…
2nd July 2016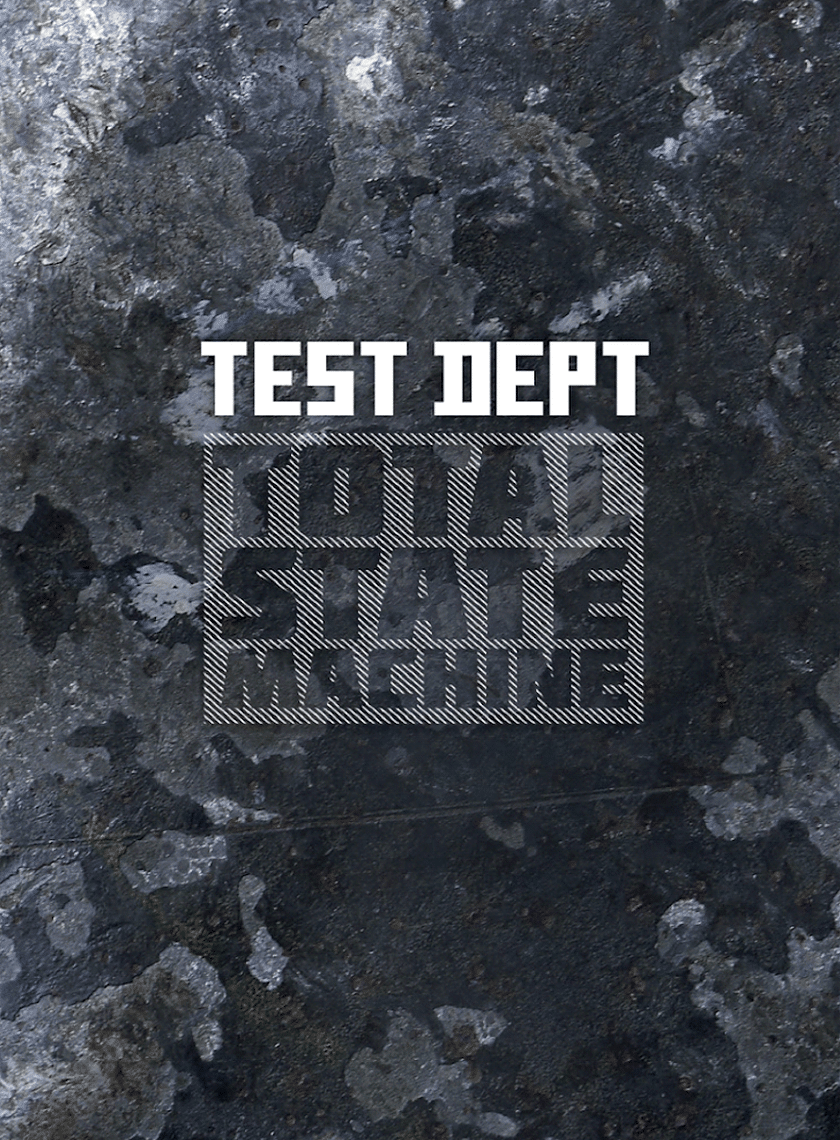 Title: Total State Machine
Authors: Graham Cunnington, Angus Farquhar & Paul Jamrozy
Publisher: PC Press
Pages: 385
Price: £40
Format: Softback
Formed in 1982, in London, an industrial/electronic outfit who loved to utilise very hard hardware on stage such as bits of metal and power tools while playing large multimedia events at obscure venues, Test Dept met politics head on: apartheid, neo-Nazism and Britain's Criminal Justice Act were just three areas that they targeted, for example.
This sumptuous book combines text, photographs of memorabilia and photo-art while telling the full story of the band through reviews, live concert reports and images, historical notes and more.
As a unit, Test Dept appear to be a UK version of Slovenia's Laibach (with whom they have collaborated) in their use of art, symbolism, their use of unusual venues and interventions.
This book is intriguing because it not only talks about the band but also our changing society, in and out of the UK, and just how much our freedoms have been curtailed as well as how much we are being watched and observed by officialdom. This is not just a book about a band, it's a piece of social history.
Test Dept have been active in activism, as it where, and all are detailed here. They played in front of Polish workers at the time of the political communist upheavals in the 80s, tried and failed to perform in Czechoslovakia because of fears of an official backlash, caused ructions in Hungry and had a file opened on them in East Germany by the Stasi, the then national security police. And then there's been the confrontations with the UK police during gigs and in support of the likes of the News International print workers at The Siege of Wapping, London.
It's sometimes difficult to reconcile a band who engage with both political activism and their own, inherent commercial interests. Personally, I applaud any artist who uses their art to open the eyes of the public, who utilises their work to explain to the populous what's going on, to allow the same, not just to look but to see what is happening around them. I wish there were more people who engaged with life as directly as Test Dept.
There are one of two questions that arise when this sort of thing happens, though. Do bands like this actually have any effect? That's the big question. Of course, this links to the larger question: does music matter? Well, no-one has the answer to that, of course. What we don't know is who they have influenced and what those individuals are doing or will do with that influence.
Moving away from the personal to the national and international, we know that Test Dept had no direct role in the fall of communism and totalitarian states. We know that Test Dept may have supported the miners against Thatcher but didn't prevent even one mine from closing. There are precisely zero miners walking the streets thanking god for Test Dept because he can now feed his wife and children. And then there's the fact that, throughout all of this time, when the band was doing 'good deeds', they were releasing their own music in return for payment. There were always a commercial entity.
If you were to be cynical, you could accuse Test Dept, like others of their ilk, of exploiting tragedies for their own commercial ends. Exploiting the oppressed but from a different direction.
But, you know, twas ever thus. It's a bit like John Lennon extolling the Working Class Hero and then retiring to his Rolls Royce to disappear to his mansion or penthouse suite. There will always be an uneasy element to our musical heroes (unless you're someone like Muddy Waters or Woody Guthrie, I suppose. Hell, even George Formby has more working class hero street cred than John Lennon, when you come to think about it).
So bear this in mind when you read this book. The blurb likes to insinuate that Test Dept were a missing link to the riots, the urban outcry and the Thatcher backlash of the 80s and 90s. The frame of the book gives them almost an inflated sense of revolutionary importance, as if they were almost one step ahead of MI6. I would suggest that line is taken more by the publishers than by the band itself.
See Test Dept as ordinary people…jobbing artists who draw your eye to what's important, who point a finger at the important issues, who shout at you to stop ignoring the pain and the hurt that's going on all around us and to stop being so bloody smug, comfortable and apathetic. It's a good message. It's a very good book.
HARD CORE HARD BACK
The additional hardback copy of the book is limited to 250 copies and comes with a set of extra items including two posters: one of an original Test Dept archive poster and one of a manifesto or lyric sheets from the book. You also get a DVD of archive Test Dept film and video and a live recording produced on CD with unique cover art. These items will only be available with this edition of the book. Price is £80 from www.pc-press.co.uk.