The Article
Technics Grand Class SL-1200GAE and Grand Class SL-1200G
5th February 2016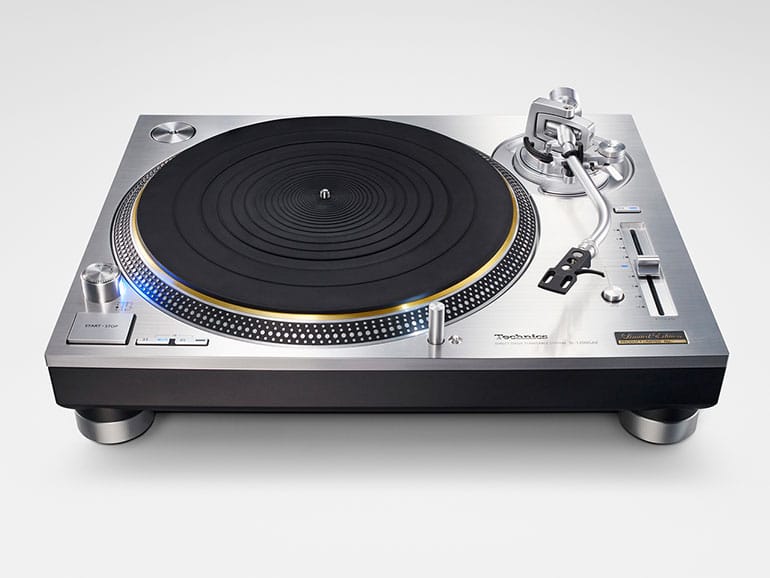 Technics has announced the return of its direct-drive turntable based on a newly designed direct-drive motor. The Technics 50th anniversary limited edition Grand Class SL-1200GAE and non-limited Grand Class SL-1200G.
The Technics turntable aims to provide the smoothest possible rotary control by the use of an encoder at the bottom of the motor which detects the precise rotating angle.
Furthermore, a twin rotator construction reduces the bearing load while maintaining high torque and also limits vibration during rotation.
The turntable has a three-layered construction consisting of a combined heavyweight brass and aluminium die cast platter and deadening rubber covering its entire rear surface.
The tonearm employs a lightweight material (aluminium for the SL-1200G and magnesium for the SL-1200GAE) which has been cold drawn.
In addition, high initial-motion sensitivity is attained by employing the traditional Technics gimbal suspension construction with the horizontal rotation axis and the vertical rotation axis intersecting at a single central point, as well as high-precision bearings using a cut-processed housing.
A hairline-processed, 10mm-thick top panel of aluminium has been added to the previous three-layered construction of aluminium die cast, Bulk Moulding Compound (BMC) and heavyweight-class rubber of the SL-1200MK5.
To celebrate the launch of this new Technics SL-1200 development, the Technics 50th anniversary limited edition Grand Class SL-1200GAE will be available from the summer of this year with a limited serial number plate and restricted global quantity of 1,200 pieces while the Grand Class SL-1200G will be available lager in the winter.
Included speeds include 33.33, 45 and 78rpm while dimensions are
453 x 170 x 372 mm and weight is 18kg. Price is apparently $4,000 for the 'G', TBA for the GAE.
Contact www.technics.com for more details.