The Article
TEAC release two DAC units
21st January 2016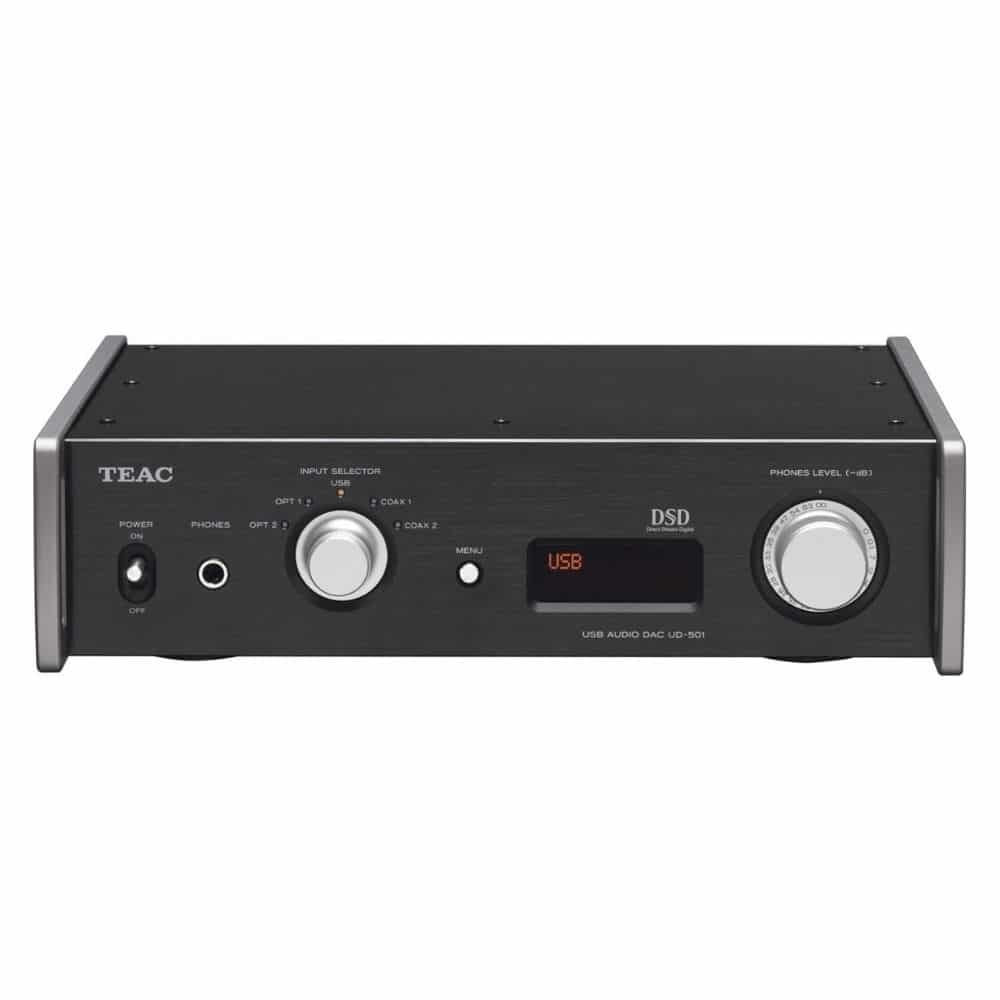 TEAC has released two DAC units, each with added features.
The follow-up to 2014's UD-501 model, the UD-503 is a USB DAC/headphone amplifier that retains its predecessor's dual-mono architecture and incorporates a headphone amplifier with balanced/unbalanced outputs.
Featuring a pair of AKM VERITA AK4490 digital to analogue converters, these DACs support 11.2MHz DSD and 384kHz/32-bit PCM audio signals.
The unit is supported by an asynchronous USB that allows the UD-503 to control and sync incoming PCM and DSD audio signals using its built-in 44.1kHz and 48kHz clocks. You have the option to later add an external 10MHz master clock, if you wish.
TEAC has programmed its own FPGA IC chip to handle DSD signal augmentation and regular CD level audio signals (44.1kHz/16-bit) and 48kHz PCM files that can now be up-converted to DSD.
In a first for TEAC's Reference series components, a digital isolator is also employed to segregate the digital and analogue circuits. The UD-503 can also act as a standalone pre-amp too.
The UD-503's HCLD (High Current Line Driver) circuit supports single-ended, balanced (BTL) and Active GND modes. The latter is a drive method that (via an amplifier circuit) forcibly connects the headphone 'negative' to a stable 0v ground to reduce noise.
The NT-503DAB is a USB DAC/Network Player. DLNA 1.5 compatibility means that formats such as DSD (5.6MHz) and 192kHz/24-bit WAV/FLAC can be replayed from PC or NAS (Network Attached Server), all controlled via free TEAC apps for iOS and Android smartphones and tablets.
Housed in the same A4-sized enclosure as the UD-503, the NT-503DAB also exchanges one of that model's headphone outputs for a USB input that's capable of receiving hi-res audio (5.6MHz/192kHz PCM files) on USB flash memory.
There's also direct, built-in support for DAB/DAB+, paid-for subscription music services such as Spotify and Deezer and the free TuneIn internet radio portal, which gives access to 100,000 stations and four million podcasts. Finally, there's onboard aptX Bluetooth included too.
Price for the UD-503 DAC/Headphone Amplifier is £700. The NT-503DAB USB DAC/Network Player is available for £950.
For more information, click www.teac-audio.eu.