The Article
Sting: Writing Songs For Fun
18th December 2016
Title: Ten Summoner's Tales
Label: A&M
Before Ten Summoner's Tales was released, Sting had been in low key, jazz-infused pop mode. The Soul Cages, the previous album release to this, was one of those releases: a relatively dour album.
"I just felt that it (The Soul Cages) had served it's purpose actually and that I had exorcised a few ghosts and didn't really feel the need to do it again and I wanted to make a record that let me get back to writing songs just for fun," commented Sting. "That's why I began the whole thing all those years ago – writing songs for fun, and I have to say that's exactly what happened. I was in a very good mood, I was with my band and I was writing songs to amuse them, to amuse myself, to amuse my family and it kind of makes me smile when I listen to the record."
This release was pop-centric. I fact, it was arguably Sting's first true pop release since he'd left The Police. There were no underlying themes here, no concepts, just quality song-writing full of melody and variation and, well blow me down, jokes! Oh and a little bit of pretension (well, Sting has always been unable to control this side of his character). But only just a little bit, mind you. Songs such as If I Ever Lose My Faith in You, the swinging It's Probably Me and the balladic Fields of Gold are stand outs on this LP.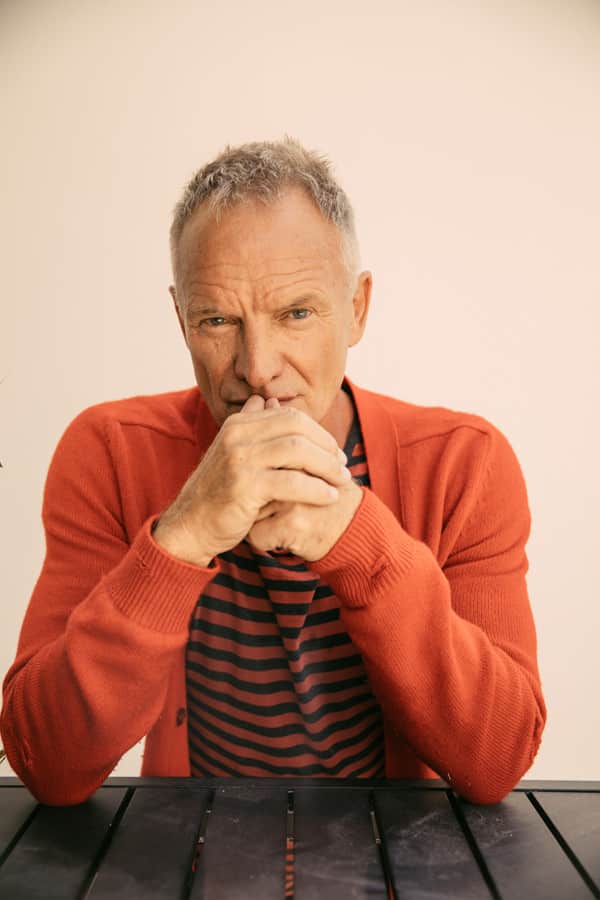 Sting himself takes about the freedom and the happiness he felt at the time, "In 1992, we moved the family out to the country, to a run down manor house built in the 16th century that needed some care and attention. The gardens were beautiful, and walking in them was like walking into a dream. It was called Lake House. I felt inspired to write and, for the first time in years, with a genuine spirit of happiness. There were no grand concepts, no plan, except to have fun telling stories in as many diverse styles and moods as I could think of. It is this carefree spirit that pervades the album and helped it to become one of my most popular records. The title was a mischievous conceit linking my surname, Sumner, with the scurrilous character in Geoffrey Chaucer's Canterbury Tales."
The album can now be found within a new vinyl box set called The Studio Collection, which includes eight A&M Records albums across eleven LPs:  The Dream Of The Blue Turtles (1985), …Nothing Like The Sun (1987) (double LP), The Soul Cages (1991), Ten Summoner's Tales (1993), Mercury Falling (1996), Brand New Day (1999) (double LP), Sacred Love (2003) (double LP) and The Last Ship (2013) – with both Brand New Day and Sacred Love available on vinyl for the first time ever.
All of the included LPs appear in exact replicas of the original artwork presented in a slipcase package. With brand new vinyl masters cut at the legendary Abbey Road studios to ensure exceptional audio quality.
This album apparently has not been remastered which, to some, will be a questionable subject and proof-positive of the money grabbing antics of the major labels. Never mind prompting caution in terms of buying the associated box set. Before you give up on this release, don't forget that the sources have received a new cut at Abbey Road. Now remastering is very important and can transform the sonic qualities of any record but the cutting process is just as important and often, criminally, ignored. The cutting engineer can make or break any album. He can present the hard won detail to you in a transparent and clear manner or he can add a veil to all of the mastering engineer's hard work. On this basis, then this edition deserves a sound test. And this cut is a complete triumph! But would you really expect anything less from Abbey Road? The cut is quiet which allows you increase the gain on your pre-amp while glorying in the continued silence from the rear of the soundstage. Dynamically, the music has a varied brilliance, allowing low key secondary percussion to be heard just as clearly as Sting's textured, up front vocal performance. Meanwhile, the layered detail presents a rich and busy soundstage that also offers a pleasing depth adding to the 3D overall effect. In short, then, the new cut was most definitely worth it.