The Article
Steljes NS1 speakers: up close and personal
31st May 2016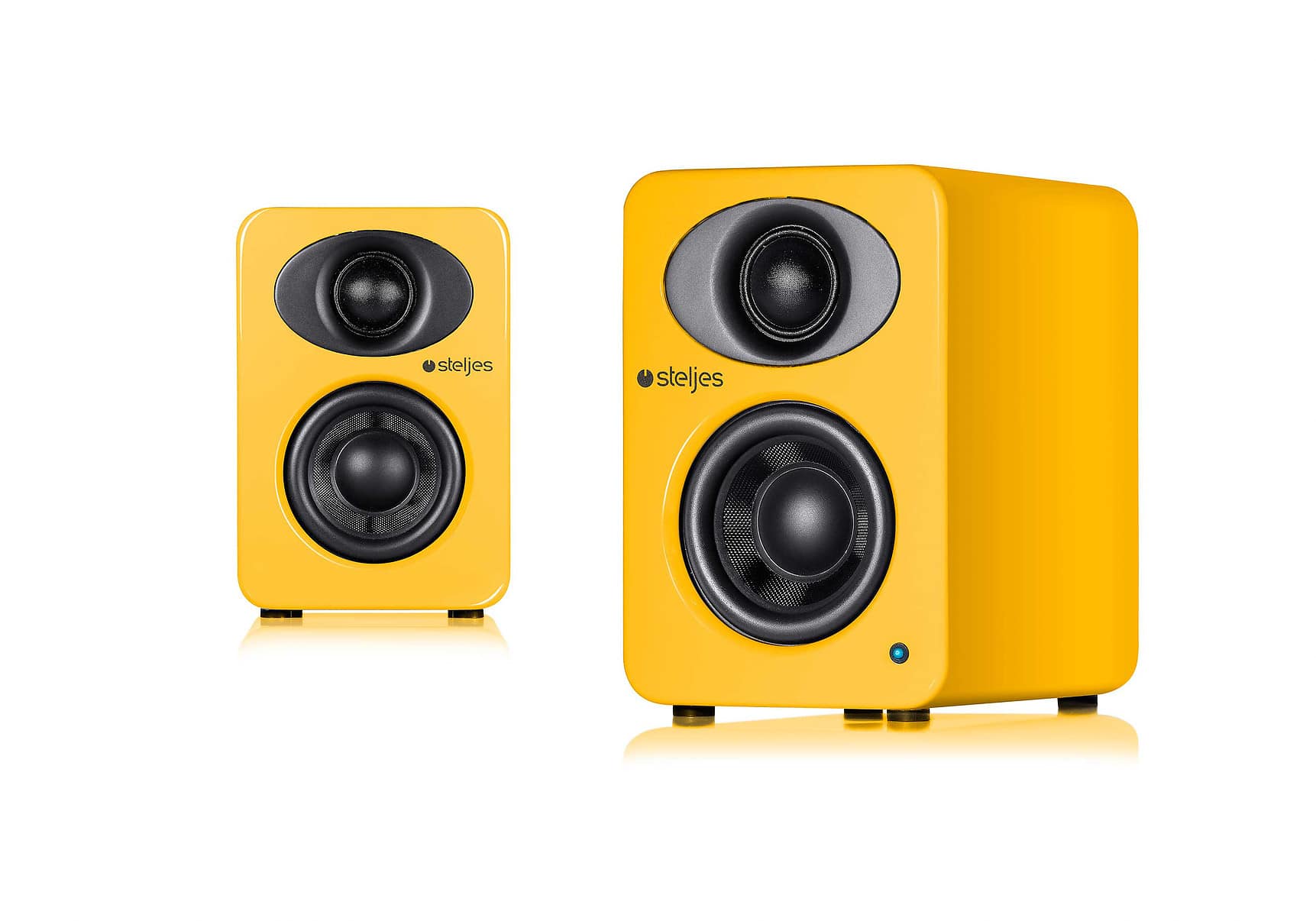 Aimed at near-field computer use, Paul Rigby reviews the small in stature Steljes NS1 speakers
Active speakers are amongst the most usable and handy accessories currently available in modern hi-fi. Useful, that is, because there are so many mobile devices out there that can be plugged into them (wired or otherwise) and so many associated technologies that they can hang off. Most of the actives that I have seen of late are the size of 'normal' hi-fi stand-mounts and are thus ideal for small hi-fi set-ups and second systems. The Steljes NS1 speakers are in a different class, though. These are micro-speakers and so require a slightly different template in terms of their usability and, indeed, when geezers like myself need to review the blessed things.
These speakers are tiny. Tiny, that is, in relative terms to other audiophile designs. At just 105 x 135 x 155mm, they are ideal for that 'low-vis' look on any desk, sitting either side of a desktop computer or, indeed, laptop. They are also small and light enough (with a weight of just 3.5kg) to be taken with you on trips away from base.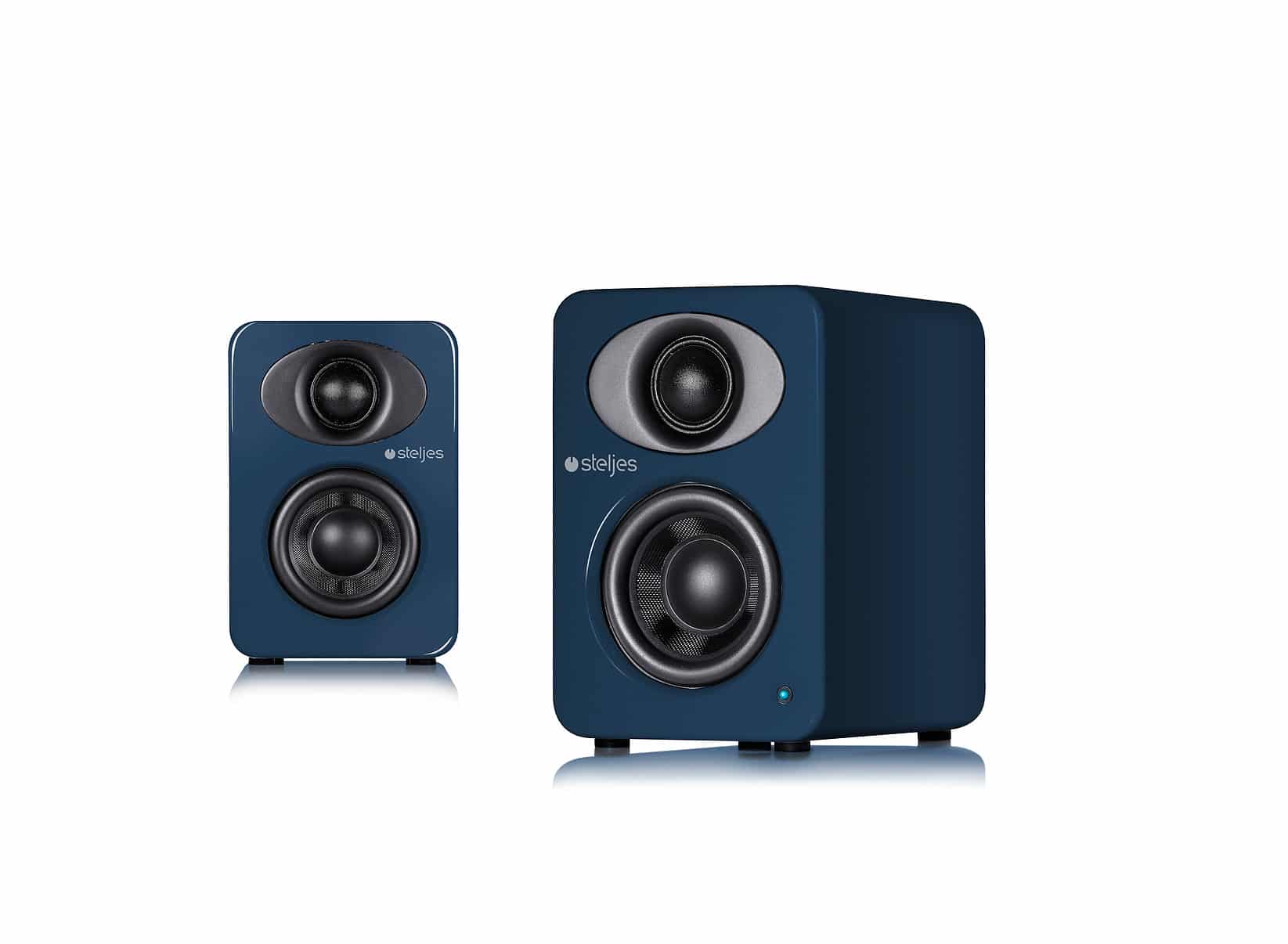 The NS1 design allows you to add a sub-woofer to these speakers if you need the extra bass but what would be the point? I mean, these tiny speakers are desirable because they are small. Add a subwoofer and you remove the design's raison d'être. If a lack of bass is such a big deal when listening to these speakers (And there is a lack of bass, let me reassure you of that fact right here and now), then you shouldn't even be looking at buying these speakers in the first place. So woofer, shwoofer. Don't even go there.
Apart from that, you have a 3.5mm socket that allows you to hook up most peripherals plus internal Bluetooth support for smartphones and the like. That's it in terms of connectivity but, again, for the size and price, that'll do.
Inside the control speaker – the one with the power socket, the rotary volume control (that has a nice and surprisingly rare on active speaker systems 'on/off click', a minor feature but I like it) and LED light – is an expected class D amplifier: power efficient and cool running. Also on this speaker and its 'dumb' brother, is a pair of terminals. You are given a long, basic, cable to connect one speaker to the other. This wire features a basic set of heavy solder ends. You can add termination plugs, if you wish and Steles supply a set to you, if you want to bother with them but I didn't. Again, I don't see the point on a low cost, funky system like this. I prefer the naked connection method. The add-on plugs just insert an unnecessary level of complexity and faffing around.
To get up and running, you connect this tethering cable and plug in the power cable and you're away. Simple as that.
But how does this dinky duo actually sound?

SOUND QUALITY
I began with Kylie Minogue singing All the Lovers from her Abbey Road Sessions LP via a 'mere' MP3 format file. Basically, if the NS1s could make this track sound even reasonably good then it would put a smile on my face. I fired up my iPhone 6S and entered Settings, turned on Bluetooth and there was the NS1, ready and waiting in the menu, ready for pairing. I tapped the NS1 name on the menu to pair the phone to the speakers while the speakers answered with an answering tone. No more than that. We were ready to roll.
The first test was important but secondary. You might have a near field speaker system attached to your computer but you're not super glued to your chair, are you? You walk about you might have to sit on the other side of the room while upping the volume of these speakers in the process. Hence, I listened to the NS1s from my normal listening position with the NS1s on a pair of speaker stands and increased the volume.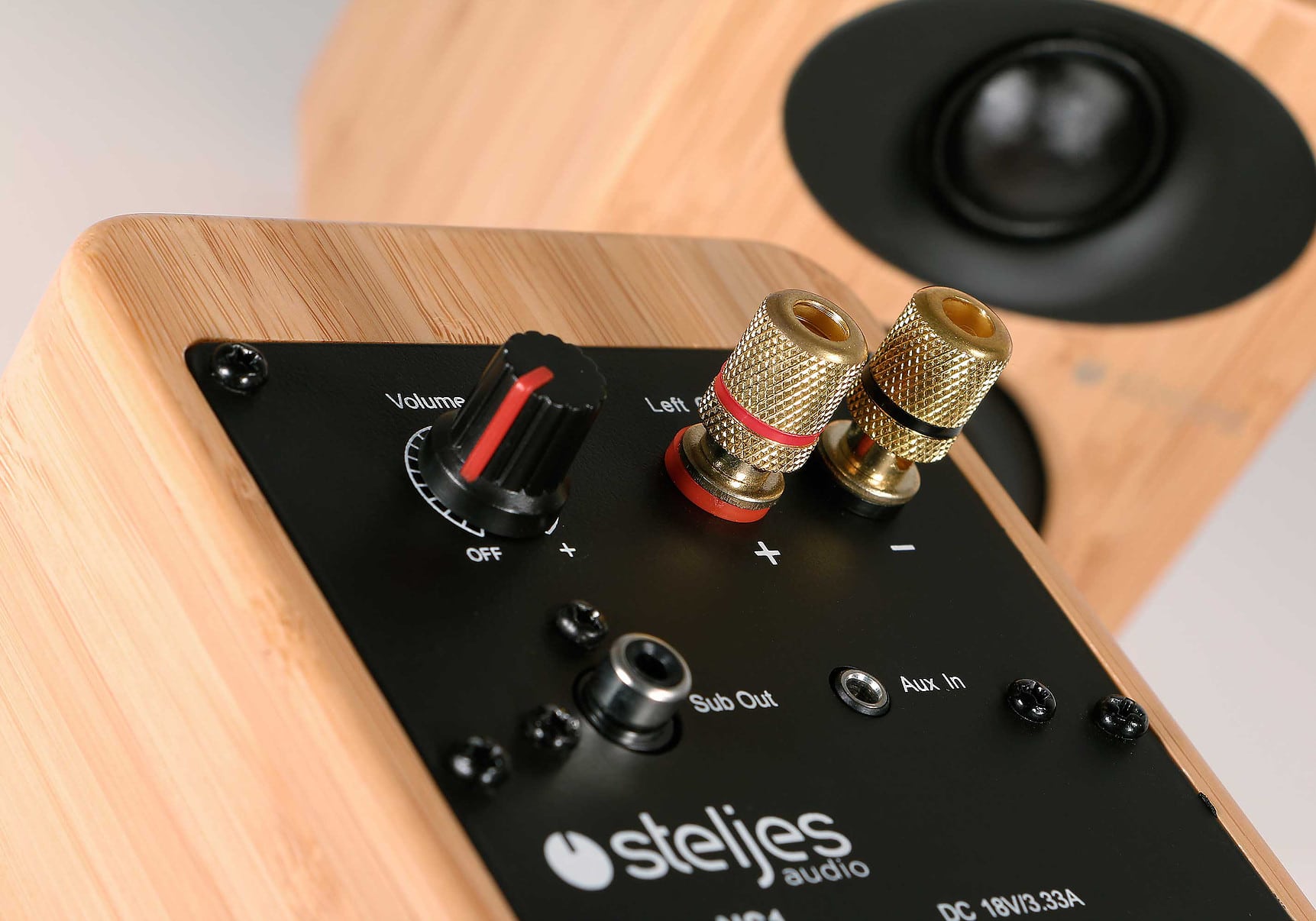 Tonal balance took a hit under these circumstances. The expected lack of bass was pronounced at high volumes while the midrange and treble, although slightly straining and with a touch of blooming around vocal crescendos, did a good job of retaining its sense of composure. There was plenty of instrumental separation here and midrange detail with guitar strums offering reasonable insight but secondary percussion, such as tambourines, providing a detailed response which was largely down to the relative low noise from the speakers. The NS1 struggled a tad but performed pretty well under the circumstances.
I then tested the design's primary function, their near-field, desk-borne position.
Playing Kylie again, I was impressed with both the stereo and spacial imaging. The NS1s painted an interesting picture of the music as it played while the bass issue melted away at this distance. The tonal balance was much improved in a near field situation. What I did have an issue with, though, was the high frequency extension which rolled off far too quickly but, hey, I was listening to a MP3 wasn't I? Time for a change.
I plugged in my Astell & Kern AK120 and played the 24bit/96kHz version of Dire Strait's of Money for Nothing. And back came the upper frequency extension. There are issues with this track, compression is way up there in the clouds providing bright sounding guitar and vocal crescendos. The NS1s didn't try to hide this problem but it didn't move the problem the other way, either by emphasising the compression, which showed that the design is fairly neutral in nature.
Midrange detail is abundant here, for the size and price of the speakers, with any vocal nuances from both Mark Knopfler and Sting 'visible' to the ear while even low key secondary percussion such as cow bells was easily discernible. Bass, from this high resolution file, was relatively strong, tight and punchy at this low distance while the stereo panning effects at the beginning of the track were impressively implemented by the NS1s.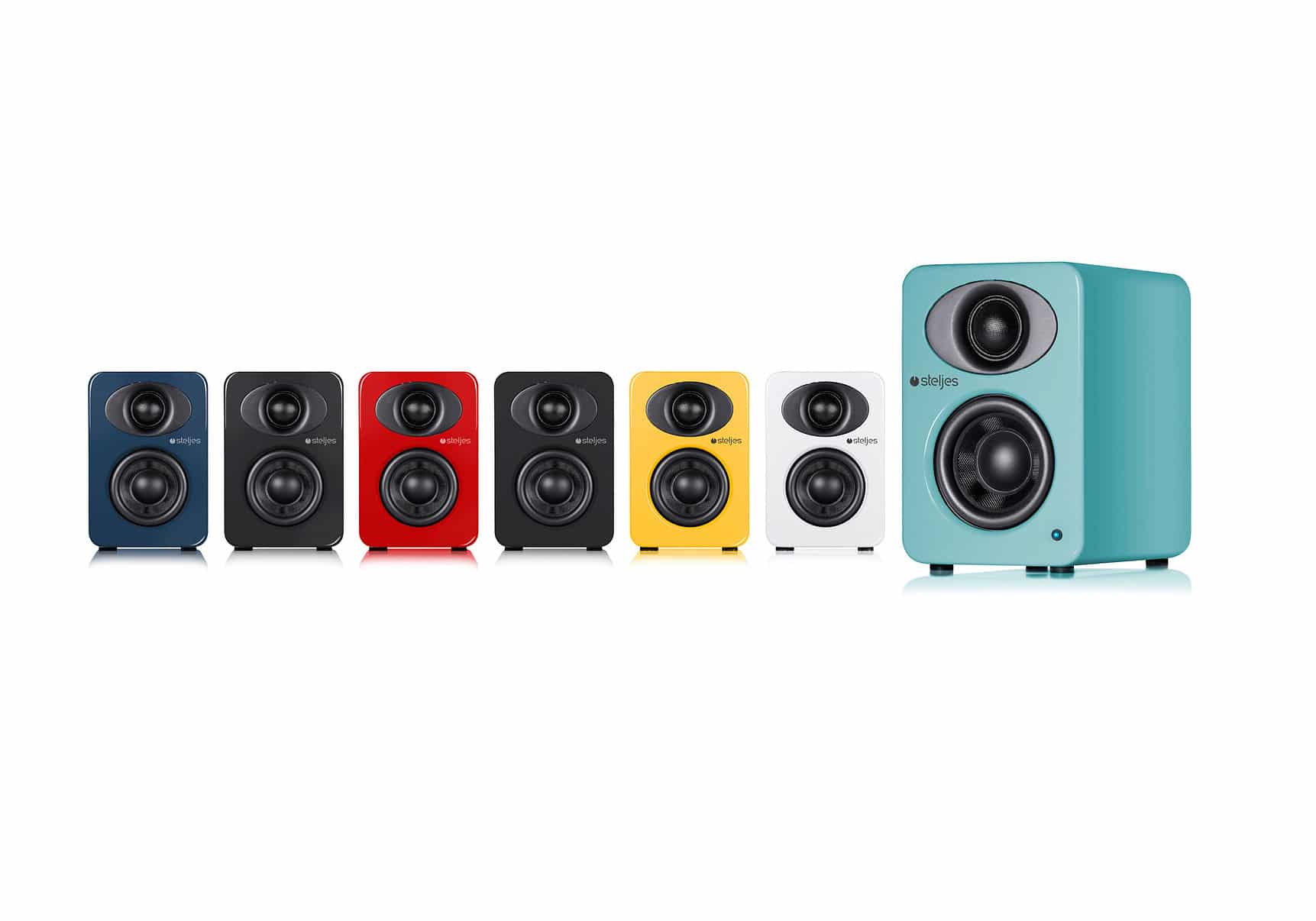 I then turned to Uncle Bob Marley and Jamming with the aim of further monitoring the bass at the same resolution but instead found that even slightly excessive volumes tended to trigger a somewhat forward tendency in the upper mids. I didn't notice this effect via the hi-res Dire Straits track because, as I've mentioned, that track has brightness issues as it is. This track has none of those mastering problems, though, yet the forwardness remained, especially on the guitar that gave the noted 'n-chaka' reggae guitar effect. That it did this at all was not a problem, that it did it so quickly on the gain scale was slightly more concerning. Touching the volume down removed this effect but it proved that the built-in amp had inherent limits in terms of sound quality at higher volumes. That said, if you used these speakers at reasonably low volumes then you'll wonder what all the fuss is about.
Bass was well moulded at this distance, having a reassuring presence while Marley's vocal provided a pleasing textural quality. This continued on I Shot The Sheriff where the Marley delivery provided admirable emotion. The instrumental separation on this track was most effective. Each member of the Wailers had space and room to manoeuvre which allowed detail to flow. The associated air and space only contributed to the musicality of the output which gave the dub-like instrumental tail-off of this track more head-nodding attention.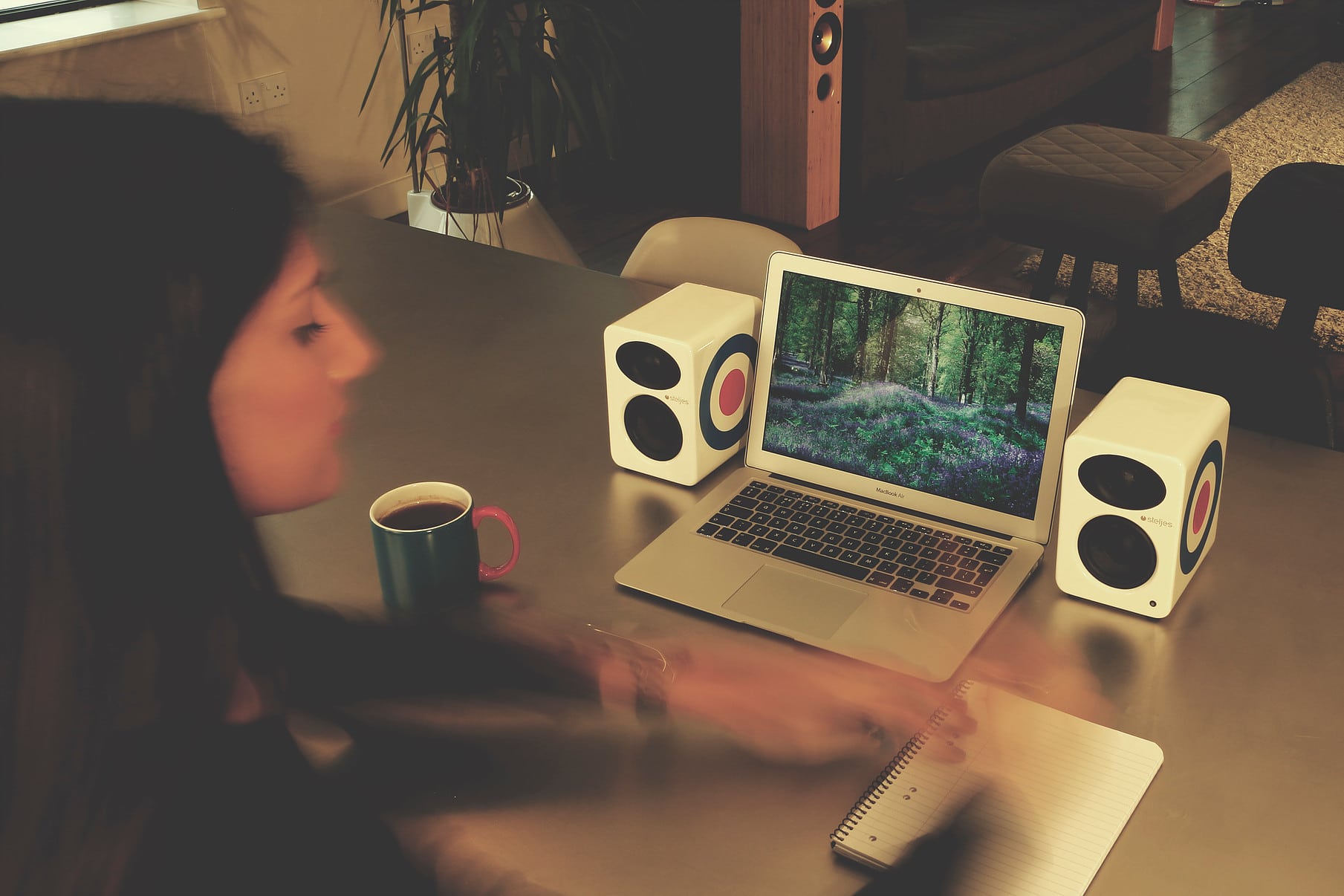 CONCLUSION
Ideal for small, enclosed spaces in a near-field environment such as fixed to a computer set-up or as part of a budget turntable system, the NS1s offer an admirable sound, are encouragingly small, offer sufficient features to make them eminently attractive and at an affordable price. What more do you need?
---
STELJES AUDIO NS1
Price: £149
Tel: 08450 758 758
Web: www.steljesaudio.co.uk / www.thehut.com/brands/steljes-audio.list
GOOD: size, price, installation, good overall sound quality
BAD: forward upper frequencies at higher volumes, low volume use only
RATING: 6
---
REFERENCE SYSTEM USED
Wilson Benesch Circle turntable
Wilson Benesch ACT 0.5 arm
Benz Glider cartridge
Astell & Kern AK120
Apple MacBook SSD
Apple iMac
Applie iPhone 6S
Icon Audio PS3 phonostage
Aesthetix Calypso pre-amp
Icon Audio MB 845 Mk.II monoblocks
Eclipse TD-M1 speakers
XTZ Tune 4 active speakers
>Roth OLi RA1 speakers
Vertex AQ & Atlas cabling