The Article
Sonos' Play:1 speaker: streaming music
2nd December 2015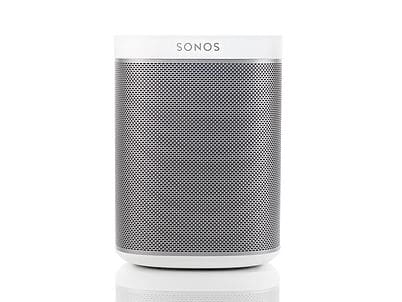 Want to stream your music from a mobile device? Paul Rigby reviews Sonos' own Play:1 speaker which allows you to do just that
Sonos has been one of the world's leaders in streaming music around and outside of the home for many years, a long time before it ever became truly fashionable. So the company has both the experience and the breadth of product range to address just about any situation you can throw at them.
Time and technologies never stand still, of course, which is why this new product has been released by the company.
The Play:1 is a diminutive and attractive speaker, spanning 162x120x120mm, and weighing in at just 1.85kg, that can be used on its own or as part of a stereo pair. Including two Class D amplifiers within each speaker chassis that's run off the mains only (no battery power here), the speaker consists of a single tweeter and a 3.5" mid/bass unit.
SET-UP
Setting up the Play:1 is easy, for phones and tablets. It doesn't rely on the general Bluetooth or Wi-Fi standards but a bespoke wireless system controlled when you link it to the freely downloadable Sonos app. I used an Apple iPhone, although the system supports Android too. Once the app has been installed on your phone or tablet then you following the set-up procedure screens. Initially, you may have to connect to your router using the Ethernet wire to search for and install updates. Once done, you can unplug it and complete the rest of the installation wirelessly. It takes a couple of minutes to finalise and you are ready to play.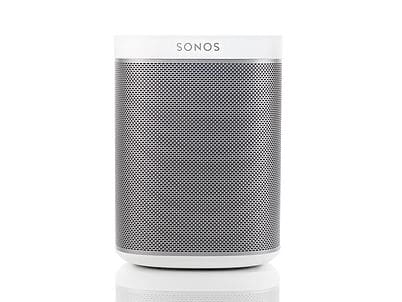 Speakers can be installed in a single room or streamed to different units in different rooms of your house. A very stable system, Sonos' hardware is modular so you can add further units of the same or more advanced specification later while also accessing a variety of paid-for music download services such as Last.fm, Spotify and many more. You can even add the Play:1 to a Sonos Playbar and Sub for a TV sound system.
To complicate matters a tad, I requested two Play:1 speakers. My bright idea was to pair the two and form a stereo set to provide a more audiophile environment. Setting up a stereo pair should be as easy as punch but I found this part of the procedure rather frustrating as the app refused to play ball. Firstly, the app didn't want to set up a second individual speaker at all. Then when the light indications on the second speaker looked like the set up had succeeded, I couldn't get any sort of noise from it. Ploughing on with hope in my heart, I decided to go for the stereo pairing and let the devil take the hindmost. After three or four attempts (repeating the same stepped install routine) everything fell into place and the second speaker was recognised, then the stereo pair connected immediately. A quick demo showed the music played through successfully and without any delay. The morale of this tale? If you want to do anything more than a basic set-up, be prepared for a few more minutes of heart-ache but persist, be patient and you'll eventually get there.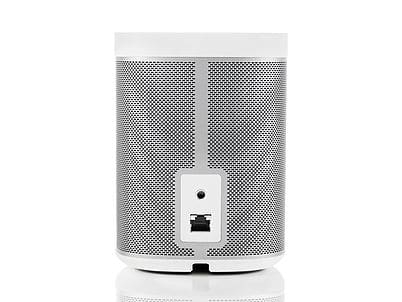 The Play:1 can be controlled via a computer, in addition to mobile hardware. For computers, though, you need to download an app from the Sonos website. After downloading to my Macbook, I asked the app to locate my current system which it did in seconds, connecting without any problems. After updating my Music library, I was ready to play.
IN USE
The units are well made but they do lack support connections. All you have is a hidden bespoke power socket that connected to the base of the chassis (no chance to upgrade the cable then). I assume that this odd connection point was chosen to avoid spoiling the clean lines of the chassis. On top of the chassis is a play/pause button and volume rocker. That's it.
To give the speakers a chance to impress, I would recommend not being too 'lifestyle' or casual in how you use these speakers. Leaving them on a desk or shelf will create bass bloom and boom. Lift them on some sort of isolating support. For the purposes of the test, I situated mine on a pair of HiFi Racks speaker stands.
File selection for testing was restricted. Hi-res files (24bit/96kHz or 192kHz) were not supported only FLAC up to 16bit/44.1kHz were recognised. The Sonos could play WAV, WMA, ALAC (not high resolution, though), AAC and OGG. One intriguing addition was Audible Format 4 (.aa), sound files for talking books.
SOUND QUALITY
I began with my iPhone pumping out a Paul McCartney MP3, I'm Gonna Sit Right Down And Write Myself A Letter from his Kisses On The Bottom LP. For such a small set of speakers and relatively low price, the sound quality is quite admirable. Midrange detail is good, topped by McCartney's relatively open vocal performance. There is plenty of space for emotion to occupy his delivery while his performance is satisfyingly breathy in nature, adding to the free and easy atmosphere of his performance. Piano, a notoriously difficult instrument to 'get right' is by no means perfect but offers a creditable performance, providing a perky presentation that hops and skips along the middle eight.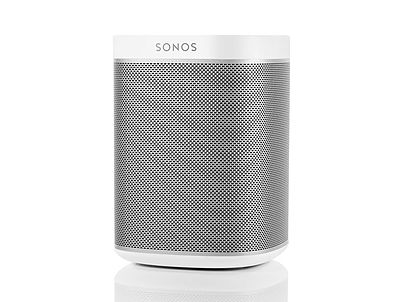 Similarly, percussion is timed well and treble is light and airy for a speaker in this price bracket. There is no deep bass but what remains is quite tight and crisp in nature, giving the track a useful foundation. Driving the speakers to high volumes on the back of an MP3 is a bad idea. The upper mids lose direction and become shouty while bass is ridden with bloom. Keep the volumes at a moderate level, however, and you will receive a pleasant noise.
I then turned to my Macbook as a source and selected Billy Joel's hot single,  My Life (WAV). Unsurprisingly, the high resolution WAV format made a far more pleasant noise, giving the midrange more body and a greater transparency. Joel's vocals had both confidence and body with a great complexity. A previously hidden guitar came into view and the strumming of the same could now be discerned while the piano strikes had power and drive.
Bass, meanwhile, offered more heft and power than the MP3 variant.
WAV files can be driven a lot harder than MP3 sources. There is less break-up and strain but the Play:1 hardware is pushed to its limits, the upper mids become a little bit bright and slightly harsh. Nevertheless, WAV files do provide more sonic freedoms if you use this quality as a base source format.
CONCLUSION
A very presentable lifestyle product, the Play:1 is not specifically aimed at audiophiles and so shouldn't be judged as such. The unit offers a very pleasant play back system for both MP3 and WAV files. Sonos do need to realise, though, that they are also offering a rapidly ageing array of music formats. Audiophile or not, high definition sound files are no longer an esoteric choice and should be supported forthwith.
Despite the slight irritations in forging a stereo speaker partnership, the set-up routine was comparatively easy and, while further connections were hampered by a lack of expansion sockets, the Play:1 offered lots of streaming options to provide a whole house full of music in no time at all.
Sonically, the Play:1 is good without being great. If you push the envelope with the Play:1, it will roll over and whimper but keep the speakers within a reasonable performance envelope and it will provide a satisfactory noise that will keep you entertained nicely.
---
SONOS PLAY:1
Price: £169
Tel: 0808 234 6596
Website: www.sonos.com
---
Good: stylish design, easy set-up, in-house streaming expansion, admirable sound quality
Bad: lack of expansion connections, sonically limited, format support
Rating: 7