The Article
Como Solo & Ambiente: A tale of two ditties
24th February 2017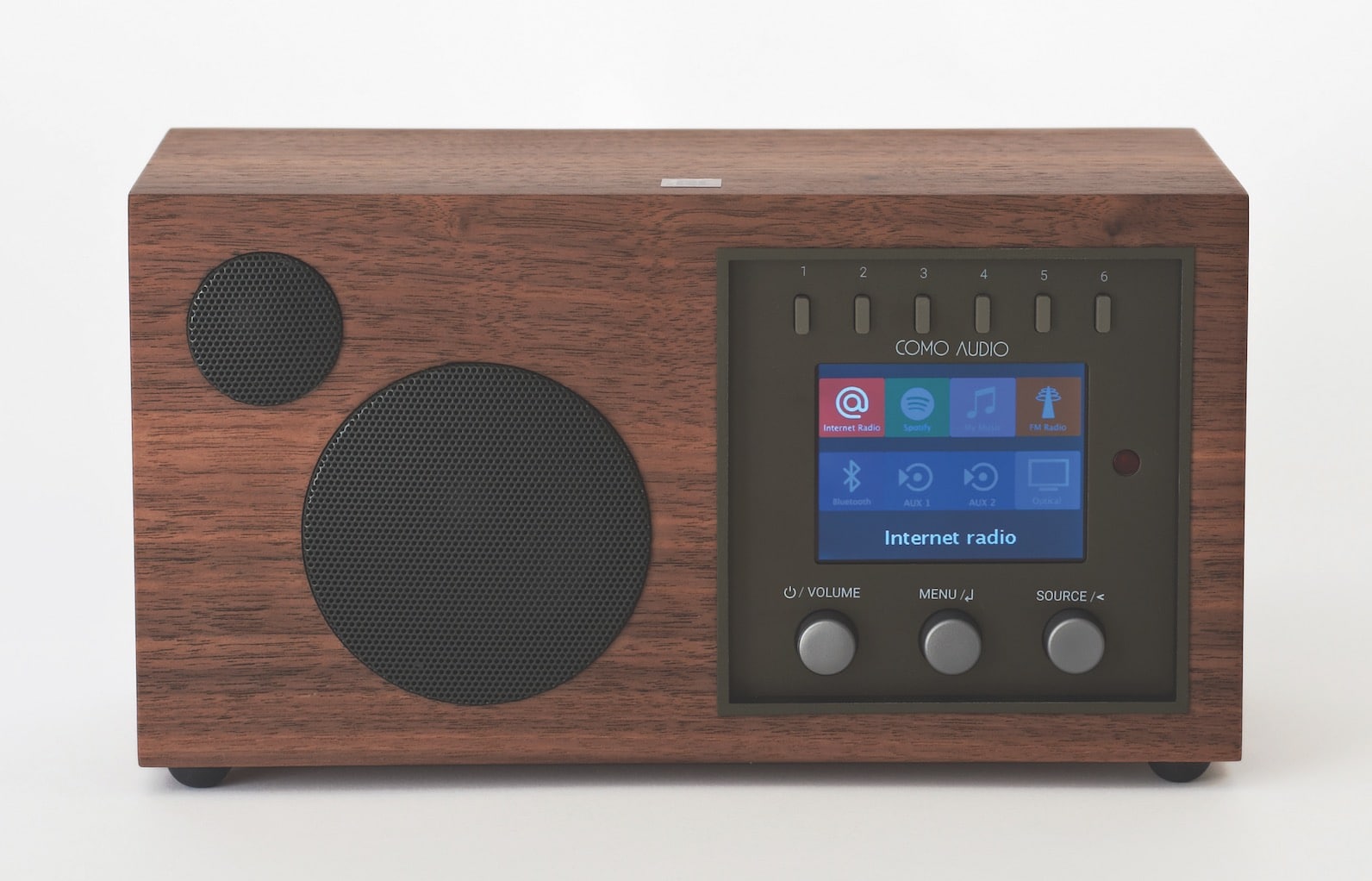 Looking for a high quality radio experience combined with mobility or – at the very least – luggability, Paul Rigby settled down to listen to Como's Solo radio and the additional plug-in stereo speaker option, the Ambiente
The Como Solo is a stand-alone radio designed by Tom DeVesto (the man who launched Tivoli). Set within a 12mm MDF case, housing a 19mm soft dome tweeter and custom 76mm long-throw, 4-layer voice coil woofer with oversized magnet, the radio arrives with an internal power supply and one of several furniture-grade, real wood veneers or a multi-layer piano gloss finish.
A Digital Signal Processor, 30W Class D digital amplifier and Qualcomm aptX/Bluetooth audio are also features along with NFC pairing via enabled devices.
The 71mm TFT colour display reproduces DAB and Spotify album art and station logos from Internet radio (offering over 20,000 stations) and DAB stations. FM and Spotify are other signal source options.
In addition to the stereo headphone and Line outputs, you can access DLNA Version 1.5 to provide wirelessly streamed music from your PC/Mac or NAS while music players can connect via the USB or optical ports. The network-shared library of music files include AAC+, MP3, WMA, WAV and FLAC up to 24bit/192kHz. The Solo is also Google Cast for Audio-ready and Amazon Dot-ready.
Additional features include dual independent alarms with scheduling options plus snooze and sleep timer with multiple alarm source options including Internet radio, FM and Auxiliary; adjustable EQ for bass, treble, balance, and loudness controls; a multi-language user interface, telescoping external DAB/FM antenna, a tuned rear bass port, six independent presets and a span of 132 x 240 x 180mm with a 2.7kg weight.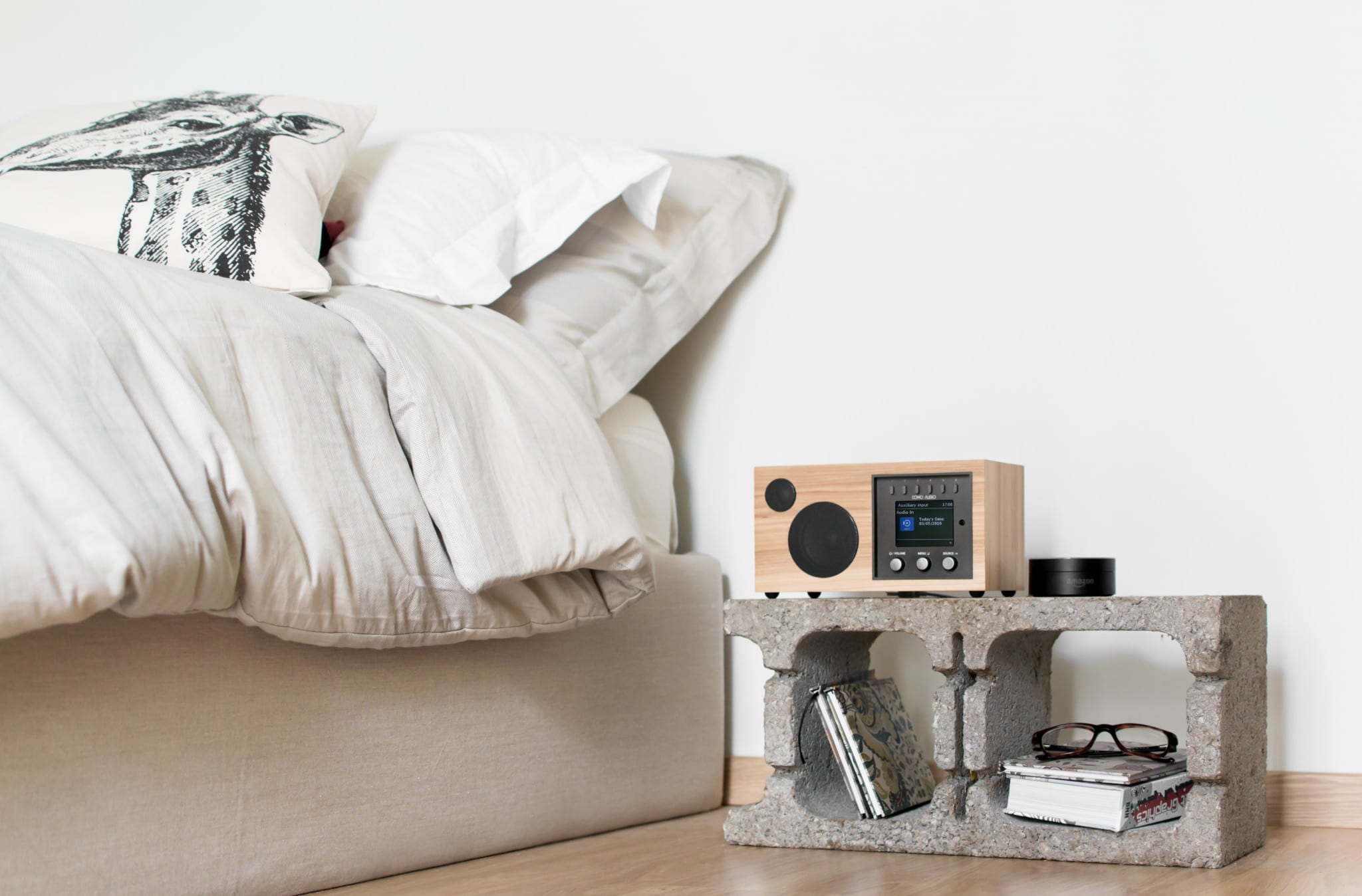 The Ambiente speaker is an additional accessory, designed to plug into the back of the Solo via an extended, 3.6m, lead to provide a stereo-based sound output, in conjunction with the Solo. It doubles the Solo's power output, "…resulting in 3dB more headroom," said the company with, " …roughly 10Hz improvement in bass." It spans 125 x 240 x 120 and weighs in at 1.5kg.
I chatted to DeVesto about the radio, "The Solo was designed to stand alone without needing a separate speaker," he said. "It will bring great sound to a number of places in its mono form that would be impossible, otherwise. I have sold millions of mono radios and I know how nice it is to have one in a kitchen, on a desk or in a bathroom. The addition of the stereo speaker allows folks who have the space to dramatically increase the size of the sound stage."
I did notice that the design of the Solo looked familiar. Very much like the models from Tivoli and Ruark, actually. DeVesto explained that one, " Pretty simple. I designed all the Tivoli product. Ruark was originally a Tivoli distributor and when they went rogue they used the Tivoli products for "inspiration"," said DeVesto.
I wondered, with this radio, whether the sound was 'voiced' in any particular way. After all, the radio will be positioned in various environments and rooms, not all of them ideal in audiophile terms, "The intention is to have a very faithful reproduction of music. The frequency response on Solo is from 70hz to around 18khz. We provide the listener the ability to adjust the bass and treble equalisation from the control panel. And the app to compensate for placement or room acoustics. A problem with this very extended high end is that low-res MP3 files can sound tinny if the treble is not turned down a bit. On really good material it shines."
IN USE
Setting up the Como radio was very easy. The worst part was the long-winded password input for the Internet connection from the usual, non-keyboard, scroll along a grid of letters and click on your selection-type approach. This is a one-shot selection so it wasn't a major issue. Apart from that, Internet and DAB radio installed after a brief station list download while a necessary software update was sent over the air and waited for confirmation for installation. That installation process took a minute of two and was comparatively non-intrusive.
The one real irritation was the picture menu interface full of feature icons. In 'manual' mode, utilising the buttons fixed onto the radio, selecting the option of choice demanded running the highlight cursor right and left only. Move the cursor to the far right of line one, for example, and it then pops up on the far left of line two and so on. Problem is, you cannot take a short-cut and move vertically up and down lines and then across to speed up your feature selection. If you want to move from the top left option on the first line (in this case the Internet Radio option) to the middle selection on the second line (in my example, the Bluetooth selection), you will need to patiently scroll horizontally, line by line, until you eventually arrive at your icon of choice. Teeth-grating. More so, if you're in a hurry, then you risk over-running because the source knob/software combination is not firmly locked together, so then you have to scroll back again.
We are talking an extra second or two of interface use here, I know. It's hardly 10 years hard labour, is it? The issue I have, though, is that it irritates you after a while and you yearn for a quicker option. Anyone who remembers moving from a 'feature' phone to a smartphone knows about the type of interface 'drag' that I'm talking about.
Como states that this should not be an issue. Just set each source to a Preset and then move from there in and around that source's menus and options (The Presets are easily accessed, incidentally. Just select DAB radio, for example, select and press a Preset button for an extended period of time until the Preset Stored response appears onscreen). Hence, Como says that you assign, say DAB radio to Preset 1, Internet radio to Preset 2, FM to Preset 3, etc. So, hit Preset 1, you're in Internet radio and then you can manoeuvre from there, within the world of Internet radio. Easy.
For me, though, getting around the clunky radio interface by using the Presets is merely replacing one ham-fisted system with another. Partly because the Presets cannot be labelled, so you're forever forgetting what source is applied to what Preset and the fact that there are six Presets but nine sources and some of those sources cannot be saved as a Preset! And then there's the outmoded branching menus that demand multiple knob twiddles.
But there is a possible answer to the above, the featured app, Como Control, which can be downloaded from the relevant app stores for both Android and iOS devices. I used an iPhone 6S. Accessing, downloading and installing the app was a snip.
Opening the app I saw nothing but the Audio System screen with an instruction, bottom left, to 'Set Up Audio System'. I assumed that the 'audio system' was the Como itself because nothing else presented itself to my eyes. The instructions demanded that I put the 'system' into Setup Mode and then access the Wi-Fi screen in my phone's Settings, select the entry there whereupon the app and the 'radio' would be connected. I struggled to find any Setup Mode option. Blame my inadequacies I suppose. Maybe I'm getting old. I suspect, though, that such a mode doesn't exist or that the 'audio system' has nothing to do with the Como at all and relates more to a third party system of your own (nothing was explained and I'm still in the dark about that one).
I was about to give up when I ignored Wi-Fi altogether and tapped on the Como app independently and…it worked!
The issue that I saw here wasn't so much the app, it wasn't even the phone really, it was the installation instructions.
I have, since that initial install, deleted and re-installed the Como Control app on my iPhone a total of six times. On two of those occasions, the app refused to play ball immediately but sprang into life after about a minute or so. On the other four occasions, the app worked first time without a problem and the Como radio icon appeared on the app screen, ready for use. On all six of these occasions, I never had to touch my Wi-Fi Settings screen, despite the install instructions at least inferring that I should. Furthering my suspicious about the mysterious Setup Mode. The app worked on its own, without any further input from myself. It's the damned Wi-Fi install instructions that caused consternation. I recommend that Como remove this part of the app software to prevent user frustration or better explain what it refers to in the first place.
Still, the app eventually worked. So I dived in.
The app, as you might expect, solved the interface issues I was having above. Each source could be accessed directly. So, playing Internet radio, for example, the app screen offered a radio station logo plus track information, volume control plus a Browse option to list available radio stations as a scrollable list and a quick and easy method of adding the Internet stations to your Preset list. Once I did get this app up and running, I was very happy with it. It improved the easy of use of the Como tremendously. If you don't have a smartphone or tablet, though, you are left with the default, and rather clunky, interface because the supplied, simple remote control does not allow direct source access either. You have to sideways scroll those sources again.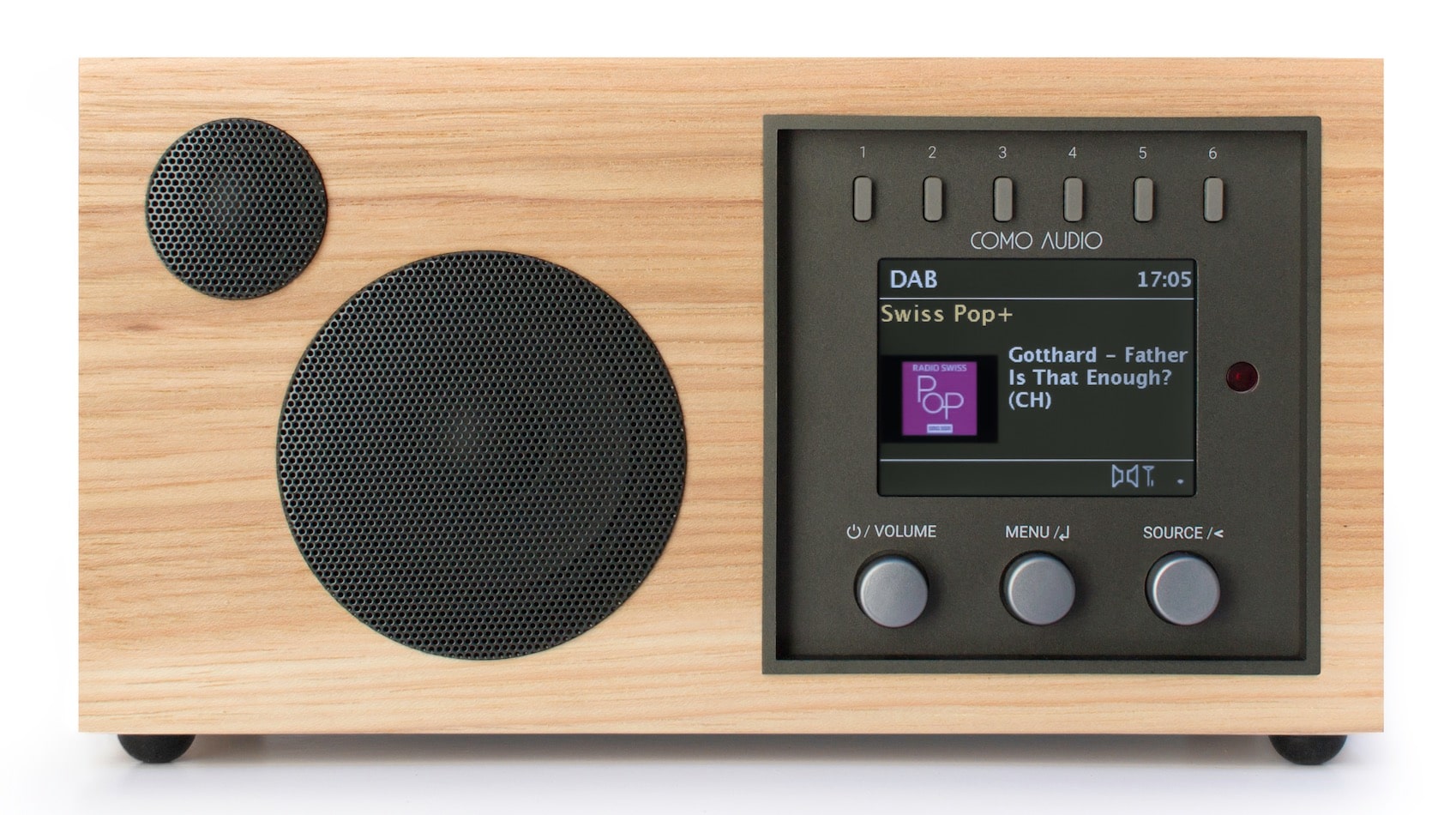 I am not solely pointing the finger at Como when I vent my frustrations with this style of user interface. Other manufacturers are equally guilty with some of their current model line-ups. Yet, I was struggling with this sort of radio interface 15 years ago. Times need to move on.
If you insist in dabbling with internal software – as the Solo interface does here – then you need a better interface than this and you cannot rely on everyone having access to a smartphone to solve its inadequacies. Why should you have to buy an expensive smartphone just to get your radio working?
We need a direct source access interface on radios. Nine sources? Nine buttons please. And allow them to be labelled and, if some of those sources are Internet, DAB and FM radio, use a memory option to remember your last selected radio station to keep things simple. Duplicate that direct source access on a dumb remote (i.e. nine buttons for nine sources on the remote's chassis). Then keep any complicated Preset programming options for each source (for those who want it) for a more expensive touch-screen remote. Worried about the price of the radio package with a touch screen remote included? Have the remote offered as a separate accessory, to be bought separately. This will do fine until the day that the remote or the radio itself has a fool-proof voice control interface.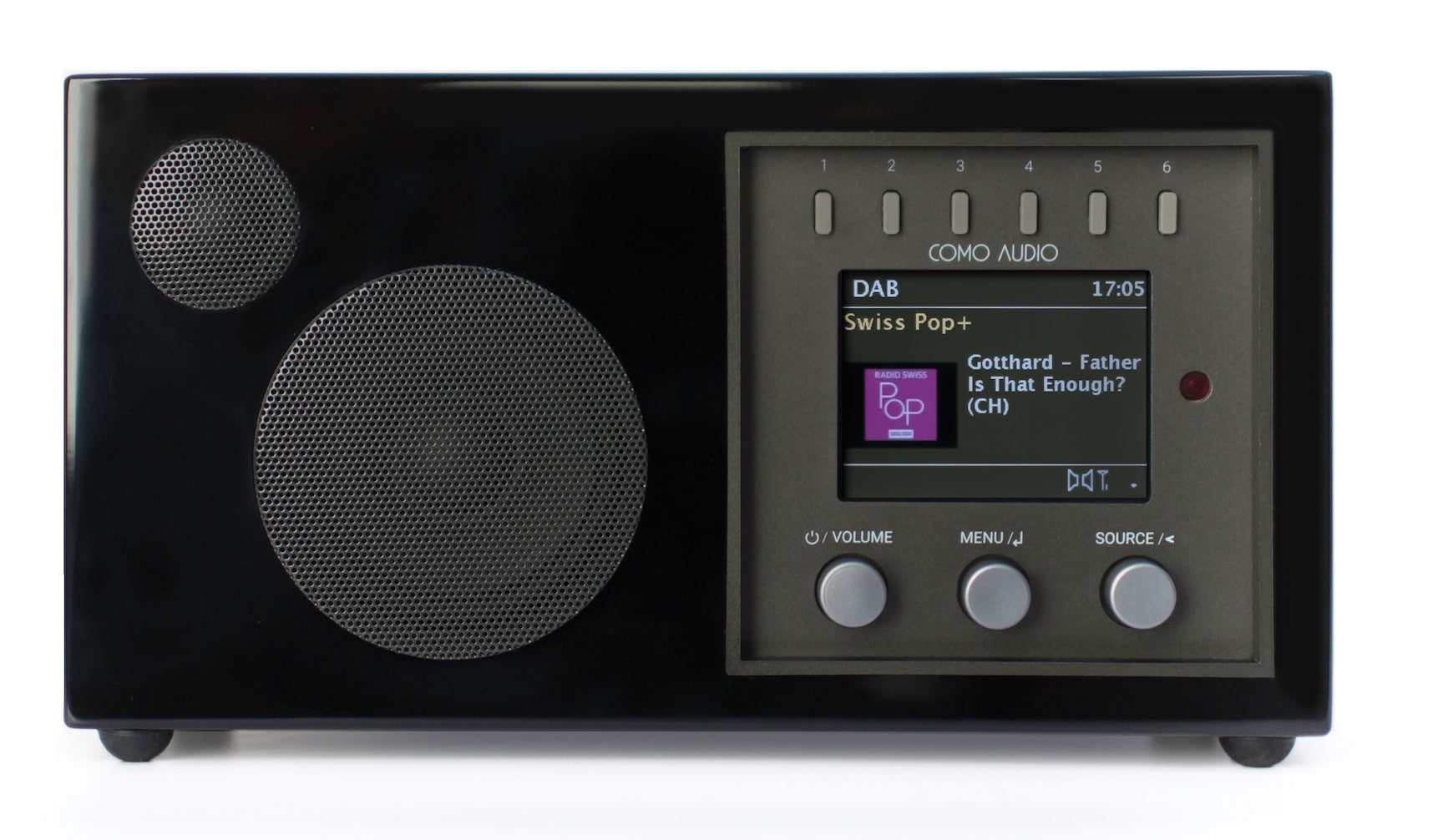 Failing all of that, stop being too clever for your own good and return to a large and high quality, mechanical front chassis source knob with a secure and firm click that prevents over-running and allows speedy selection.
SOUND QUALITY
I began by using the Solo…solo and played pop/rock output from Ed Sheeran on BBC Radio 2 via FM radio that, despite a certain lack of clarity, precision and detail, offered a unique sense of musicality.
Not exactly audiophile then, eh? With so many apparent sonic negatives, how can you find any positives at all? Well, actually, you can. It's the balance that is more important for radio and the sense of an analogue-like presentation. Other competing products can offer superior individual sonic elements but can, at the same time, sound slightly brash or rather too pointed. In some respects, the FM performance of the Solo reminded me a little of a childhood, family radio staple from Grundig. Slightly warm and golden in its output, that Grundig radio oozed across the listening room: the Como is exactly the same. It was not audiophile but was very pleasant and listenable.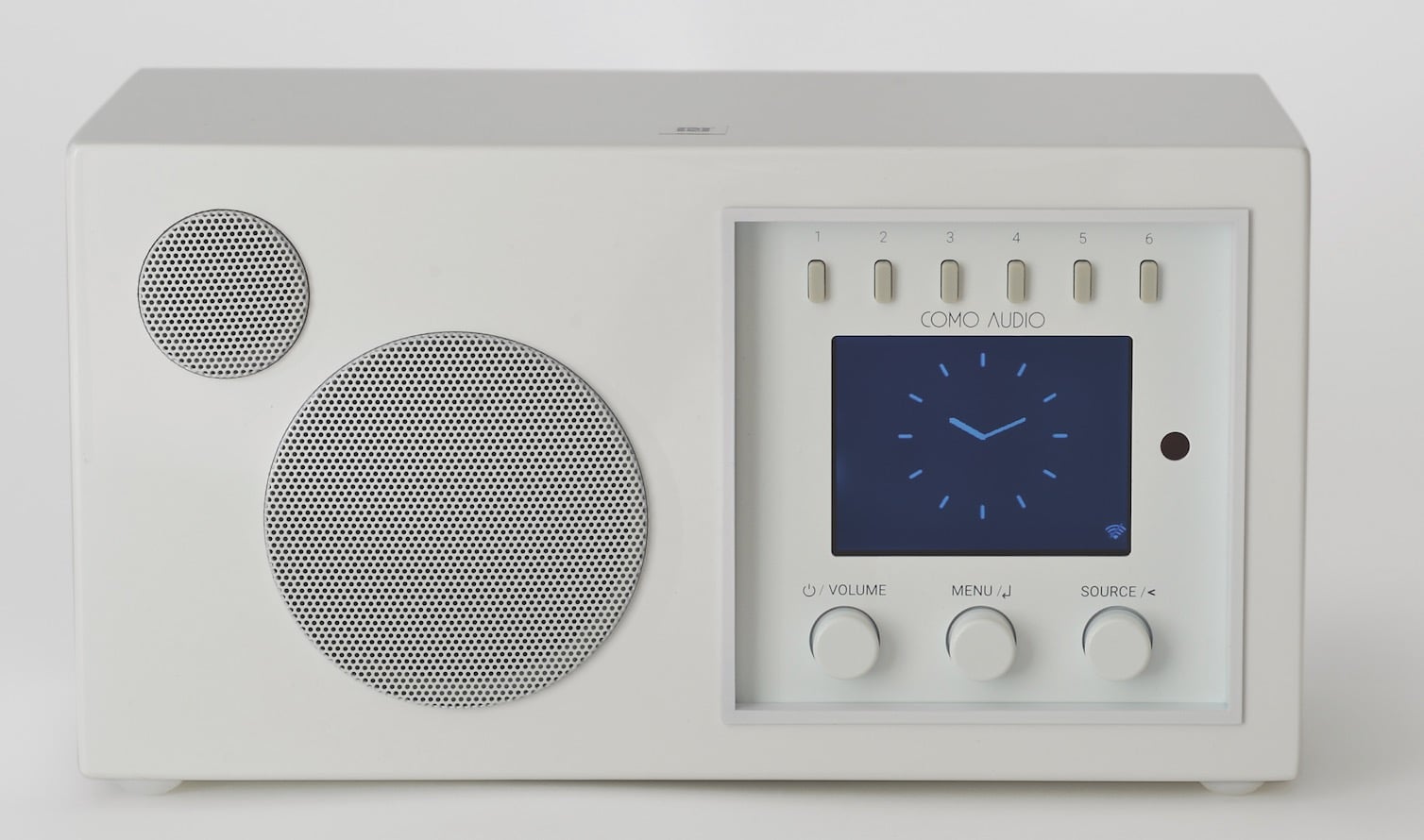 Moving to DAB and speech output from BBC Radio 4, the Como did suffer from a lack of space and air around the vocal delivery but, again, the Como coated vocals with a rich, warming, golden presentation that gave a rather friendly and slightly cozy approach to voice output.
Inserting a pair of Sennheiser HD650 headphones into the rear of the Como furthered the rich nature but that direction was less obvious and not as extreme. The headphone output did offer a more neutral soundstage. The midrange performance was admirably precise, for DAB output, while bass added enough lower frequencies to give the vocal performance a strong and confident delivery.
I then connected an Astell & Kern AK120 into the Aux socket at the rear of the chassis and played Bob Marley's I Shot The Sheriff at 24bit/96kHz. The general sonic output exhibited some veiling, both in the midrange and the treble output. The percussion, vocals and guitar lacking a degree of dynamic extension while bass tended not to have the same degree of character than many of its competitors. Again, though, these audiophile issues didn't remove the enjoyment of listening to the Como which retained the golden, slightly sepia richness. Bass was full and heavy in tone while vocals were easily discerned and although some of the more subtle aspects of the soundstage were rather claustrophobic in nature, the overall sonic output retained a foot-tapping, easy going presentation.
Finally, I plugged in the Como's Ambiente, second speaker that, with an additional rear chassis switch change from mono to stereo mode, turned the entire output into stereo. The result? A revelation! The sound was transformed in this stereo mode. Mids opened up, offering far more information and airy. Tonal balance was far superior as was tonal realism. Bass itself was weighty but tighter and it moved back into the mix and no longer dominated in the same way. More than that, the instrumental separation was greater, providing a more flowing sonic output while secondary percussion was both precise and relatively transparent.
CONCLUSION
The bottom line is obvious. If you want a cuddly, cozy, 70s-type radio sound from a fully featured radio, then go with the main Solo model 'as is' but if you value a more audiophile sound output and stereo to boot then at the addition of the superb Ambiente is absolutely essential. The latter is very important in turning the Como hardware into a worthwhile and balanced sound system while featuring definite audiophile credentials.
---
COMO SOLO RADIO & AMBIENTE SPEAKER
Price: Depending on the finish, from £349 (Solo) & from £119 (Ambiente)
Web: www.comoaudio.co.uk
---
GOOD: Ambiente sound contribution, fully featured, set-up, ease of use
BAD: Solo veiled mids and upper frequencies, interface, remote, app installation
Rating:
Solo – 6
Solo & Ambiente – 8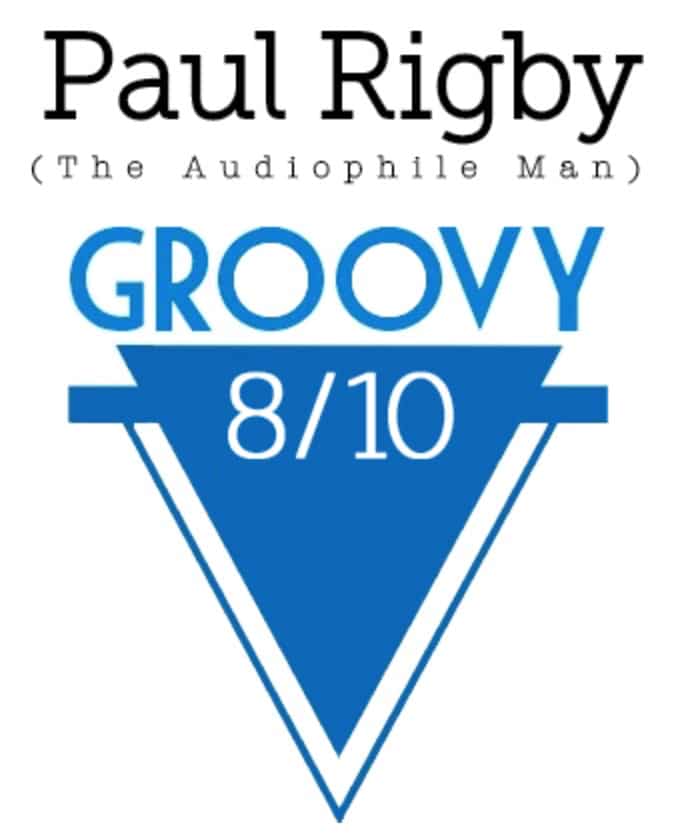 ---
REFERENCE SYSTEM
Tivoli Model 10 radio
Tivoli Model 10 stereo speaker
Astell&Kern AK120 DAP
Sennheiser HD650 headphones