The Article
Sky+ 2TB HD WiFi box: The Sky's The Limit
3rd November 2015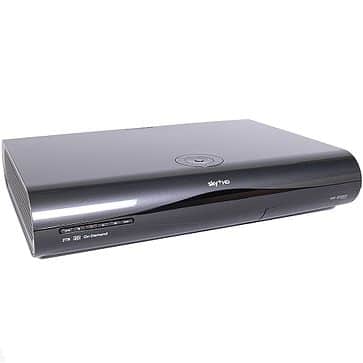 Are you a Sky TV subscriber? Paul Rigby reviews Russ Andrews' enhanced Sky+ 2TB HD WiFi box
Sky's satellite-based TV service is very popular in the UK. It offers a wealth of services, provides a host of exclusive content and, generally speaking, does so while offering good quality sound and vision. Hi-Fi specialist outfit, Russ Andrews believes that it can go one better, however.
The company has gone under the hood and looked at particular component areas that it feels would benefit from an upgrade. Generally, those areas include the power supply and its linked capacitors, the Tuner input, the capacitors on the optical and coax inputs and the HDMI output.
If you are a current subscriber and you decide to commit to this upgraded box, how does it affect you and your ability to enjoy your usual TV services? Not a jot, is the answer. Just swap the old box for the new and insert your viewing card into the new box. It is possible that you may need to call Sky and have your card linked to the new box to access all of your HD channels but that's about it and that operation is quick and painless.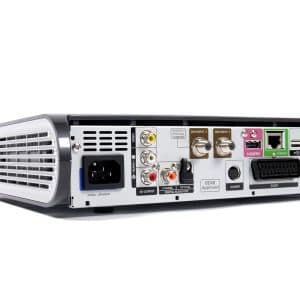 Looking at the upgrades in more detail, the main external giveaway is the power socket which has been changed from the figure of eight connector to a standard IEC plug (the type used on your kettle) which also enables you to upgrade your power lead later on for further sonic benefits.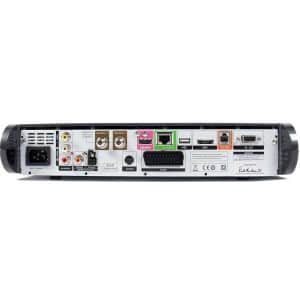 Into the chassis, Russ Andrews has added its Silencer components to the IEC input. Silencer is designed to reduce mains noise while the propriety SuperClamp components fitted along with the Silencer help to reduce mains spikes and surges. A Clarity mains filter is added for further noise reduction. All of these upgrades are guaranteed for two years.
SOUND
TEST
I began with BBC Radio 4 because I wanted to hear the human voice. Differences were immediate. The Russ Andrews' Sky box offered voices with greater resonance and enhanced reverberation that seemed to emanate from the speaker's chest with plenty of solid bass frequencies. The new solidity produced a more believable presentation.
Over to BBC Radio 3, which is known to be broadcast at a higher sampling rate than all other BBC channels and a range of music from Bach. The Russ Andrews box lifted the presentation from its previously flat soundstage. In fact, the tweaked Sky box provided a greater amount of variation in tone and colour. More importantly, the silences between each instrument were stark. This separation lended the performance, which was live, a far greater immediacy. Small nuances in the live performance could also be heard. Tiny irregularities in strings, the emphasis upon them and the extension as each string was played, for example.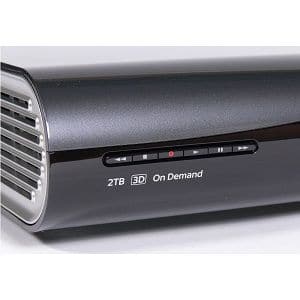 For both voice, during choral sequences, and music, the lower distortion levels provided a greater dynamic range. That is, the noise floor was lower, allowing a wider range of frequencies to be heard. Hence, when the music ended and we were returned to the studio, the shuffling of paper from the presenter was now clearly heard.
Speaking of choral work, within Purcell's arrangements, the crescendos, which previously had a penchant to bloom a touch, were now more focused, giving the performance tighter properties, which added to the ability to better understand the lyrics.
Moving to BBC Radio 2 and a touch of Abba's The Day Before You Came. Despite the relatively lower sampling rate from this station, synth noises sounded buoyant with a perceived air and space between them and the vocal. Bass was both punchy and musical while the soundstage was now large and impressive. The vocal itself exhibited a textural quality that was previously slightly swamped by both the synths and backing vocals. Again, the lowering of the noise floor added to this quality.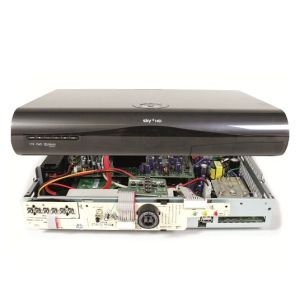 Moving to Jazz FM and a selection of modern, contemporary tracks. While the soundstage wasn't especially wider or higher than before, the general presentation of both vocal and percussion exhibited a capacious quality while the sax was emotive and involving.
PICTURE TEST
In terms of the picture? I tested the image on a top quality Samsung 55" HD TV, the UE55F8000ST, one of the best TVs on the market and have to report that the picture differences were far less stark than the improved sound. There was possibly a smoother, warmer effect on the image but such differences were subtle and often too close to call, without a side-by-side, simultaneous view using identical peripherals.
Part of the problem was that the image was absolutely superb to begin with and, frankly, this is where you really need to address your image issues if the picture is your priority. TV technology is improving tremendously which will have a much greater effect than the far more subtle, tweaked technology included in this Sky box. I wouldn't look towards this Sky box to solve your image issues.
CONCLUSION
For the money you pay, anyone looking to enhance their TV image would be better employed investing in a new screen rather than buying this enhanced Sky box but even top quality TV sets have notoriously poor sound. When I bought my Samsung, I cringed to hear that the recommended sonic companion was a second-rate sound bar from the same company. In fact, in the majority of cases, attendant sound bars and plug in hi-fi equipment tends to be so poor as to be one step away from a joke. That's why I strongly advise adding your own 2-channel hifi system to a TV, sourced from quality hi-fi brands.
It is, at this point, that Russ Andrews' project not only gains validity but becomes a serious audiophile choice. It's that bit in the middle, the sound source element of the Sky box, which can make or break that final sound quality. There is no doubt that this box improves Sky-sourced sound. Does it improve it enough to pay such a high price? If you have invested £1,000 or more on a quality sound support system for your TV, then yes. In such company and in such a system then this new Sky box is a good investment.
---
RUSS ANDREWS SKY+ 2TB HD WIFI BOX
Price: £611
Website: www.russandrews.com
Tel: 01539 797300 
---
Good: Significant sound enhancements, low noise, dynamic range
Bad: Less impressive picture improvements, Price
RATING: 6
---
REFERENCE SYSTEM
Rega Mira amplifier
Spendor S3/5R2 speakers
Arcam rDAC DAC
Tellurium Q/Avid speaker and interconnect cables
Atacama stands