The Article
Russ Andrews Clarity Pro: reduce your noise, Sir?
3rd February 2015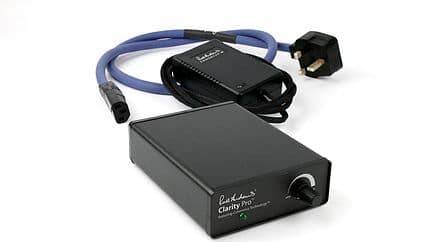 Want to reduce the noise present in your hi-fi? Russ Andrews may have solution for you. Paul Rigby reviews the Clarity Pro.
Using the mysterious Coherence Technology to "neutralise noise" in your system, Clarity Pro is not quite a mains conditioner in the Isotek sense of the word, it seems more active than that. Used for hi-fi or AV, my example arrived with an external PowerPakII (£106) power supply and PowerMax cable (£60). The rear of the Clarity Pro chassis features a power socket while the front includes a power light and fine-tune knob. The greater the gain, the greater the Coherence effect on my hi-fi.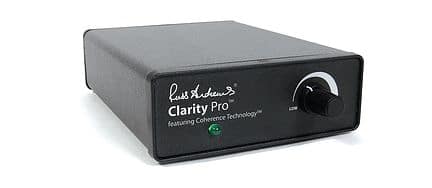 More significant changes can be afforded via an internal bank of DIP switches labelled 1-4. The high the number, the greater the effect.
SOUND QUALITY
I played a variety of vinyl rock and jazz pieces. Changing the DIP switches to both '1' and '2' didn't exhibit a noticeable enhancement. On '4', I actually felt that the Clarity turned into a tone control, hardening the upper mids and giving them a slightly forward feel.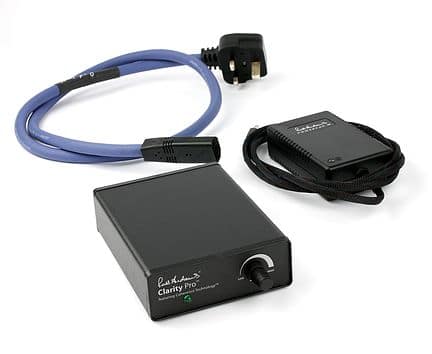 Position 3, with the fine tune knob at the 12 o'clock position did offer reverb enhancements in the upper mids. Turning the knob up to 'full', enhanced that effect, smoothing reverb but also 'darkening' it. The overall soundstage was also more airy and spacious which lightened the performance, giving it a sprightly feel while bass was smooth and punchy. A remarkable performance, considering that my system was already finely fettled.
CONCLUSION
Some users will dislike the rather aggressive 'active' nature of the Clarity system as opposed to the wholly passive system utilised by my own (although vastly more expensive) Vertex AQ technology, for example. Nevertheless, for the price, the Clarity does a good job and will, for many budget and midrange systems, prove to be invaluable in removing noise to enable your hi-fi to perform more efficiently.
---
CLARITY PRO
Price: £559
Website: www.russandrews.com
Tel: 01539 7973
---
GOOD: open soundstage, tight bass, low noise…
BAD: …nevertheless, 'active' Coherence technology can sound slightly intrusive
RATING: 6