The Article
Runaway Ageism & chatting with Iain McNay
23rd June 2015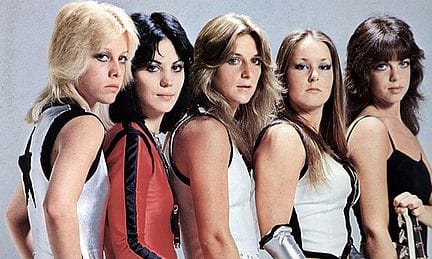 Never judge a CD by its cover.
Put together by music maverick, Kim Fowley, in Los Angeles around 1975, The Runaways were a girl band featuring Joan Jett, Sandy West, Lita Ford, Cherie Currie and Jackie Fox. Given a somewhat sleazy image by Fowley, the band were often dismissed by many critics. This may be because the band were created and honed while still in the public eye. Hence, their early work can be termed raw and primitive but it would also be nearer the truth to say that most of the girls were still learning how to play their instruments during recording and gigging.
"I started Cherry Red in 1978," said respected UK record label, Cherry Red Records' chairman and co-founder, Iain McNay, explaining how he established links with the band. "I was a fan of the group and I first saw them supporting the Stranglers at the Roundhouse. They had done four albums and were on the brink of splitting. Cherie Currie, the singer, had already left and Joan Jett was doing the vocals. I then heard of an album that had come out in America that was not available in Europe. This was pre-Amazon so it wasn't so easy to get American imports in those days. So I licensed the album from the management company, Toby Mamis and Peter Leeds (who also managed Blondie), which proved to be their final album, called And Now…The Runaways. When it came out we issued five different coloured vinyl editions and we got pretty good press. We even took a single off it called Right Now."
Cherry Red then released another album called Flaming Schoolgirls which contained outtakes from previous sessions, licensed from Phonogram in Holland and released the following year. Time past until Cherry Red managed to obtain the licenses for all of the bands earlier albums, via Universal, "That wasn't a door that opened very easily but, one thing we are at Cherry Red, is persistent and we're reputable – we always pay people on time. In the end we managed to get the albums we were after. It was the start of what is now an excellent relationship with Universal. Hence, The Runaways were special releases for us."
The Runaways were part of that interesting American scene before punk broke throughout the UK during that famous summer of 1976 when the Sex Pistols, The Clash, Siouxsie & the Banshees and rest played the 100 Club over a single weekend in Oxford Street. That's when the UK variant of punk began to gather momentum. The Runaways had already been over here with their punk attitude. Not the greatest musicians, sure, but they created a magical sound and an energy that really worked. The Runaways, like their compatriots such as Johnny Thunders & the Heartbreaks and Television, were the inspiration for the UK version of punk.
All of the band's CDs can be found on Cherry Red as well as a film, called The Runaways, based on a memoir written by Currie, which has been released as a DVD in the UK. The CDs – seven in all – include: The Runaways, the 1976 debut; Queens Of Noise, the 1977 follow-up; Waitin' For The Night in which Joan Jett took over the lead vocals; Live In Japan which was only originally available as an import; And Now…The Runaways; Flamin' Schoolgirls, which was originally released on vinyl by Cherry Red in 1980 plus The Japanese Singles Collection, featuring all the band's highly collectable Japanese picture cover single sleeves, lyrics, discography and sleeve notes. This CD features two bonus tracks, the UK single Right Now and it's B-side Black Leather, the band's last single release.
And now you're expecting me to say that these CDs were remastered and sound better than before. Well, I'm not and that's part of the reason for this feature.
These CDs were originally remastered from the original tapes and, so Cherry Red says, that's good enough for them. That is, they say, any further tinkering might not improve the sound quality. Now, the cynical amongst you might exclaim that Cherry Red is just finding an excuse not to remaster because of a lack of funds and, I suppose, we wouldn't really know until a final A-B comparison could finally be made. They sound good, though and, surely, that's good enough?
There is a fixation on remastering that dominates to such as extent that some music fans won't touch a CD without it (pushing the sound through improved digital ADC equipment is always recommended – and these CDs could probably be freshened up with a suitable re-press – but I'm not talking about that, I'm referring specifically to remastering). It's a sort of technological snobbery or, alternatively, a feeling that, somehow, without the sticker proclaiming the fact, they've been short-changed. Yet, it doesn't always follow that remastering should be imposed on every new re-issue. Why? Because not every reissue actually requires it. And who ultimately ends up paying for the remastering? You and I.
Let's take a random example. How about the multi-disc, very expensive, Genesis vinyl box set, the green release from the Peter Gabriel era. This set was remastered and a big play was made of that fact but the result ended up changing the entire soundstage and sounded as if you were listening to the same music from a different seat in the audience. This remaster wasn't better. Just different. It's not the only example out there.
Which proves the point that, just because something is new, it doesn't mean that it's good and, alternatively, just because something is old, doesn't mean that it's bad. Which is where aged journalists like myself come into the picture, to guide you. The above might sound like a long-winded way to give myself a pointed advertisement (and it probably is but it's a well informed one, don't you think?) but I wanted to confirm that, with any product, without a filter to test these things, we are often buying in the dark.