The Article
Roberts has announced its new R-Line product range
21st February 2016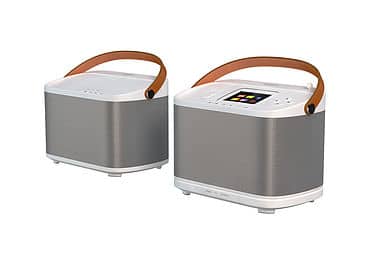 Roberts has announced its new R-Line product range, a collection of wireless speakers. You can use R-Line speakers individually or as part of a multi-room wireless streaming system. With the new designs, you can play the same music in every room, play different music in each room, stream across Wi-Fi or Bluetooth, access your music collection, stream an online music service including Spotify which is built-in or listen to Internet or DAB radio.
You can control your playlist and speakers via UNDOK on iOS or Android control system. You can also control your speakers all over the house on stand-alone or multiple devices, navigate between audio modes, browse your playlist and control volume directly on the speakers.
The R-Series is a portable speaker with a nod to an earlier, retro design. A base unit and speaker with Wi-FI, Bluetooth and Spotify Connect for streaming indoors and out with optional detachable battery pack and leather handle, the two units can be used as single stereo speakers, as a left or right speaker in a stereo set-up or component of any open format multi-room system. The R1 wireless stereo speaker is priced at £180. The R100 base unit with speaker, priced at £250, has a full colour screen display of on-device navigation and DAB/FM radio.
The S-Series is a contemporary designed, modular multi-room speaker range with Wi-Fi/Bluetooth, streaming capability and Spotify Connect. The S300 Base Station with speaker has two sub-woofers built in. Also included are DAB/FM radio, CD playback and a 3.5in colour display. Price is £500.
For further information please visit www.RobertsRLine.com