The Article
ROBERTS RT100 TURNTABLE: A BIRTHDAY PRESENT OF A DIFFERENT STRIPE
14th September 2017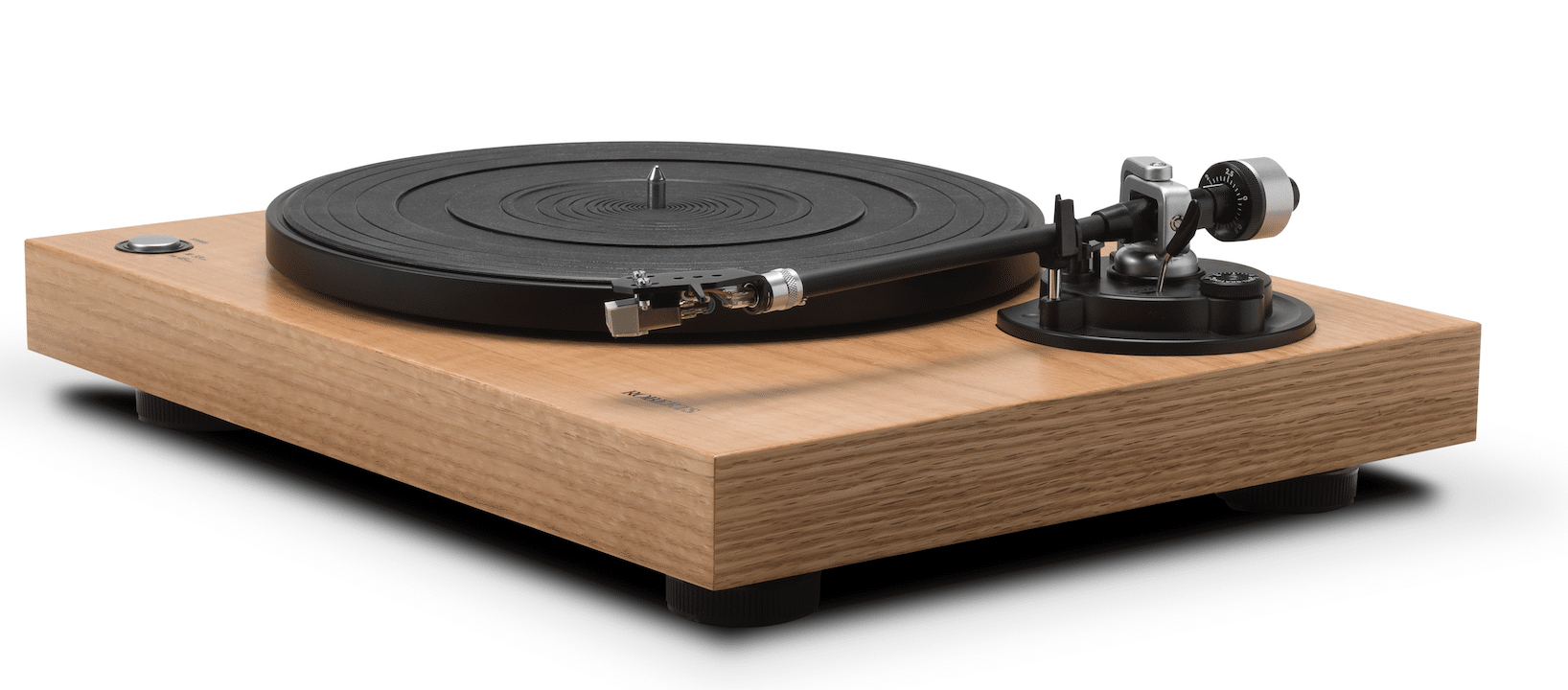 Celebrating an important birthday, radio experts Roberts releases only its second ever turntable. Paul Rigby reviews the RT100
I, and probably you, know Roberts from its range of high quality and rather iconic portable radios. In fact, the company has been so successful in its endeavours it is proudly celebrating it is 85th anniversary this year. And good for them, they deserve a right ol'knees up.
Which makes it all the more strange that I'm here to review a turntable with the Roberts logo snuggly fixed to the bottom right corner of the chassis. This deck (only the second turntable that Roberts has ever released) emerges from the company's own R-Line range which is where Roberts' normally keeps its premium smart radio and wireless speakers.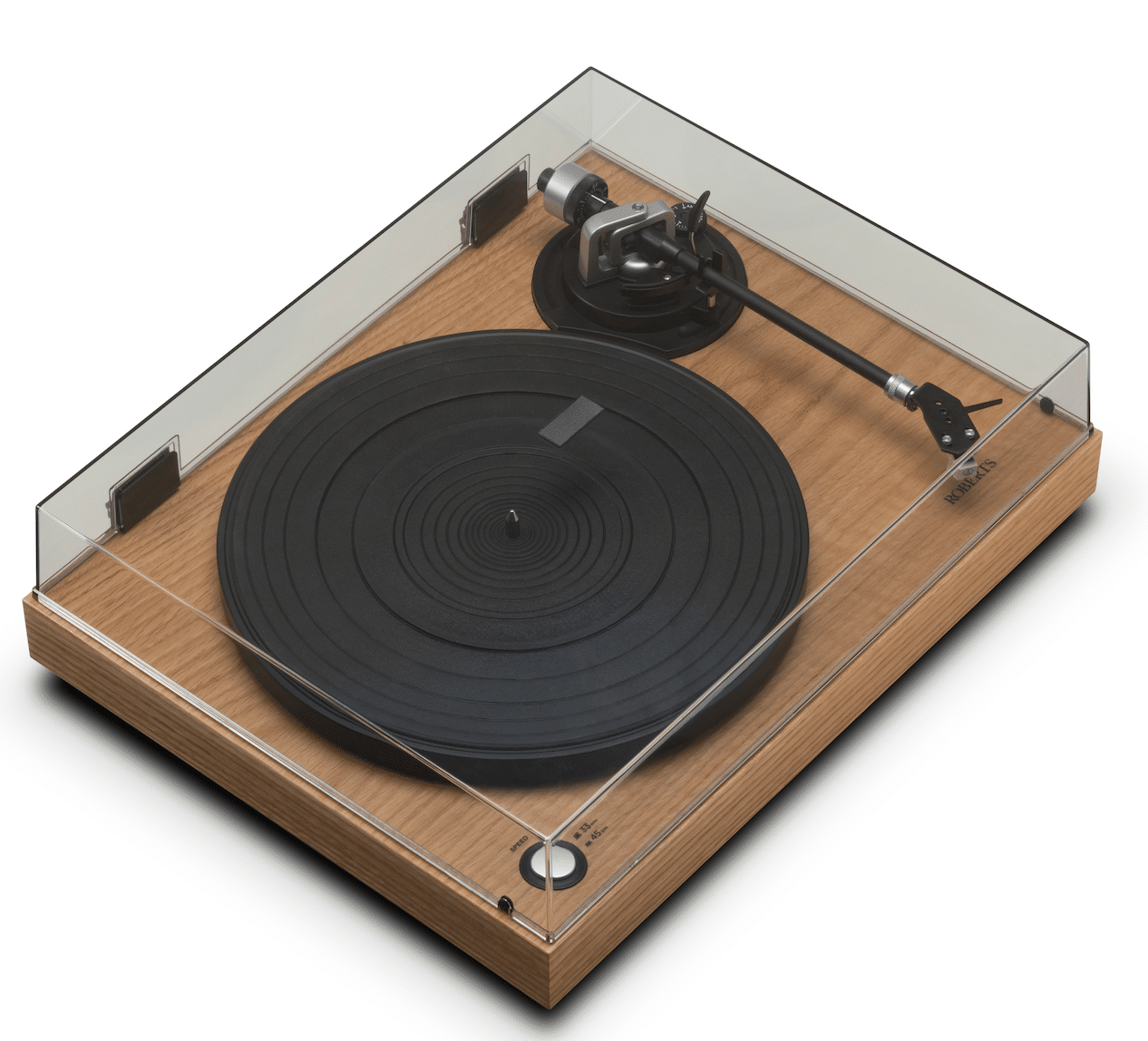 What we have here with the RT100, though, is a belt-driven turntable spanning two speeds (33⅓ and 45rpm).
The design provides a solid looking real wood veneer plinth and a clear perspex removable dust cover.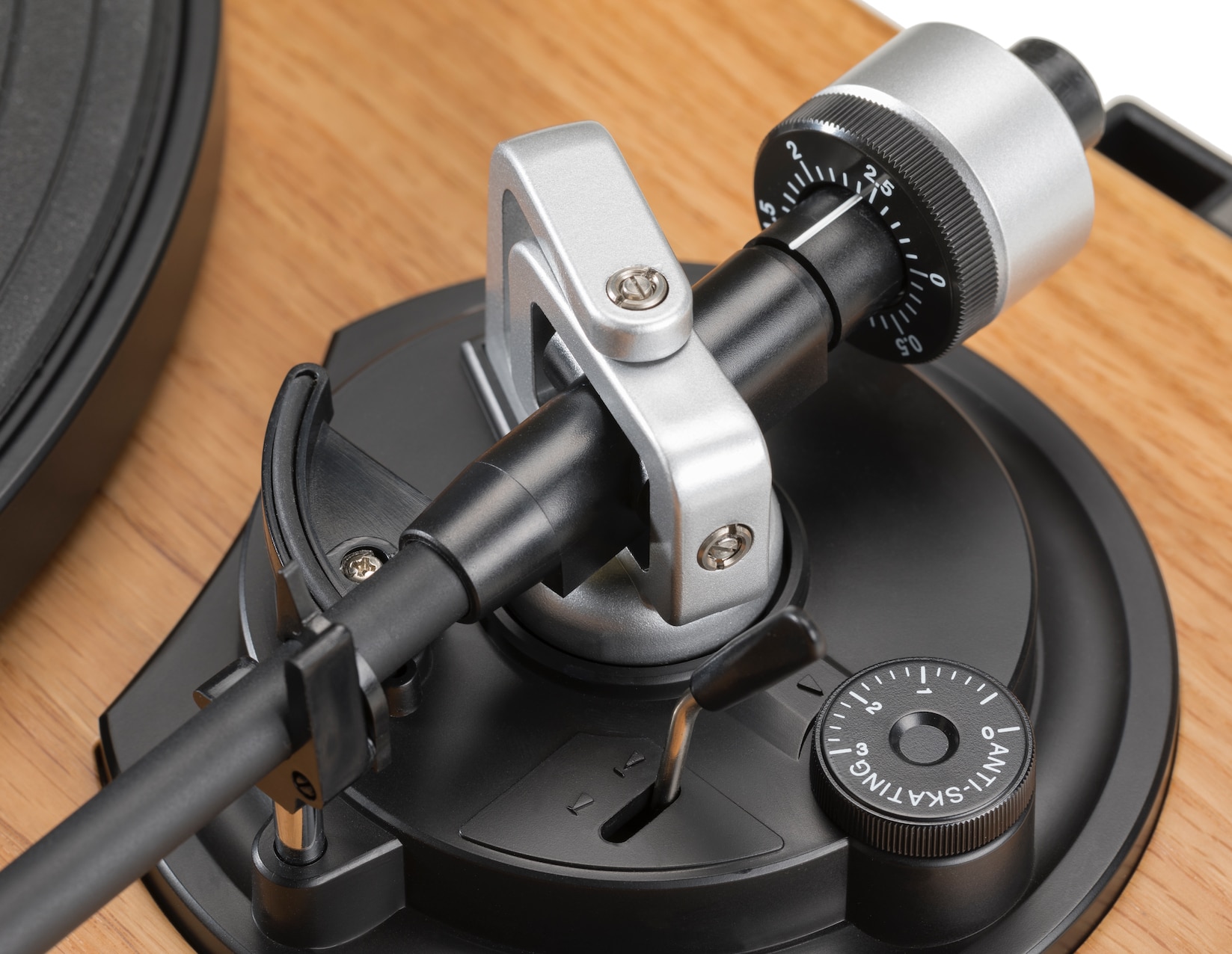 On top of the heavy aluminium platter is a thick rubber mat. To the left is a top-mounted circular speed switch and, to the right, a straight arm. While the main turntable bearing is pretty solid, the tonearm bearings rattle a bit, I've seen more secure designs at this price point. The headshell arrives with an angled removable headshell. This makes swapping the headhsell for another one with a different cartridge all the more easier.

Hanging off the headshell is an Audio-Technica AT-3600L cartridge with a conical stylus. The latter is ubiquitous, it seems, amongst budget and sub-budget turntable designs but does warrant upgrading as soon as possible to a cartridge with an elliptical stylus to improve inherent sound quality. At the rear of the arm is an adjustable tracking force weight and, adjacent, is an anti-skate selector. Roberts suggests that you select 3.5g for both tracking force and anti-skate but I would plump for 2g to reduce vinyl wear.

Around the back is a power button plus the option to use the turntable's own built-in phono amplifier (great to plug into amplifiers which do not have one or to connect directly to powered speakers) or to an external phono amplifier. While the internal phono amplifier is useful, better sound quality will be found by utilising an external phono amplifier. Put that on your 'to do' upgrade list alongside a new cartridge, when the budget allows.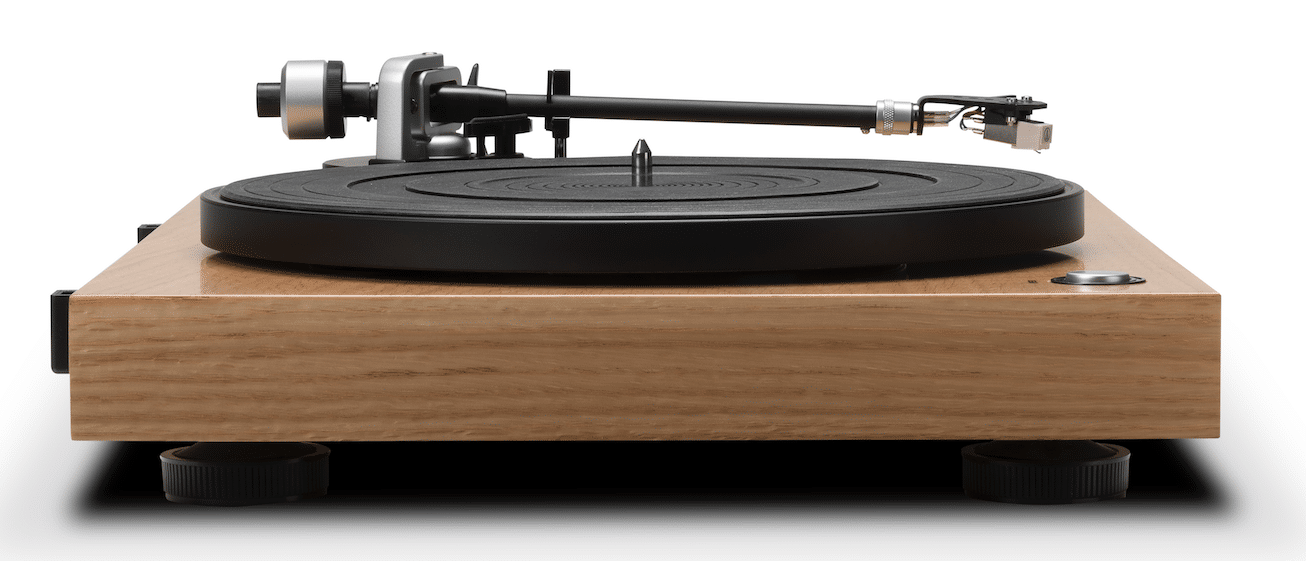 You also get a USB output port to enable you to convert the vinyl signal to digital on your computer (free Audacity software is included).
During play, you can toggle on or off the semi-automatic facility. Engaged, you have to manually place the arm on the record but it will automatically stop itself when it reaches the end.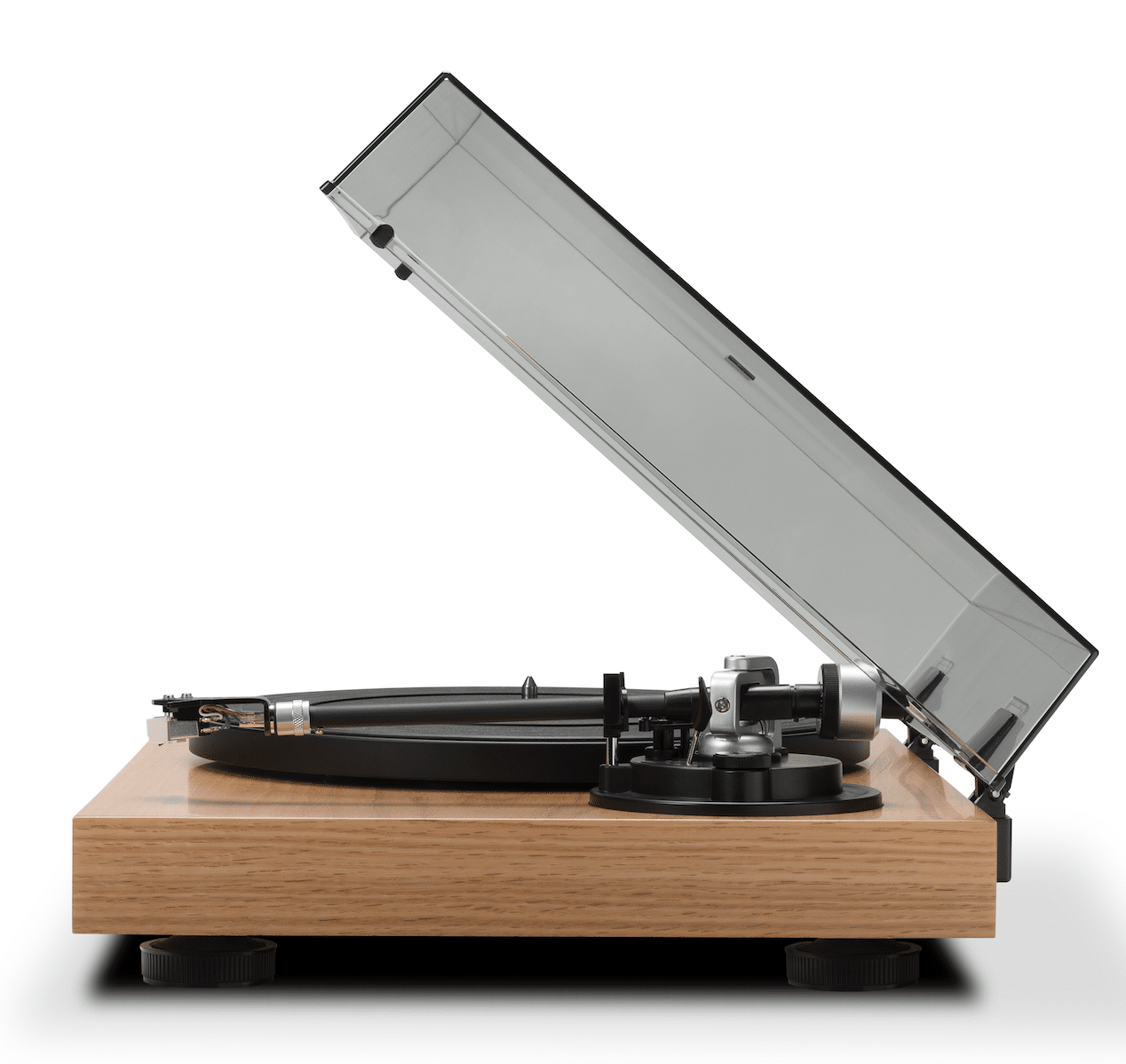 Set-up is logical and the total time to get the RT100 up and running is but a few minutes.
IN USE
Before I get to the sound quality, a word has to be spoken about the design and origins of this turntable. You might have already guessed it but this Roberts turntable is not a Roberts design but a turntable of Chinese origin. In fact, alert readers will recognise the arm from a number of DJ turntables released by the likes of Denon and Numark. More than that, the RT100 turntable in its entirety – arm, chassis and fittings – is almost exactly the same as the similarly priced Lenco L-90. Look at images of the two turntables and you will notice only minor changes in design. The type of power button on the rear is one example that springs to mind.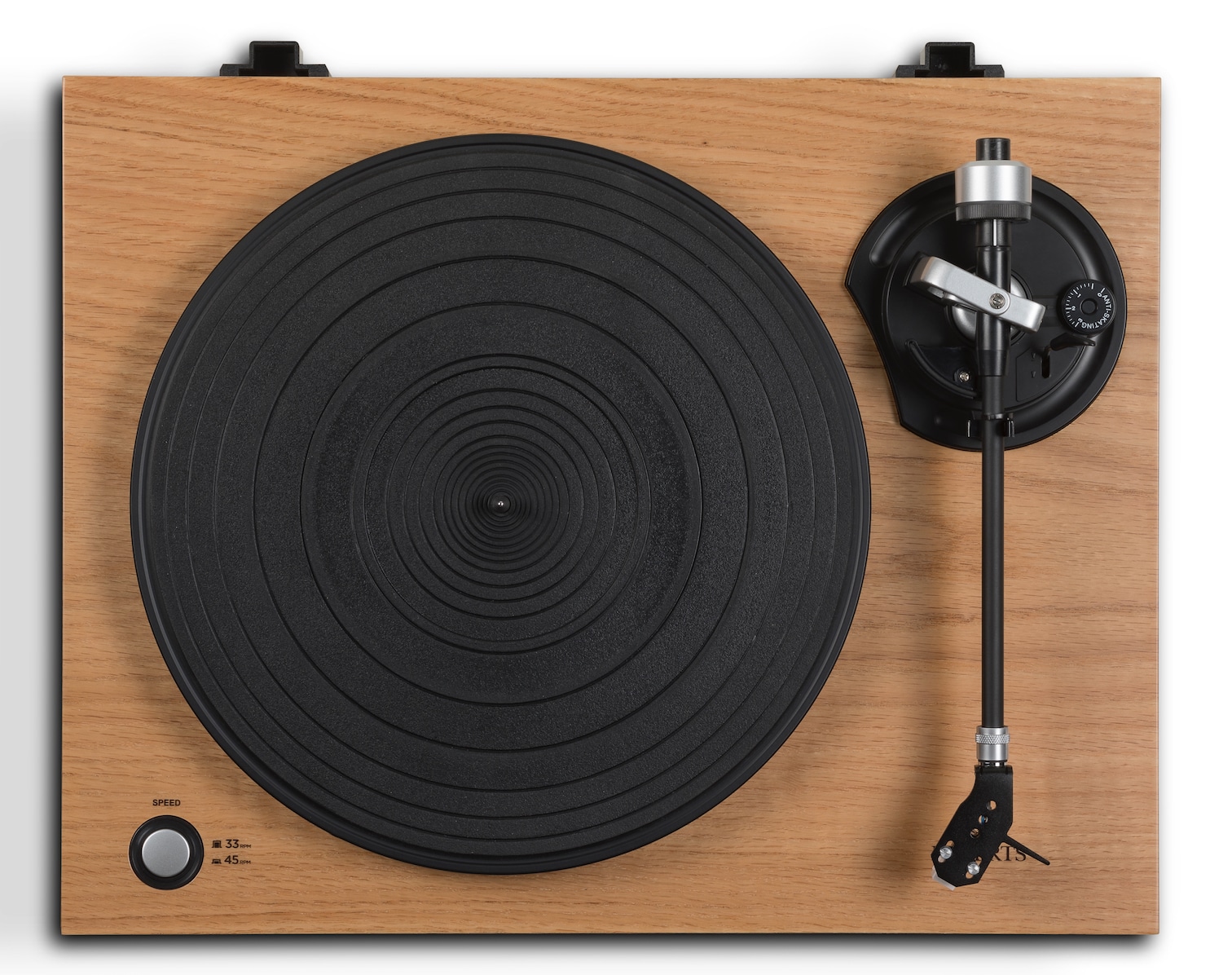 Now, while there is some disappointment to be had that Roberts couldn't and didn't apply its own design prowess to this turntable, it is understandable if the company was looking to release a new turntable at this low price point. It makes commercial sense for Roberts to stick a label on a current design. Designing a turntable and all the jigs, parts and build facilities from the ground up would have been prohibitively expensive for a company like Roberts who, after all, do not specialise in turntables.

Nevertheless, you still need to be aware that you are buying a Chinese turntable with a Roberts sticker and not a Roberts original.
SOUND QUALITY
Starting with Nat King Cole's ballad Time And the River from the LP, Looking Back, I briefly listened to the Roberts through its built-in phono amplifier and found the sound usable and perfectly fine for the price point but limited in terms of dynamics and midrange subtlety. Bass was reasonable but rather constricted in tonal terms. I quickly moved to an external amplifier to review the turntable as an inherent design, away from the internal phono amplifier bottle neck.
Spinning once more via an external phono amplifier via Trichord, I was impressed by the wide and expansive nature of the soundstage that enabled the music to be injected with a measure of space, giving the song a sense of grandeur.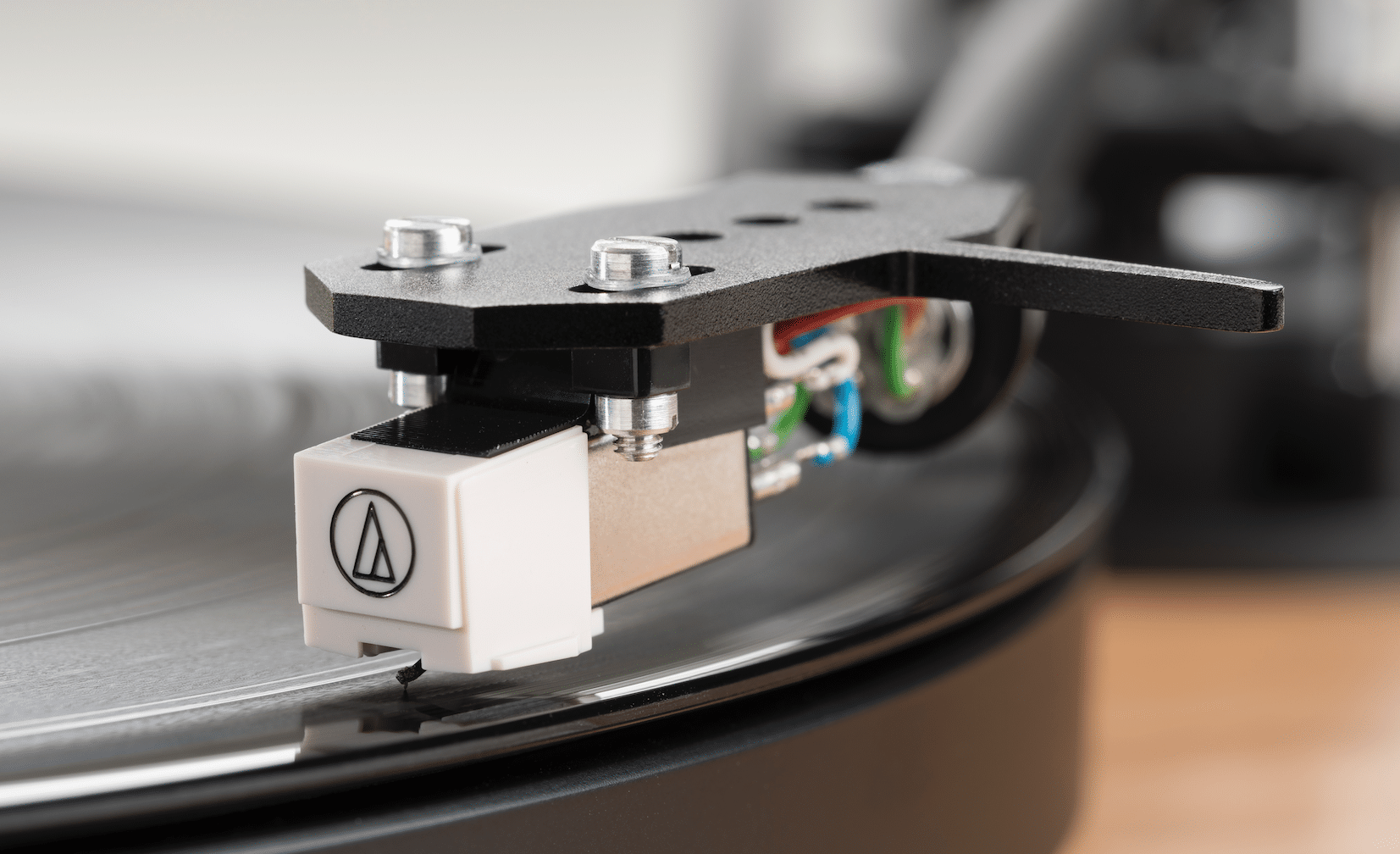 The upper midrange may have been rather strident with vocal and instrumental crescendos being a little bright at times but the midrange quality was admirable in terms of insight. Yes, the detail on offer here was rather thin and lacked depth or richness while dynamic reach was a little restrained but there was a welcome sense of musicality here that enabled the music to flow while secondary percussion remained crisp with admirable timing for such a lowly priced deck.

Cole's own vocal performance still retained a textural flow and sense of ease that enabled the Roberts to remain eminently listenable.
While the bass was lacking in depth, mass and weight, the lower frequencies never suffered from excessive bloom or smudging, which was a credit to the turntable.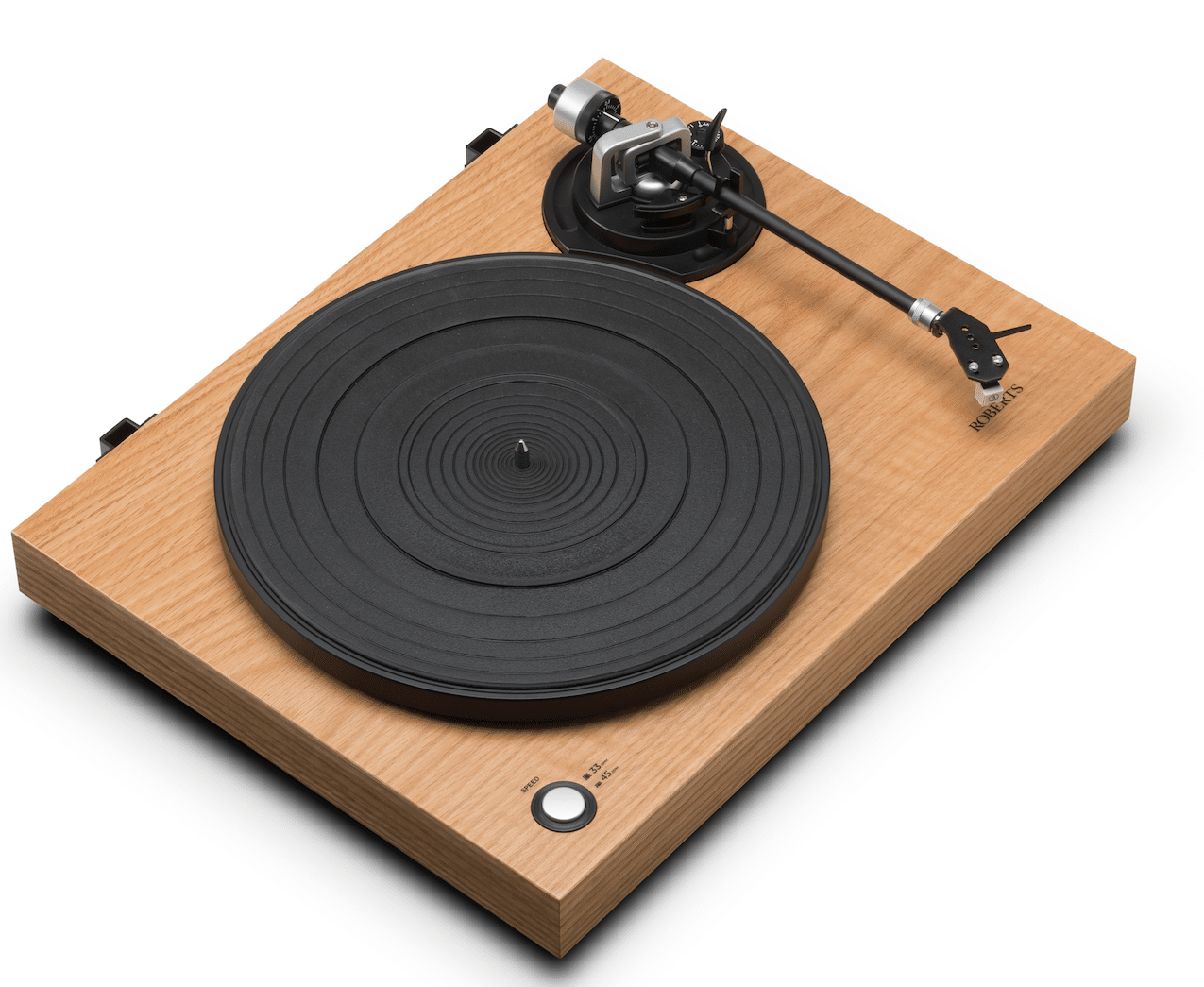 I then turned to a more dynamic form and prog rock from 1970 via T2 and the Decca album, It's All Work Out in Boomland with the track In Circles. Because the Roberts didn't have to pay careful attention to accuracy and tonal correctness to the same extent as on the Nat King Cole LP, the Roberts sounded far more relaxed in a rock arena. In fact, the Roberts had a whale of a time. It's inherent musicality allowed it to rock out and have a party. Yes, the electric guitar may have lacked complexity, refinement and a sense of precision but the detail tracked by the Roberts was balanced well with the punchy bass. The latter didn't have the heft or power I would have liked but it still provided a rhythmic bounce and speed of movement that had the feet tapping.
CONCLUSION
There are issues in terms of build quality but also sonic restrictions that harm the Roberts' ability to convey the soul of the music being played. It's all a bit mechanical. That said, the Roberts still walks all over any CD-sourced music of the same budget that you care to mention. Its analogue credentials still come out tops on that score. The Roberts certainly looks the part and, in sonic terms, remains a 'fun' turntable. It just loves dynamic, in your face, hair shaking, hip swinging music. Not so much a 'Good Time Charlie' then, more a 'Good Time Bob'.
---
ROBERTS RT100 TURNTABLE



Price: £250

Website: www.robertsradio.com/uk

TO BUY CLICK BELOW:

UK - https://amzn.to/2THRJ68

EUROPE - https://amzn.to/3oO0REG
---
Good: fully featured, plinth finish, musicality, easy to use
BAD: build quality, veiled mids, bass power
RATING: 6
---
REFERENCE
Rega RP1 turntable
Trichord Dino phono amplifier
Rega Brio-R amplifier
Spendor S3/5R2 speakers
Tellurium Q cables
Harmonic Resolution Systems Noise Reduction Components
All vinyl was cleaned using Audio Desk's Ultrasonic Pro Vinyl Cleaner