The Article
Project VT-E: the turntable goes vertical
10th June 2016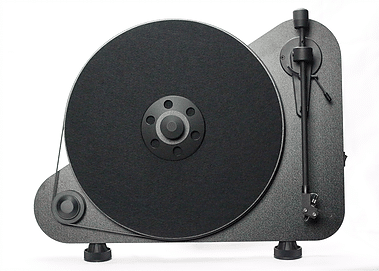 A bit of a surprise, this one. The VT-E is Pro-Ject's first ever vertical turntable and can be installed on a desktop or a wall.  Based on the dual speed Elemental turntable, the belt-driven VT-E has a pre-set 8.6" tonearm and Ortofon OM5e cartridge.
The VT-E plinth and platter are made from "acoustically neutral medium-density fibreboard" and the supplied record clamp ensures the record does not slip on the spindle during playback. When mounting on a desk, the supplied feet and back-support create a tripod. Alternatively when mounting on a wall, the supplied mounting kit ensures a reliable fixing to the wall's surface.
The VT-E's motor is the same design as found in other Pro-Ject turntables, with a built-in AC generator, while the tonearm is the same aluminium design found on the Elemental but its specially-designed spring mechanism allows for tracking of the record, even though it's being played vertically. The VT-E is supplied with a set of pre-terminated Connect-IT E phono cables, for connection to an external phono stage. A VT-E BT version of this initial VT-E design will be launched later in the year. The 'BT' variant will come with a built-in phono amp (and, I assume, will be that bit more expensive because of it). The standard VT-E in this announcement is a stand-alone turntable so needs to be attached to a phono stage.
The VT-E, spanning 420 x 112 x 330mm and weighing in at 3.6kg, is available in matt black, red or white finish, and is supplied with all required accessories. Price is £229.
Click on www.henleydesigns.co.uk or call 01235 511166 for more information.