The Article
Pro-Ject's Debut Carbon DC adds detachable DC power supply
21st June 2015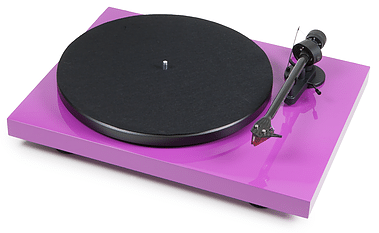 The Debut Carbon DC takes the existing Debut Carbon design and replaces the captive mains lead with a detachable DC power supply adding convenience to the set-up and also allows for the use of a new lower voltage motor.
The DC version also utilises an AC generator board that will give the Debut Carbon motor a cleaner electrical supply than its predecessor.
On top of the seven high-gloss finishes the original Debut Carbon was available in, the Debut Carbon DC is also available in high-gloss purple.
Finally, the Debut Carbon Phono USB integrated phono stage is designed to complement the pre-fitted Ortofon 2M Red cartridge. Now you can hook-up to a pair of powered speakers or go straight into a line input on an amplifier with no additional boxes or cables needed. The additional USB output means you can also transcribe your vinyl to a connected computer, allowing you to also enjoy your vinyl in a digital format. The USB output runs alongside the analogue output, so even when recording to PC you can still enjoy the record through your main hi-fi system.
The Debut Carbon DC is available in black, blue, green, light grey, purple, red, white, yellow for £325. The Debut Carbon Phono USB is available in black, red and white for £399.
Call 01235 511166 or click on henleydesigns.co.uk for more information.