The Article
PASSION FOR VINYL PART II
31st October 2019
Author: Robert Haagsma
Price: €32.50 (prices may vary…wildly)
Blimey this review is (very) late so I apologise if anyone was waiting for it. I originally looked at Part I of Passion For Vinyl back in 2015. Since then, new pressing plants have opened, record shops are opening again and record fairs are becoming popular once more with vinyl sales on the up.
In Passion For Vinyl, DJs, musicians, engineers, designers, shop managers, record label CEOs and collectors like Dischord's Ian MacKaye, Norton's Miriam Linna, singer-songwriter Ryley Walker, musician and producer T Bone Burnett, Abbey Road's half-speed maestro Miles Showell, DJs Sven Väth and Ellen Allien, designer John Kosh and many others tell about the records that changed their lives, their love for vinyl and the impact its resurgence has had on them. 
What does that mean in practice? It means quite a relaxed, easy going read, actually. So each chapter pictures the interviewee in question, lets start at the beginning with Merel Parlevliet and Esther Lutgendorff who run a record shop in Amsterdam, Holland. After that you get a brief introduction of just who they are then a question and answer session spanning between two and five pages replete with additional images of varying sizes.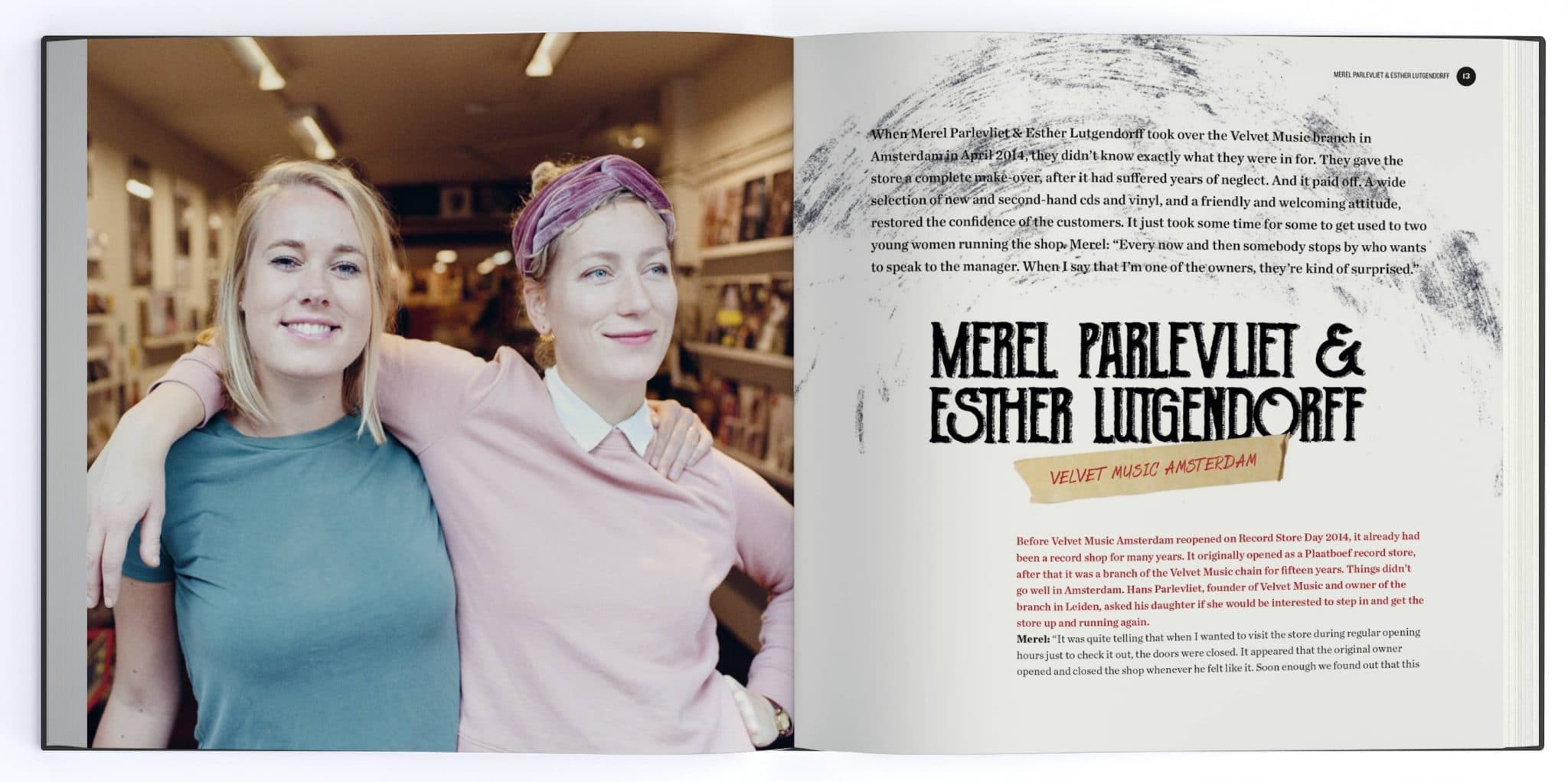 The style is relaxed, informative, chatty and informal with a 'pull up a chair and let's shoot the breeze over a coffee' approach which is very appealing and, indeed, is ideal to read in one sitting or, even better, to sip over your own coffee and sticky bun.
In this case, the ladies talked about their background before opening the store, "My father had a huge vinyl collection and he restored old high-end turntables as a hobby after he retired. It has always been his boyhood dream to work in a record store, so I think we both made our fathers very proud…"
And so it goes with a wide variety of guest speakers. Hi-Fi readers will be interested to hear that Grado CEO, John Grado is featured and shows that vinyl is sometimes an adjunct to the general chat, "In the beginning, we made the wooden parts of the headphones ourselves. Once the headphones started to fly out of the door, we couldn't keep up. A friend of mind starred a woodworking company. I'm his only client. [So] whenever I need a few thousand parts…" 
Passion for Vinyl Part 2 also shows how analogue recording techniques are making a comeback in the recording and mastering studios. Hence vinyl fans will be interested to read about Thomas and Fern Vernon Bernich who run a New York-based vinyl pressing plant called Brooklyn Phono, "We managed to buy two pressing machines from Erika Records in California and three more that were once used by the Capitol Records pressing plant. By trial and error, I learned everything about water, steam, electricity, hydraulics, material and everything else. There were many challenges."
A nice addition to Passion For Vinyl is the free 7" vinyl EP which is slotted into the front hard cover. Supplied by Norton on its Artone imprint, it features Hasil Adkins, Bloodshot Bill and Ellen Allien on the flip, pressed on white vinyl.
Written by Dutch author Haagsma and with an introduction by Michael Kurtz, co-founder of Record Store Day, this 252 page, case bound, full colour book is published by the Record Industry. 
This is a lovely book offering plenty of fascinating material. It's one to relax with and one to savour. A vinyl fan's literary indulgence.
Available to buy via all record stores but also online through Amazon (www.amazon.co.uk) and Sound Stage Direct (www.soundstagedirect.com).
[Don't forget to check out my Facebook Group, The Audiophile Man: Hi-Fi & Music here: www.facebook.com/groups/theaudiophileman for exclusive postings, exclusive editorial and more!]
If you plan to purchase the above, please consider buying through me – the following links allow me to skim a bit off the price to help maintain this site. Thank you: