The Article
MUSICWORKS P-CONE L – LARGE PEEK ISOLATION CONE
28th November 2016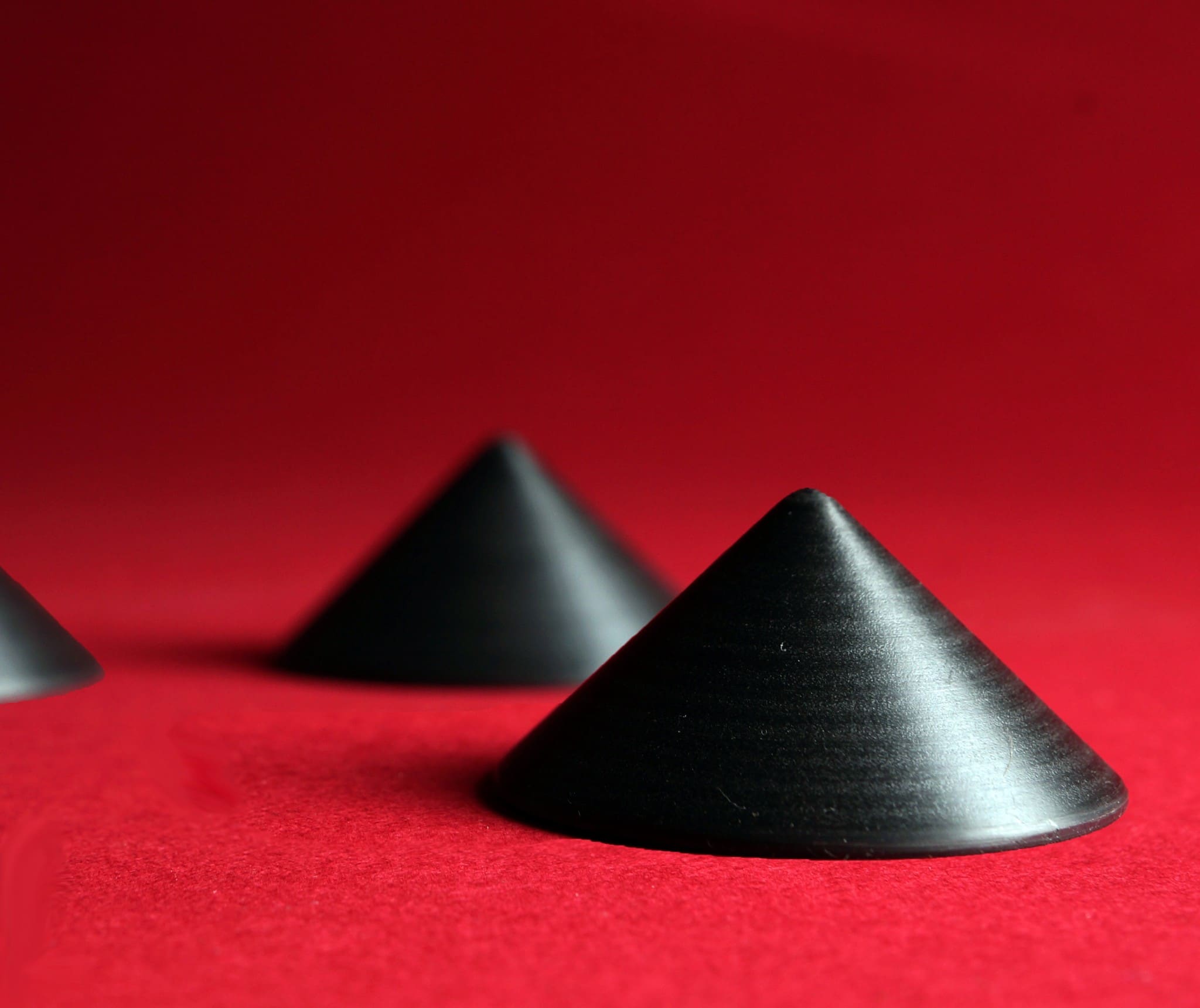 Formed in an inverted dome shape, Paul Rigby reviews MusicWorks' P-Cone isolation cones, machined from PEEK, a patented engineering thermo-plastic
You can place these little units under any hi-fi component, including speakers and, where appropriate, their screw threaded upper holes can replace your component's own feet. Each offers 50mm diameter base while being 25mm high.
SOUND QUALITY
I tried the feet with a Rega RP3 sourced budget system. The turntable was placed upon a wall shelf while my two-box Trichord Dino +phono amp system sat on an a top quality Atacama shelving rack. So there was plenty of good support already in place. I tried the P-Cones underneath the Dino+ boxes and played a selection of music from prog outfit, Camel's LP, Moonmadness.
I found that there was still noise moving in and around my system because the inclusion of the P-Cones improved the final sound quality. Placing the cones underneath the power supply of the phono amp (this choice provided the greater sonic change), the introductory, high pitched synth runs from the LP were not as brightly illuminated providing, with the P-Cones in place, a calmer and more melodic sound stage. In fact, the latter exhibited a greater focus, allowing the lower midrange synths to sound strong and powerful and the later percussion to be more charismatic with the larger drums offering a greater, hollow sound after a typical strike.
Onto more jazzy fare and Nat "King" Cole's When My Sugar Walks Down the Street the positively bright upper mids from the brass was now calmed while the bloom from the mid-song organ solo was now manageable and more precise in presentation while Cole's delivery offered new textures and nuances.
CONCLUSION
The P-Cone L system provides a valuable method of removing invasive noise from your hi-fi chain.
---
MUSICWORKS P-CONE L – LARGE PEEK ISOLATION CONE
Price: £225, (For a Pack of Three)
Tel: 0161 491 2932
RATING: 7
---
REFERENCE SYSTEM
Rega RP3
Russ Andrews RP3 power unit
Trichord Dino Mk.3 phono amplifier
Leema Essentials CD player
Rega Brio-R integrated amplifier
Q Acoustics 3020 speakers