The Article
Onkyo TX-RZ900 and TX-RZ800 network A/V receivers
21st July 2015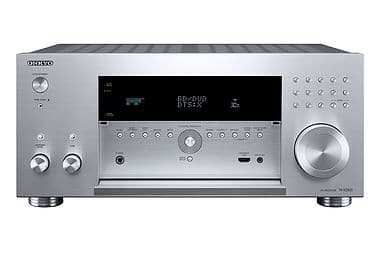 Onkyo has announced two Dolby Atmos-enabled and DTS:X-ready TX-RZ900 and TX-RZ800 7.2-channel network A/V receivers.
The TX-RZ900 employs a hand-wound, high-current Toroidal transformer (TX-RZ800 features a EI transformer) to power original three-stage inverted Darlington amplifier circuitry.
The TX-RZ900 also features parallel push-pull amp circuit topology on the front channels.
Both products feature separate power amp and processing blocks, the latter featuring a Hi-Grade Asahi Kasei AK4458 32bit/384 kHz DAC and Onkyo's original VLSC technology. The THX Select 2 Plus-certified receivers include 4K/60Hz and 4:4:4-colour-space-ready HDMI inputs and two 4K/60Hz HDMI outputs for dual-zone video. Both outputs and all but three inputs are HDCP 2.2 compliant for streamed and broadcast UltraHD content.
Wi-Fi, AirPlay and Bluetooth audio are included with internet radio and subscription services built in, including Spotify Connect and Deezer. FLAC 24bit/192kHz and DSD 5.6MHz audio decoding is available via DLNA and selection and control of network audio is centralised in an app.
The rear panel includes dedicated speaker outputs for height (which add overhead effects contained in object-based soundtracks set up in 5.1.2 configuration) and rear surround (for 7.1 speaker setups) and, for the first time, dedicated Powered Zone 2 outputs can distribute digital audio sources to speakers in another room. Both receivers feature Zone 2 Pre/Line Outs, Zone 3 Line Outs, 7.2 Multichannel Pre Outs, phono input, and USB for digital audio.
The Onkyo LS3200 Speaker System, a 2.1-channel audio package comprises a slim amplifier/control unit, two curved and gloss-finished front speakers with mount stands and a wireless powered subwoofer.
Further, the system can be wall-mounted or the speakers orientated vertically and horizontally on stands.
The system features a  20W digital amplifier, two pairs of 65mm, full-range drivers and a 50W down-firing subwoofer. With Dolby Digital and DTS Studio Sound technology as well as Voice Mode, the LS3200 also includes Bluetooth wireless audio streaming.
It's available in high-gloss black or white (excluding the control unit) and ships complete with all necessary cables and power cords.
Prices? TX-RZ900 7.2 channel A/V receiver (5.1.2) is £1350; TX-RX800 7.2 channel A/V receiver (5.1.2) is £1050 and LS3200 2.1 channel speaker system is £350.
Click www.uk.onkyo.com or call 08712 001996 for more information.