The Article
Onkyo DAC-HA300 DAC/Headphone Amplifier/SD Player
21st May 2015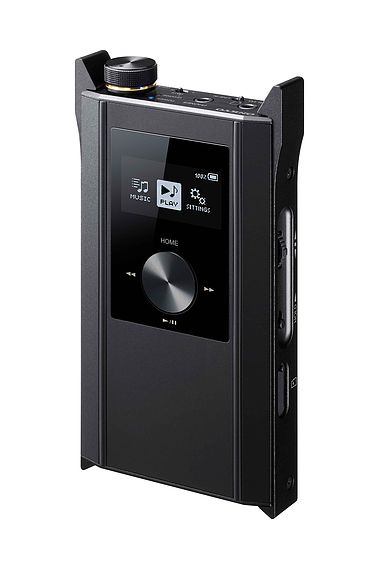 The new DAC-HA300 DAC/Headphone Amplifier/SD Player from Onkyo includes a slot accommodating up to 128GB of music stored on microSD, an OLED screen and playback controls, the DAC-HA300 also serves as a self-contained media player and headphone amplifier, while a micro USB Type-B input enables asynchronous D/A conversion of hi-res audio from PC without need to install drivers.
The device also features a switching optical/coaxial/analogue input capable of accepting digital signals from connected devices up to a maximum 24bit/192kHz resolution.
The DA-HA300 dovetails with Onkyo's HF Player application for iOS and Android devices. When the DAC-HA300 is connected to the mobile handset via USB (standard Lightning cable for iOS devices, On-the-Go cable for Android), a free app upgrade to HD Player Pack enables output of hi-res PCM and 5.6MHz DSD files at native resolution to the DAC-HA300 for decoding and playback.
The application also imports other audio formats stored on mobile and includes a 16,384-band FIR equaliser that allows users to create and save their preferred EQ settings for specific artists, genres or albums.
The unit is based around the MUSES8920 op-amp, a discrete, audio component with an optimised circuit layout to ensure signals are amplified with 0.004% THD+N at 32 Ohms. Combined with a fully discrete push-pull output stage and a selectable gain adjustment function, the DAC-HA300 will drive any set of headphones, from low impedance IEMs to full-sized 600 Ohm open-backed cans.
The 32bit/192kHz TI Burr-Brown PCM1795 DAC is installed alongside a long-life internal lithium-ion battery that returns approximately seven hours of playback when connected to an iPhone via USB Type-A input and can be recharged via USB and PC or more rapidly with the supplied 5 V DC cable and plug.
Constructed from durable aluminium and with a knurled volume control knob, bump protectors and positive action gain switch, it's available in black and priced at £499.
Call 08712 001996 or click on www.onkyo.co.uk for more information.