The Article
Onkyo announces three home entertainment packages
21st June 2015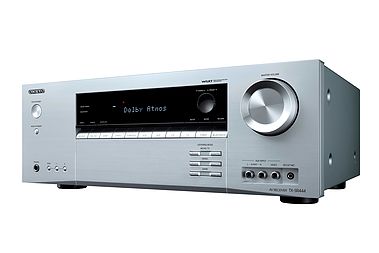 Onkyo has announced three home entertainment packages: the Dolby Atmos-ready 7.1-channel A/V receiver (TX-SR444); Dolby Atmos A/V receiver and speaker package (HT-S5805) and a stand-alone Dolby Atmos 5.1.2-channel speaker system (SKS-HT588).
Slotting between the base TX-SR343 model and network-ready TX-NR545, the TX-SR444 delivers 100W per channel through a discrete high-current amplification system.
As well as supporting Dolby Atmos audio, the TX-SR444's four HDCP 2.2-compliant HDMI inputs and one output can pass 4K/60 Hz video,  complete with 4:4:4 colour space and 21:9 cinema aspect ratio, from source devices to the display.
The HT-S5805 5.1.2-Channel Dolby Atmos Home Theatre Package combines all the above capabilities in a HT-R494 7.1-Channel A/V Receiver together with a wall-mountable Dolby Atmos 5.1.2 speaker system.
Each 2-Way front speaker (which houses a 12cm driver and 2.5cm balanced-dome tweeter) incorporates an up-firing 8cm woofer separately powered by the receiver's height channel.
The front monitors join a dual-drive 2-way centre speaker and two compact full-range surround speakers. The speaker set and A/V receiver ship with a gloss-finished powered 80W subwoofer and all the necessary cables in a single carton.
The SKS-HT588 5.1.2-channel speaker system (identical to the one shipping with the above HT-S5805 package) is ideally suited to any Dolby Atmos-ready A/V receiver.
For prices, the TX-SR444 7.1 channel A/V receiver with Dolby Atmos (5.1.2) in black or silver, will be available at £350. The HT-S5805 Dolby Atmos 5.1.2 channel A/V Receiver and speaker package, only in black, is rated at £700 and the SKS-HT588 5.1.2 channel Dolby Atmos speaker system, only in black, will sell for £450.
For more information click www.uk.onkyo.com