The Article
Off On A Tangent: archaeological digging
23rd February 2015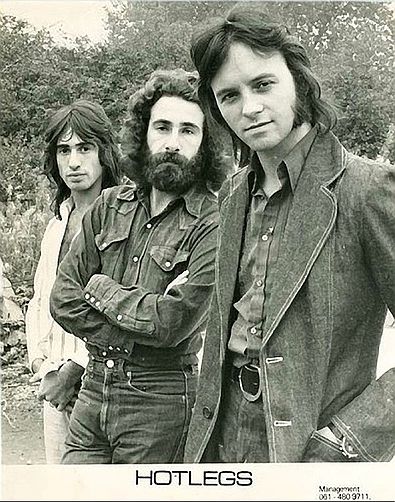 One of the joys of collecting music, on all formats, is its archaeological aspect and how seemingly stand-alone bands and artists are, in fact, connected to each other in a complex spider's web, to just about everyone else in the business. It's totally incestuous.
In a recent column for a national magazine on 10cc's How Dare You album, I made a casual reference to the guy's pre-10cc existence. In fact, the complex history of the band can be partly traced to a pre-Graham Gouldman trio when the band, Hotlegs, were active during 1970 and 1971. Gouldman would join the rest of the band at the end of Hotlegs' life. At their height, Hotlegs consisted of Eric Stewart, Lol Creme and Kevin Godley. Readers of a certain age might just remember their (almost) chart-topping hit, Neanderthal Man which reached No 2 during the summer of 1970. Hotlegs would briefly become Doctor Father, releasing a similarly nonsensical single, Umbopo, in 1970. The chaps then reverted to Hotlegs, The New Wave Band and then 10cc in 1972.
While some of you might be struggling to stifle a yawn, at this point, that sort of information is grist to my nerd-like mill and reflects the highly active and fluid nature of the core of many bands and artists around the world during the 60s. During this time, there was a continued evolution that saw future music stars and, even more interesting to me, stalwart band members forge artistic links. Many of these individuals would eventually help to develop the true soul of many future bands. They didn't sit within the commercial spotlight but moved through the ranks, jumping from one band to another, starting and disbanding bands before settling on the outfit that would make their career.
Jim Pons, anyone? He founded the garage band, The Leaves, who recorded the, All The Good That's Happening, album for Capitol in 1966. Their one and only album. The Leaves then disbanded whereupon Pons joined the Turtles as their bass player, just after that band had hit the top of the charts with Happy Together. He then settled within Frank Zappa's band appearing on 200 Motels (1971), the Live Fillmore East: June 1971 LP and Just Another Band From L.A. (1972).
Then there's Bob Weston whose Ashkan only existed for a few months but long enough to record a series of vivacious psychedelic blues for the Decca Nova label. Just as the album, In From The Cold, was about to be released in 1970, the band disbanded. Weston then became a guitarist for Fleetwood Mac, appearing on that group's albums, Penguin and Mystery To Me.
Andy Scott and Ted Yeadon should ring a bell for some of you, out there. Members of the Welsh group, Elastic Band, they progressed from mod-style pop to more progressive rock and hard rock before creating the album Expansions On Life for the Decca label. Yeadon broke up the band (nice of him) to become a member of Love Affair (remember Everlasting Love?) while Scott would later leave to form the glam rock stars, Sweet. Ah, now you remember, eh?
This : can be taken to extraordinary lengths, of course. You can find yourself running off into all sorts of ridiculous tangents, suddenly finding yourself up to your neck in trivia and ephemera. Of course, I love that too.
For example, if you can grab a copy of the self-titled album by Edwards Hand, from 1969, you will find an attractive suite of songs resembling the late-60s version of the Bee Gees delighting your ears. Surrounding this album are connections with the Electric Prunes (the band were managed by Lenny Poncher, who managed the Prunes) and The Beatles (the LP was produced by Beatles man, George Martin and engineered by Beatles' engineer, Geoff Emerick; their first project after The Beatles' White Album).
You can, in fact, spend half your life digging through this sort of stuff. One of my favourites is the band Bulldog Breed and their psychedelic pop album, from 1970, Made In England. Specifically, the final track, Austin Osmanspare. Why? Because it features a cameo appearance from Janie Jones. Jones was quite a woman…well, more a 'Madame'. Otherwise known as Marion Mitchell, three years after her appearance on this album, Jones was in jail. Convicted for the infamous 'sex for airplay' scandal over at the BBC's Radio 1 (You see? Auntie's recent sex-related indignities are not isolated incidents.) as well as 'controlling prostitutes'. After this very English payola scandal, The Clash name-checked Jones on the first track of their self-titled, 1977 debut LP with 'Janie Jones'. Jones later became a great friend with, of all people, Myra Hindley, until later turning on her and writing a book about the Moors murderer.
You see how this sort of research can have you sailing down unexpected highways and byways? It also shows you how music, as a subject, is so rooted to our culture.
If you want to follow up on the above then a good musical source for many of the bands mentioned is the Grapefruit label (http://www.cherryred.co.uk/grapefruit-disco.asp).
10cc