The Article
NODE STREAMER FROM BLUESOUND
2nd August 2022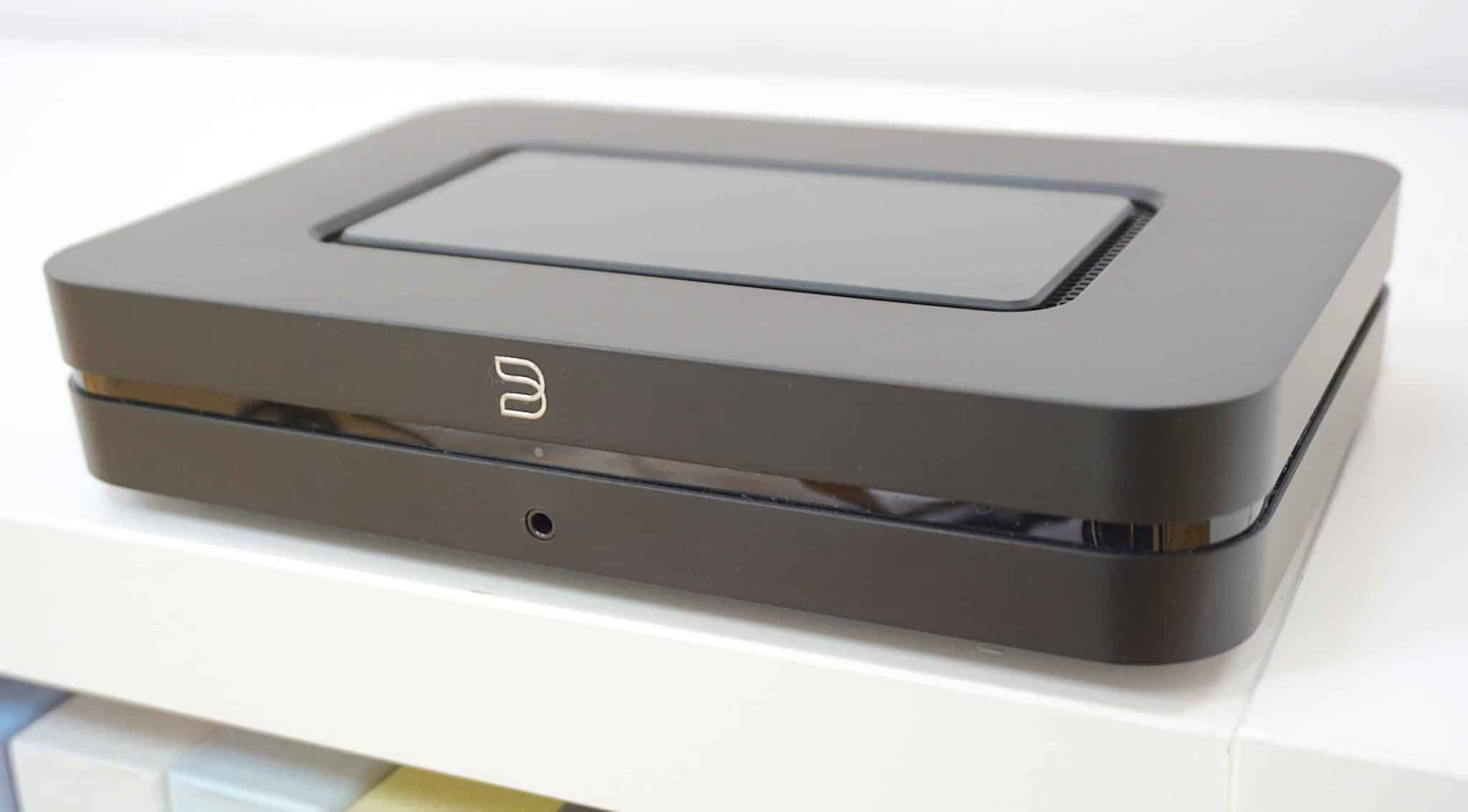 Bluesound describes it as, a wireless, multi-room hi-res music streamer. Paul Rigby just says, "Node". And lets it be
I was a bit late to the party when I reviewed the last incarnation of this product. That was back in December of 2019 and I liked that little box very much indeed. In fact, I gave it an award-winning rating. 
Back then, the 2i was £499. At least it was when I tripped over it but now the new Node is £549. 
Considering what's happened to the world in the meantime and how prices have leapt upwards, then upwards, then upwards again, to be able to buy the new Node at just £50 extra is quite remarkable. Especially when you would assume that Bluesound may – should – have improved matters in terms of sound and design. 
So a virtual pat on the back to the company for that one.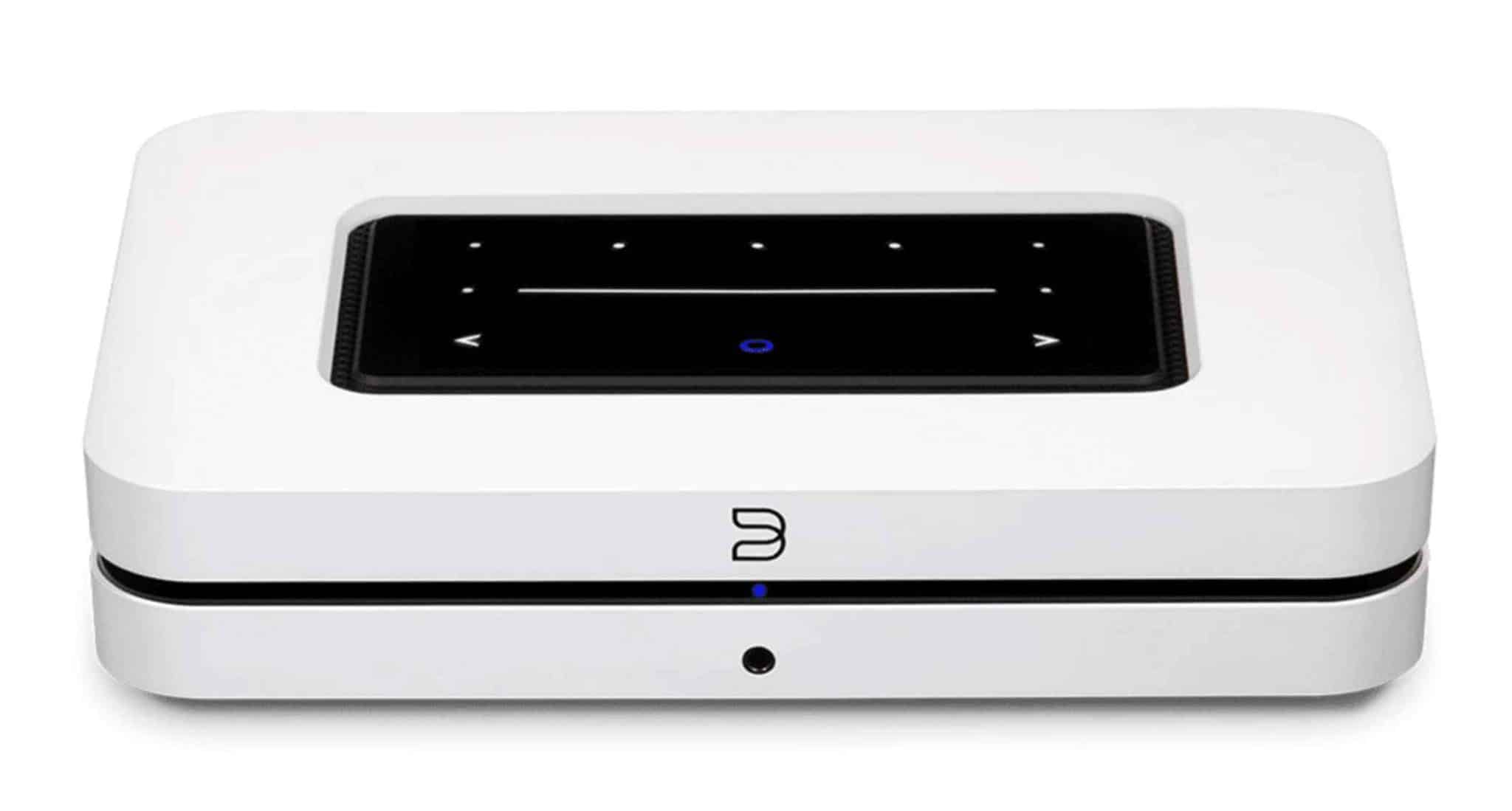 I wonder if Bluesound has re-arranged the furniture on this one and possibly re-arranged the parts too, maybe adding efficiencies and extra goodies? Why do I say that? Well, this chassis is exactly the same size as the 2i but the Node is heavier. The 2i weighed in at 1.12kg. The new Node hits 2.28kg.
The front of the chassis remains the same with a status light (offering a variety of information via its coloured feedback illuminations, the manual provides a full key to what flashing blue means or purple or alternating red and green and the like). You get the same 3.5mm headphone socket too.
The top plate features a touch screen area that does register changes from the earlier 2i. The latter offered play/pause, volume up/down and previous/next track. The Node repeats that but adds five presets (although you must configure them with the attendant app – I'll get to that in a moment).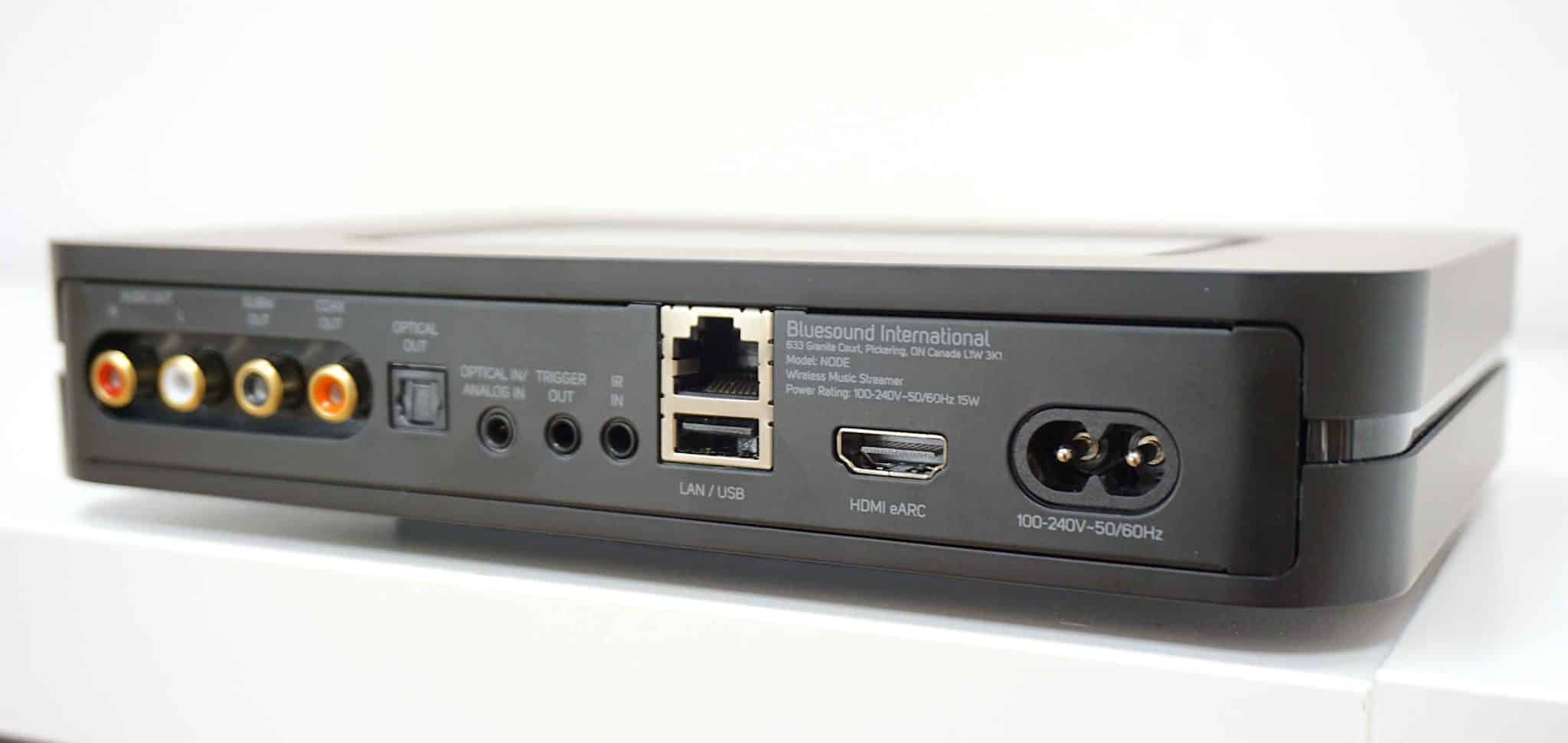 The rear of the Node is almost exactly the same as the earlier 2i. That means, running from the left, a pair of RCA outputs, a coax output and a subwoofer output. 
Moving to the right, we find an optical port and then three smaller ports handling optical in, trigger out and IR in (for programmable remotes, it's an extender).
To the right of that lot is an Ethernet port that sits above a USB A port so you can plug in a music-loaded USB stick.  
This is where the 'almost exactly' bit comes in because, instead of the Service ports to update the firmware, you'll find a HDMI eARC port instead to enable you to connect this box you your TV.
INSTALLATION
While you can operate the basic functions of the Node from the top plate, the meat and potatoes, everyday control of the Node is undertaken by the downloadable app. You can use a physical remote control but you'll need to buy that separately for £49. 
Some users out there will baulk at this and declare that the remote should have been bundled as part of the package but if that would have added £50 or more to the basic Node price then I'm happy that there's an option to add value to the basic Node system or to save yourself a few extra pennies.
Once on my phone (an Apple device), the set up of the Node was surprisingly easy. I say surprising because I remember having no end of trouble installing the app on the earlier 2i. I recall that my Wi-Fi refused to see the 2i so I ended up using the 2i in wired mode, exclusively. It would have been nice to have had the option though.
For the Node? I had absolutely no issues. The app loaded first time, Bluetooth was connected in seconds and, although I had to jump through a couple of app-related install hoops, the app was full installed and ready to use in under five minutes. 
So that  – at least for me – was a definite improvement, right there and then.
The app is straightforward to use and includes a host of music services, as you might expect. Everything from Qobuz to Amazon, Napster, Tidal Spotify and more. I was most surprised to see Neil Young's online music service listed, which was a nice touch and one I've never seen before as a default option from an app like this. 
SOUND QUALITY
I selected Amazon Music and played Kate Bush's Running Up That Hill because that's what everyone seems to be doing at the moment but hey, I've always liked Ms Bush. Ever since she scared the British public half to death when she offered us those famous TV performances of Wuthering Heights. A true artist is our Kate. Anyone who can right a song with the infinite numbers of Pi as the lyric, has my vote. But back to the plot.
Now this first point is also a general tip but it's just as important for the Node. If not more so. This box will produce a satisfactory audio output via Wi-Fi but if you want a sense of quality from the Node then I highly recommend hooking it up to the wall and listening in wired mode via Ethernet.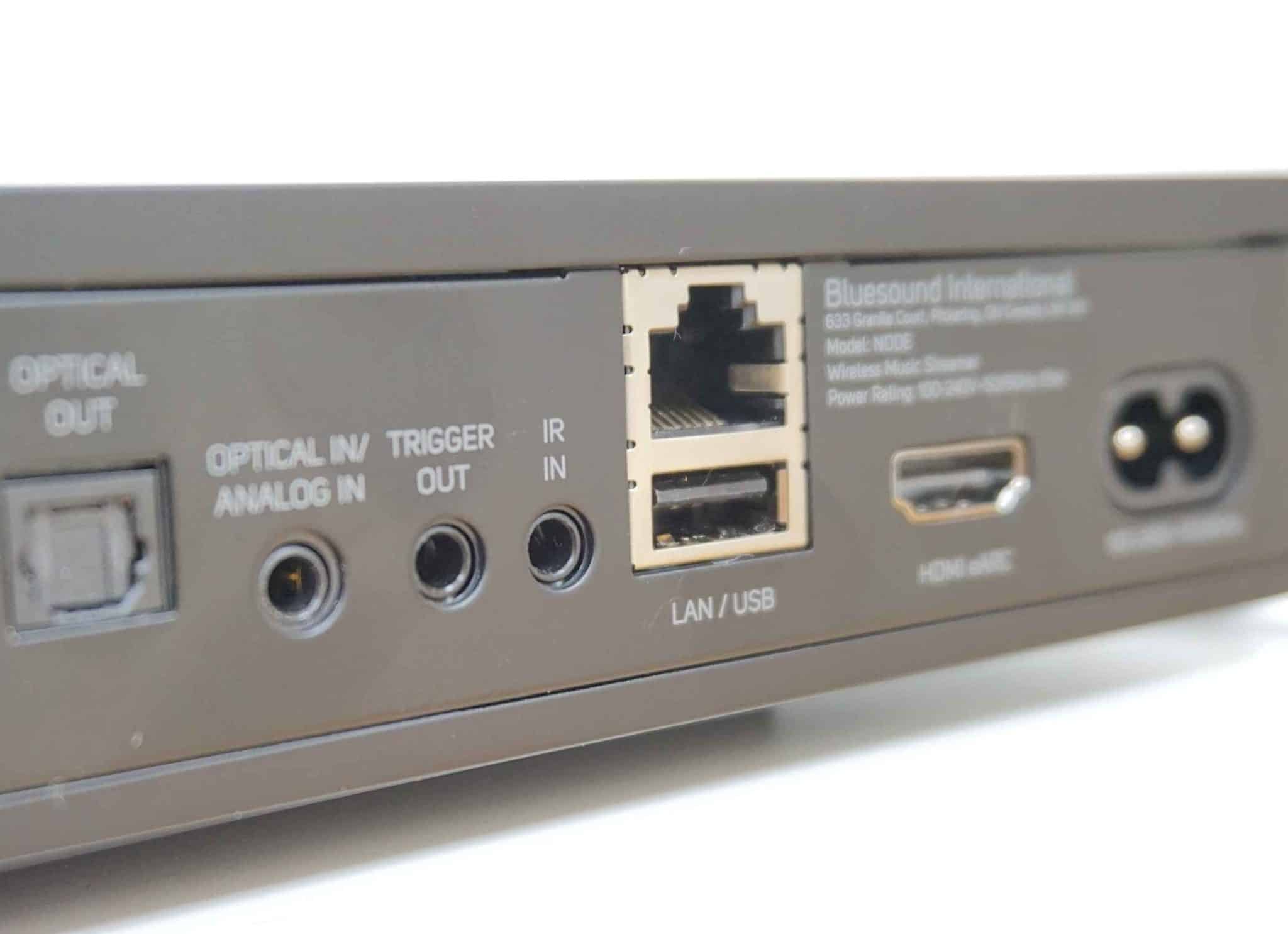 I tried both. WiFi mode was good. It offered a wide soundstage which impressed me from the off. The music was stretched far left and right. The soundstage really did feel like a 'stage'. 
Bass was reasonably good without being great. It was nimble, fairly precise and full of impact but lacked weight and prevented a sense of balance overall. The mids and treble were focused and full of information but the upper mids especially were dangerously close to being clinical. They were distinctly cool, put it that way.
Moving to wired via the rear-mounted Ethernet port and the difference was obvious. The bass was the principle beneficiary here with a larger, beefier, more characterful presentation adding useful balance to the song itself and a sense of weight and presence which it desperately needed. 
The mids were also better controlled, especially during crescendos with a more mature feel to the upper frequencies as a whole. Both Qobuz and Amazon benefitted from the change, playing the same Kate Bush track. 
I then grabbed my Astel&Kern Kann Alpha and connected Tom Waits to the Node via Bluetooth aptX HD and played Tom Traubert's Blues and the very witty comment on consumer culture, Step Right Up and was happy to hear a  broadly balanced output with only a slight lift around the upper mids and treble (no surprise as this is still a relatively compressed stream) but a presentation that was certainly listenable, especially for a basic stream. Bass, in the meantime was there in sufficient quantities to provide an admirable balance. The Node allowed Bluetooth to become a viable music source instead of an encumbrance and something to be tolerated. 
So far so good then. Next up? I connected a USB stick and played David Elias' Vision of Her at 24bit/88.2kHz. This is a singer-songwriter, man and a guitar thing and it sounds very nice indeed.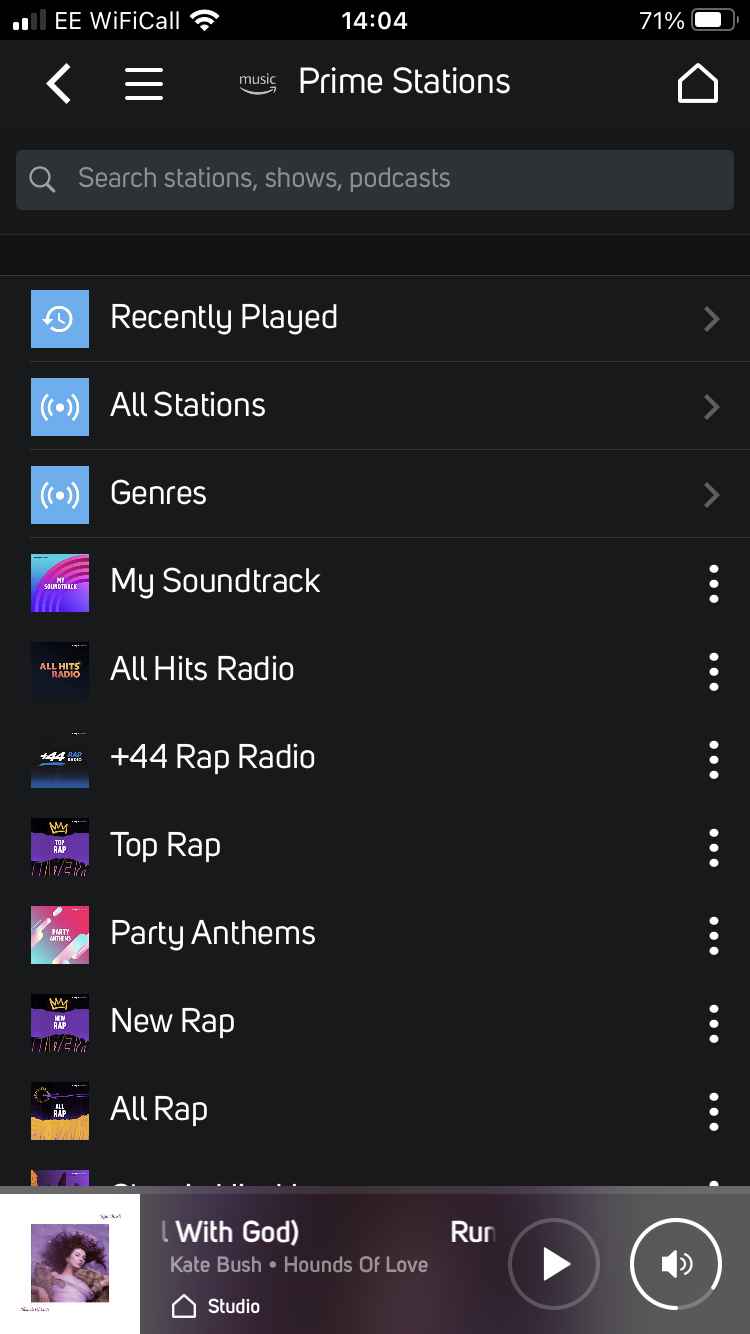 This source also shows how much better the Node sounds via non-streamed music when a source file has to travel the networks of the world. When you can inject music directly from a device using a single connection, the Node takes note, as it where. 
This track offered a relaxed, easy-going presentation with smooth mids, well disciplined yet firm lower frequencies plus a treble response that was simple yet delicate. 
What pleased me about the differences was that I could hear those differences which means that the Node has headroom to illustrate these quality changes.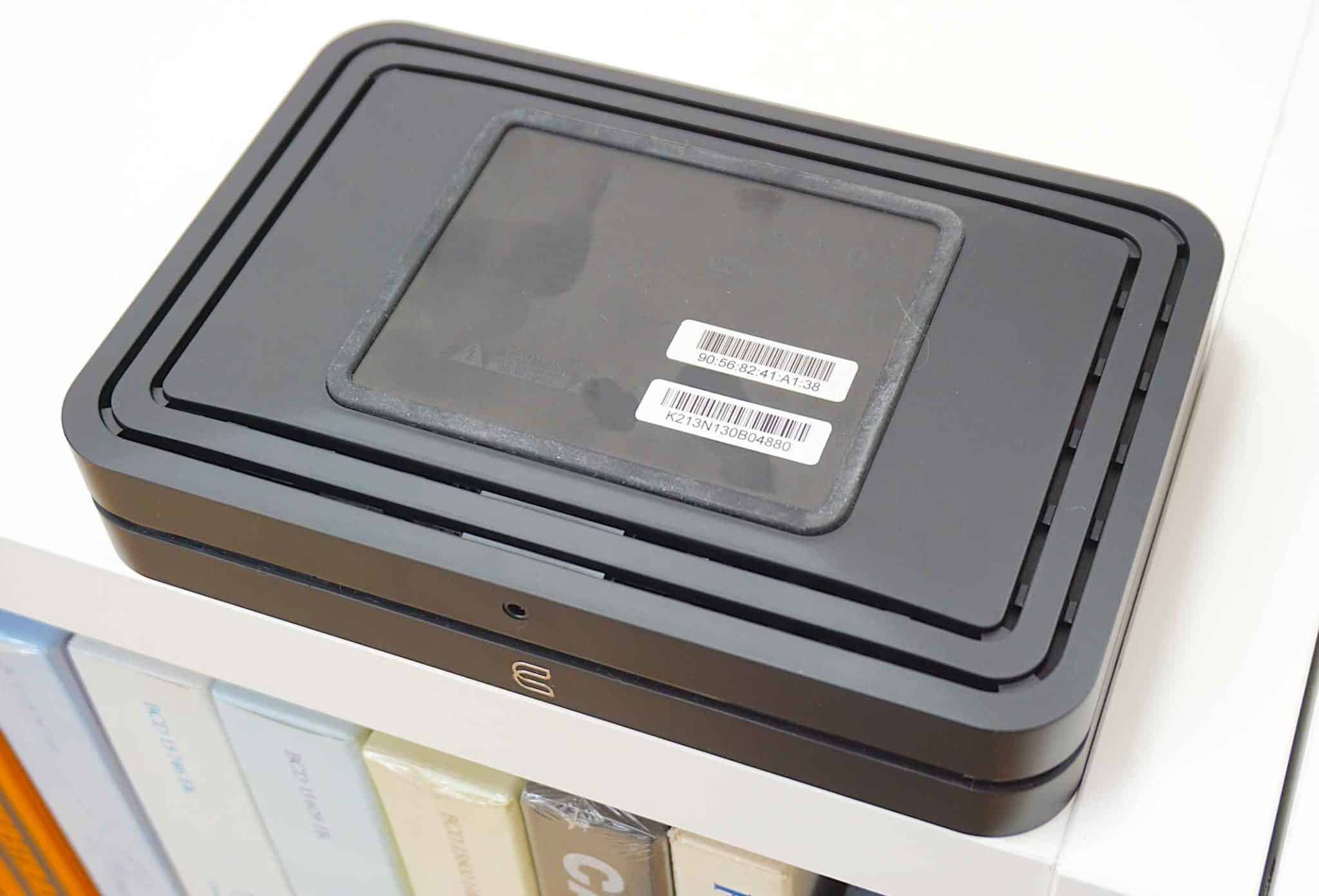 Listening to this track in particular via the headphone port and my Sennheiser HD660 S headphones I was happy to hear that the overall sonic quality and personality of the sound generally followed the speaker output. The only differences I could hear were possibly a slight lack in space and air but more detail and precision in the midrange and bass regions, which is a headphone 'thing' at this price point and no surprise.
CONCLUSION
The Bluetooth Node offers a small footprint but it packs in a host of digital-oriented features that will, for many, provide all they will ever need in terms of digital sources. Well, until the next big thing arrives on the scene, at any rate. 
More than that, it processes the sound from each well providing a highly attractive sonic replay for each. 
So should you upgrade from the Node 2i to the current model? Given the choice? I prefer this new design but any change from the 2i to the Node will largely be a sideways move so I would encourage you, if you're in an upgrading mood, to at least double your budget if that's what you have in mind.
On the other hand, if you have not yet purchased a digital front end or you currently use a lower-cost, budget model then the Bluesound Node will provide you with an easy-to-use and feature packed upgrade, bristling in quality sonics.
In short? The Bluesound Node does the job. It's packed with value (an essential element all on its own nowadays) and sounds great.
---
BLUESOUND NODE STREAMER
Price: £549
Website: www.bluesound.com 
---
GOOD: value for money, feature packed source options, general sound quality, small footprint, installation, app
BAD: nothing
RATING: 8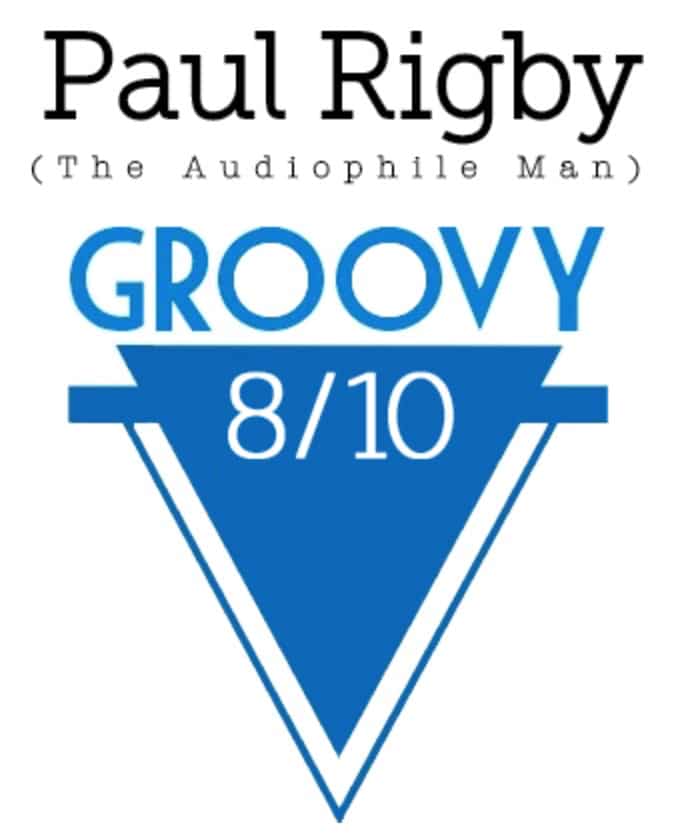 ---
REFERENCE
iPhone smartphone
iPad tablet
MacBook laptop
Aesthetix Calypso pre-amp
Icon Audio MB845 Mk.II monoblock amplifiers
Quad ESL-57 speakers with One Thing upgrade
Blue Horizon Professional Rack System
Harmonic Resolution Systems Noise Reduction Components
Air Audio AC-2K Balanced Transformer