The Article
National Health's National Health
23rd December 2015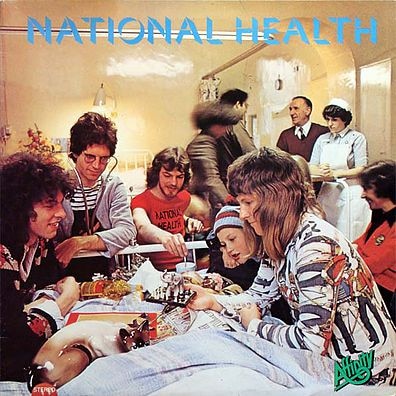 Label: Affinity
Year: 1978
No-one talks about this band anymore. Why? This is prog rock but its prog that might have been written yesterday. It has imagination and innovation and was always supremely musical with a jazz underpinning that encouraged a number of interesting solos. The band was created at an odd time, just as punk hit its height in 1977. In fact, National Health founder member, Dave Stewart, did comment that his band was emerging amongst, "…some of the most crass, simplistic, brutal, ugly and stupid music imaginable, in an atmosphere where an admitted inability to play one's instrument was hailed as a sign of genius…"
It's just a pity that he wouldn't come off the fence and tell us what he really felt. For National Health, it's almost as if the band was created to spite punk. In fact, with a number of members of other Canterbury and post-Canterbury bands such as Hatfield and the North, Gilgamesh and Henry Cow, maybe it was.
In fact, the band was created by Dave Stewart of Hatfield and Alan Gowen of Gilgamesh. In effect, the initial idea was to merge the two groups into one ginormous entity. But that would have meant that you'd have a whopping great, nine-member group so it was paired down, taking guitarist Phil Miller and drummer and bassist Neil Murray (the ex-Colosseum man who would wander over towards Whitesnake later on). Listening to the album, you'll also hear Hatfield vocalist, Amanda Parsons adding low key warbling. On the drums was Pip Pyle from Hatfield but, for a while it was another top quality drummer, a certain Bill Bruford of Yes and King Crimson. In fact, you can hear Bruford with National Health on a couple of recordings, namely a couple of demo tracks and radio sessions.
Bizarrely, Bruford couldn't continue as drummer because he was in Phil Collins' seat playing with Genesis as well as attempting to form an all-star trio with Rick Wakeman and John Wetton! Bruford was replaced by John Mitchell, who stayed for several months but ended up playing just one gig, at Louveciennes in France. Oh the tangled web of prog. Just to complicate things further, Stewart would rain firm friends with Bruford, becoming a member of Bill Bruford's own band, Bruford, later on.
"There was a strong anti-establishment, rather 'hippy' bias within the group especially from the ex-Hatfield guys – less so with Bill Bruford, obviously," said Neil Murray. "I thought Dave Stewart wrote some very interesting 'songs'. The other guys' compositions had more areas in them which allowed more freedom. I enjoyed the memorable tunes and interesting arrangements. I do think that the most 'English' and 'cerebral' portions of the music were the most successful.
"We made almost no money from gigs, and obviously had to spend a lot of time rehearsing, and luckily Dave was good at organising what tours that were possible, though by 1977 the audience for that kind of music had become pretty small."
The album is quite low key in may ways. There's no great punch or rhythmic foundation to the piece which spans five extended tracks. It's thoughtful and contemplative and, at times, rather pastoral allowing your mind to wander. In some ways, the album gives you an almost ambient sense of music, especially Brujo. The multifaceted suites will be familiar to Hatfield fans, with its instrumental Canterbury sound at its most accomplished.
Despite the rather 'at ease' formula, you can still discern differences in tone and approach. Those songs written by Gowen (Brujo and Elephants, for example) differ from those written by Stewart (Tenemos Roads and Borogoves) with Goves presenting a rather more jazz-inflected improv sound. Stewart seemed rather more disciplined and scored in his writing approach. There is no sense of tension, rivalry or clashing between each song, though. Each flows into another easily and without any apparent disharmony. It is obvious to the ear that this music has an easy organic flow through its twists and turns of melody, harmonics, rhythm (Pyle proves both his dynamism and sensitivity here), texture, and timbre. Music this complex and densely varied, particularly in the rock realm, seldom feels as light and breezy.
Vinyl fans should seek out the original issue while CD fans should be steered towards the Esoteric release.