The Article
Musical Surroundings Nova II phono amplifier: Hear the Silence
3rd March 2016
Musical Surroundings has released a new battery powered phono amplifier. Paul Rigby reviews the Nova II
Created to fill a perceived price-point gap, designer Michael Yee approached Musical Surroundings President, Garth Leerer, with the idea for a new battery-powered phono amplifier, in 1999. That design has run through different models and design tweaks resulting in the new Nova II, which supports both MM and MC cartridges.
"We feature a smart sensing circuit," said Leerer. "Once the battery realises its gone down to a far enough level, then it will actually switch to Charging mode. When it comes up to fully charged it goes automatically into Charged mode. From there, you can switch it to Play mode which means you internally disconnect the unit from the wall charger."
This multifunction battery button is resident on the front panel with standard phono amp connections on the rear plus two sets of loading/gain DIP switches. The battery charges in three to six hours with a play time of around five to six hours.
Internally, the circuit design minimises noise while the battery sits in a new clamshell container (the previous fitting was based upon a Velcro-based system) to both reduce noise and to fix it into the chassis for secure transport.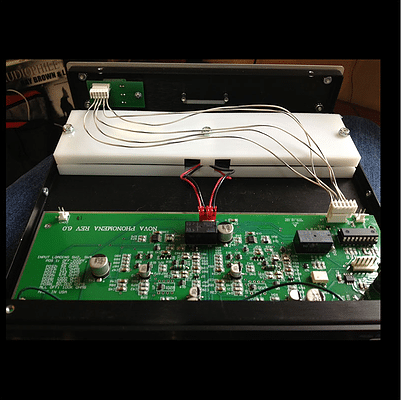 To test the Musical Surroundings phono amp I decided to run with the Trichord Dino Mk.3 phono amp with an external, separate 'Never Connected' power supply. In its own way, the Nova II's battery supply is also a form of 'Never Connected' so I thought that the comparison would make interesting listening.
Hooking up both the Ortofon 2M Black MM and Benz Glider SL MC as my cartridge references, I was happy to see a range of gain and loading settings to provide a more exacting match. For the Benz, I used a full 60db of gain and 243 Ohms loading.
SOUND TESTS
I began by spinning the title track from the 1974 Ella Fitzgerald LP, 'Take Love Easy', a stripped production that features the acoustic guitar of Joe Pass as accompaniment.
The first impression of the Nova II, even before I placed the vinyl on the platter, in fact, was just how quiet this phono amp was, even at full volume. I find the Trichord Dino with its Never Connected power supply very quiet but this unit takes silence to an extreme!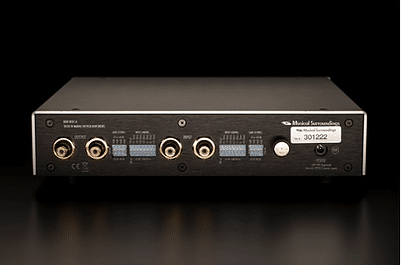 In MC mode, once I increased the gain on my pre-amp a tad – necessary when compared to the Dino – I was immediately impressed by the clarity of the Nova II, highlighted by Fitzgerald's voice. Her resonant and closely miked vocal can be prone to an element of bloom, even in subtle terms on the best of equipment but, with the Nova II, the sense of clarity was overwhelming as her delivery was focused. Fitzgerland's emotions spilled forwards during this balladic track.
More than that, Joe Pass' easy going yet complex guitar sequences, which sat back in the mix, can also be liable to slurring as it merges into the background. The Nova II gave this instrument a sense of emphasis as the plucked strings retained a characterful sound, being tonally realistic.
Switching to a more dynamic and high tempo album, David Bowie's 'Low' and the track, 'Always Crashing in the Same Car'. This is such a busy mix with layers upon layers of effects and instruments all varying what they do and when, throughout the track. The problem is, on a poor hi-fi system, this track becomes a mass of noise. Pleasant noise but noise nevertheless. On a good system, the instruments appear from their hiding place but the low noise output of the Nova II added a new dimension. Such was the busy nature of the music, the Nova II had me moving my head like a cat, "Didn't I hear a snippet of guitar here?",  "There was an unusual synth noise there! and "What was that? An electronic piano?" The clarity encouraged by the Nova II provided lots of new information that was thrust upon the ear all at once. Upper mids and treble were so incisive, I realised that it was going to take five or six listens to take everything in while bass was clean and characterful. Lower frequencies brought a new sense of personality to the lower end adding, as confirmed by our test results, an extra rhythmic lift to the bass.
I turned to the electic 1970 production of Ananda Shankar's Rolling Stones' cover, 'Jumpin' Jack Flash' from his self-titled album to listen in MM mode. Again, the enhanced clarity opened up the upper mids, revealing more synth sounds at the soundstage extremities while the guitar, along with the female backing singers, were both incisive and controlled.
CONCLUSION
The result of a long design evolution, the Nova II offers a mature product that provides top quality sound. Compact, well built with enough facilities to provide everything you need to make the most from your cartridge, the Musical Surroundings Nova II is one of the best phono amps, in this price range, that I've ever heard.
---
MUSICAL SURROUNDINGS NOVA II 
Price: £1,200
Website: www.soundfowndations.co.uk
Tel: 0118 981 4238
---
Good: clarity, transparency, low noise, chassis design.
Bad: button interface only fit for pixies, fairies and other tiny mythical folk
RATING: 9