The Article
Monitor Audio Airstream S150 multi-zone Bluetooth 4.0 speaker
21st October 2015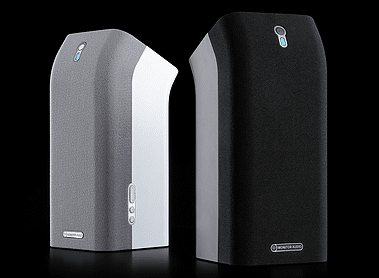 This multi-zone, Bluetooth 4.0 speaker, featuring aptX, is constructed from a mineral-filled polymer holding four drivers, comprising a proprietary gold dome C-CAM tweeter flanked on angled baffles by dual 76mm-CAM metal cone bass drivers and augmented by a rear-firing Auxiliary Bass Radiator (ABR). The C-CAM drivers are powered directly by class-D amplifiers, generating 40W in total, fed by a DAC and optimised by digital processing. iOS devices may be charged via the USB input and analogue devices can connect through a 3.5mm stereo jack.
Finished in a choice of white or black finishes, the unit can be shelf, table-top or wall mounted. Price is £150.
For more information, click on www.monitoraudio.co.uk.