The Article
Miles Davis Kind Of Blue
23rd July 2015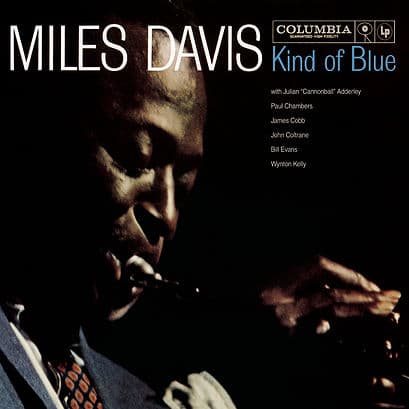 Label: Columbia
Year: 1959
It was named from a childhood memory of Miles Davis. He heard a black gospel singer perform in Arkansas. That woman, her experience and the experiences of most black people in the USA was, " A kind blue, experience," he said.
How important is this album? It is one of the few jazz albums that appeals to those who avoid the genre. For long-term jazz fans, though, it holds the status of a holy relic and provides a template for those who want to enter the world of improvised music.
There are many facets to Kind Of Blue, many components that can be discussed and debated. Above all, it is music that is without pretension. It is jazz that is pared down to the essentials. Olu Dara, veteran trumpeter, commented that, "When I was young, my ears popped when my room-mate first played it for me. It made me want to quit college right there." While the revered jazz critic, Stanley Crouch, exclaimed that, "Everybody was listening to it. In many homes, I heard (drummer) Jimmy Cobb's work on the track, Freddie Freeloader in the homes of a mailman, domestic workers, auto-mechanic. It didn't make any difference. There was something to that."
Kind Of Blue was a sort of transitionary album, becoming an important boundary for Davis' career, moving away from the tight quintets of the early fifties to the loose sound of the post 'Blue' works such as Bitches Brew and then the freer electric groups.
When Kind Of Blue was recorded, Davis was at the height of his creativity and his fame. His sold out shows at Birdland were swamped by the glitterati. Stars such as Frank Sinatra and Ava Gardener sat alongside sports celebrities such as Sugar Ray Robinson. Nevertheless, at the time of the creation of the album, Davis was still pushing forward, trying to invent a new approach to a jazz, a new form of improvisation.
As Bill Evans, pianist on the records, said of Davis, "There are certain people who are late arrivers, even though he was certainly on the scene, known and respected, you could hear him building his abilities from the beginning, very consciously and very aware of every note that he played but that kind of person, when they finally do arrive at their own expressive level, to me, seemed to contain so much more, finally writing something which was much more precious."
That 'precious' quality is stamped by the first track on the LP, So What. Featuring a superb rolling bass intro, it really takes off with a crash from Cobb's cymbal and then we are into the Davis' trumpet solo which is simple and elegant yet also contains an understated groove.
"The first time that we played each thing through," said Evans, "that was the take that was on the record. That accounts for the lack of outtakes that accounts for the real freshness. First-take feelings are generally the best. If you don't take that one, generally you take a dip emotionally, you go down and then you have to start working your way up and that may account for some of the success of this album. All of those takes are the first take."
Evans was just one of the supreme talents present on the record. We've already mentioned Davis himself, of course, and drummer Jimmy Cobb but there was also Julian "Cannonball Adderley" on alto sax, Wynton Kelly also on piano and Paul Chambers on bass. Not forgetting the legendary John Coltrane on tenor sax. Davis was 32 at the time and at the top of his game. Under him he had, what has often been called, the best jazz line-up of all time.
"It's really Coltrane who really stands out," said jazz historian, Dan Morgenstern. "This is Coltrane's first great modal solo. There's a wonderful mood to that, there is such stillness, it's an amazing piece."
We look back on Kind Of Blue and see its greatness but, at the time of its inception, it wasn't really seen like that. As drummer, Cobb, explained, "I didn't know if it was Kind Of Blue or Kind Of Green, at the time. As far as I was concerned, it was just another Miles Davis gig that we did and came out all right. It was only later, when I heard it through, that I realised how well the guys played on it."
Oh yes, they played well all right.