The Article
Linn Kiko DS: Media Enmasse
31st December 2015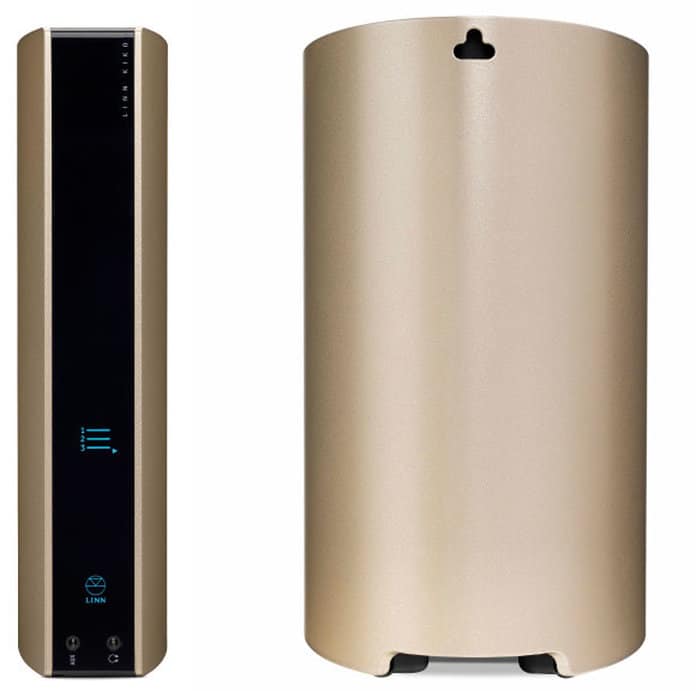 Wired or Wi-Fi? Budget streaming or hi-end attainment? Paul Rigby takes another look at the Linn Kiko DS to help answer those questions
After recently reviewing the low cost Cabasse streaming module, I've had several queries asking if Wi-Fi can be utilised to extract audiophile quality from a digital system or if a wired system is the way to go.
To answer those points, rather than look at a brand new system I turned to a proven product from Linn (and arranged an interview with them to boot).
Streaming is still a comparatively new medium so now is a good time to, in addition to the wireless question, whether it's worth spending out more money on a system such as the Linn or if you should hedge your bets and stick with a low cost system for now?

Linn has a range of network music players but an entry-level system has been noticeable by its absence. The (still relatively high priced) Linn Kiko has been designed to fulfil that requirement. David Williamson, Product Designer for the Kiko, explained, "Linn was very keen to try to reach a different audience. We wanted to give you everything that is Linn but in a more aesthetic package that is easier to integrate into homes."
Ian Wilson, Principal Design Engineer for the Kiko, agreed, "It's an extension of the DS technology, in fact."
Both engineers were eager to assert, however, that the Kiko is no cut-down shell, produced to a price. Wilson asserted that, "If we had watered down another product to get Kiko, it wouldn't have been as good."
Examining the main chassis of the Kiko, it's a pretty plain shell, "The curved chassis (spanning 256x146x187mm, available in six colours and weighing in at 3kg) is made from an aluminium extrusion," explained Williamson, "with a window that wraps around the front. There is an on/off switch plus a headphone and auxiliary input on the front."

The user interface is based on an icon- instead of a word-based system, giving it a higher visibility factor. "The box can be stood upright or sat flat, the icons rotate to accommodate. For the speakers, there's a slight slope at the top so, if you place them in a bookshelf, the port at the top still fires forward," said Williamson.
On the rear of the chassis, there are a pair of analogue inputs to connect to a standard hi-fi, S/PDIF and TOSLINK, three HDMI inputs plus one HDMI output and speaker connectors: Neutrik style, "We are trying to make the Kiko very easy to install," said Williamson, "this is the type of customer that we are trying to target. We don't want them messing about."
The included Ethernet port provides a consistency of service that you cannot get via Wi-Fi hence Wi-Fi is not included with the Kiko (although AirPlay is offered to iOS devices). Other features of note are a redundant Passive Mode control ("It was a function that was examined but dropped," said Wilson) plus Fall Back, a sort of re-set, in case of power outages during software upgrades, for example. The whole thing is controlled via the included remote but other control options include an iPad, iPhone, Android phone, laptop and more.
The 2-way speakers feature a connector that's hidden underneath the cabinet so that you can position it as close to the wall as possible. The speaker also features cabinet flares to channel the sound out of the box to provide a freer presentation. Also, there is no crossover or electronics in the speaker cabinets. The active mode – or Aktiv as Linn has it – features a digital filter that takes place before the power amp section in the main chassis, "It's utilised in the digital domain before the DACs which gives us even more control. This enables us to put more complex stages into the crossover. Doing that in a passive crossover may have triggered noise. That power amp, by the way, is a 33W Class D, a genre of amp that has made significant steps forward of late," said Wilson.
IN USE
Installation was a little awkward because of the semi-hidden sockets on the speakers. Inserting and twist-locking the thick Neutrik cables proved rather cumbersome.
The step-by-step, Internet-only, installation wizard software includes an internal OS software update procedure followed by a search for compatible media devices. You designate your own devices, giving each a name then allocating Kiko ports to each. It's a shame that the Kiko couldn't have had a stab at fully automating this process because it adds an unnecessary layer of complexity.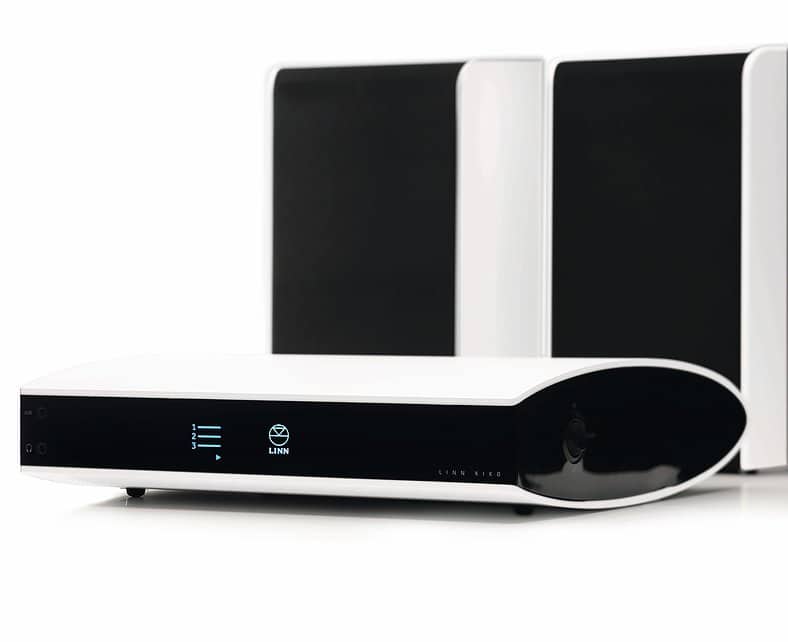 Support software can now be installed. Songcast allows you to send any sound produced via your sound card from your computer to the Kiko, Songbox is a media server that connects directly to your iTunes library and more, Konfig provides more advanced settings changes while Kinsky allows you to select and play music on you Kiko from your computer.
A wide range of third-party software is also supported including Twonky and SkweezyDS on a Mac and BubbleDS via Android phones.
Kiko is a supposedly friendly, lifestyle-like, network player but there's too many installation demands for that market: too many software support download packages (why couldn't they be bundled as part of the main install or selected from an initial menu before download is initiated?); too many additional software updates (as this is an internet-only install routine, why can't Linn preload the latest versions into the wizard?) and too many computer restarts (I felt that I was installing a new version of Windows OS).
SOUND QUALITY
The Kiko has been designed as a near field system so I placed it on a desk in a busy study near to the rear wall, as per Linn's recommendations.
On my quad-core PC, I accessed the Kinsky/Songcast front-end system to access a limited range of Internet radio stations. In this case, Linn's own Jazz station running at 320kbps MP3, playing Willard White's Lazy Bones. Taking the limitations of the format into consideration, the performance, despite a lack of control in the upper areas, was open and crisp in the midrange with a vigorous bass response.
Upping the sound quality, I turned to Paul McCartney's It's Only A Paper Moon using a 256kbps AAC file via my iMac and the Mac version of Kinsky. The soundstage inhabited a broader base while the transient performance of the rhythm guitar and violin was impressive. Although McCartney exuded vocal bloom during crescendos the cool midrange featured subtlety and guile with bass taking an admirable, supportive role.
Knowing that the system support wasn't exactly audiophile in nature, I placed a set of sorbothane supports underneath the system and speakers, which immediately removed the bloom effect, tightening up the lower frequencies to boot.
Moving higher up the scale and the 24bit/192kHz FLAC of Vivaldi's L'Amore per Elvira by La Serenissima. Here, I moved out of the Linn ecosystem and opened Twonky on my Apple iPad, highlighting the Kiko, which popped up in the Twonky device list, accessing the FLAC from the available content which was then 'beamed' to the Kiko producing, despite some lack of lower frequency control and upper mid extension, a commanding soundstage with an attractive and forthcoming presentation.
Wishing to test AirPlay support, I accessed the flying guitar modes of Shuggie Otis' Oxford Gray (at a 320kbps MP3). The Kiko handled the AirPlay commands quickly and without fuss. It might have been exactly authoritative, yet playback was very pleasant, being musical, offering vigorous bass plus toe tapping upper mids. It was obvious, though, that the wireless AirPlay and Twonky systems were not as convincing as the wired play, lacking structure in the lower frequencies while bloom and a lowering of clarity present in the upper frequencies.
I then moved to my Samsung 55″ Smart TV and Apple TV, playing a range of YouTube videos and using the Kiko as a sound source, quickly selected via the Apple TV's settings screen. Using a Creative 2.1 channel system as a reference, the Kiko playback was efficient and excellent, spacious within the mids with a punchy bass to bring the lower frequencies alive.
A HDMI cable was then plugged into the Kiko and hooked it to my TV to play digital sound, retaining the Internet connection via a HomePlug, mains-connected network. Despite the lack of a traditional sub-bass unit, Kiko bass retained a respectable punch, the soundstage had both lateral movement but also a tremendous depth while the overall sound quality was quite engrossing.
Finally, for a more audiophile test, I placed the system, wired, within my reference listening room. The chassis was situated on a PAB Isolation platform, the speakers on a pair of Track Audio Precision 600 stands and I plugged the Kiko into an Isotek Aquarius mains cleaning system. I then used the iPad to send a 24bit/192kHz version of Let Us Garlands Bring, Op.18: Come Away Death via Twonky.
In such rarefied circumstances, the small size of the speakers became a factor. The Kiko produced a keenly dynamic presentation. The vocal, despite slightly struggling to cope with the complex harmonics at the very top end and lifting a little in the upper mids, offered both a perceptive and emotive delivery while the piano accompaniment, although lacking in true bass grip during the lower frequency sequences, was bathed in an admirable degree of space and air.
Changing to a WAV rip of the AC/DC track, 'All Screwed Up', the Kiko exuded a tremendous energy. The rather forward upper mids added shine and form to the lower frequencies, giving an edge to the bass punch, while the vocal and lead guitar brimmed with passion.
Looking at the Kiko in a wider context, any attempt to compare this £2,500 system to the £300 Cabasse might, at first glance, be a laughable comparison. Yet what do you really get, sonically, with a more expensive system? Better quality components, sure, but what does that mean? In terms of the software and what it takes to get up and running, I actually prefer the much cheaper Cabasse. The Kiko in a finicky system to install and set up, in comparision. Where the Kiko scored, though, was in two areas. The latter responds to Twonky and AirPlay which performed better on the Kiko than the Cabasse's wireless options allowed. The latter suffered from restricted upper mids and a relatively forward treble. The Kiko could be rather forward in nature but that was less a product of the hardware and more to do with Linn's own 'house sound' which can be a little brash at the best of times and can be heard in other Linn products. Yet, overall, there was more dynamic flair from the Kiko. Also, when wired, it was noticeable that the Kiko offered a far more secure, tight bass output with greater heft and mass than the Cabasse.
CONCLUSION
Despite the rather involved installation routine, the Linn Kiko provides a wealth of media options over a range of different platforms that will satisfy all music and hi-fi fans. While the small speakers lose out in terms of dynamic reach and deep bass response, it would seem churlish to beat the Kiko over the head because of it, especially when it offers admirable refinement and articulation.
Addressing the larger point posted at the beginning of the this feature. If you take this review and read it in conjnction with my Cabasse review, it's clear that Wi-Fi might offer convenience and some novelty but it's certainly not an audiophile standard (unless you pump a lot of money into a secure and stable propriety system), which is why the Kiko relies more upon a wired system for the core of its music replay facilities. The wired option is far more reliable plus the data rate of Wi-Fi falls with increasing distance. You will normally, in fact, find a wired option for systems providing Wi-Fi as a streaming carrier. Wireless systems offer convenience and music replay for background use while the Kiko and its contempories with wired as a dominant feature offer, for now, a better quality option.
---
Linn Kiko
Price: £2,500
Website: www.linn.co.uk
Tel: 0500 888 909
---
Good: broadmedia options, timing, soundstage and build quality
Bad: overactive midrange and installation
RATING: 7/10
---
REFERENCE SYSTEM
Cabasse Stream Source
Apple iMac
PC, Quad Core
Tellurium Q cabling
Rega Brio-R amplifier
Acoustic Energy Radiance One speakers