The Article
Loops & Circles: Returning to our roots
23rd March 2015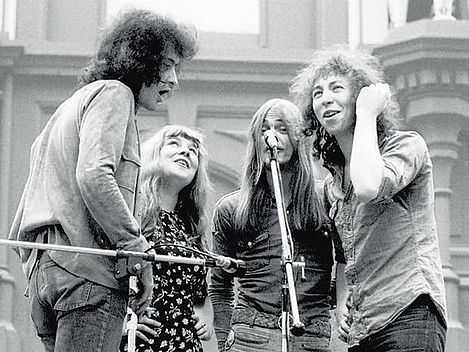 It's odd, isn't it? We strive to be different and yet we end up being the same. The older I get the more like my dad I become. I laugh and I shock myself at how much like my father I sound. I raise an eyebrow in a certain way, catch the look in the mirror and see my father. It's scary.
Music is the same, in many ways. It moves in looping circles. People are always looking for the 'New Thing', the next new fad, a new type of music and the next revolutionary genre that will re-write how music will be played and heard. But music always comes home. Returning back to its roots, even if it might do that with added tweaks. Yes, there are major musical genres but only a few are truly different. Take rock. You may investigate the boundaries and hidden corners of the genre but, basically, heavy metal, blues rock, post rock and jazz rock are all part of the same musical monster. It's like any mature 'product'. Once the basic form has been explored, people can't help but tinker, twist, modify, prod, push and mould but the roots to rock remain.
I was struck by this when chatting, recently, to rockabilly fan and successful female solo artist, Imelda May. She mentioned that punk might have seemed to have been revolutionary, at the time, if you were there (I was and that's just what it seemed to be at the time) but, in retrospect, it wasn't. It was more evolutionary, in fact, and it was just another variant of rock. It could be traced back to rock's roots. It was fun and energetic but it merely focused our minds on what had already been possible for years (in terms of music, publishing, fashion or social interaction).
This combination of tweaking and exploration of musical genres and so-called revelations was brought home to me when I received a batch of new CDs from veteran English record label, BGO (www.bgo-records.com). Featuring a wide catalogue of artists and genres, it's easy to browse the company's lists and see the splintering and octopus-like evolution of rock as a genre.
A clue to the point of all of this can be found in the introductory paragraph. Part of the reason for the splintering and morphing of rock is down to our parents and our childhood influences. Childhood (from zero to eighteen years of age, say) is terribly influential. That is where you soak in the majority of life's information. Information that will inform your future. This is also why you always hear that rock artist X, for example featured country elements on his new album because X's mother or father played a lot of country in the house when he was a kid. You blend your current observations with your childhood influences to create something 'different'. As such, though, you never move forward, in a straight line, but in swirling loops moving backwards to move forwards, like a wave on an oceanic tide.
One BGO artist, Albert Hammond (featuring on BGO albums such as 'When I Need You' and 'Somewhere In America') commented on one release, "I wanted to go back to my roots, to Buddy Holly, Eddie Cochran, Roy Orbison and Elvis and to all the people I have played all my life and are the reason why I am doing what I am doing." There's the circle again, the loop.
Another BGO artist, Sha Na Na (who appear on the LP, 'The Night Is Still Young'), made their name and their debut at the legendary Woodstock festival. The whole point of the band's revivalist existence, however, is the older, traditional rock'n'roll/doo-wop.
Even seemingly different genres have been morphed into rock, sharing and combining facets of each, like the bubbles in a Lava Lamp, "Fairport (Convention) was in the dressing room at University," said band member, Ashley Hutchings, of a gig in the late sixties, "getting ready to play and Sandy (Denny) started to sing 'A Sailor's Life' – acoustic guitar…voice – as she would in a folk club years previously. We picked up our instruments and we jammed along. It sounded really good to us. We'd not really done anything like this before. It came time to go onstage. We said, 'Ok, let's start with that.' We went on stage, played it and improvised the whole piece. It was magical. We never looked back. There's very few times when you can say in music that 'This was the first.' But you can put your finger on that evening as the beginning of British folk-rock."
You can hear more of Hutchings on a series of BGO CDs featuring The Albion Band on titles such as 'Rise Up Like The Sun'.
Then there's the blues which rock also assimilated into blues-rock in the late sixties. But you talk to someone like Canned Heat's drummer, Fito de la Parra, who played magnificent blues on BGO albums such as 'Canned Heat' and 'Boogie With Canned Heat' and the people he most wanted to meet were soul great, Ray Charles and jazz greats Gene Krupa and Buddy Rich!
Loops and circles, people, loops and circles.