The Article
Leema Libra DAC/preamp, a high-resolution digital hub
21st April 2015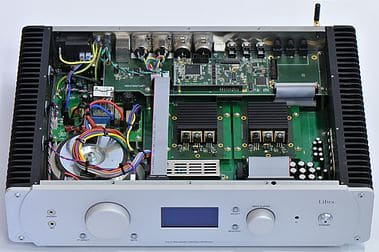 Leema Acoustics has launched the Libra DAC/preamp, a high-resolution digital hub. The Libra is the latest addition to Leema Acoustics' Constellation series and has the same casework as the Tucana amp and Antila CD player.
Designed and built by Lee Taylor and Mallory Nicholls, the Libra offers high-resolution playback including: DSD 64; DSD 128, DXD and 384kHz PCM via USB (and Libra's I2S inputs). DSD64 is also supported via all S/PDIF inputs (coaxial and optical) and AES/EBU inputs.
The new high-resolution DAC/preamp is 'future-proofed', it contains Leema Acoustics' new fully balanced Quattro Infinity dual-mono DAC modules which are field-replaceable. Should conversion technology improve in the future, the modules can be upgraded. The Quattro Infinity modules also feature user-selectable output filters, for flexibility with higher sample-rate sources.
The Libra also offers three coaxial and three optical inputs, capable of accepting high-resolution 24bit/192kHz audio, as well as including two I 2S inputs via RJ45 connectors. Source components with AES/EBU outputs can also be connected: the Libra offers two input connections available via XLR connectors.
Leema's M1 USB module provides a connection for computer audio replay from both Windows (the driver software is included), Macintosh and Linux machines. This interface is fully asynchronous, allowing the Libra to regulate the data rate coming from the computer and reportedly deliver low jitter levels. This feature also includes full galvanic isolation.
Libra offers three separate analogue inputs, each of which can be individually configured as unbalanced or fully balanced via XLR connectors. The entire signal path, both digital and analogue, is fully balanced from the digital data stream, to the balanced analogue outputs.
The Libra is able to operate either as a conventional audio component with fixed output level or as a pre-amplifier with full analogue volume control on-board. Outputs are provided via unbalanced RCA/Cinch connectors and balanced XLR connectors. Libra is also a full LIPS controller and can control Leema Acoustics' range of power amplifiers directly.
For added flexibility, the Libra also has an optional Bluetooth interface, allowing music replay from suitably equipped tablets, smartphones and other compatible devices. For personal listening, a headphone amplifier is also included. The Libra DAC/preamp is priced at £5,995.
For more information, call 01938 559 021 or click on www.leema-acoustics.com