The Article
Leema Elements pre and monoblock amplifiers: They've Got The Power
9th April 2016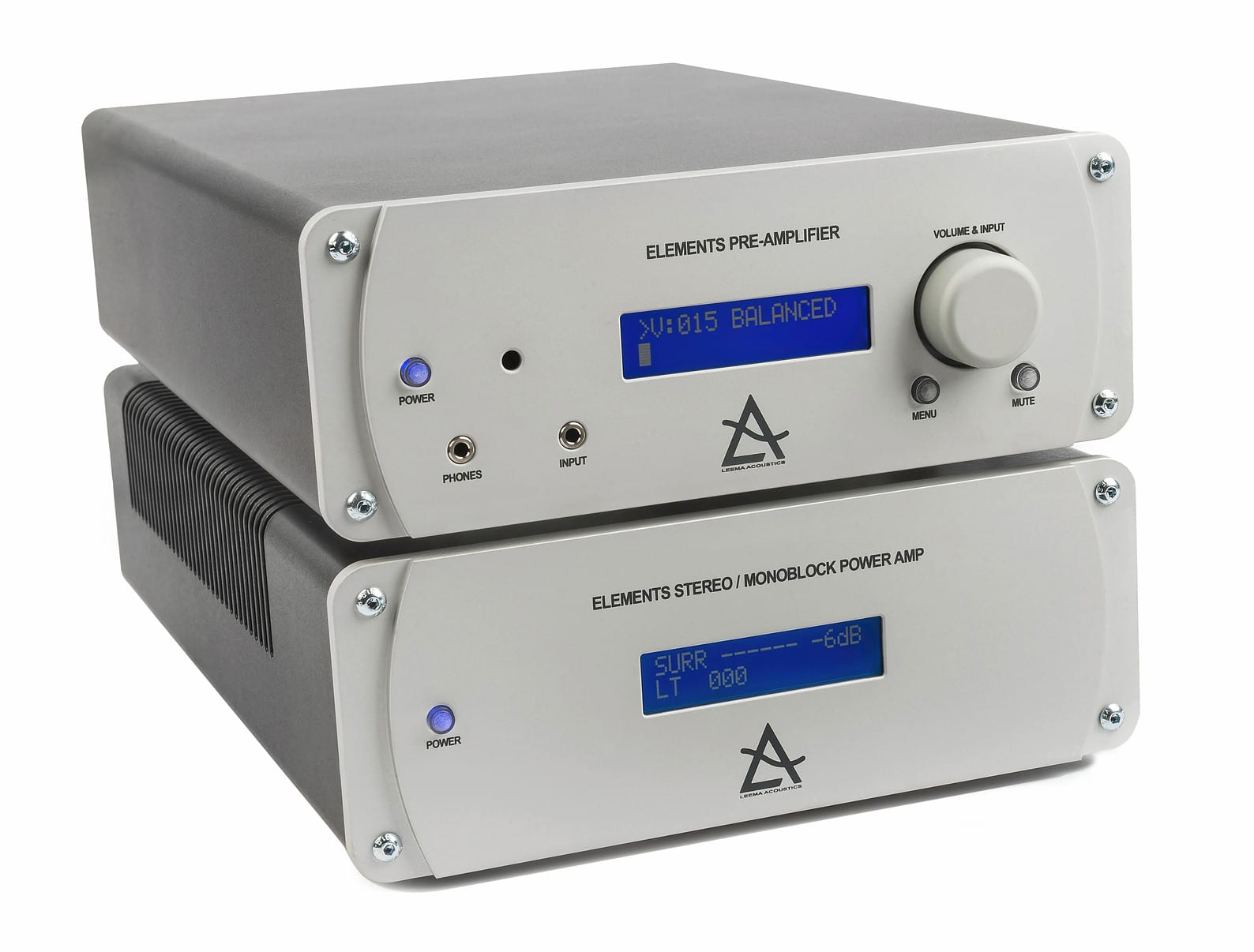 Compact but promising value for money, Paul Rigby reviews Leema's Elements mono block power amplifier and, exclusively, the Elements pre-amplifier
You know, I've talked to both of Leema's founders, ex-BBC sound engineers the pair, Lee Taylor and Mallory Nicholls, on a few occasions now. You know yourself, whenever you talk to people, after a while, you get an impression of who and what they are. Both of these gentlemen, are very knowledgable about their products and hi-fi technology in general, extremely professional in their approach to the industry and their customers but they also seem to be in an awful hurry. It's as if they've got 500 hifi products to invent, design and release by next Friday. There's a certain industrious air to their demeanour, you can almost see them thinking of new ideas as you're speaking to them. I worry about them, actually. I wonder if they've ever had a day off? Maybe they have twin brothers or clones. Well, something has to explain their output! Not only that, I've yet to hear a dud product amongst them, each release maintains a high level of sound quality. Hence, the pressure was on when I received this new pre/power combo. Would it maintain Leema's high quality reputation?
Both boxes are half-width chassis sizes and so will be ideal if your listening space suffers from space issues. The pre-amp includes an on-board DAC offering a 24bit/192kHz S/PDIF coaxial input, three 24bit/192kHz S/PDIF optical inputs and a 24bit/192kHz asynchronous USB input.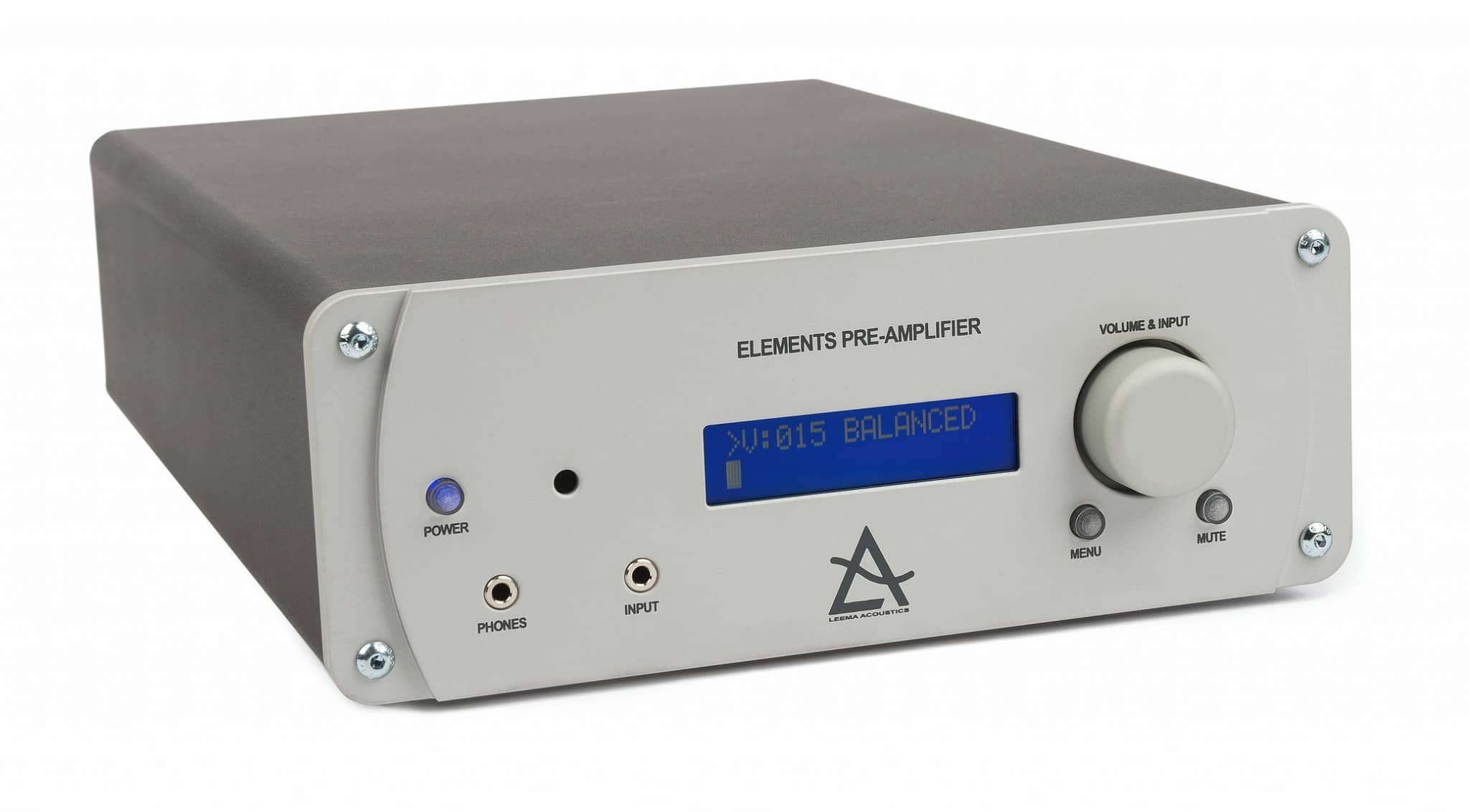 Analogue inputs include three unbalanced stereo RCA inputs, a pair of balanced inputs on XLR plus a 3.5mm input jack on the front panel. The output connections include one pair of balanced XLR outputs and one pair of stereo RCAs.
This being a Leema product, LIPS implementation (Leema's proprietary communication system) allows for integration with other Leema products and home automation systems and a remote control is also included. Last but certainly not least is the addition of an internal headphone amplifier. Finishes include black and silver.
The Leema Elements power amplifier (55W into 8 Ohms) can be used as a conventional stereo power amplifier with the pre-amp we have here or, if you fancy, can be switched into monoblock mode and used in multiples for stereo or multi-channel systems. For example, it is possible to bi-amp suitable speakers using three units – two in monoblock mode driving the power hungry bass drivers and one in stereo mode driving the tweeters. The Elements Poweramp is also able to use Leema's proprietary LIPS control system.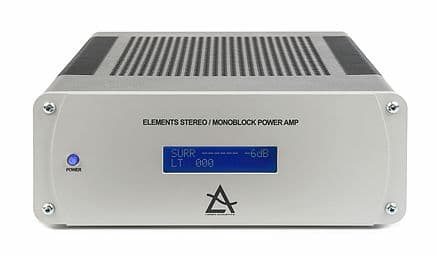 Input connection is available unbalanced via RCA connectors and fully balanced via XLR connectors. Speaker connection is via 4mm banana plugs or shrouded banana plugs.
Both boxes span 220 x 340 x 88mm with the power amp weighing in at 10.5kg and the pre-amp heaving to at 7kg.
Before I powered up the amps themselves, a quick mention about the manuals for both the pre-amp and the power amp. I have to say that they are not the strongest features of the package. Beginners might be a little perturbed by the lack of illustrations while those that are included are small and rather lacking in clarity. Only the rear of the pre-amp supplies a (mostly) labelled image. The only front fascia image seen is a fairly useless angled picture on the manual cover while the power amp lacks any illustrations at all. The fonts are tiny for both manuals, wording is indistinct (the 'Overview' header of the Pre-Amp on page five states 'Elements Integrated overview' – so is this a pre-amp or an integrated amplifier then? There is space for confusion) and the entire feel of the manuals is one of a quick rush job achieved before the couriers turned up to ship out the boxes.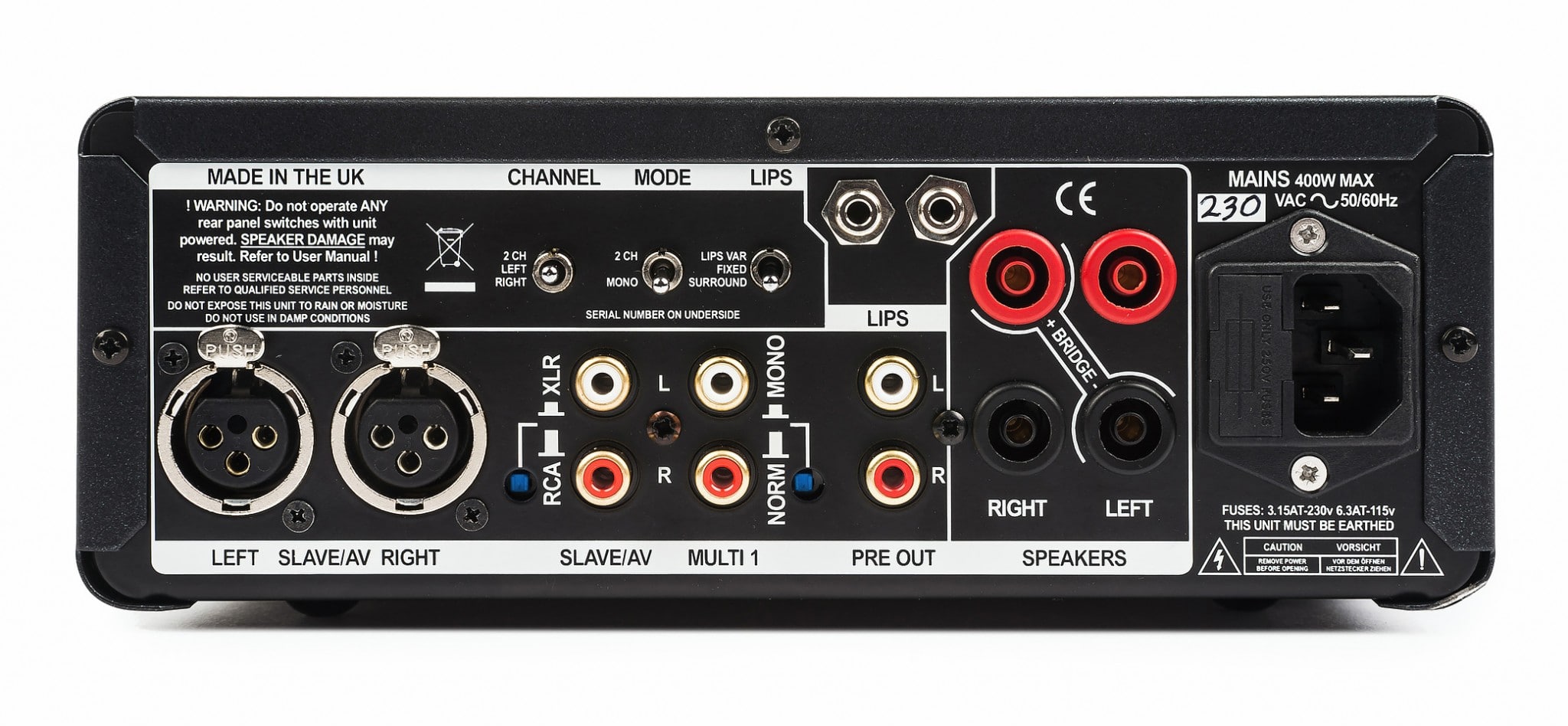 One important piece of confusion I will clarify now and that is how to connect both the pre-amp and the power amp together. Sounds like it should be a simple task but the host of sockets on both boxes can lead to some confusion and I needed a bit of help to do this. The answer? When connecting the pre-amp to the power amp connect one end of a set of RCAs (for example) to the 'Pre Out' sockets on the pre-amp and the other end to the 'Slave' connections on the power amp.
Turning to the amps themselves, both feel and look well made, they are sturdy and ooze value for money. In terms of the interface? I'm not a great fan of small pixellated control windows, I must admit. I know that this must be a budget issue for Leema but, even so, I feel that the hi-fi industry, as a whole, needs to move on from this sort of interface as it is often associated with overly complex menu tree structures and weird button combinations. The Leemas are no exception. For example, to select your input, you press the large control wheel on the Pre and rotate to select your input. Then, to select the volume for the input, you press the wheel again to change the volume.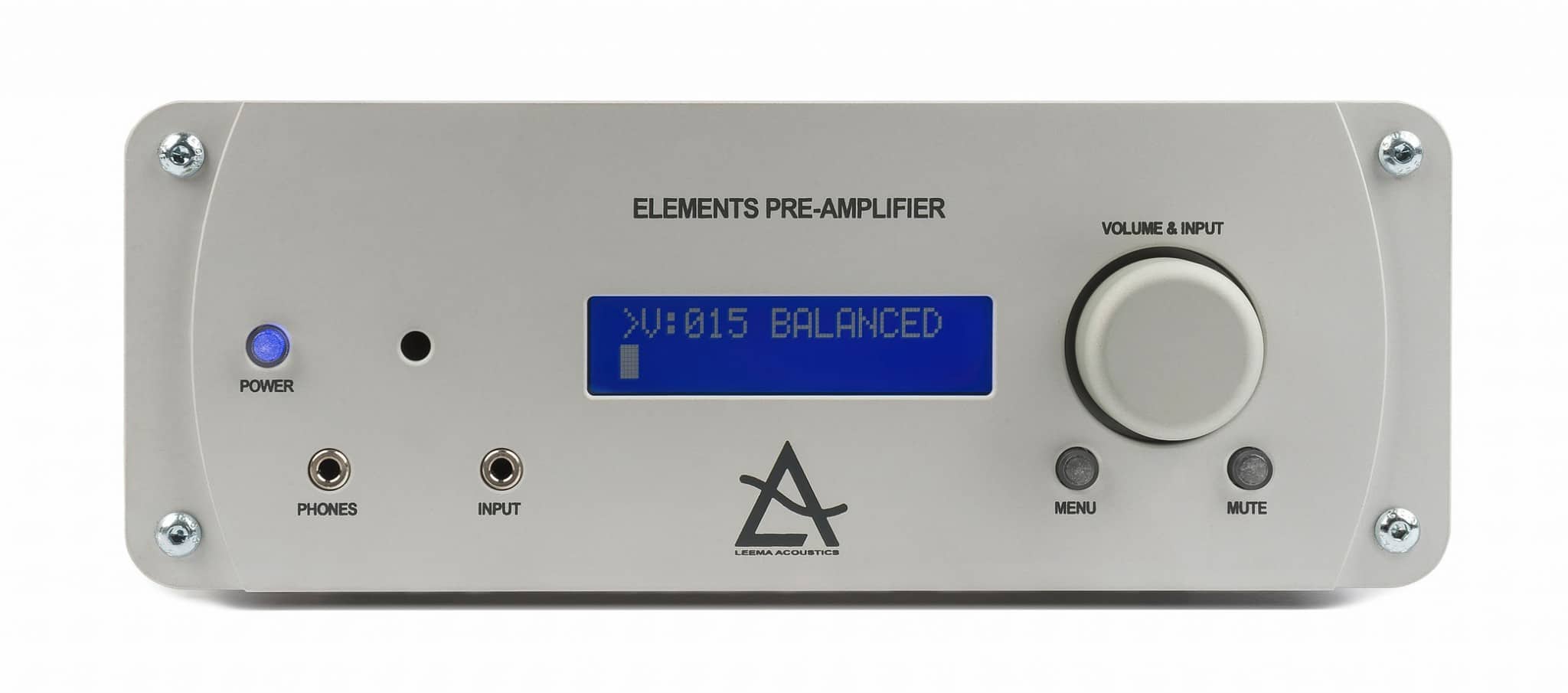 Yes it works, yes I had no real problem, so what am I complaining about? Well, it remains awkward, old fashioned and clunky. My irritation is not so much the practicalities of the system but the 'feel' of it. These boxes do cost over a grand each, don't forget. This isn't a Tonka Toy City Special bought off the top shelf at Toys R Us.
By now, you (and most probably Leema, if it is reading this) will believe that I hate these boxes with a passion but not so. My criticisms are not damning. I'm just a bit irritated, that's all. My first impression was actually a good one but all hi-fi can be improved and these boxes are no exception.
SOUND QUALITY
I decided to review the pair together as a single unit and began with a CD as a source and brought in, rather cheekily you might say, Leema's own Elements CD player to act as a digital referee. I spun up a CD of Bing Crosby's album Bing on Broadway and the track, Mandy. Partly chosen to gauge the rich texture of the Crosby delivery, I also wanted to listen to the jazz trio (piano, drums and bass) standing behind him.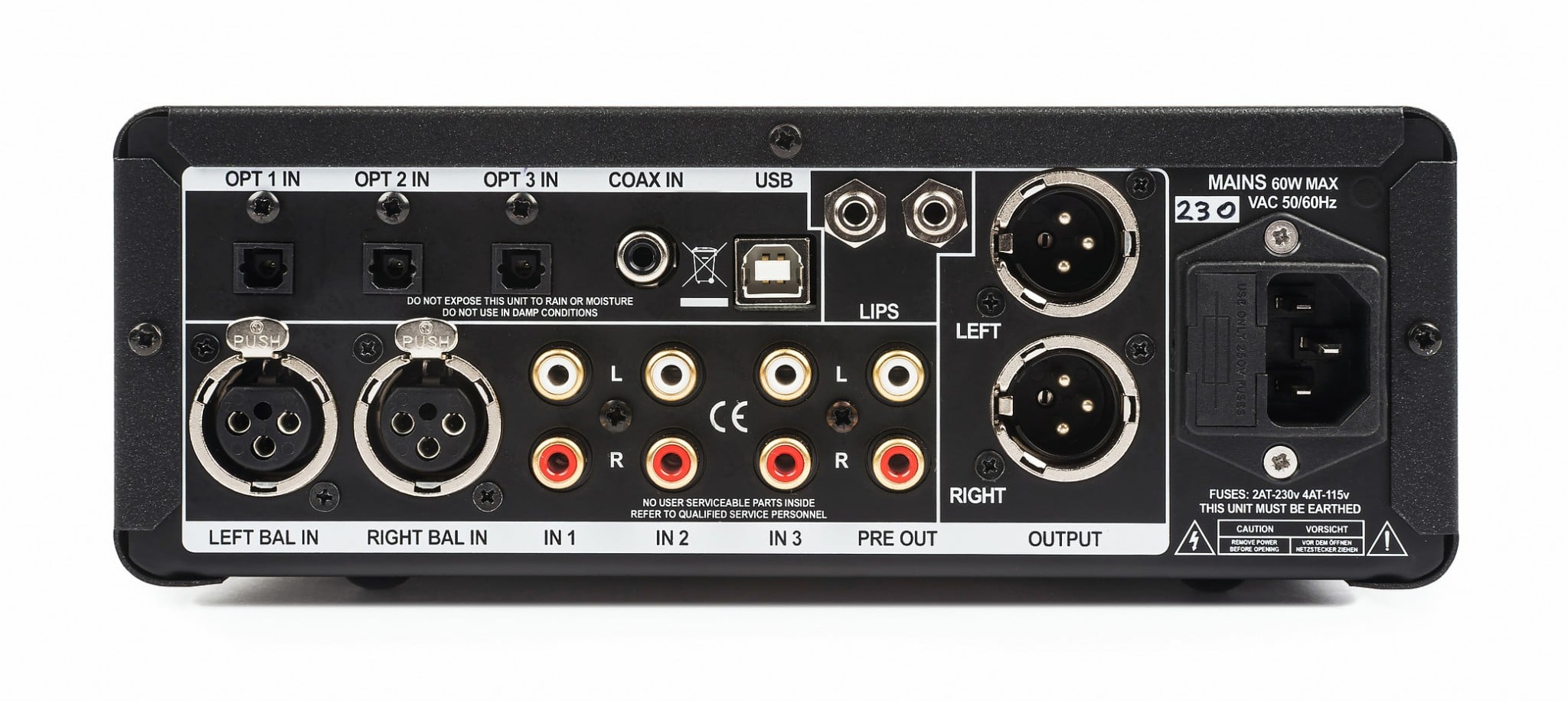 OK, I grumbled at the manual, I moaned about the interface but now I know why you'd pay £1,395 for each of these boxes. Music…this is what the Leema pre/power combo is all about. The sound output was just lovely. Let me break it down for you.
Firstly, at this price point, I have been used to hearing Crosby's voice lifting a touch in the upper midrange. This is down to a smidgeon of noise which makes his voice blur a touch, adding an annoying tail at the end of words or lines of lyrics. Here? The Leema tightened this effect making the Crosby delivery clean, concise and clear which allowed his voice to express itself fully. Similarly, for the first time at this price point and with this track, I felt the air move via the bass output. Now, this is a small jazz quartet…it's not The Who. We're not talking Keith Moon here, just a guy with a double bass, but the power was there and it added a new dimension to the music itself.
Also, when Crosby ended his vocal introduction, Buddy Cole hit the bass key on his piano. Now, the piano is a most difficult instrument do 'do well' by any hi-fi. It is dynamically chaotic and liable to several varieties of noise-related distortion. The Leema tackled this instrument remarkably well, adding a very impressive transient response that enabled the bass key to start and stop on point with a tonal realism that was startling.
Not a bad start, then! So I moved to vinyl and Neil Young's Ragged Glory, where Young is backed by Crazy Horse and Young himself is let loose on his electric guitar that produces a dirty, feedback-ridden, reverb-laced performance. Plenty of sonic pitfalls then.
To be honest, I forgot that I was doing a review for a bit because I was busy enjoying the playback but managed to pull myself together, eventually. Basically, the Leema pairing took full advantage of the higher resolution signal and provided more than enough capacity to cope with the wide open space on this particular soundstage. Such was the surfeit of air, in and around each instrument, that the band sounded particular relaxed, free and easy. Drums, in particular, had a tonally impressive sound: there was a definite difference in the initial drum strike and then the noise of the drum that emanated 'after' that. Two different noises which you only hear on quality kit. Vocally, both Young and his harmony backing sounded particularly alive and vigorous, they really sounded as if they were enjoying himself. Young even sang as if he had a sarcastic twinkle in his eye and a smirk playing around his lips while his lead guitar soared, folks, it just soared.
I then turned my attention to the digital aspect of the pre-amp so brought in my Astell & Kern AK120 and played a 24bit/96kHz version of Dire Straits' Money for Nothing. Trying to 'second guess' the pre-amp, I ignored the potentially 'audiophile' connection at the back and plugged my AK120 into the front, line-in, socket.
I'm used to this track sounding rather brittle, it has been mastered with compression and, even in hi-res mode, can sound bright but the Leema had Sting's introductory floating vocals infused with air and space that gave him an ethereal aspect while the following drums were tight and very punchy. There was real power here that pinned me to my seat. As for the brittle nature of the master? Yes, I could hear the compression in the master so the Leema was not giving me a coloured playback but the music was offered enough elbow room to do its thing so was not too offensive. Mark Knopfler's lead vocal and guitar were both expressive and nuanced which was a achievement in itself while the instrumental separation was sufficient to allow the secondary cowbell percussion to be clearly heard…another achievement. The following track, Walk of Life, offered a wonderfully metallic acoustic guitar, the sound of each string being hit and struck by the plectrum exhibited an appealing textural effect.
I then gave the headphone amplifier the once-over by plugging in my Sennheiser HD800s and was pleasantly surprised by the sound quality from, what is in effect, a bit of a freebie. To be honest, I've heard some sub-£500 headphone amplifiers which sound worse than this module! Leema has done a great job. Playing Money for Nothing again, the music may have lacked an element of clarity and transparency when compared to the best head amp devices but did counter with enough detail, bass weight and midrange delicacy to tempt most users of the Leema pre-amp to rely on the headphone stage as their principle headphone power supply. Many Leema users won't bother with an external device.
CONCLUSION
They say that beauty is skin deep. In this case, the opposite is true. I may have been irritated by the interface and manual but, once the music started to play, I could hear where the money has been spent on both the pre- and power amplifiers. In this price range, the Leema sets the pace in terms of facilities and sonic abilities.
---
LEEMA ELEMENTS PRE- & POWER AMPLIFIERS
Price: £1,395 (each)
Website: www.leema-acoustics.com
Tel: 01938 559021
---
Good: bass punch and weight, midrange finesse, clarity, detail
Bad: manual, interface
RATING: 8
REFERENCE SYSTEM
Wilson Benesch Full Circle turntable
0.5 carbon fibre arm
Oyaide platter mat
Benz Glider cartridge
Icon PS3 Phono amplifier
Naim NAC/NAP pre/power amplifiers
Quad ESL-57 One Thing modified speakers
Vertex AQ & Atlas cables and power blocks