The Article
KEF EGG Wireless Digital Music System
21st October 2015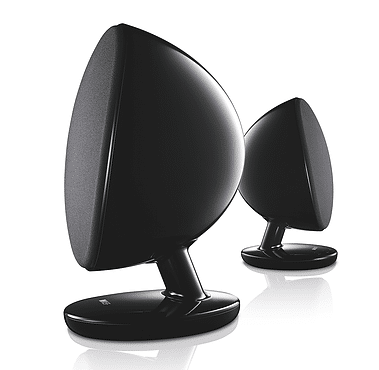 KEF has announced the launch of the EGG Wireless Digital Music System.
KEF EGG is Bluetooth enabled, with 4.0 aptX compatibility for those with suitable devices. KEF's Uni-Q driver array is featured here in its latest form.
The KEF EGG is a complete 'plug-and-play' package, with built-in amplification and DAC. The system is also supports 24bit/96kHz USB input.
The speakers includes the 'tangerine' waveguide helping the sound to radiate spherically. In addition, KEF's Z-flex cone surround guides the sound from the tweeter across the surround. The midrange cone is made from aluminium.
A subwoofer input is included, allowing you to add a KEF subwoofer for more bass extension. there is a choice of three finishes: gloss black, pure white and frosted blue. Price is £349.95.
For more details click on www.kef.com.