The Article
HUSH EQUIPMENT RACK OAK VERSION
3rd December 2014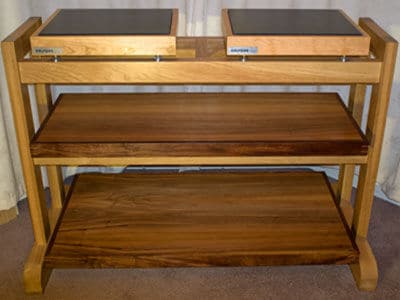 From CJ Audio, the Hush Equipment Rack incorporates a built-in damping system, employed to remove vibrations
Additionally, the supports are also designed to accommodate the range of Hush Isolation Platforms. Crafted by hand from high quality timber, each named after the guardian mountains of Wasdale in the Lake District, I reviewed the Yewbarrow version that is available as a three or four shelf support with a 600mm shelf width, 450mm to 600mm shelf depth and 40mm thick. The support is available in cherry, oak or American black walnut. Shelves are available in oak, cherry, European walnut and Birds Eye maple real wood veneer, finished with solid oak, cherry or American black walnut surrounds. Granite, slate, engineered stone and Valchromat inserts are available in lieu of veneered finish.
I began listening tests with my Avid Acutus turntable and the vinyl version of the Grandaddy track, He's Simple, He's Dumb, He's the Pilot. I was impressed by the open soundstage that also improved in focus with no diffuse edges to blur the instruments. The attendant lower distortion produced greater clarity while the lower noise floor helped the secondary percussion to sound crisp and focused.
Treble remained light and airy but it didn't finish there, this sound frequency now had a rich, golden warmth that provided a depth to cymbal strikes, while vocals were calm, confident and lyrics were enunciated with a self-assured delivery.
Lower frequencies were large in mass. Bigger and bolder with a lot more heft during deep bass strikes. In fact, lower bass provided a secure footing for the entire track, providing a sense of uplift during crescendos.
Moving to CD and Helen Merrill's jazz take on 'Summertime'. Merrill's voice was slow, lazy, methodical but full of potentially emotive power. Her breathy approach was a potential trap for distortive frequencies to disrupt and dislocate her performance yet the low distortion of the Hush meant that the silences of the sparse arrangement gave more prominence to the black spaces in between her words adding gravitas and a sense of presence. Bass was tight, keeping a rhythm that reverberated around the soundstage, adding a sense of security to the song while the rest of the supportive instruments were clear and concise.
Offering a high quality build, the Hush equipment rack successfully protects your equipment from distortive process, increasing sound quality and revealing new musical facets. 
---
Price: from £1,750 
Contact: www.rjcaudio.co.uk
 RATING: 8