The Article
Gungnir Ho!: Schiit Gungnir DAC
24th April 2016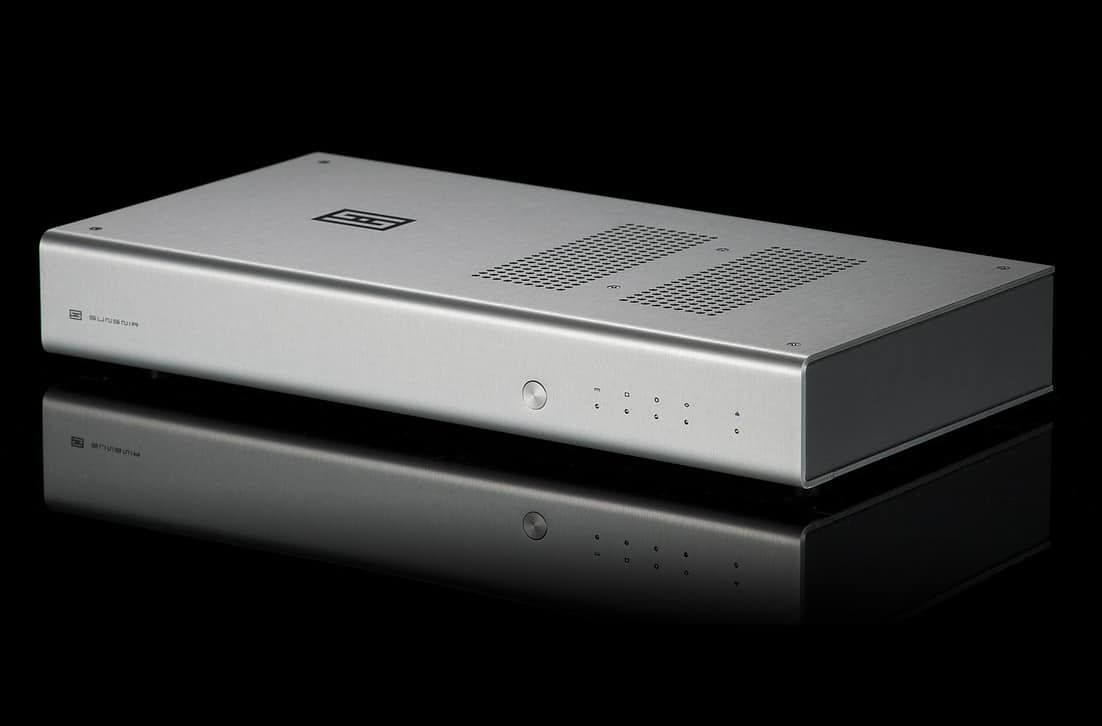 The DAC continues to evolve and improve and Schiit is at the forefront of value for money DAC research. Paul Rigby reviews the Gungnir
The more I hear from Schiit, the more that the company impresses me. I first stumbled across it with its humble Mani phono amp and then the Mjolnir headphone amplifier. This time, I wondered how they would tackle a DAC so I reached for the Gungnir.
Picking the chassis out of the box, it feels heavy and solid and yet rather minimalistic in nature. The front of the chassis exhibits a cycling source button and source lights to its right. Those lights include the USB, Optical, Coax and BNC input lights plus a Clock Mode LED. When this light shines it means that Gungnir cannot lock to the source with VCXO regeneration and has defaulted to VCO regeneration. The quality is lower, because the source is off-frequency. Time, as the company says, to look for another source.
On the rear, apart from the power socket and switch, inputs include coaxial RCA SPDIF, BNC SPDIF, Optical SPDIF and USB with 24bit/192kHz capability on all. For outputs, you get one pair of XLR balanced and two pairs RCA single-ended.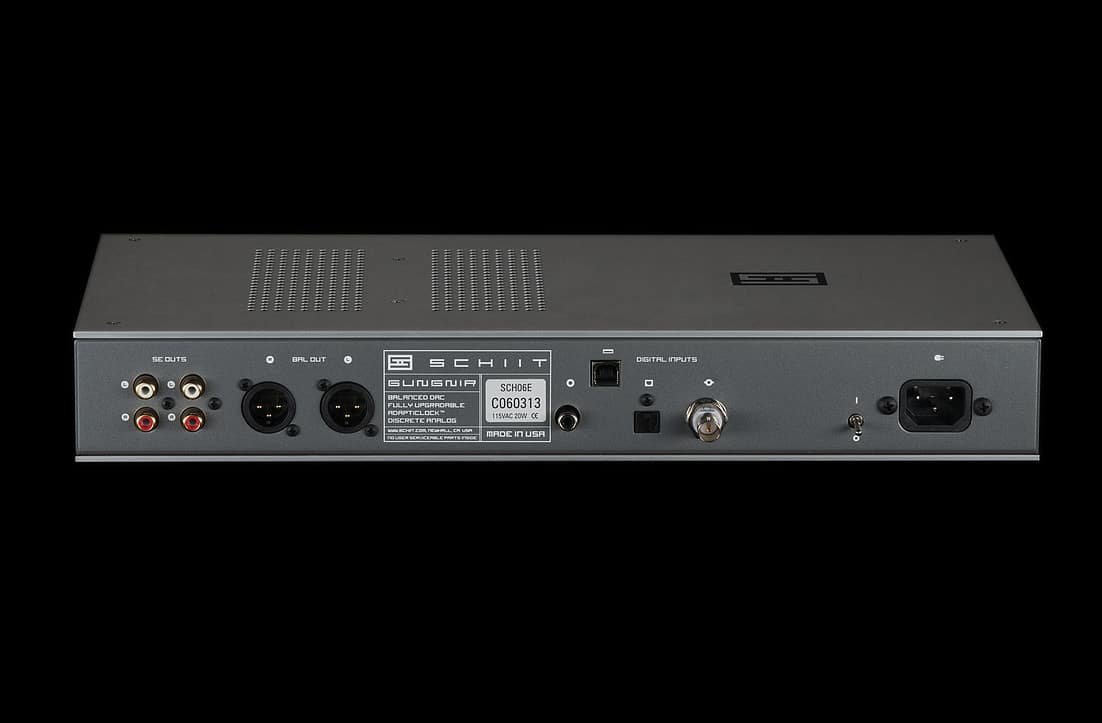 You can choose between a cheaper delta-sigma DAC variant (£700) or Schiit's own proprietary multibit architecture with closed-form digital filter (this was the version chosen for review).
The DAC itself is a hardware-balanced design with two AKM AK4399 32bit D/A converters, followed by a fully discrete, JFET-input stage for current gain and filtering with the same proprietary closed-form DSP-based digital filter as the Yggdrasil, coupled to four Analog Devices AD5781BRUZ digital to analog converters.
Whatever version of this DAC you choose, either will include a proprietary Adapticlock system, to tackle jitter. Spanning 406 x 223 x 60mm, the Gungnir weighs in at 4kg.
SOUND QUALITY
I started the review by hooking up my Astell & Kern AK120 to the DAC's optical port and played the Dire Straits hit, Money For Nothing at 24bit/96kHz. I was quite taken aback, I must say. I really didn't expect the DAC to sound that good but it did. It really did. What I did find familiar was the same air that I had experienced after reviewing the company's Mjolnir 2 headphone amplifier. There was enough space for each instrument to perform to the best of its abilities whilst also providing room to give a rounded performance, hence the rather mature sound from the wide and well crafted sound stage.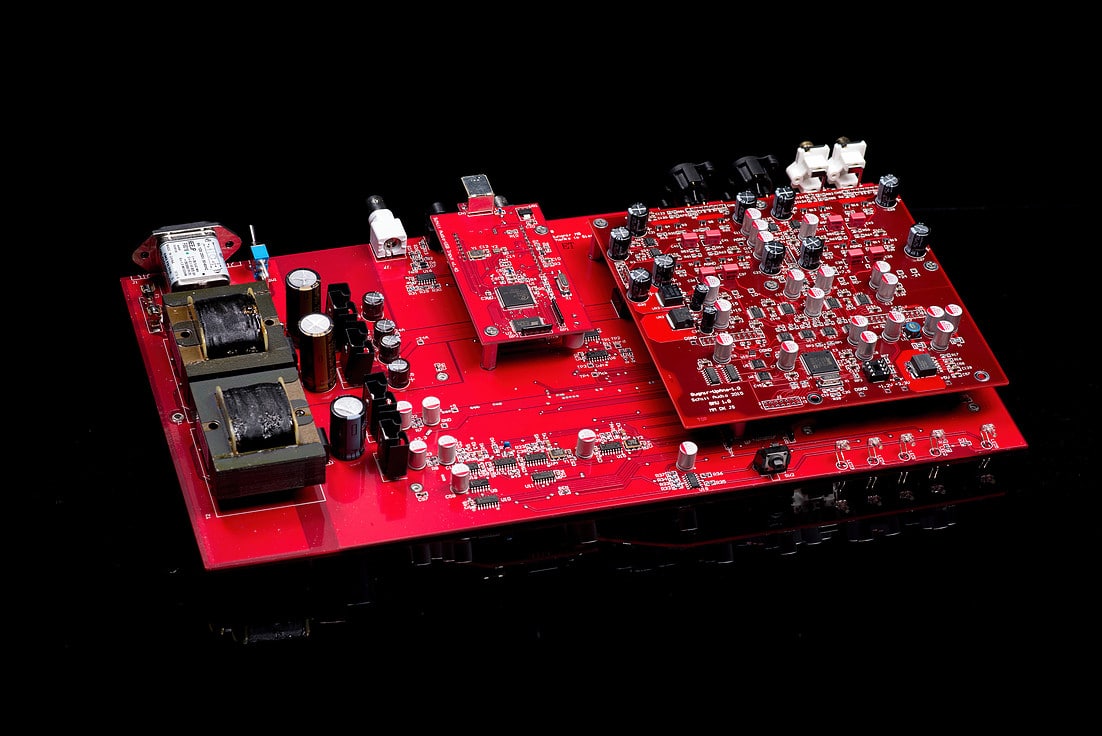 What I do sometimes hear from DACs at this price point is a rather constricted suite of upper midrange frequencies that don't so much sound compressed but do sound a little claustrophobic. Not here. The Schiit is expansive, providing a rich and easy going aspect to the music. The sonics sound expensive, put it that way. In fact, as I proceeded to vary the musical genres, the Gungnir responded with a, 'Hey, no problem!'. That is, any music you throw at it seems well within this DAC's capabilities. As such this is a DAC that you quickly learnt to trust. Percussion is weighty, hefty and massive in size. You really get your money's worth with big bass drums while bass guitar drives the song along with gusto.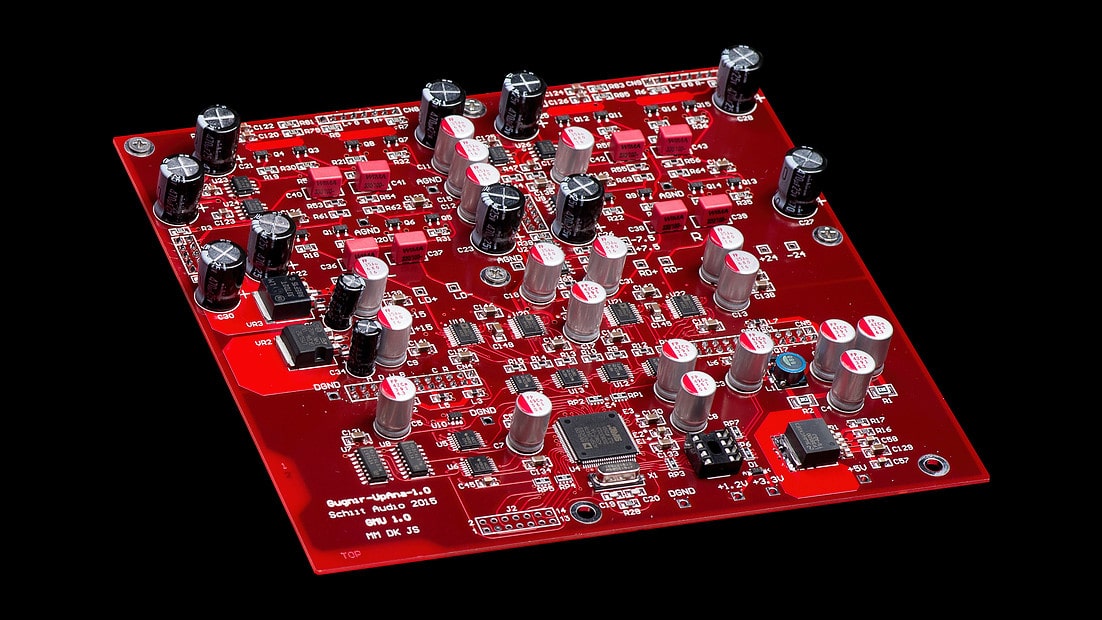 The well balanced midrange allows the vocals to express itself texturally, allowing more emotion to pass and, as for treble? Well, that cymbal I thought I was listening too all this time? It's a tambourine! What more can I say?
That's high resolution audio, what about standard fare? Does this DAC only work well at higher bit rates? I turned to Miles Davis at 16bit/44.1kHz and Will O the Wisp from the LP, Sketches of Spain, for answers to that question. For some DACs, this track sounds as if the group had been sucking on a lemon. Such is the difficulty of conveying the muted trumpet and the restricted manner of the playing. If a DAC cannot handle the dynamics, it feels tense. Almost as if each member of the band has their shoulders pulled in and raised upwards. The Schiit, though, helped everyone to relax. On this track, the muted presentation was given room to manoeuvre by the Gungnir, which aided the secondary percussion presence, allowing it to waft over the soundstage while the almost atonal backing band instigated a dream-like feeling over the rear of the soundstage while Miles Davis' trumpet performance relied more on the nature of his breathing than the constricted performance of the trumpet itself. The Schiit, thus provided an incisive window into the man behind the instrument, adding depth and context.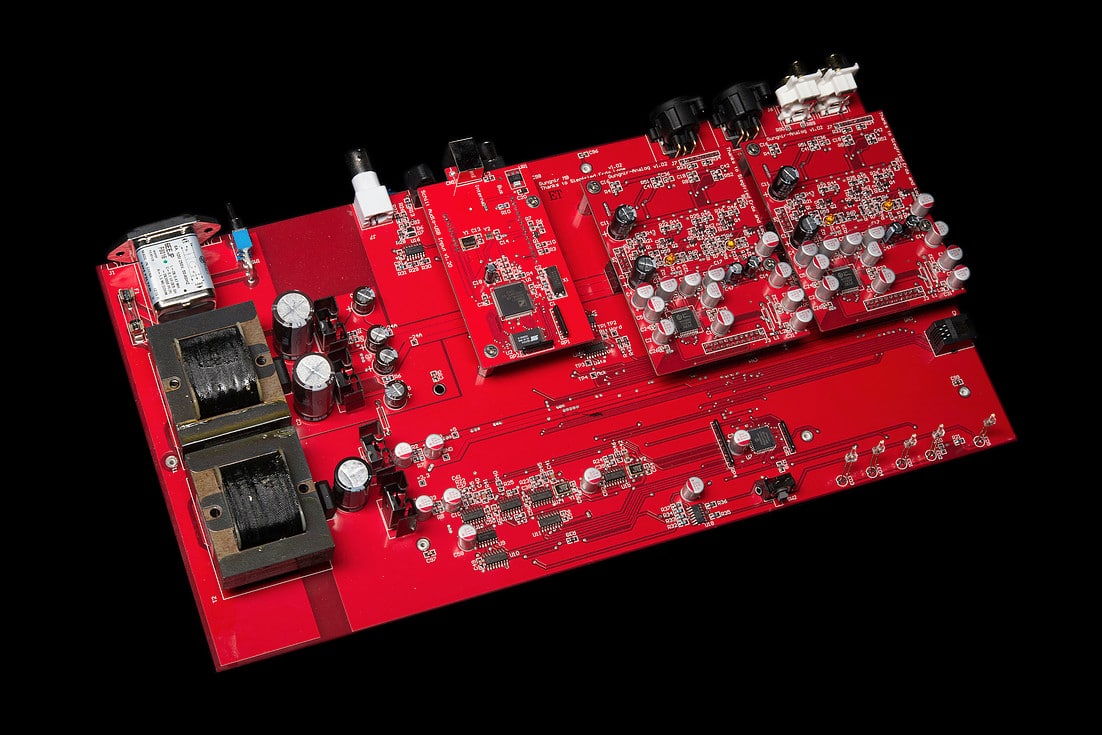 Moving to my MacBook computer, I connected it to the DAC via the USB port and played the 24bit/192khHz version of Ola Gjeilo's Ubi Caritas, a solo, melodic jazz piece on piano. This very difficult transcription of the devil of all instruments for any hi-fi system to successfully recreate was handled well by the Schiit. The first and largest problem with the piano is when the organic sounds resonates in such a way that the merging and clashing sounds form an unattractive, uncontrolled bloom that hangs over a piano rendition like a cloud. The Schiit, though, managed to retain firm control over each note, allowing each to range free but preventing it from losing complete control. In this way, the piano maintained a smooth motion and its inherent melodicism remained intact.
CONCLUSION
A highly accomplished DAC from Schiit that not only provides a host of connectivity options but gives you a lush, balanced and well-developed sonic presentation. The Gungnir manages to combine control with freedom to prevent any issues with smearing while still allowing dynamics to flow and the inherent musicality of a song to remain intact. Bass is powerful, heavy and meaty yet upper mids are delicate, fine and delicate while treble has that important fragility about it. That it does this at such a reasonable price is quite remarkable.
---
SCHIIT GUNGNIR MULTIBIT
Price: £1,000 [Multibit Version] ; £700 [Delta-Sigma Version]
Website: www.electromod.co.uk
Tel: 01494 956558
---
GOOD: focus, bass response, expansive soundstage, delicate and detailed midrange, connectivity options, multibit upgrade, price
BAD: nothing
RATING: 9